It's been months since the once-mighty, long-withering Shops of Grand Avenue closed up shops (heh). Now dubbed "The Avenue," the downtown complex is currently being redeveloped. The east end has already been converted into apartments (things like T.J. Maxx, The Underground Collaborative, and that Stone Creek Coffee kiosk remain), while the west end will have private offices on the upper floors, and a nifty "food hall" called 3rd St. Market Hall on the first. So long, Leonard Bearstein Symphony Orchestra, hello $9 artisanal tacos or whatever.
And so long to the dead mall's colorful "fish tank" entrance, too. On Friday, crews were busy disassembling and tearing down the glass vestibule located at the intersection of Old World 3rd Street and Wisconsin Avenue. The '90s-esque Grand Avenue sign is gone, along with that weird cone thing that was always next to it. It's official: the mall is truly dead (though we all know it really died when the Rocky Rococo closed).
So what's taking the old entrance's place? According to the Milwaukee Business Journal:
The walls will become three floors of glass, [Tony] Janowiec said, creating a new entry to the food hall, and floor-to-ceiling windows for the upper-floor offices. A new second-floor will be built onto the structure for that level's office tenants, he said.

The former Applebee's that opened onto the street will become a restaurant and beer garden, Janowiec said. Talks are underway with an operator, he said, but declined to name the business involved. That outdoor beer garden will overlook the plaza, and open into the food hall.

The larger public plaza space outside the food hall opens in spring 2020, Janowiec said. Discussions are underway over how to program that space.
Here's what the entrance looked like in 2013 (dig the Onion box):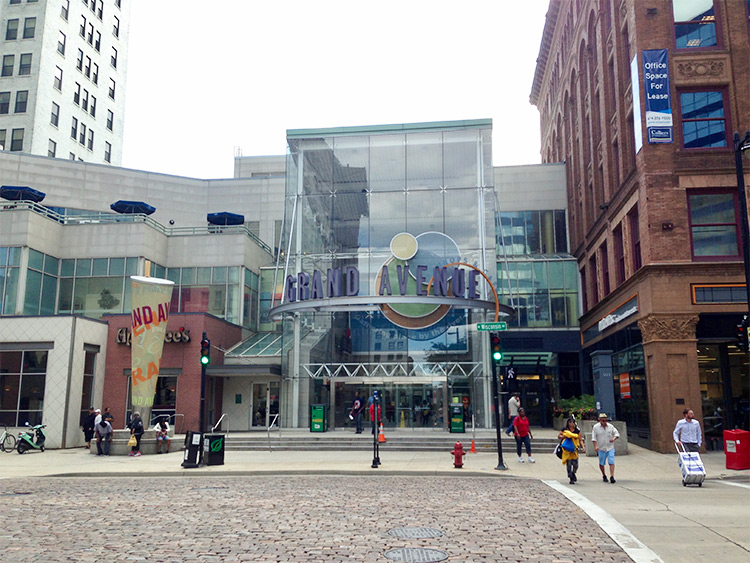 Here's what it's going to look like: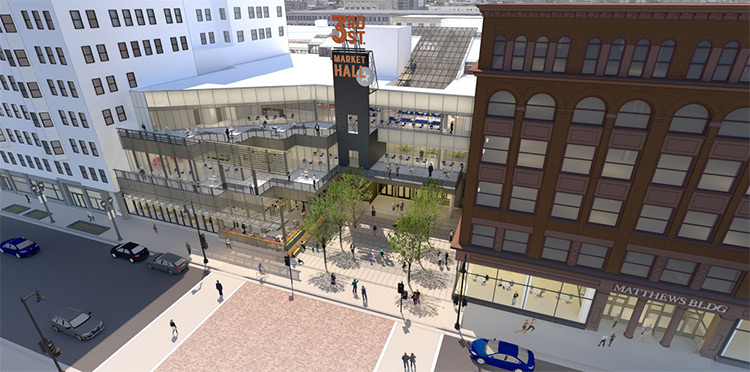 And here's what it looks like today. R.I.P.