This is it, folks. The end times. The finale. The curtain call. The last chance to witness the Shops of Grand Avenue in all their faded glory before they're transformed into a 21st century apartment complex/office building/food hall/something. The last chance for mall walking. The last chance for Panda Express. The last chance to soak it all in. The last chance to kill a few minutes on your lunch break and maybe pick up a PopSocket for your phone.
Yes, changes are coming to the long-neglected Grand. The mall is technically still open—a handful of stores remain, and Panda Express, Qdoba, and Tomato are still kicking it in the food—but time is running out. Most stores will be closed or relocated by the end of February, after which most of the building will be shut down for renovations. Wanna experience the haunting magic of a dead mall while that mall is still open? Get down there today!
But before you do that, here's a handy rundown of all the things (that we know of) that are scheduled to change in the $65 million redevelopment—and a few things that aren't going anywhere at all, thank you very much.
CHANGING: The name
So long, Shops of Grand Avenue; hello "The Avenue."
CHANGED: The website
Proof that this is really happening.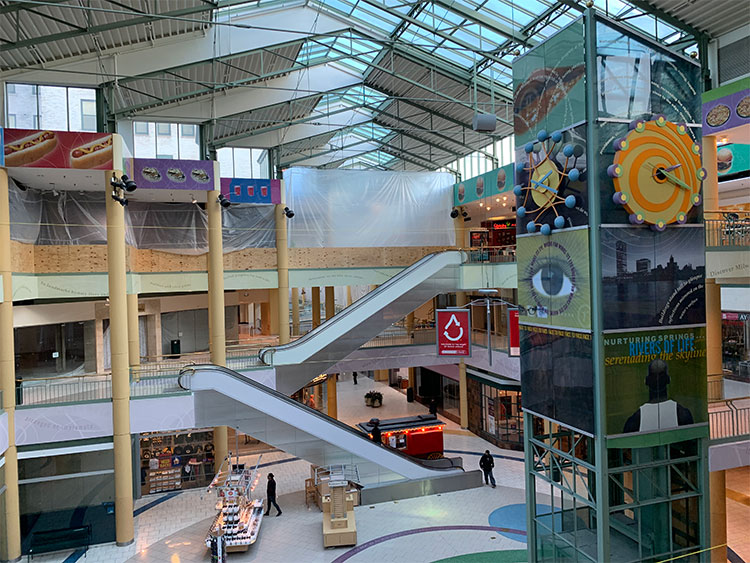 CHANGING: The first-floor concourse
You know, where the singing animatronic bears used to set up. (R.I.P.) This area will be transformed into 3rd Street Market Hall, a destination food hall that will boast more than 20 local vendors and will "showcase food preparation with open kitchens, while also providing a place to hang out while people-watching, working on a laptop, or playing bocce and other games." The all-local, 35,000-square-foot 3rd Street Market Hall will be overseen by Omar Shaikh of SURG Restaurant Group. Vendors that have already signed on include Stone Creek Coffee, Funky Fresh Spring Rolls, Char'd, Waterford Wine & Spirits, Milk Can, and Donut Monster. (There will be 20 vendors in all.) There will also be a separate beer hall (in the former Applebee's space), pingpong tables, and—as required in 2019—retro arcade video games. It's expected to open in fall 2019.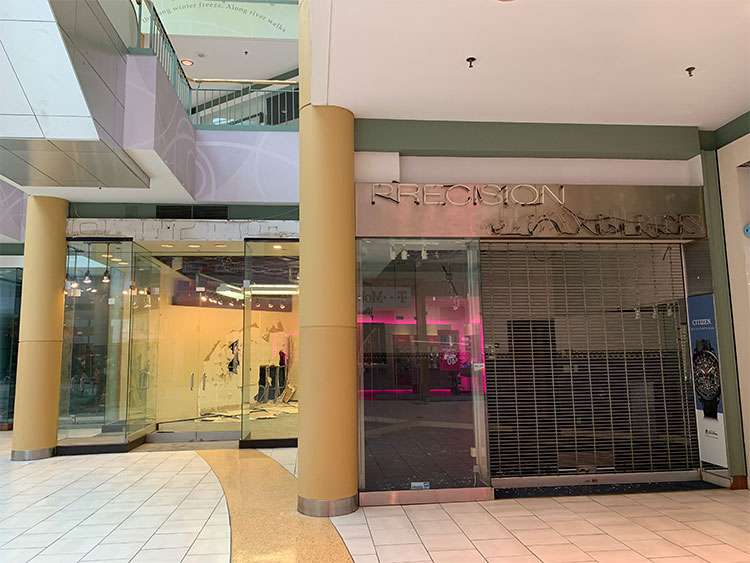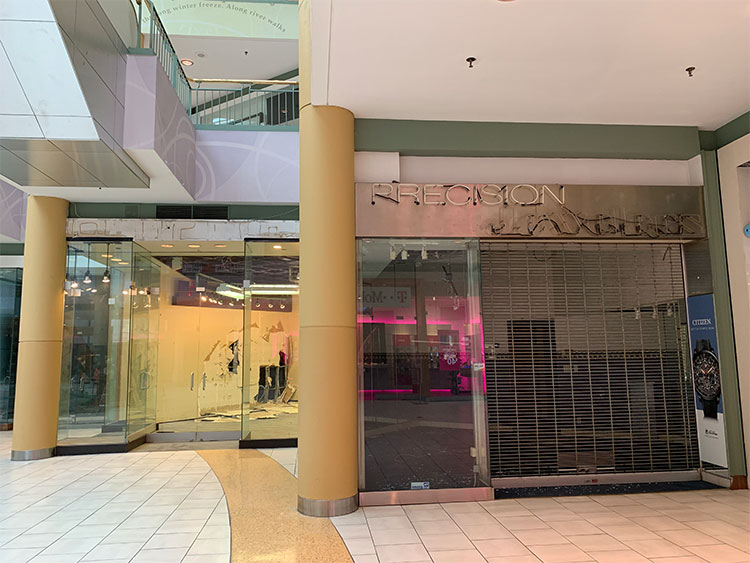 CHANGING: The third-floor food court
Gee, remember when there used to be a Culver's up there? And a Rocky Rococo? Such beautiful times. Anyway, the third floor will soon be office space. Engineering, planning, and design firm Graef USA has already committed moving its offices there. Graef will occupy 35,000 square feet of the former food court—more than 60% of the entire third floor. NEWaukee will likely have to find a new spot for their Night Market "VIP balcony."
CHANGING: The second floor
More office space. Tenants to be announced.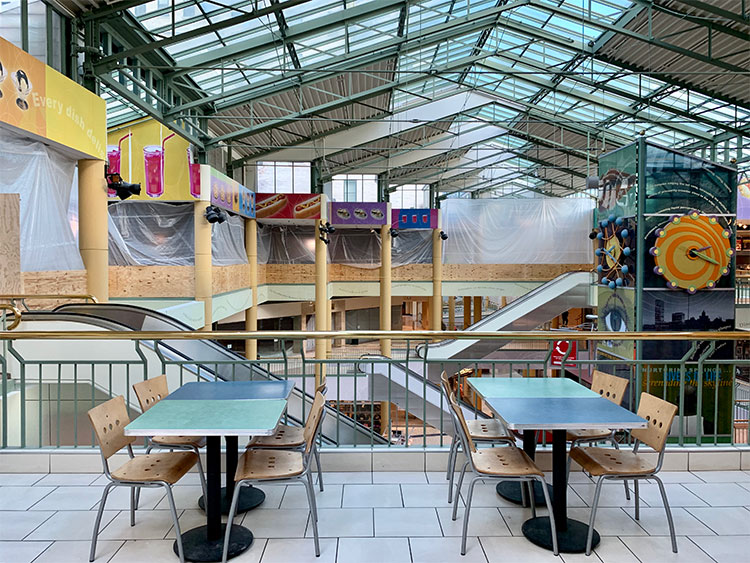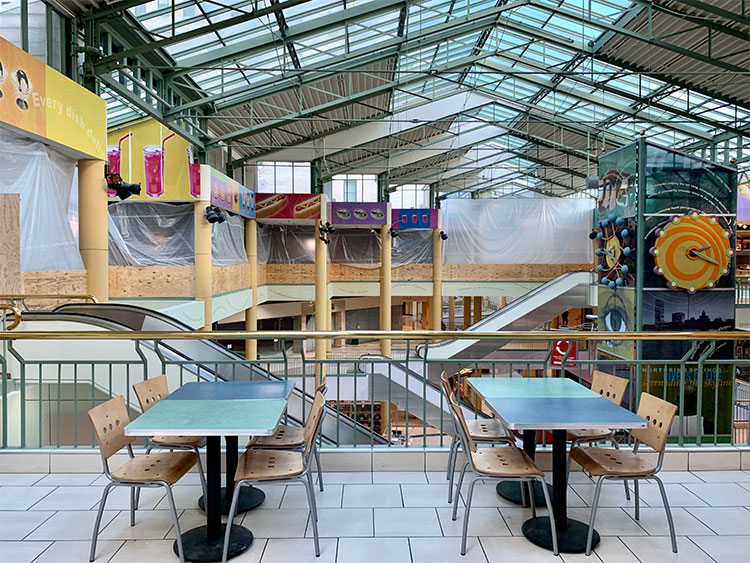 CHANGING: The part where Boston Store used to be
This separately owned portion of the mall will be renovated into street-level retail space. Floors two through five will be office space.
CHANGED/CHANGING: The second floor of the Plankinton Arcade
The second floor of the eastern part of the mall—a.k.a. the historic Plankinton Arcade—is currently being converted into 52 high-end apartments. The new development, known as the Plankinton Clover, will also include an "amenity alley" across from where that Brew City clothing store used to be. Future residents and office workers will be able to enjoy a fitness center, a conference room, further office space, and, get this, retail stores. Elsewhere, future apartment-dwellers are getting a movie theater, a club room, a dog grooming area, and a place to put their bikes. The apartments, ranging in size from studios to two-bedrooms—will be ready in January and March.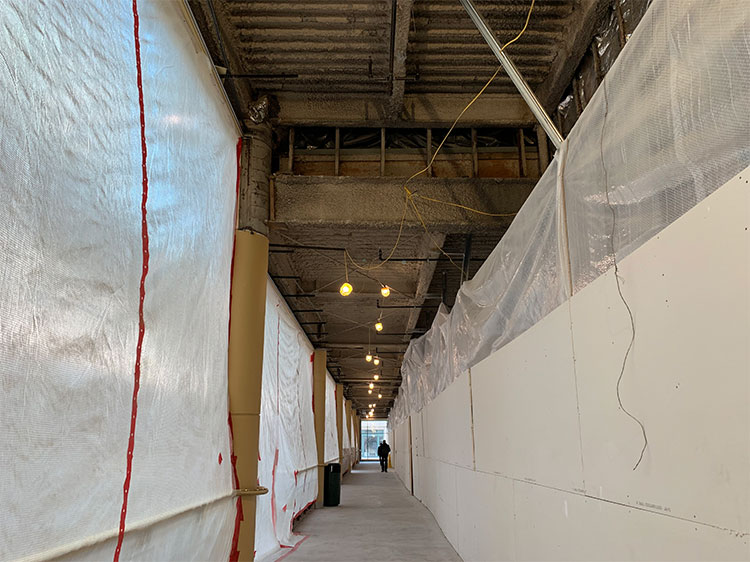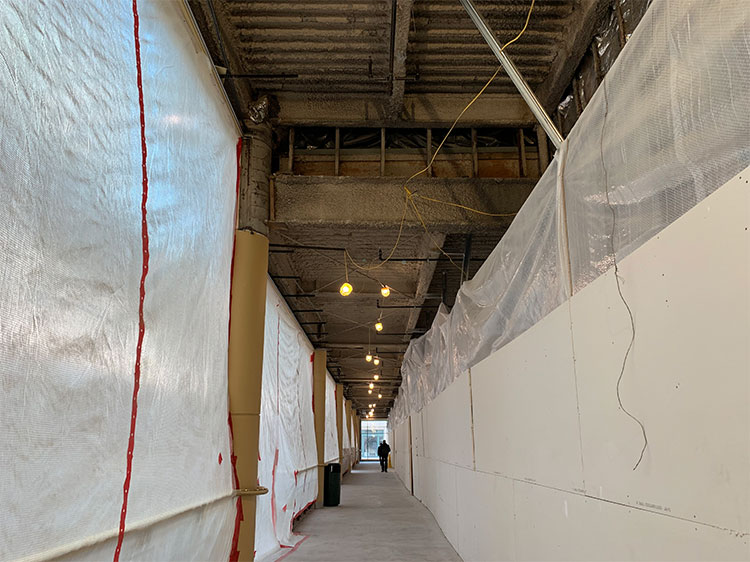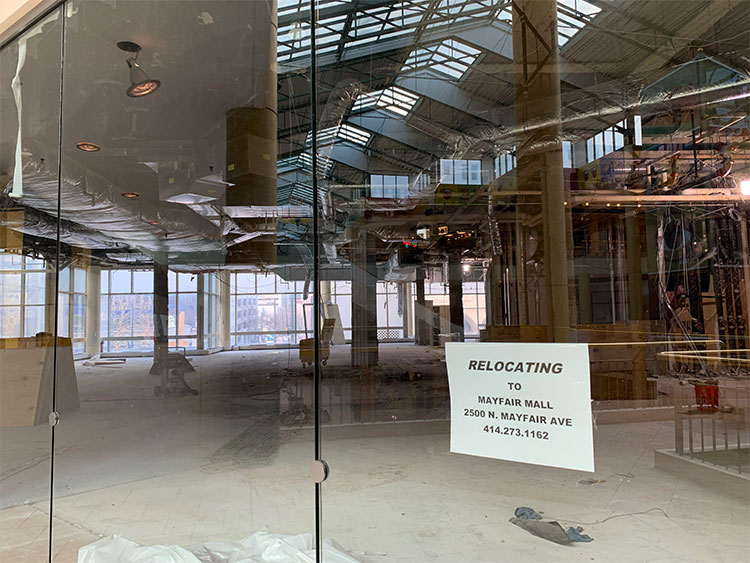 STAYING THE SAME: The first floor of the Plankinton Arcade
Don't worry, because TJ Maxx isn't going anywhere. Hopefully that fruit stand will stick around, too.
STAYING THE SAME: The lower level of the Plankinton Arcade
TRUE Skool is staying put. So is the Underground Collaborative, an 8,000 square foot venue/gallery/comedy club/rental space. "It's exciting to be surrounded by all the new development in these historic buildings," says Matt Kemple, founder and manager of the Underground Collaborative. "We have a lot to offer residents in the area looking for unique events. The UC is right in the middle of it; condo dwellers won't even have to go outside to enjoy a world premier play or hilarious comedy show."