UPDATE: Looks like we have a positive ID! Scroll to the bottom of the story to find out what this…thing really is. Thanks, internet!
Hi! It's me, your friendly Milwaukee Record co-founder/editor Matt! How are you? I'm a little out of the loop on all things Milwaukee right now. You see, I've been on a spring fishing trip in northern Wisconsin for the past five days. And while I'm looking forward to catching up on all the hot flag news, hot historic tree news, and hot strip club news, I'm still basking in the feeling of peace that only a few days away from civilization can provide.
Anyway, let me tell you about how I caught a nightmare lake monster straight out of goddamn Alien.
First, some background. Every spring, my brothers and a few of our friends make the pilgrimage to Rhinelander to fish the Moen Lake. Actually, Moen Lake is the Moen Lake Chain, containing First Lake (Moen Lake), Second Lake, Third Lake, Fourth Lake, Fifth Lake, and maybe a few more lakes that I'm forgetting. Also, if you've never been to Rhinelander, they really go all in on that hodag stuff.
Here's a picture of us putting in the piers at the place we stayed at this year, Larson's North Haven Resort. Dude even shaved off a couple of bucks for the effort!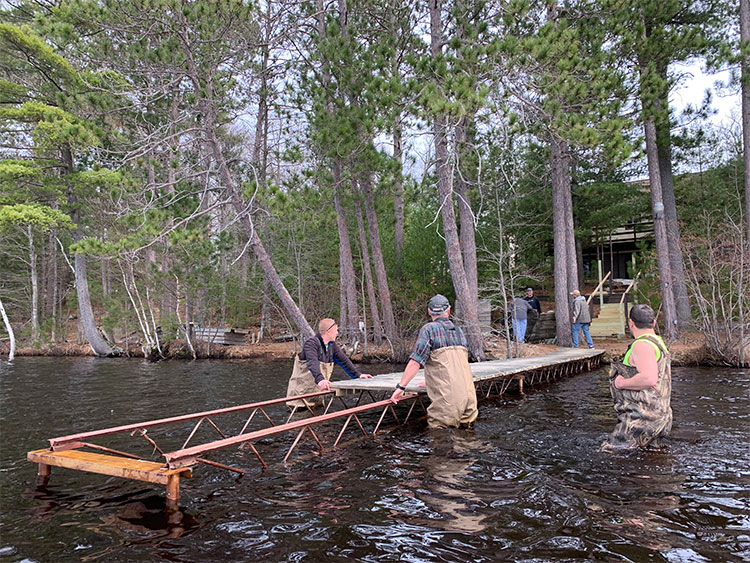 I've never been that big into fishing, but, like deer hunting, I've recently come around to it as a way to unplug and relax. Plus, it's a great way to spend time with family and friends. Wait: there's this thing I can do where I don't have to stare at a screen all day? And I get to hang out in a cabin with five other goofballs? Sign me up.
About that last part. There's a common misconception that when dudes get together for fishing trips they do nothing but drink beer, play cards, and act like sexist boors. Not true! In our fishing party, we do nothing but drink beer, play cards, and make up oddly specific fishing-themed parodies of classic rock songs. Here's one that any angler who's spent a cold morning dunking their hand in a freezing minnow bucket can relate to, set to the tune of Neil Young's "Heart Of Gold"…
I've been to First Lake
I've been to Second Lake
I've been reaching for some more minnows

Keep on reaching for some more minnows
My hand's getting cold
Look for our debut album, Hooked On A Cleaner, coming to northern Wisconsin truck stops in spring 2020.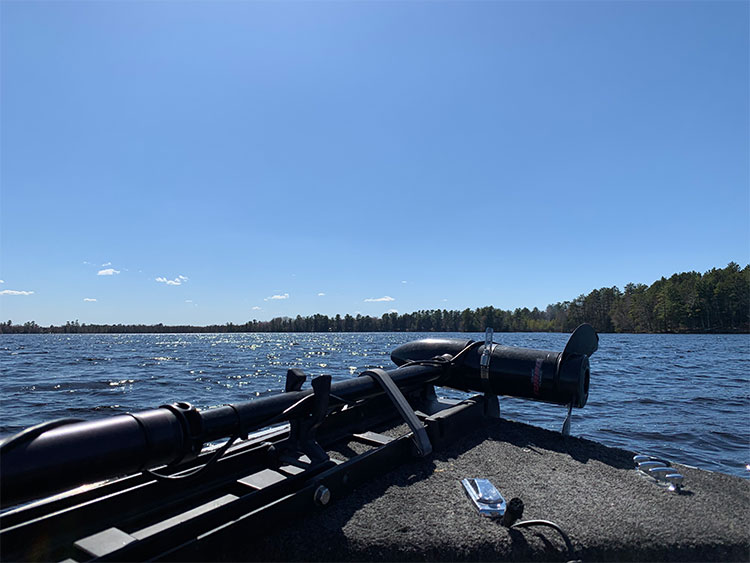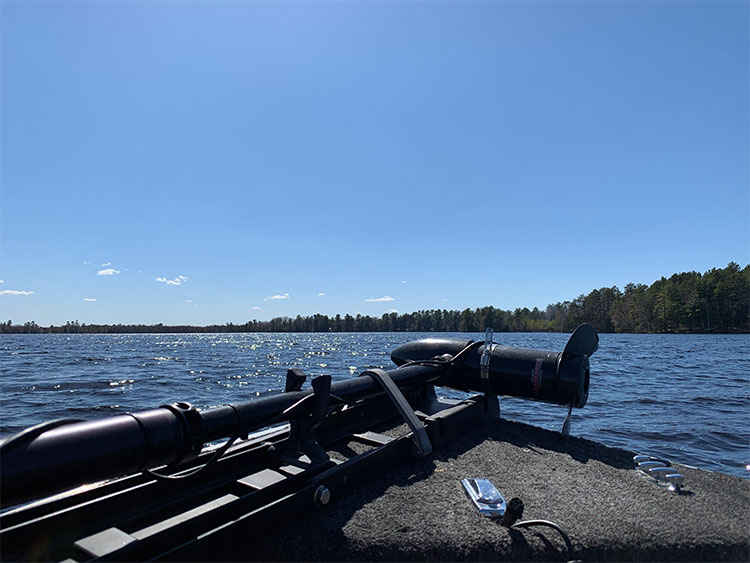 Okay, so let's get to the Lovecraftian lake abomination. On our fourth day of fishing, my brother and our friend Jay posted up on the mythic "Two-And-A-Half Lake." As you might imagine, it's a little mini-lake tucked between Second and Third lakes. It's kind of like the 7 1/2 floor in Being John Malkovich, except with fewer portals into John Malkovich's brain and more hideous water monsters that have been around since the time of the Great Old Ones.
It was a terrific afternoon. We had three or four legal walleye in our boat and eight or nine nice crappie. The sun was out. The air was warm. There was a bald eagle flying overhead. At one point, the rest of our crew drifted by blasting an Insane Clown Posse song for some reason. We chuckled.
And then…I got a bite. And then…I pulled up…this….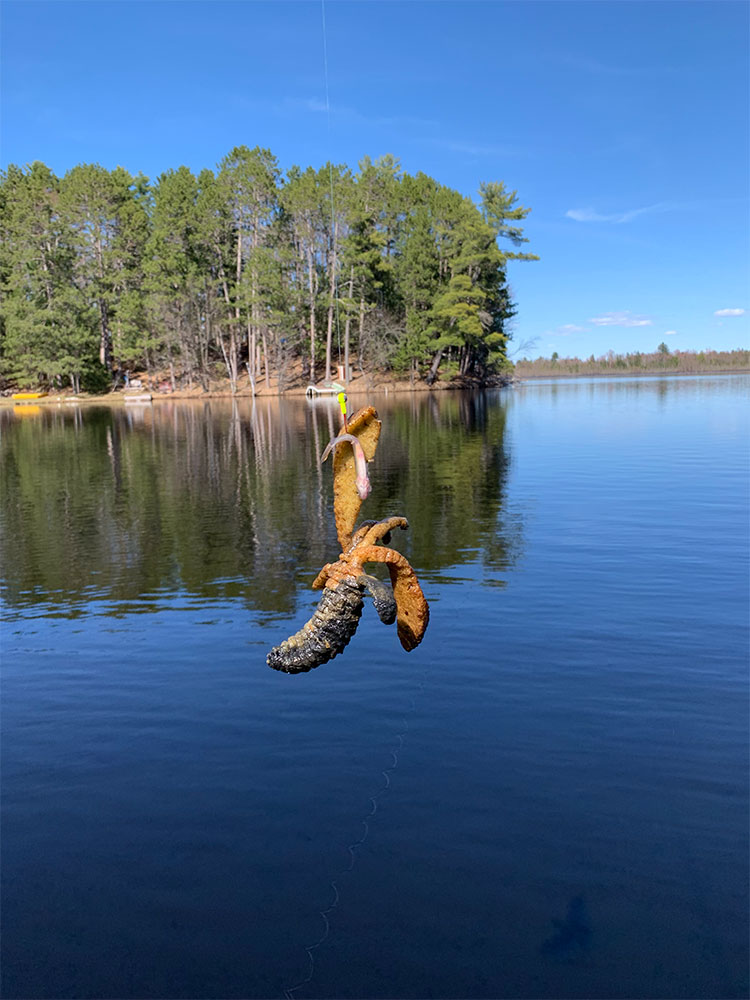 Just go ahead and tear out your eyes as we take a closer look…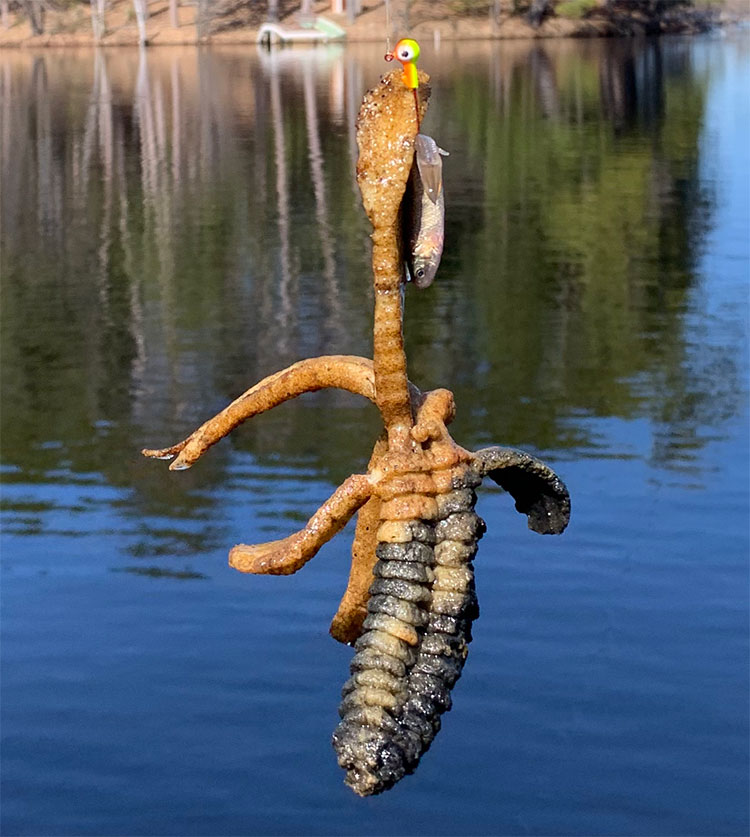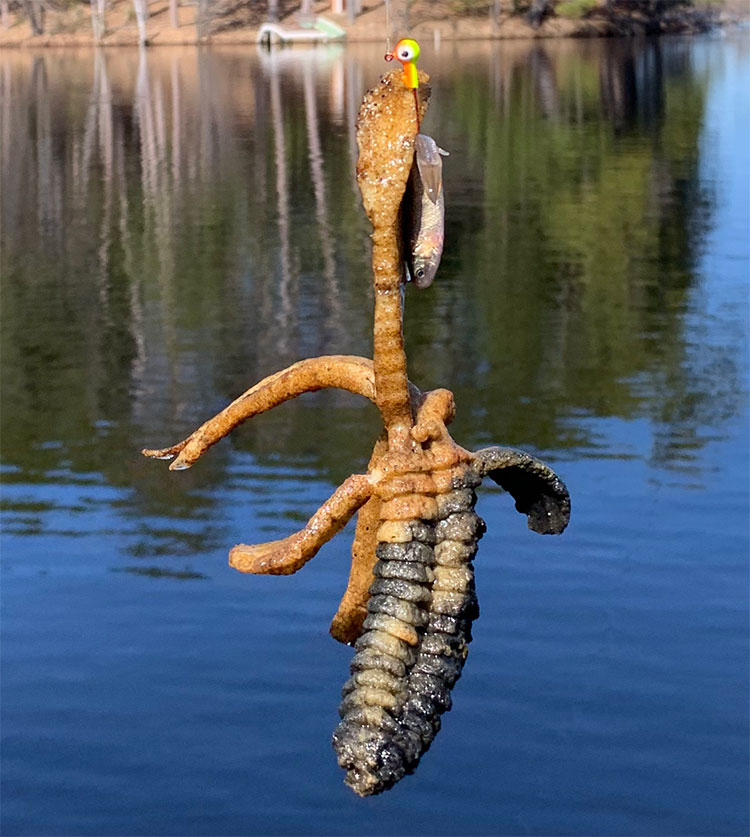 I don't know if you've ever experienced three grown adults staring at something in complete, horrified silence, but that's what happened here. We just…looked at it. How long, I couldn't say. It could have been 10 seconds or it could have been 30 minutes. We stared at it as it dangled from my line. It looked like it was moving.
"Is it…a squid?" my brother finally asked.
"It's a plant," I said. "A weed. I don't know. Oh god, it really is moving."
"Fffffuck," Jay added.
Things went on like this for a while. Theories were offered (some kind of animal tail?), profanities were whispered, and pictures were taken. It looked like a facehugger from Alien. It looked like a baby Cthulhu. It looked like Something That Was Not Meant To Be. We determined that if it was some kind of creature, it was dead, and that the movement was simply from my fishing pole. Also: GAHHHHHHHHHH.
Jay finally broke the spell. "Swing it over here and let me take a look." I gladly obliged.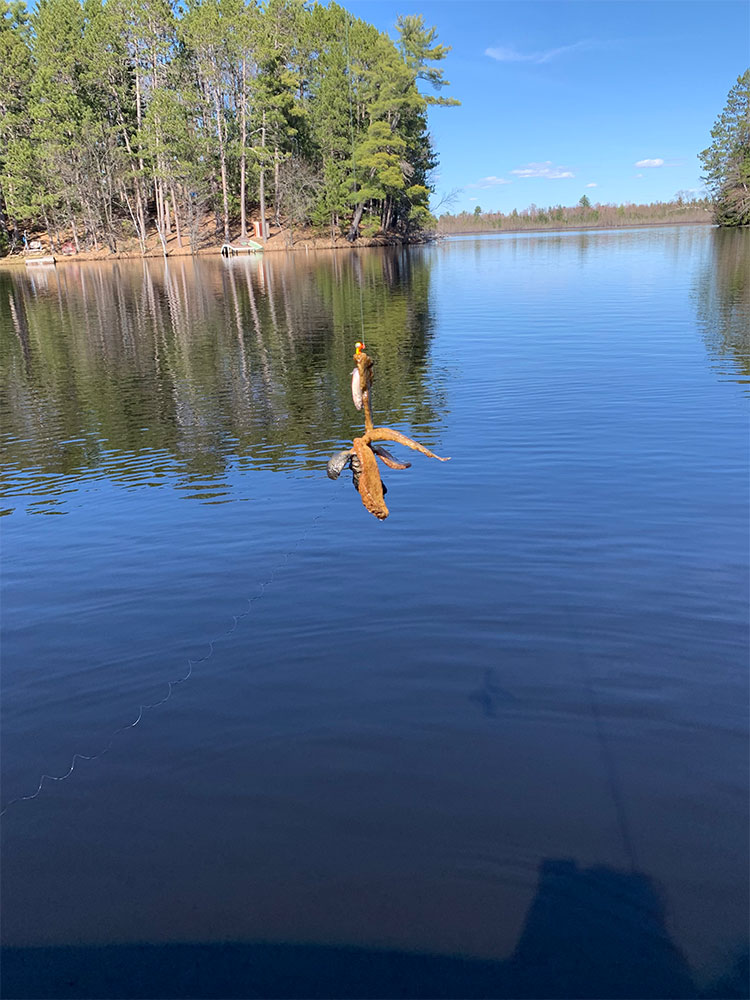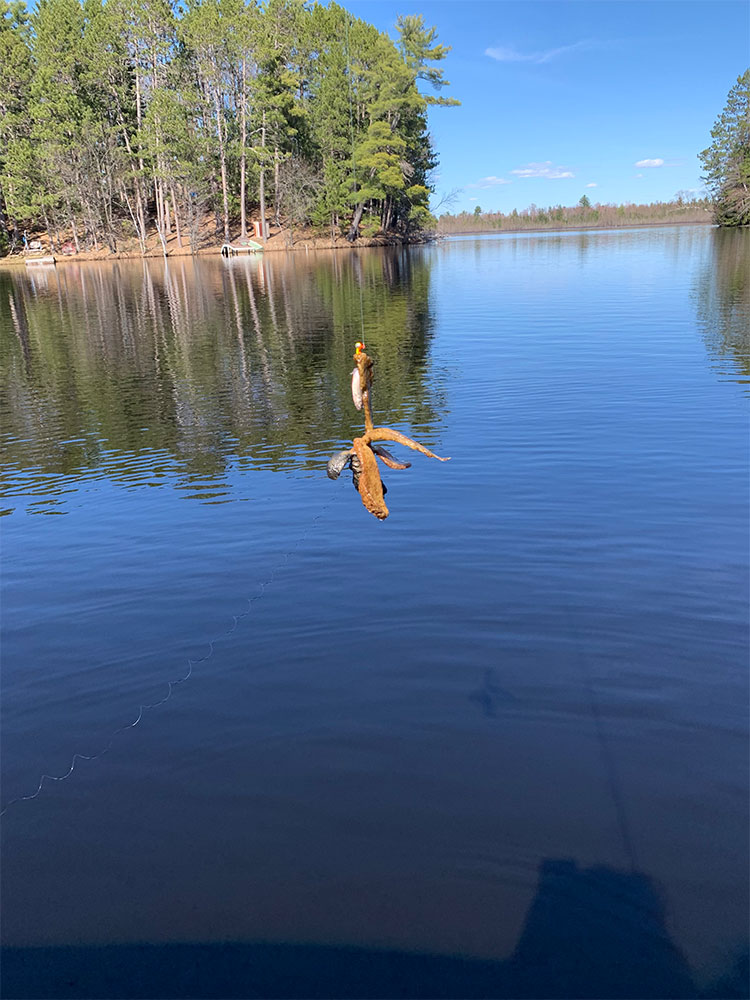 And, well, it turned out to be an old muskie lure! Maybe? It was apparently made of plastic and it was just really, really gross looking. And big. Here are some similar, non-waterlogged-and-damned-for-all-eternity examples: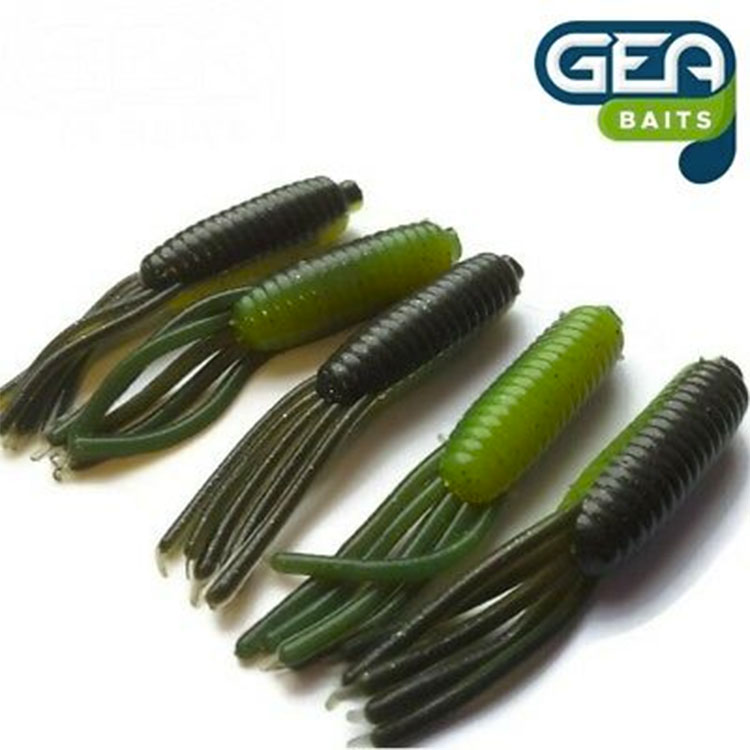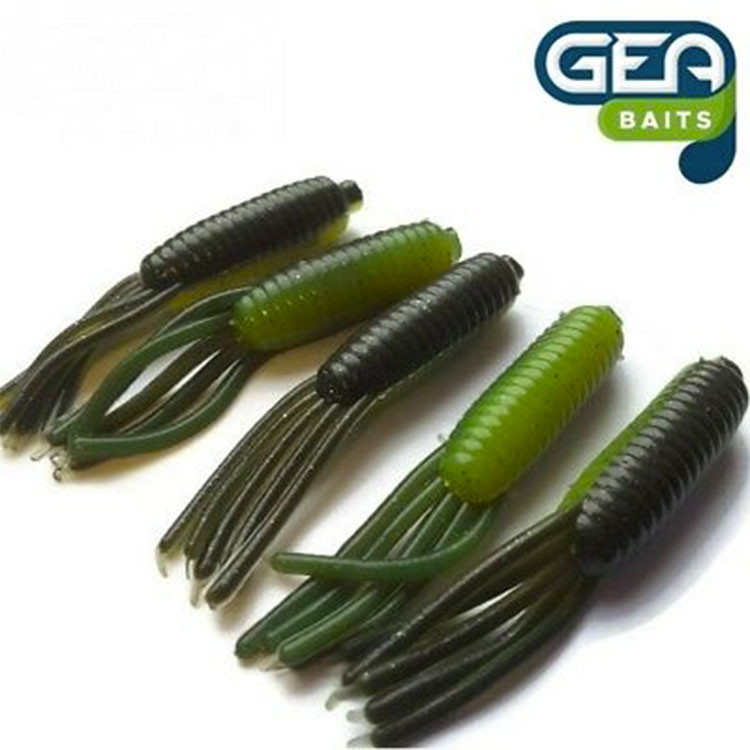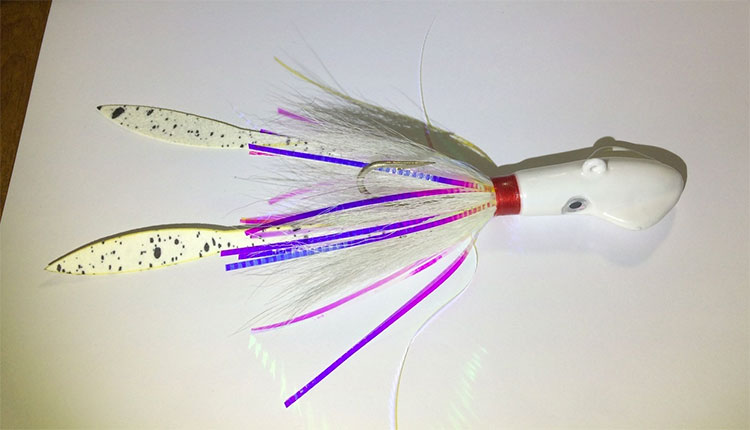 And that was that! We joked about angering the lake gods and Jay threw it back. The end!
UPDATE 1: My dad says it's a pine cone, or some kind of "pine root." I dunno. Can anyone positively identify this thing? In the meantime, here's a picture of the "sandwich spread" my mom makes for us every year. Ring bologna, pickles, onions, Miracle Whip, and white bread! Happy fishing!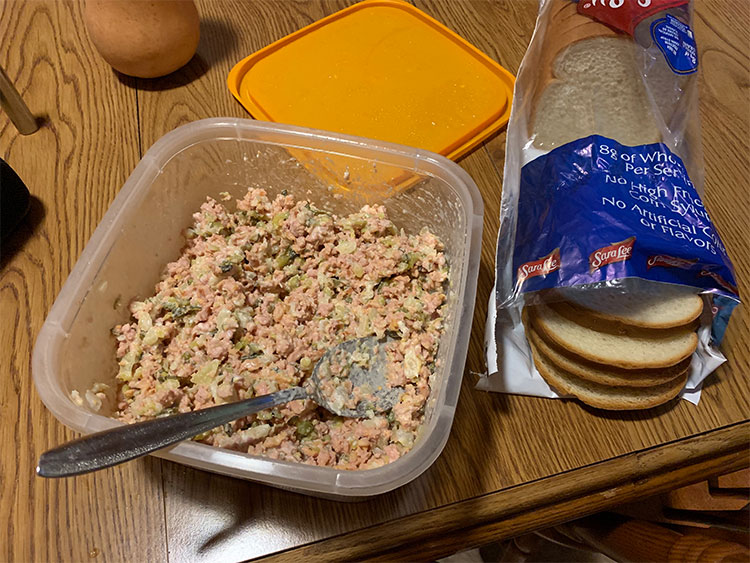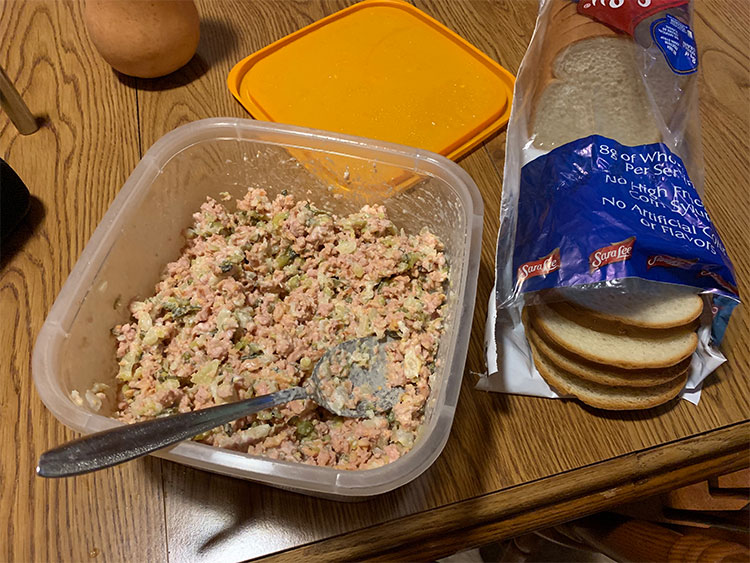 UPDATE 2: The internet has spoken, and it is indeed a plastic bait! A "Sweet Beaver" bait from Reaction Innovations (or something very similar), to be exact. Check it out!