Writing research papers, listening to music, watching porn: these are only a few of the things that the internet has made immensely easier. Activities that once required copious amounts of effort and travel are at our fingertips. Instant gratification is merely a few clicks or taps away. No longer do you need to get up, get dressed, and drive to McDonald's to order a Big Mac value meal. Thanks to the World Wide Web, you can get a (soggy and sad) McLunch delivered to right your door. Yum.
Another thing that has become significantly easier with internet access is achieving fame. Long gone are the heydays of Tay Zonday and Chris Crocker. (Remember the good old days when YouTube didn't have ads and the most-watched video was the one with those guys dancing on treadmills? We do.) YouTube is no longer the only petri dish in which internet celebrities spawn. Even the most casual internet user can likely name an online star on nearly major social media platform: Facebook has the "Humans of New York" guy, Instagram has meme curator @FuckJerry, and Twitter has @NihilistArbys. (Twitter also HAD @Horse_ebooks and we will never, ever forget it.)
While Milwaukee may not be home to that many conventionally famous people, our fine city is home to plenty of unconventional internet celebs. (Yes, unconventional, meaning we aren't counting that Manitowoc Minute dude. YouTube celebrity status is sooo 2008!) And even though two of Milwaukee's internet celebrities are 20-something males, their paths to online stardom could not be more different.
You've probably never heard the name Brandon Zaboklicki, but we're sure by now you've heard the name Harambe. (For those who don't remember, Harambe is the gorilla who was shot and killed at the Cincinnati Zoo after a three-year-old boy climbed into his enclosure way back in May 2016.) On Twitter, Zaboklicki is known as @sexualjumanji. He became a Twitter celebrity after coining the now-infamous "Dicks out for Harambe" meme.
"I was streaming on Twitch.TV and one of my viewers said, 'We coming dicks out to the zoo for Harambe,' and it kind of stuck with me for a few weeks until I bought a realistic looking airsoft gun and sent my tweet," explains Zaboklicki. "I was the first person to ever tweet a variation of 'Dicks out for Harambe.' I deleted the tweet because I didn't want a picture of me holding a gun to go viral online. I got scared."
Zaboklicki (known as simply "SexJ" to his die-hards) says he thinks he was already something of an internet celeb before the Harambe memes, but the Harambe era was his "mainstream peak." He currently has 99,100 followers including model/chef Chrissy Teigen and Vampire Weekend frontman Ezra Koenig. Most people still don't know that he originated the "dicks out" meme.
One unlikely fan outed Zaboklicki during one of his classes last semester. UWM Digital Humanities professor Marc Tasman was discussing memes and virality and used Zaboklicki as an example during his lecture. "Everyone was shocked because I'm like, the quietest person ever in class," says Zaboklicki. "I just sit in the back and mind my own business." He says he and a friend in the class had a bet going on how long it would take for Tasman to bring it up. (Anyone who's gone through the JAMS program and had Tasman as a professor knows he is UWM's reigning meme king.)
Zaboklicki says he's been recognized by five students on the UWM campus and was recently recognized four times when he spent a week in New York City. Even though it's becoming a fairly regular occurrence, he says it can still be uncomfortable at times. "I try not to make it awkward," he explains. "I try to be friendly, but normally I'm always surprised and don't know what to say. They normally open with, like, 'Sexj! Sexualjumanji!' and tell me they're a fan and tell me their @. I'm never like, 'I wish this wasn't happening,' though. I've never met someone I didn't like."
When he graduates at the end of this year, Zaboklicki hopes to work in social media full time. He's a JAMS major with a focus in advertising and PR and says he has big hopes for his future. He says he lists his Twitter account's analytics, like followers and impressions, but never gives potential employers his handle unless people ask for more information. "It's hard being so popular and so good at tweeting but having my content be kind of raunchy and trashy, in a way," he says.
"I would love to say the future is bright, but as a part-time internet celeb, I think I've peaked" says Zaboklicki. "I think my future is an office job somewhere in the world, but it'll be doing something cool. I got an article about me on Cosmopolitan already, so I can't really think of anything I could do to top that."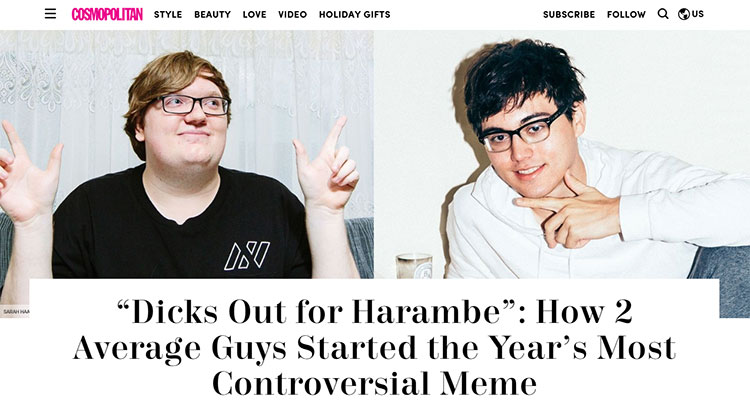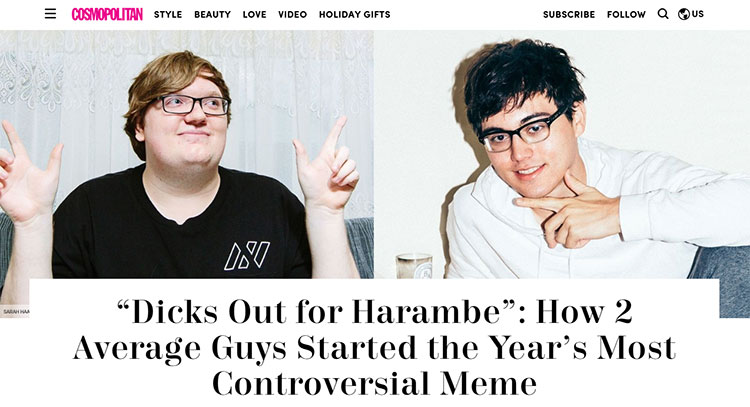 Another Milwaukee internet celebrity is famous for being friends with another famous-for-being-famous person: Kylie Jenner (who, coincidentally, is a Cosmopolitan cover girl herself). Jenner is the daughter of Olympian Caitlin Jenner and half-sister of reality TV star/businesswoman Kim Kardashian (and, by default, half-sister-in-law of rapper Kanye West).
Johnny Cyrus first took note of Kylie Jenner when she created videos on a now-defunct app called Keek. He admired her on social media until she began interacting with him seemingly by chance. "Kylie noticed me one random night," Cyrus explains. "She tweeted me twice, retweeted me and even followed me. It was a couple years ago already, but it feels like it wasn't that long ago." Cyrus says he and Jenner talk daily and have hung out in-person multiple times. He considers her more of a friend than a celebrity.
Cyrus reached peak exposure when Vice-esque content farm Super Deluxe produced a viral video about him in May 2017. The mini-documentary shows Cyrus at home, around various Milwaukee landmarks and in his hometown, South Milwaukee. His collection of Kylie Jenner tattoos, merch, and makeup are the doc's focus. Later, the cameras follow him to New York where he attends a Kylie Jenner pop-up event with other superfans. Jenner's fans treat Cyrus just like a traditional celebrity, requesting selfies and showing adoration when he acknowledges them. He leaves the event with $1,500 worth of swag that Jenner gives him for free.
"[The Super Deluxe video] has changed my life in so many positive ways," says Cyrus. "People come up to me and go, 'Hey, I just saw you on my Facebook today! I love what you do!' It's so cool!"
Being devoted to a public figure as polarizing as Kylie Jenner (or anyone in the Kardashian dynasty) has its downfalls, with people who don't understand or are otherwise close-minded. Cyrus says he's experienced a lot of backlash and negativity online, but fortunately never in person. "I simply ignore the haters," he says. "Their opinion doesn't matter to me. The only person I listen to is myself."
Cyrus says he's often asked if he'll regret his Kylie Jenner tattoos. "Kylie had such a huge impact on my life that will last with me forever," he explains. "It's my body, though. I don't see why people are so worried about what I'm tattooing on my body."
His day job is working with the elderly at a nursing home, and he plans to pursue nursing full-time. He understands that his online fame probably won't benefit his nursing career, but he admits he likes talking about his Jenner endeavors with residents who know who the Kardashians are.
Eighties pop prophetess Irene Cara once mused, "Fame / I'm gonna live forever / Baby, remember my name." That was long before the internet existed, though Cara's 37-year-old lyrics seem more than applicable to today's online culture. After all, there's nothing more "forever" than the internet, right?