Milwaukee has long been known as the City Of Festivals. As if the endless array of summer entertainment undertakings isn't already dizzying and delightful enough, the city will soon be home to another unique festival. Yes, Shrekfest is coming to Milwaukee this year.
If you've been living alone in a bog and you're unfamiliar with Shrekfest, the event was founded by an online comedy company called 3GI way back in 2014 and hosted at Warner Park on Madison's north side since then. After a few fruitful (well, onion-full) years of off-kilter fun in the state's capital city, the "celebration of self-love and counterculture" that's largely based around the Shrek film franchise will now take place at Humboldt Park in Bay View on Saturday, September 3.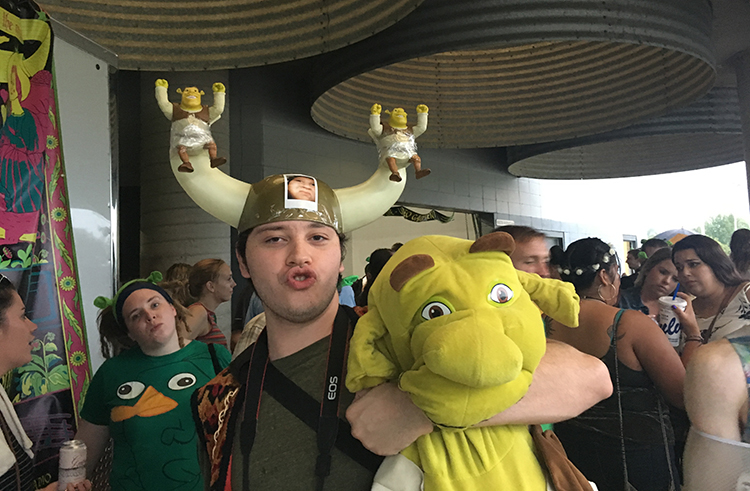 So what can you expect to experience at Milwaukee's inaugural Shrekfest? Well, organizers promise "a variety of experiences, from games to live music to a movie screening at the end of the night." If it's anything like previous installments, you're sure to encounter a lot of creative cosplay—both Shrek-based and otherwise—as well as Smash Mouth karaoke, contests (including a "Shrek roar" contest, a costume contest, and an onion-eating contest), an arts and crafts area, and a screening of the iconic 2001 film. If you're still not quite sure what to expect, our friends at Tone Madison recapped a recent Shrekfest.
Shrekfest officially kicks off at 3 p.m. and runs until 9 p.m. It's free to attend. If any of this sounds appealing to you, make sure to get ogre, er, get over to Humboldt Park on Saturday, September 3.