The following piece by Scott Gordon was originally published on Tone Madison.
In his defense, the guy who started this whole Shrekfest thing in Madison had no intention of actually putting on an event called Shrekfest.
Back in 2014, Joe Copeland, guitarist for a very good Madison-based band called Little Legend, pranked the internet by throwing up a Facebook event, claiming that local businesses were sponsoring a Shrek celebration at Eken Park, and promising such absurd festivities as an "onion peeling contest" and a "shrek rap," spread out over the course of six days. The then-anonymous "organizer" and other Madisonians had a good few laughs posting silly shit in the event. It was a perfectly idiotic little online lark. After all, the Shrek franchise's overarching crappiness and surreal collision of factors—Smash Mouth, Eddie Murphy, ogre farts, a Ben Shapiro-sized despot voiced by John Lithgow—has always lent itself well to mockery and weird riffing.
Copeland moved on because he is a human with a life, but the joke got enough attention that people he didn't even know—namely the Milwaukee-based online comedy company 3GI—seized upon the idea and made Shrekfest happen for real. Then they kept doing it. The fifth annual Shrekfest, billed as a "celebration of love and life," went down on Sunday, September 2, drawing several hundred meme addicts and curiosity seekers to Warner Park on Madison's north side.
This year, the event was initially scheduled to move to its biggest venue yet: McPike Park on Madison's east side. Formerly known as Central Park, it has hosted such major events as La Fete De Marquette, the Central Park Sessions series, and the first Yum Yum Fest. Due to the ongoing threat of flooding on Madison's isthmus, though, the event was moved to the also-not-tiny Warner Park—and really, can you think of better circumstances for celebrating an ogre who lives in a swamp?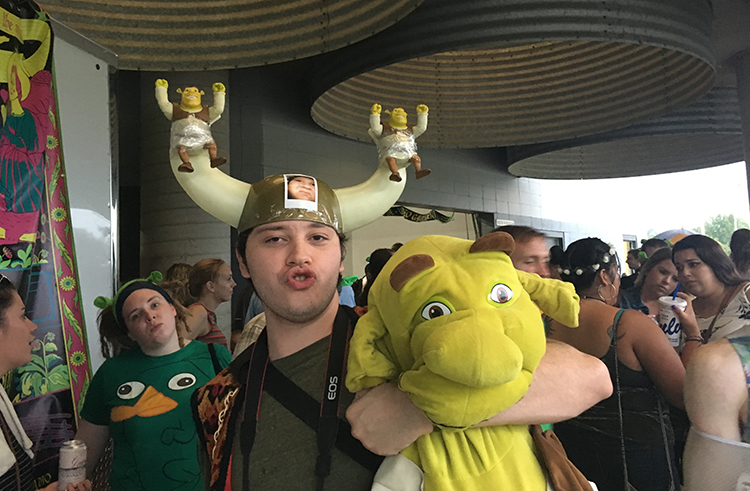 I arrived an hour or so into the event to find a cover band playing a set that included "I'm A Believer" and that one Eve 6 song. A long line stretched from the one beer tent, which served free cups of lager and red ale from the Great Dane. The brewery sponsored the event, and there was definitely a missed opportunity to make a special Shrekfest beer—a Scotch ale with swamp gas, perhaps. As I waited, I watched someone in a full-on off-brand plush Shrek costume (the event's official Shrek, as it turned out) hug someone in a Pikachu costume. Inside a park shelter, a few consoles were set up for Shrek-themed video games, namely Shrek SuperSlam and what appeared to be a hacked version of Mario Kart with Shrek characters.
Shrekfest stepped up its merch game this year, selling a blanket featuring an ornate portrait of Shrek, his beloved Princess Fiona, and his nemesis Lord Farquaad, with the words "Only Shooting Stars Breakth The Mould."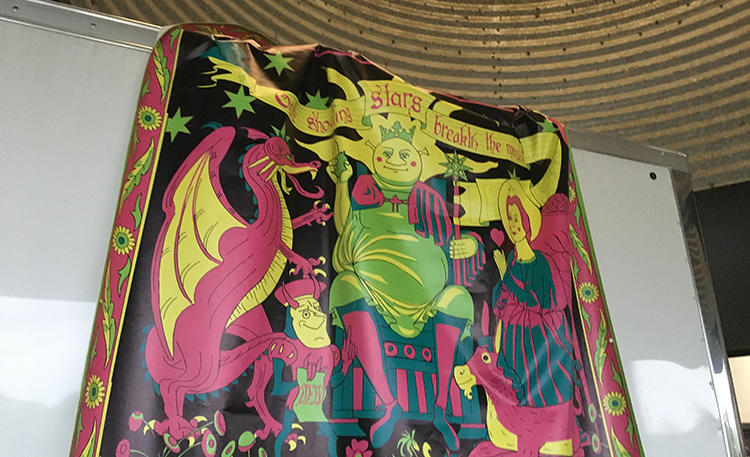 The vast majority of attendees were folks in their early 20s. There were plenty of costumes, but almost all of them were pretty noncommittal—a set of plastic ears here, a thin smear of green facepaint there. My favorite group costume, if you can call it that, was a group of people with "Rest In Peace James Gandolfini" T-shirts, apparently honoring the Sopranos star's unwitting contribution to the franchise. One man in attendance had very close to the same face—big, round, with a blunt nose—and with just the right shade of green facepaint and rough brown and white clothes, he pretty much nailed it.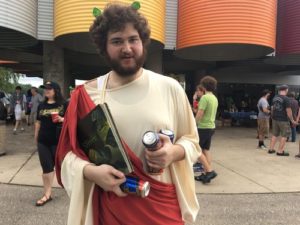 A Madison resident who would only identify himself as "Bob Schmingleheimer" sported a sort of hybrid Shrek-Jesus getup, which, he explained, evolved organically over the course of several Shrekfests. People flocked to him for photos.
"It's good fun, it's memes, it's a silly place to hang out and have a good time," Schmingleheimer explained, before announcing that he was planning to slam all of the four beers he was carrying around.
Overall, the crowd didn't convince me that there was anything like a sincere Shrek fandom happening at Shrekfest. That said, some of the attendees would have been little kids when the first film dropped in 2001, so perhaps they had some genuine childhood affection for it mixed in with the winking knowledge that it's an absurdly bad movie. The prevailing theme here wasn't Shrek so much as a smattering of meme culture, the more disposable and off-brand the better. I spotted The Room shirts, a shirt reading "HARAMBE" in the Friends font, and a patch that mashed up Shrek's head with the Monsters Inc. character Mike Wazowski. I spoke with several attendees who crowed about how much they just love Shrek, all of them with an air of pretending just a bit too hard.
That said, I also spoke with people who came from as far away as West Lafayette, Indiana and Schaumburg, Illinois, so Shrekfest has at least a regional pull somehow. One attendee got worked up enough that he waded into a nearby creek, where the algae mats matched his face and body paint, and did some Shrek-style yelling. And this wasn't even during the "Shrek roar" contest! (More about that below.)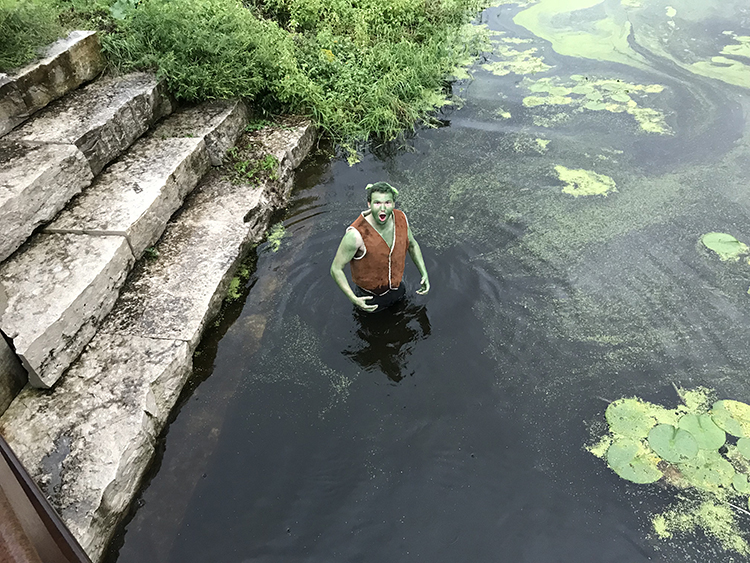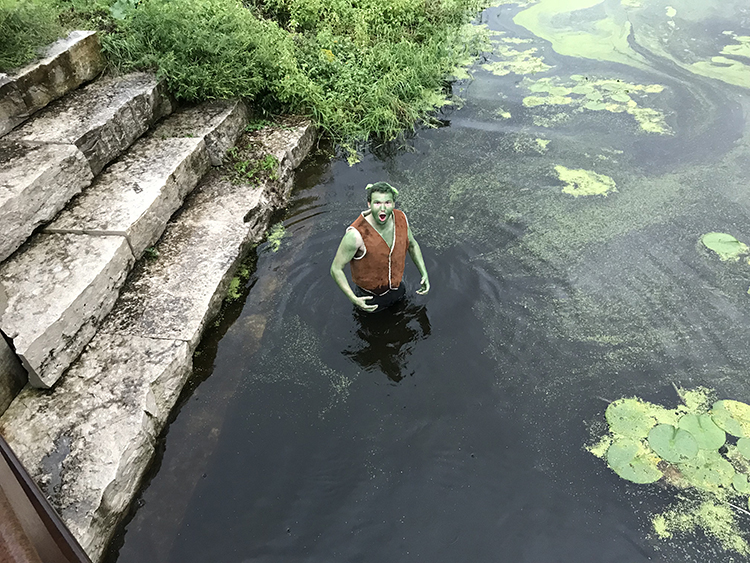 The actual programming tried to Shrek things up as much as possible. The cover band's sets were peppered with songs from the movie (I'm honestly surprised there wasn't more of an emphasis on Smash Mouth all around), contest prizes included Shrek Wet Ones wipes (admittedly, a great and bizarre find), and posters of outhouse panels adorned the bathroom doors in the shelter. And hey, Warner Park has a real swamp. Most of it wasn't so much kooky as just a bit…off. But two events pushed Shrekfest into the territory of warped spectacle: The "Shrek roar" contest and the onion-eating contest.
The first made for perhaps the one sincerely redeeming moment I experienced during my three hours at the event. About 20 attendees in various degrees of dress-up took the mic to either imitate the ogre's fearsome bellow, or just to yell "DUNKEY!" in a Scottish accent. A boy of about 7 or 8—one of the handful of kids at Shrekfest—trounced them all with a bloodcurdling growl. When he was declared the winner, by round of applause, he jumped up and down in genuine elation. He seemed like one of the very few people who came to Shrekfest to actually have fun, or at least to have fun that wasn't of a listless day-drinking variety. It made me think that Shrekfest would be so much better if it were overtly aimed at kids, because even if Shrek is stupid, it's nice to see a little kid enjoy it with utter abandon and a total lack of inhibition.
The onion eating contest, unfortunately, happened inside the park shelter after the rain started pouring down. And by onion eating contest, I mean people peeled and chomped right into medium-sized yellow onions raw, no preparation whatsoever, as soggy bits of peel littered the concrete floor. Most of the contestants made it through one onion. The eventual winner looked like he was really suffering—he was clearly on the verge of vomiting, and rubbed his eyes with onion-y hands—as he housed two and a half of the things.
Shrekfest 2018: Onion-eating contest from Tone Madison on Vimeo.
The stink of onions filled the park shelter, borne aloft on the heat and sweat of some 200 bodies, and not even the shelter's large garage-door openings could really air it out. It was fucking repulsive. I also saw some half-eaten onions abandoned on picnic tables, so at least one person at Shrekfest was snacking on these recreationally.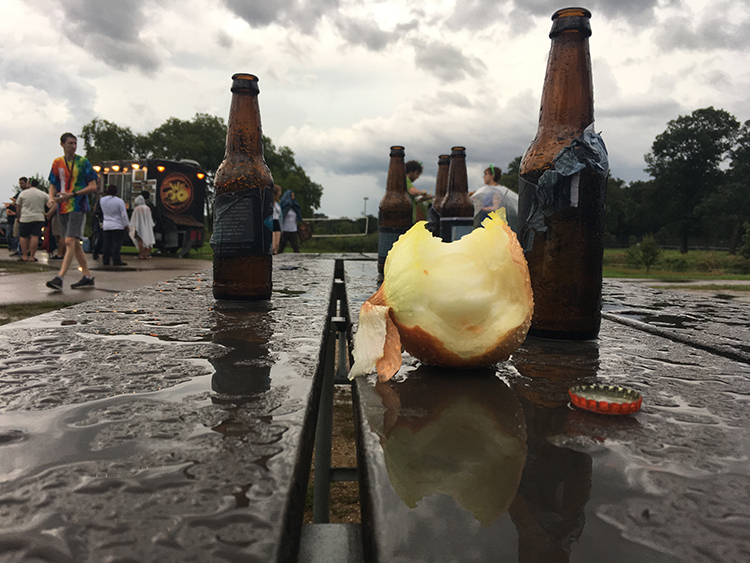 As the onion musk lingered, Shrekfest's organizers brought out an 8-foot-tall blow-up Shrek for photo ops.
"What's kept us at it is, I mean, if you can hear this room right now, look around this room, and just see how many people here have turned out," 3GI member Kevin Gonring told me as he held up the unwieldy inflatable from behind, in a sort of Heimlich position. "The first year we did it, about 50 to 80 people showed up and that was enough reason for us to keep it going."
Apart from the rain, Gonring was pleased with how this year's event turned out and wants it to keep expanding over the next few years. He said he'd be happy if he finds himself still holding up a giant Shrek doll five years from now.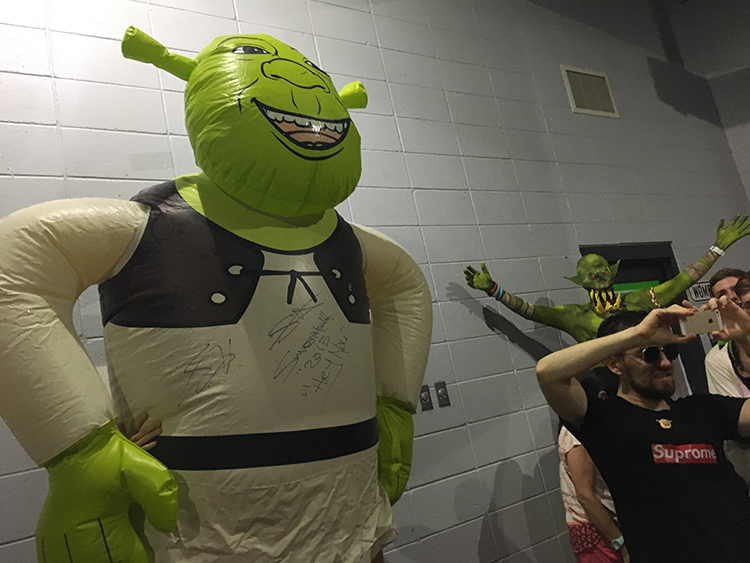 Around about the same time, someone was walking around in a big Minion costume. The Minion faced the large inflatable Shrek and began to make belligerent gestures. Someone holding the Shrek accepted the challenge (Gonring handed it off to a different person somewhere in there), and the Minion took a few bops over the head before turning around and wobbling off in defeat. By this point I had kind of surrendered to the goofiness of it all, and I laughed pretty hard and haven't been able to stop re-watching the video.
So yes, Shrekfest had its moments, but the thing is that dunkey-ing on Shrek has been done, and done well, and a lot. Wisconsin's own living comedic genius, Jacy Catlin, has riffed on it on Twitter and in one of his effortlessly bizarre movie reviews. Conner O'Malley has milked it for a YouTube sketch and his reccurring "anniversary guy" segment on Late Night With Seth Meyers. One can follow the influence of Shrek down any number of batty internet wormholes. Shrekfest doesn't quite capture the strange pop-culture brain-worm that Shrek has become, but perhaps as it grows, it will come closer.
Copeland, Shrekfest's unwitting creator, told me on Monday that he stopped by the 2016 event. "The highlight of it was that I saw a guy smoking [a cigarette] and vaping at the same time," he says. Copeland also doesn't mind that other people are using his idea. He takes a "good for them" view of the event—but don't expect to see him at Shrekfest 2019.
"I don't want to be too mean to these dudes," Copeland says. "To me, personally, it sounds terrible. That's why I thought it was funny in the first place…it was terrible enough that nobody would want to do it."