The "25 Facts" series features people, places, and stuff that make Milwaukee great. These articles are meant just for fun and we have nothing but love for everyone included. Brought to you by Great Lakes Distillery.
If you were hoping we were done with these lists of wonderful, wonderful local facts, we are quite excited to disappoint you. These facts are gold (or at least gold-plated) and we're going to keep on panning forever. Gold!
Given the time of year, you're going to find that many of this month's facts deal with summertime. In other cases, they deal with current events. We also start talking a lot about different kinds of lime and boats named after Milwaukee, because that's kind of neat, right? Without further ado, fix yourself a lovely beverage and enjoy all 25 of these 24-karat lumps of knowledge.
1. The first time Dave Matthews Band ever played "Here On Out" as a band was on July 1, 2018 at Summerfest. That was the same day our friend Keith's adventure story began and the same day that Milwaukee Film officially assumed control of the Oriental Theatre.
2. July 2, 1927 is the day the Oriental Theatre opened. Exactly 90 years later, P!NK performed at the amphitheater at Summerfest for the first time.
3. In an interview with Wisconsin Telephone News in 1933, one of Milwaukee's very first telephone operators talked about her earliest days at the office, back in the early 1880s. On one occasion, she received a watermelon as a gift from an appreciative phone user, only to have it stolen by a lineman shortly thereafter. As for her interactions with unruly customers, "There was one customer who told me over the wire to 'keep my shirt on.' Naturally, I had intended to do that anyway, but I was highly insulted and reported the incident to our manager, Harry Haskins. He, in turn, took the customer to task about it, and I received an apology." That operator was Pauline Juneau, a descendant of Milwaukee co-founder Solomon Juneau.
4. On June 16, 1957, UW-Milwaukee held its first ever commencement ceremony. On that same day, the Milwaukee Braves split a doubleheader at the Philadelphia Phillies' Connie Mack Stadium. Connie Mack (born Cornelius McGillicuddy) was a Major League Baseball player and manager who also acted as a player-coach for the minor league Milwaukee Brewers from 1897-1900.
5. The Milwaukee River is approximately 104 miles long. So far in 2019, Christian Yelich has hit home runs at an average distance of 407 feet. In order to hit 104 miles worth of home runs this year, Yelich would have to hit about 1,350 of them. Doubt him all you want, but you can't spell "Milwaukee River" without "MVP."
6. In Milwaukee (known as "Cream City"), many businesses are built out of Cream City brick. In Newark, New Jersey (known as "Brick City"), zero businesses are called Brick City Cream. That might be because it's illegal to buy ice cream in Newark after 6 p.m. without a doctor's note.
Bonus Fact: High amounts of lime and sulfur in the clay give Cream City brick its color.
7. Milwaukee Brewers Rookie of the Year candidate Keston Hiura was born on August 2, 1996, making him approximately 100 years younger than anyone at Milwaukee Record. The day he was born, the 1996 United States men's Olympic basketball team (aka "Dream Team III") beat Yugoslavia 96-69 in the Gold Medal game.
8. Do you think the Milwaukee County flag feels left out of the whole local flag design conversation? While we aren't experts on the principles of flag design, we're pretty sure that "Have 26 Capital Letter M's" isn't one of them. Our County flag features the Seal of Milwaukee County, which has 26 big M's, not counting the two E's that also look like M's.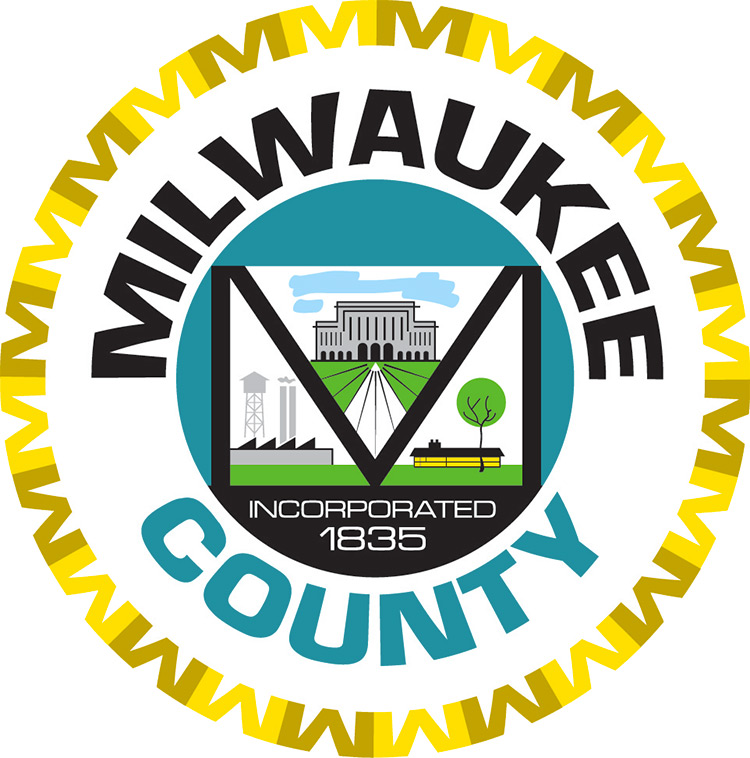 9. Speaking of rarely seen local symbols, the Seal of Milwaukee doesn't make many mainstream appearances these days, either. It was, however, made into a patch for the Milwaukee Chicks' uniform during their one season of All-American Girls Professional Baseball League action in 1944. The Chicks were AAGPBL champions in their lone year, and their team chaperone was American and Canadian Baseball Hall of Famer Dottie Hunter.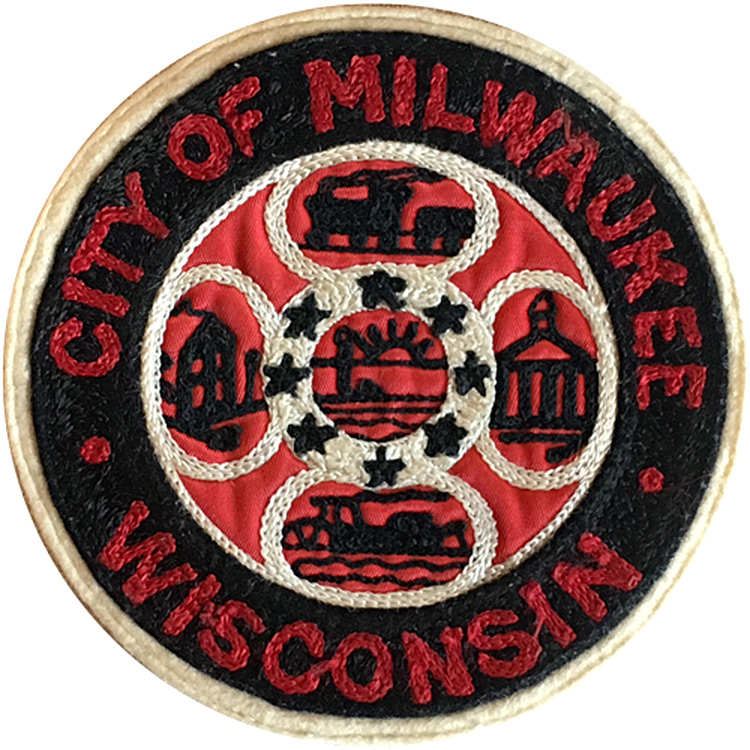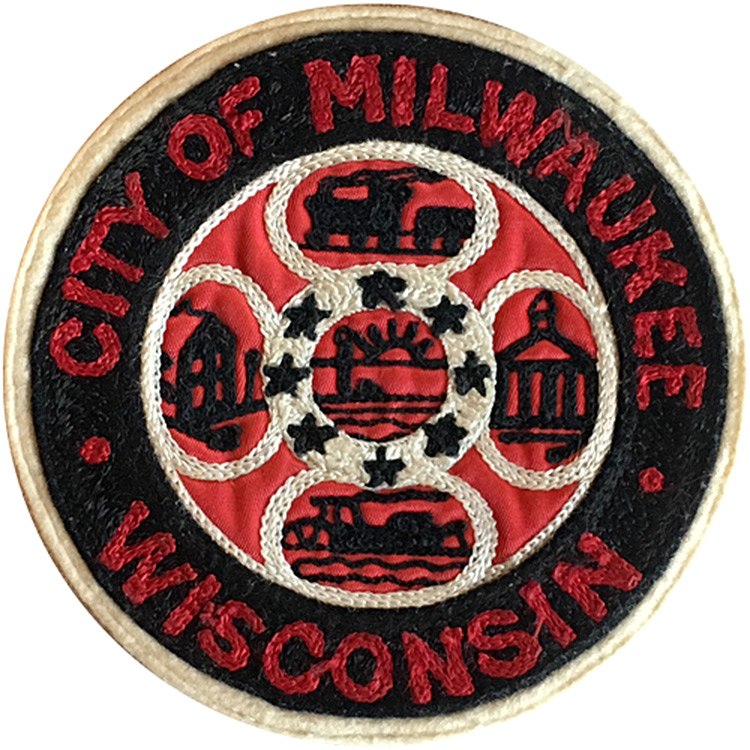 10. Speaking of Milwaukee teams with non-threatening bird names who only played one season in the mid-Twentieth Century, the Milwaukee Sea Gulls were an American Hockey League team that played for one season in 1950-51. Hank Blade led the team with 74 total points and Bill Shvetz led the team with 143 total penalty minutes. Jim Bedard was second in penalty minutes with 59, but he also hailed from Admiral, Saskatchewan. The Milwaukee Admirals played their first season exactly 20 years later at the MECCA Arena.
11. "Milwaukee-class monitor" is a term used to describe four ironclad warships used by the Union Navy during the Civil War. The first USS Milwaukee was one of these ships, but it struck a mine and sank in 1865. In 1868, the wreckage from this ship was recovered and the salvaged iron was sent to St. Louis, Missouri, where it was used in the construction of the Mississippi River-spanning Eads Bridge. James Eads was contracted to build the four ships, and later designed the bridge that's named for him. Exactly 100 years after he passed away (March 8, 1887), Iron Maiden played at the MECCA Arena.
12. Lime scooters were recently launched in Milwaukee, as you may have heard, with approximately 500 of their units distributed around town. The e-scooters travel at a top speed of 15 mph and cost $1 to activate plus $0.25 for each minute of use. By our calculations, if charging wasn't an issue (which it absolutely is), you could get from Lake Lime in central Wisconsin to Great Lakes Distillery in about 10 hours and it would cost you about $151 if you traveled at top e-scooter speed the entire time. Maybe just stay home and make yourself a Rehorst Gin and Tonic instead. Add a lime, of course.
13. Milwaukee County Parks outdoor non-water park pools, ranked by elevation:
1. Hales Corners Park Pool (791 feet)
2. McCarty Park Pool (738 feet)
3. Washington Park Pool (719 feet)
4. Sheridan Park Pool (676 feet)
5. Jackson Park Pool (666 feet)
6. Grobschmidt Pool (659 feet)
7. Wilson Park Pool (659 feet)
14. United States Navy ships called the USS Milwaukee, ranked by overall length:
1. USS Milwaukee (1865): 229 feet
2. USS Milwaukee (LCS-5, commissioned in 2015): 378.3 feet
3. USS Milwaukee (C-21, commissioned in 1906): 426.5 feet
4. USS Milwaukee (CL-5, commissioned in 1923): 555.6 feet
5. USS Milwaukee (AOR-2, commissioned in 1969): 659 feet
15. Washington High School alums Gene Wilder and Latrell Sprewell have earned a combined two Academy Award nominations, two Golden Globe nominations, four appearances in the NBA All-Star Game (including one start), one selection as All-NBA First Team, and one Primetime Emmy Award. Latrell Sprewell played against Michael Jordan twelve times in his career (winning three of those times) and Gene Wilder played a character named Michael Jordon in the 1982 comedy Hanky Panky (during which Wilder met Gilda Radner, whom he'd eventually marry).
16. The highest natural point in Wisconsin (Timms Hill, approximately 1952 feet) is the same height as Milwaukee's US Bank Center, Northwestern Mutual Tower and Commons, 100 East Wisconsin, and the 633 Building stacked on top of each other.
17. Latrell Sprewell was on the Golden State Warriors with B.J. Armstrong >
B.J. Armstrong was on the Chicago Bulls with Michael Jordan >
Michael Jordan was in Space Jam with Bill Murray >
Bill Murray was in Wild Things with Kevin Bacon >
Kevin Bacon was in A Few Good Men with Kevin Pollak >
Kevin Pollak was in Another You with Gene Wilder
18. The SS Milwaukee was a ferry on Lake Michigan that shuttled railroad cars from Milwaukee to Grand Haven, Michigan from 1902-1929. On October 22, 1929, the ship sank and 52 men on board drowned. The SS City of Milwaukee was built as a replacement in 1930 and it ferried train cars across Lake Michigan from 1931-1982. It's now a museum in Manistee, Michigan, which is only 1,310 Christian Yelich home runs (or 101 miles) away from Milwaukee.
19. "Artsy Dearest" is an anagram for Red Star Yeast.
20. Otto J. Schoenleber was 35 years old when he opened Ambrosia Chocolate in 1894.
Gene Wilder was 37 years old while filming for Willy Wonka And The Chocolate Factory in 1970.
Ambrosia Chocolate was 39 years old when Gene Wilder was born in 1933.
Johnny Depp was 41 years old while filming for Charlie And The Chocolate Factory in 2004.
21. Based on studies of the farming potential of Easter Island, scientists believe that the island likely supported as many as 17,500 people at its peak—many more than had been previously estimated. That's the exact capacity of Fiserv Forum. Bet Easter Island didn't have Gold Rush Chicken, though.
22. The booming Walker's Point neighborhood on Milwaukee's south side is about 1,150 miles from Walker's Point in Kennebunkport, Maine—home of the Bush family compound. Again, don't do this, but if it were possible to ride a Lime scooter at top speed without recharging (it's absolutely not possible) all the way from Walker's Point to Walker's Point, it would take approximately 76 hours and 40 minutes and would cost around $1,151.
23. Robin Yount (2,856) played exactly 1,000 more games for the Brewers than Paul Molitor did (1,856).
24. Ambrosia Chocolate purchased Newark, New Jersey-based Hooton Chocolate Company in the early 1960s. While we can't prove that Hooton got all of their cream from a local cream provider called "Brick City Cream," because there's no evidence to support any of that at all, we also can't prove that they didn't. So, there's hope.
25. We were sincerely sad to hear the recent news that the Great TV Auction will no longer be a part of our lives here in Milwaukee. In honor of the Auction, our last fact today is that "Feast Hotel Thing" is an anagram for "Steal of the Night." That's actually mildly significant, as we've definitely bid on multiple feasts, at least one hotel stay, and a wide variety of other things over the years. R.I.P