In case you don't recall or if you haven't kept up on the current events of musical footnotes of the late '90s and early 2000s, Steve Harwell—heretofore known as "the dude from Smash Mouth"—flipped the fuck out on a Fort Collins, Colorado crowd last month when audience members threw bread at him. Despite somebody once warning him the world was going to roll him, the singer apparently wasn't ready for the barrage of bread. He threatened to fight individual audience members and had to be restrained by security, showing the Taste Of Fort Collins crowd he, in fact, was not the sharpest tool in the shed. Though Harwell and his bandmates are no longer all-stars, the folks responsible for "Walkin' On the Sun" still managed to nab a Miller Lite Oasis headlining slot tonight.
Today also marks the final day of Summerfest. If you've made it out to the grounds for any of the festival's previous 10 days, you've undoubtedly subjected your body to an onslaught of greasy, fattening, cheesy, and carbohydrate-loaded foods. It might be a good idea to transition back to real life by ending Summerfest in a slightly healthier way than you started it. If you want to finish the Fest bread-free, you're in luck. We've thought outside the bun and rounded up 23 low- or no-carb items you'll find at Summerfest. Steve Harwell thanks you in advance for putting down the loaf.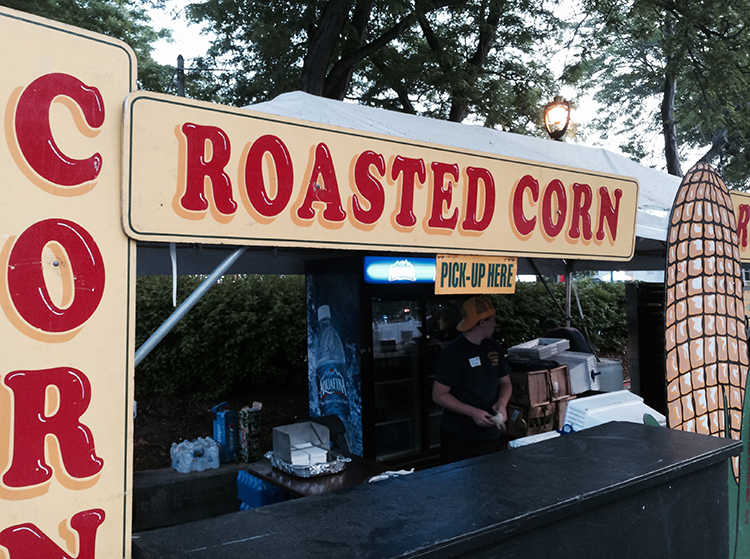 Anderson's Corn — corn on the cob
Corn on the cob is standard festival food. It's also one of the only Summerfest edibles that's legitimately healthy. Of course, most people nullify any nutritional benefits by slathering the ear with a sea of butter and a pile of salt. Even with the fattening and salty additions, corn on the cob is still better for you than anything that comes on a starchy bun.
Angelo's — chicken wings
It's almost harder to find a Summerfest vendor who doesn't offer some variation of chicken. Angelo's is one of the numerous stands with poultry on the menu. While you can carb load with Angelo's pizza and sandwiches, chicken wings are also available.
Botanas — guacamole
Yes, guacamole in all its deliciousness is fattening. But people always say "it's good fat" or something. We're not quite sure what that means or if it's true, but we're not going to look into it. We want to live in a world where guacamole isn't unhealthy. Despite the lack of bread in this one, the accompanying chips make including this Botanas specialty iffy.
Burke's Lakeside — whiskey chicken skewer
Sure, the sugar in the whiskey glaze offsets any health benefits of this white meat delicacy, but at least you won't be weighed down by a dense white bread bun.
Catalano Produce — fresh fruit bowls, raw vegetables
You have to hand it to Catalano for swimming upstream by offering fresh fruits and vegetables in the world's largest, and arguably most fattening and processed, music festival.
Charcoal Grill — turkey leg
If you can't wait for the Renaissance Faire to feast like a king, Charcoal Grill saw fit to add turkey legs to its menagerie of meats at Summerfest. Honestly, why would you eat anything else?
Chipotle — burrito bowl
Along with Wendy's, Chipotle is one of the few multinational conglomerate cuisine options. It's difficult to go to Chipotle and avoid fucking with a delicious, oh-so-unhealthy burrito, but if your will is strong, you can shave off a couple hundred calories by getting your would-be burrito guts in a bowl instead.
Famous Dave's — St. Louis spareribs
Founded in northwest WI, Famous Dave's is (or at least should be) a point of state pride. The BBQ bastion offers an array of animal proteins, many of which don't rely on bread in any way. Instead of a bun, bone-in ribs are an efficient…and morbid means of getting meat from the grill to your mouth.
Flannery's — teriyaki wings
Flannery's is on the cutting edge of eliminating bread for its menu. Though they famously use waffle cones as chicken and reuben holders instead of bread, its wings are one of the few menu items without some type of dough.
Greek Village — shish kabob
In addition to featuring an estimated 800 musical acts on its lineup, Summerfest also features an estimated 800 foods with "on a stick" in their description. If you're hankering for something Greek, but don't want to fill up on pita bread, opt for a kabob.
King & I Thai — crispy squid
Admittedly, we're not sure what makes the squid crispy. It's likely tempura breading, but that's still less starch than white rice, not to mention being way easier to eat while walking or standing.
La Perla — taco salad
Like a slightly worse version of Botanas, La Perla offers tacos, burritos, nachos, tamales, and more. The taco salad is among the few options that doesn't feature a tortilla. Again, if you can go to a purveyor of Mexican food and order a salad, you're stronger-willed than we are.
Louise's Trattoria — meatball skewer
For the meatball enthusiast on the go!
Mader's — turkey wrapped asparagus spear salad
This one sounds a little too fancy to be a Summerfest food, but it's on the menu.
Major Goolsby's — buffalo wings
You don't often see Goolsby's Wings on local best of lists, which is strange, given they're pretty damn good. Maybe it's because it's always been right in front of you and you haven't had the chance to fully appreciate it for what it is. Could Major Goolsby's wings be the cute-yet-bookish girl next door of Summerfest dining that just needs to take off its glasses and let its hair down? Anyway…no bread.
Mille's — Italian shish kabob
We can't tell you what makes this one different with any certainty. Either it has Italian meats and peppers or the meats and veggies are packed ultra-tight to allow for emphatic hand gesturing.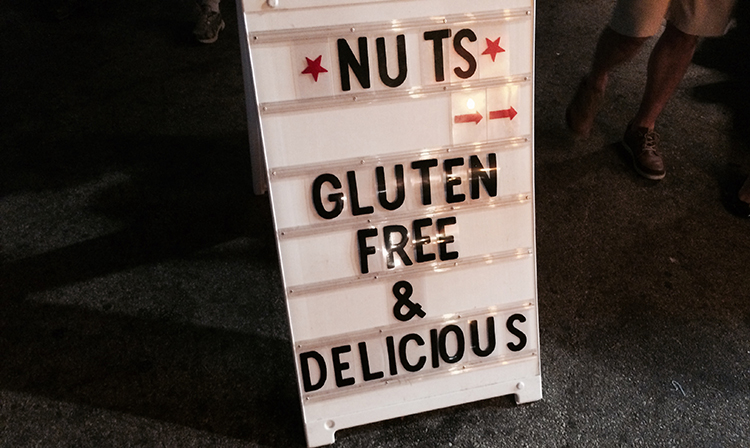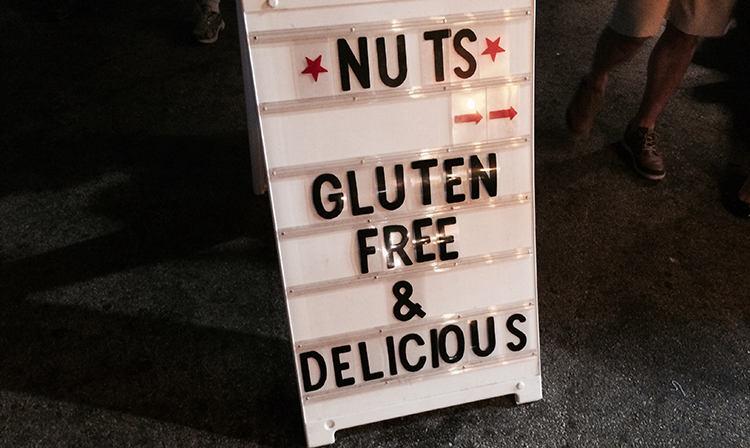 Nuts
If you've spent even an hour at The Big Gig, then you're no doubt familiar with the irresistible aroma of roasted almonds. If the smell and delectable taste of these sweet drupes—apparently almonds technically aren't even nuts. How fucked up is that?—aren't enough to inspire purchase, perhaps the fact they're gluten free is.
Robby's corn — corn on the cob
If you like corn on the cob, but have brand loyalty to Robby, cruise past Anderson's and grab an ear here. It won't taste any different.
Pitch's & Miss Katie's Diner — ribs and chicken
By this point, you know what chicken and ribs are, correct? Whether you get them from Famous Dave's, Charcoal Grill, Pitch's (the kiosk serving simplified versions of things you'll find at the longtime East side supper club) or various other vendors is really just a matter of personal preference and/or proximity to the stage where the next show you want to see is happening.
Saz's — baby back ribs
Summerfest is Saz's time to shine. Though the restaurant has a traditional spot on State Street near Wauwatosa and a new Walkers Point warehouse, the fried food and BBQ joint is unarguably synonymous with Henry Maier Festival Park dining. Again, which of the 7,000 stands offering ribs you choose is up to you, but we're probably going with Saz's more often than not.
Solo — bacon bottom pizza
On paper, this one sounds awesome. However, we can tell you from experience that this one is rough. The crust is replaced by a layer of fat, sodium, and heartburn. Still, as shitty and regrettable as the bacon bottom pizza may be, it's a "when in Rome"-type delicacy that one wouldn't dare dream of hucking Smash Mouth's way. By the way, this is what the bacon bottom pizza actually looks like. Nasty.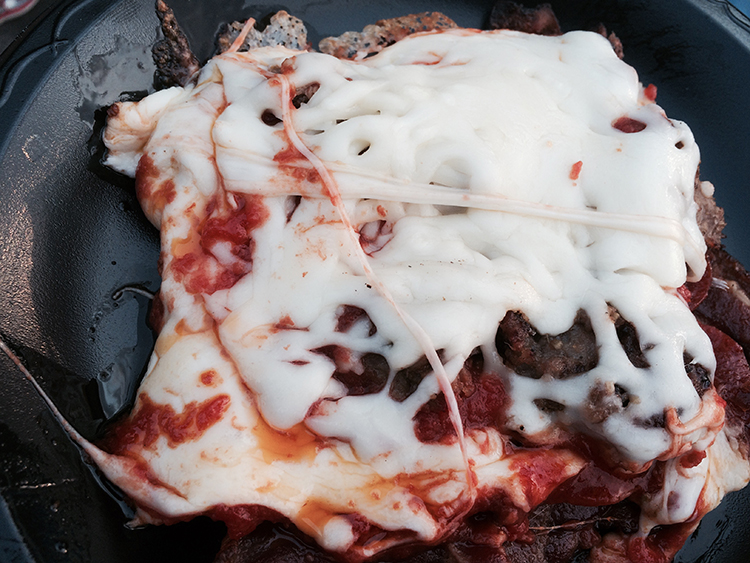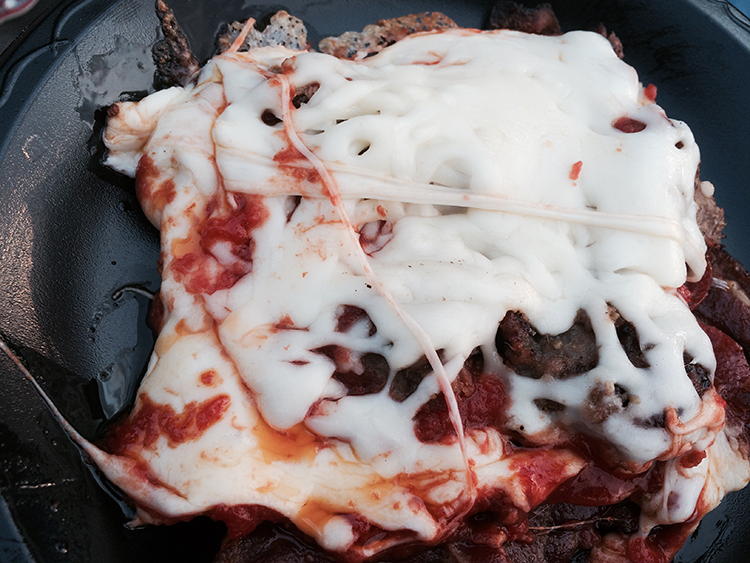 Ward's House Of Prime — steak kabob
This one allows the buyer to simultaneously good about avoiding bread products and come to the crushing realization that this is the only forum in which they'll be able to afford something from Ward's House Of Prime.
Water Street Brewery — jambalaya
Nothing pairs better with watching bands outdoors in the unforgiving heat and humidity of Milwaukee in July than piping hot, spicy jambalaya, right? Excluding a little bit of rice in the Creole food favorite, this is comparably pretty low in carbohydrates compared to its culinary counterparts.