It's not every day that you receive a letter in the mail from 1600 Pennsylvania Ave. And it's not every day that said letter begins with "Dear Lyin' Milwaukee Record" (that only happens every other day). But today, upon entering our palatial industrial offices, we found such a letter. We'd like to share it.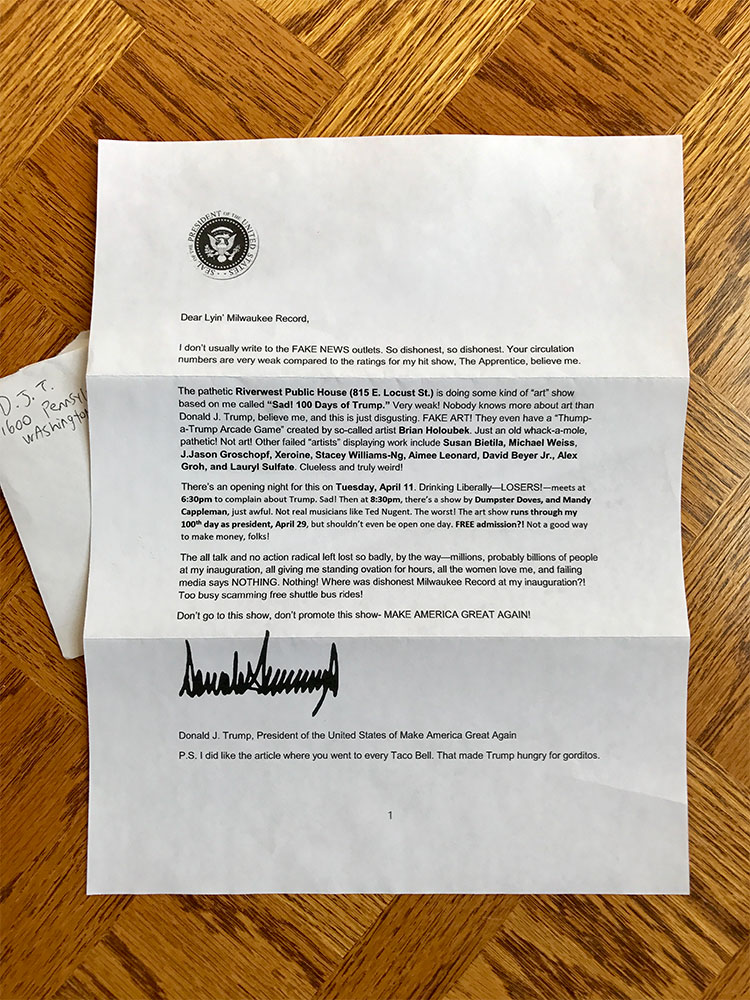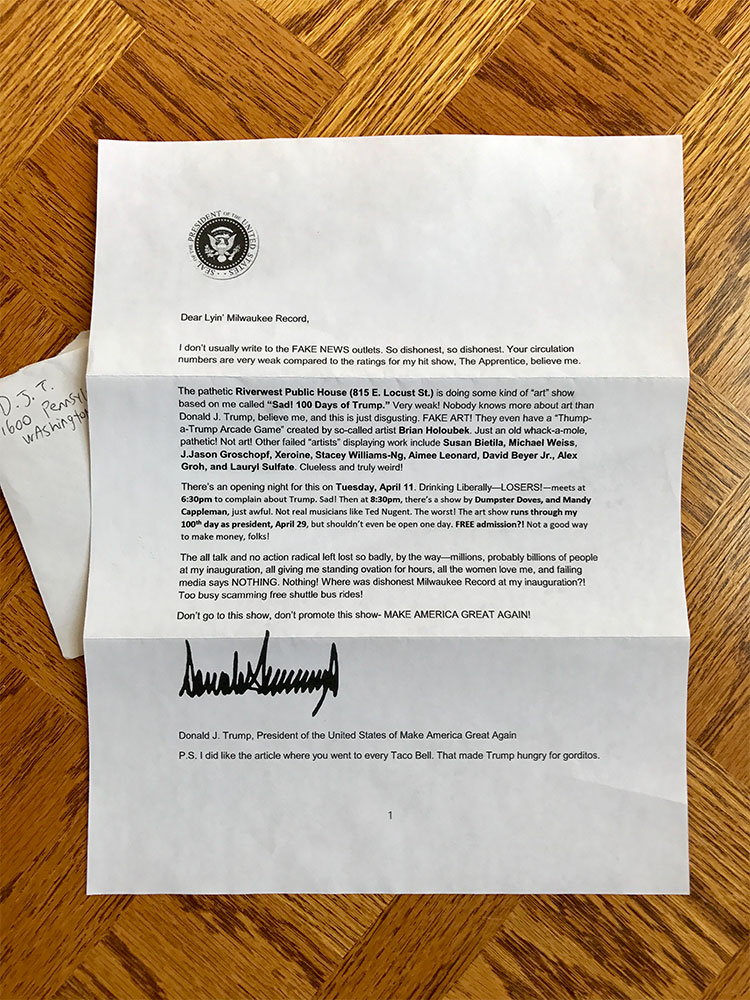 Dear Lyin' Milwaukee Record,

I don't usually write to the FAKE NEWS outlets. So dishonest, so dishonest. Your circulation numbers are very weak compared to the ratings for my hit show, The Apprentice, believe me.

The pathetic Riverwest Public House (815 E. Locust St.) is doing some kind of "art" show based on me called "Sad! 100 Days of Trump." Very weak! Nobody knows more about art than Donald J. Trump, believe me, and this is just disgusting. FAKE ART! They even have a "Thump-a-Trump Arcade Game" created by so-called artist Brian Holoubek. Just an old whack-a-mole, pathetic. Not art! Other failed "artists" displaying work include Susan Bietila, Michael Weiss, J.Jason Groschopf, Xeroine, Stacy Williams-Ng, Aimee Leonard, David Beyer Jr., Alex Groh, and Lauryl Sulfate. Clueless and truly weird!

There's an opening night for this on Tuesday, April 11. Drinking Liberally—LOSERS!—meets at 6:30 p.m. to complain about Trump. Sad! Then at 8:30 p.m., there's a show by Dumpster Doves, and Mandy Cappleman, just awful. Not real musicians like Ted Nugent. The worst! The art show runs through my 100th day as president, April 29, but shouldn't even be open one day. FREE admission?! Not a good way to make money, folks!

The all talk and no action radical left lost so badly, by the way—millions, probably billions of people at my inauguration, all giving me standing ovation for hours, all the women love me, and failing media says NOTHING. Nothing! Where was dishonest Milwaukee Record at my inauguration?! Too busy scamming free shuttle bus rides!

Don't go to this show, don't promote this show—MAKE AMERICA GREAT AGAIN!

Donald J. Trump, President of the United States of Make America Great Again

P.S. I did like the article where you went to every Taco Bell. That made Trump hungry for gorditos.
Also: It says something about the state of things today that for a second—just a second—we thought this was legit.