Much like the very film the event honors, Shrekfest is an underdog story. In 2014, after learning a Madison festival dedicated to the hit DreamWorks series—which spawned four successful motion pictures, two holiday specials, and a Puss In Boots spin-off—was nothing more than a cruel online joke, a Milwaukee-based video company called 3GI took it upon themselves to deliver on someone else's promise and make Shrekfest a reality. After the ogre-whemling success of the inaugural event, the group returned to its Madison digs for a second installment, which brought even more Shrek lovers out of the woodwork.
With the biggest and best Shrekfest yet preparing to take over James Madison Park for five hours this Saturday, we asked 3GI member and Shrekfest co-founder Taylor Campbell to elaborate on the unique event's origin, how it's grown, and what to expect this year. In addition to his role with 3GI, Campell is also the reigning champion of the illustrious "Brooklyn's Smallest Penis Pageant," so there was some…uh, small talk about the contest.
Milwaukee Record: So 3GI took over Shrekfest when you found out another Shrekfest was just a Facebook hoax? Why did you feel the need to make this online joke a reality?
Taylor Campbell: We'd been making these weird Shrek mashups and parodies and releasing them through our YouTube channel, so we felt it was our duty to make the event happen. There also seemed to be a lot of interest from the general public when the fake event was first created, and we didn't want to disappoint anyone.
MR: How has the event grown and changed between the inaugural iteration and last year's festivities?
TC: The first year really just felt like a a group of people hanging out at a park, and it was pretty small and hastily put together, though I'd say about 75 people came. Last year, we were a little more organized than before, but still basically just screwing around. Last year had about 100 to 200 people come.
MR: How are you changing things up in year three? As the film franchise ages, how are you keeping things fresh?
TC: This year Madison forced us to buy a bunch of permits and insurance since we got listed as a, like, actual event or something. But we're holding it at probably the most prime location, James Madison Park. We ran a GoFundMe to cover some of the costs. Also, the merch this year is better. Professionally printed and stuff. The first two years, we just tie dyed the shirts and left them outside until a bunch of slugs crawled over them.
We're still running the same games like the Onion Eating Contest and adding more musical acts, better facilities, and better organization. Everything is getting better to please the 1,500 people who said they're going.
MR: Have you heard anything from DreamWorks or anyone involved with Shrek? Praise? Legal threats? Any indication they're even aware of it?
TC: Nope. I hope they don't care. It's not like we make any profit off this. We wanted to get Smash Mouth to play, but it's like $40,000 or something insane.
MR: Since you're a Milwaukee operation, is the group open to bringing Shrekfest here down the line? Or will it stay in its home swamp of Madison until further notice? Maybe Milwaukee could host a "Winter Madagascarnival" or something. Patent pending!
TC: I think we'll keep it in Madison, since it started there, and it may be a better setting for it than Milwaukee. Milwaukee is full of sad people and Shrekfest is a joyous, heavenly event. We did talk about trying to set up a Smallest Penis Contest here.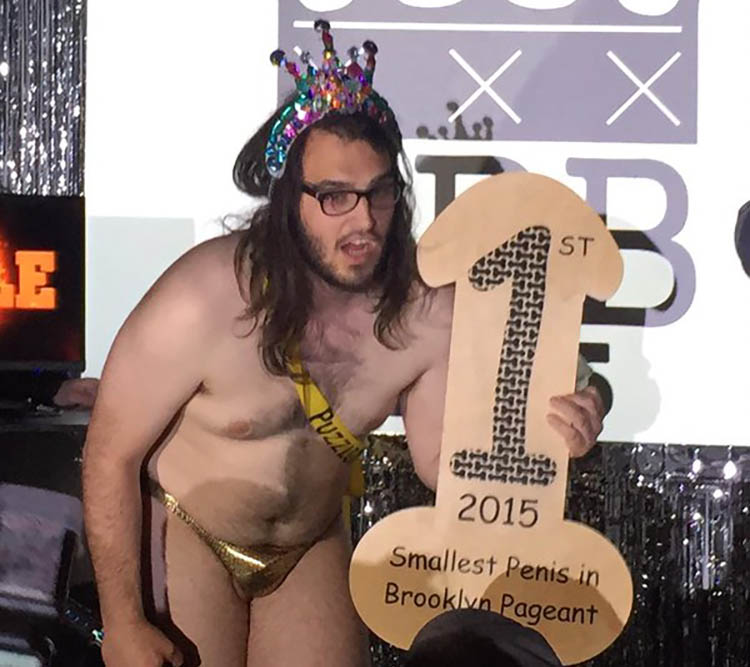 MR: Speaking of that, I can't interview the current—and final?—Brooklyn's Smallest Penis Pageant titleholder and not ask you about it. How did the rest of the competition measure up? What skills or other attributes pushed you over the runner-up, who came up just a little bit long of winning?
TC: Well, we went to the 2014 contest to film it because it's hilarious, and I got roped into competing. I think my uncomfortableness pleased the crowd that year. That, and my "Goodbye Horses" dance, cock tuck and all. Last year, I went full force, knowing what to expect, wanting to win. I brought the thunder and then brought the house down with my rendition of the James Bond Goldfinger theme, but changed it to "Gold Dinger."
MR: How has your life changed since winning the title? Do you list it on your résumé or your online dating profile?
TC: I was 500 bucks richer for a little bit, but I blew all the money on taxis and calzones at La Guardia. It was weird for a bit cause I was getting all these radio requests from Jenny McCarthy, NPR, and some British radio show. The NPR interview was awesome because it was focused on the body positivity aspect and not just making fun of me like Jenny McCarthy did. Morgan Spurlock's production company wanted to feature me in some documentary, but I haven't heard back. My dad is my boss, so I don't have to hide it, but I'm not sure if he likes it.
MR: Is there anything else you'd like to add about Shrekfest, penises, or some combination of the two?
TC: Shrekfest is seriously an incredible and full-of-fun event. We do our best to accommodate everyone, and nobody gets turned away. It really is a special place to go, do whatever you want, be as weird as you want, and it's totally fine.
3GI's Skrekfest 2016 comes to James Madison Park (Madison) Saturday, September 3. The festival runs from 4 p.m. to 9 p.m. Admission is free.