In case you've been off the internet until literally this instant today, you probably saw the video of Giannis Antetokounmpo honoring Stone Cold Steve Austin during last night's postgame press conference by wearing a "Giannis 3:16" shirt (because it was 3/16, after all!) and taking a sip of beer.
If you know, you know. ☠️ @steveaustinBSR pic.twitter.com/3KfPB3BO8M

— Giannis Antetokounmpo (@Giannis_An34) March 17, 2022
As the video shows, Antetokounmpo precedes his Earl Boykins-sized sampling of Coors Light by saying "I don't usually drink, but I'm gonna take a sip." A few second after "Tapping The Rockies" and touching the can to his lips, the two-time MVP and future Hall Of Famer shakes his head is disappointment and says, "This is nasty. Hell no." It was the worst Coors-related endorsement since those "AND TWIIIIIINS!" commercials.
It's quite possible Giannis just isn't a beer person. As ironic as the best athlete in "Brew City" despising beer is, it's cool with us. Not everyone drinks and even those who drink don't always enjoy beer. To each their own! However, it's also possible The Greek Freak just hasn't found his beer yet. With the wide range of styles in the ever-evolving beer industry, there's bound to be something out there worthy of an Antetokounm-POUR. (Sorry.)
Since we're fans of his and lovers of all things Milwaukee beer, here are 10 local beers we'd recommend to Giannis Antetokounmpo. Feel free to add your own recs in the comments.
1840 Brewing Company — African Drinking Chocolate
As the name suggests, this imperial double milk stout is chocolatey and delicious. At 13 percent ABV, it's almost as big as Giannis. We picked this one because it kinda-sorta tastes like an Oreo that was dunked in milk…but better…and it gets you buzzed.
Black Husky Brewing — Big Buck Brown
One big Buck deserves another. This brown ale from Riverwest-based Black Husky Brewing is only available seasonally, but we look forward to Big Buck Brown season in the same way we look forward to Milwaukee Bucks season.
Central Waters Brewing (Milwaukee Taproom) — DDH
The first Milwaukee-exclusive offering from Central Waters' new taproom has considerable hops and it's just plain awesome. Sounds like a certain Bucks player, right?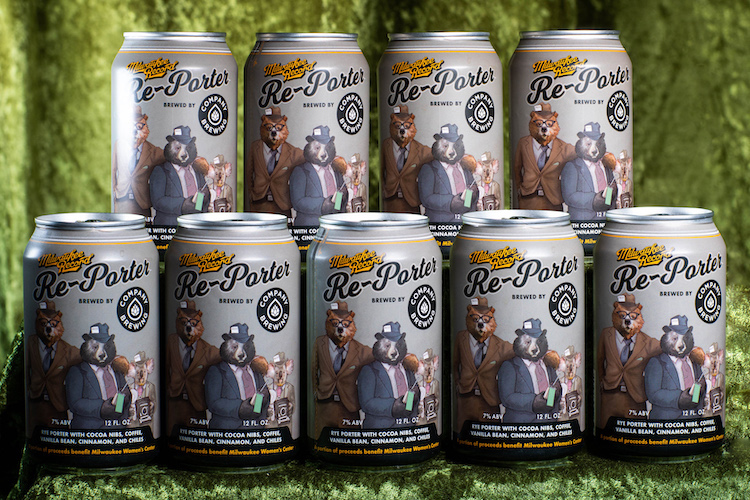 Company Brewing — Milwaukee Record Re-Porter
Okay, so Company Brewing has some great citrus-y gose options that could be considered loosely similar to Giannis' famous half lemonade, half Sprite, no ice drink order. We also could have gone with the brewery's Bounce House that offers some obvious basketball-related wordplay. However, Company Brewing makes a Milwaukee Record beer that we love, so we're obviously recommending that one.
Eagle Park Brewing — Strawberry Banana Hard Smoothie
Giannis loves smoothies. Eagle Park produces excellent smoothie-style hard seltzers with real fruit puree in them. Seems like a no-brainer.
Indeed Brewing Company (Milwaukee Taproom) — Hello, Milwaukee
Neither Giannis nor Indeed Brewing originally hail from Milwaukee, but the Greek-born player and brewery that originated in Minneapolis have both endeared themselves to the city in quick fashion with their commendable output. Hello, Milwaukee (Indeed's first beer from its Walker's Point taproom) seems like a perfect beer to offer the guy who recently brought Milwaukee its first title in more than 50 years.
Lakefront Brewery — Riverwest Stein
Both Giannis and Lakefront's flagship beer are irrefutable points of local pride, and they'll each go down in history as Milwaukee icons.
Milwaukee Brewing Company — MKE MVP
"MVP" is in this hazy IPA's name!
Sprecher Brewing Company — Abbey Triple
Pretty much any time The Greek Freak takes the court, fans can prepare themselves for the possibility of a double-double. However, Giannis has become a somewhat reliable source for triple-doubles, too. He already has more of them than Michael Jordan over the course of his career. Whether referring to the 29 times he's done that OR his ever-improving skills from three-point range, Giannis and "triples" are beginning to go hand in hand. Why not bolster the connection with an Abbey Triple from Sprecher?
Third Space Brewing — Light It Up
This lager is sweet, accessible, and well-balanced. When Third Space and No. 34 are firing on all cylinders, both can "Light It Up" in ways most of their contemporaries could never dream.