If you visited punk hangout Last Rites (625 S. 6th St.) this past summer, you might have noticed a new arcade game pop up in the back corner by the stage. If you took a second look or even played it, you may have been surprised to see a replica of the exact same bar in the game's world.
This is Murder Generation: Cream City Chaos, a solo project by Murder Generation guitarist Rich Altenbach. It's part platform, part brawler, part adventure game. Familiar faces and local dives are pulled out of real life and ported into the machine.
"It's a very retro arcade-style game. I take cues from some of my arcade games that I played growing up," Altenbach says. "But I wanted to center it around the punk scene in Milwaukee and have it as a playable time capsule, so to speak. Being in a band, making shirts and stickers and everything, once I got the ball rolling on this, I thought, 'What stranger piece of band merch can there be than having an arcade cabinet?'"
Altenbach, who is from Milwaukee, said the game started out as a rendering of the Walker's Point venue and snowballed into a celebration of the city's punk scene. After getting the blessing of Last Rites owners Kay Jones and Jim Rice, he started the project in February and completed the cabinet within six months—paint job and all.
In the game you control a young punk traveling between Milwaukee and Milwaukee-area venues such as The Rave, Cactus Club, and the Port of Kenosha to catch shows with the band. After fighting off waves of enemies and trying to survive mosh pits, you eventually piece together that a villain has been working against you behind the scenes. The game ends with an ultimate confrontation between the player character and the culprit.
One particular stretch before the Cactus Club level has stumped some players, even when they try to feed the machine quarters and brute force their way through. Altenbach has said some of the older folks who are familiar with retro games will figure out a pattern with certain enemy types. He reassures me he's seen other people beat the whole game despite the difficulty peaks.
"The difficulty ramps up for a little bit, and then at a certain point it eases up a little to showcase the environments and the people," he says. "I don't want it to make it immediately beatable on the first playthrough, because I don't want people to be bored by it. But I don't want it to get nearly impossible."
Altenbach converted several of his band's songs into 8-bit loops for different levels of the game. Some of the enemies and scenarios in the game's loose story are inspired by the subject matter of Murder Generation's songs. Those tracks will be released digitally after some further computer wizardry.
"Every new song I put in that style, I almost couldn't help but laugh most of the time about how well it seemed to translate," he says. "They're recognizable, but with the sound I'm using it has that vintage 8-bit style sound to them. The way they function for setting a tone and pacing for the levels surprised me every time."
The game only costs 50 cents to play at Last Rites, and is also available through the PC platform Steam. Altenbach says there were many resources out there for arcade parts specifically for working with modern technology—the upside of working with a retro medium in 2023. Whenever he's had to eliminate a glitch or issue an update, he plugs a USB drive straight into the cabinet.
Since a punk club is bound to host chaotic shows, Altenbach says he wanted to make sure everything was created for easy replacement. He even threw in some safety features, such as replacing the glass screen with plexiglass. "It's living in a punk club, it's going to get beat up," he says.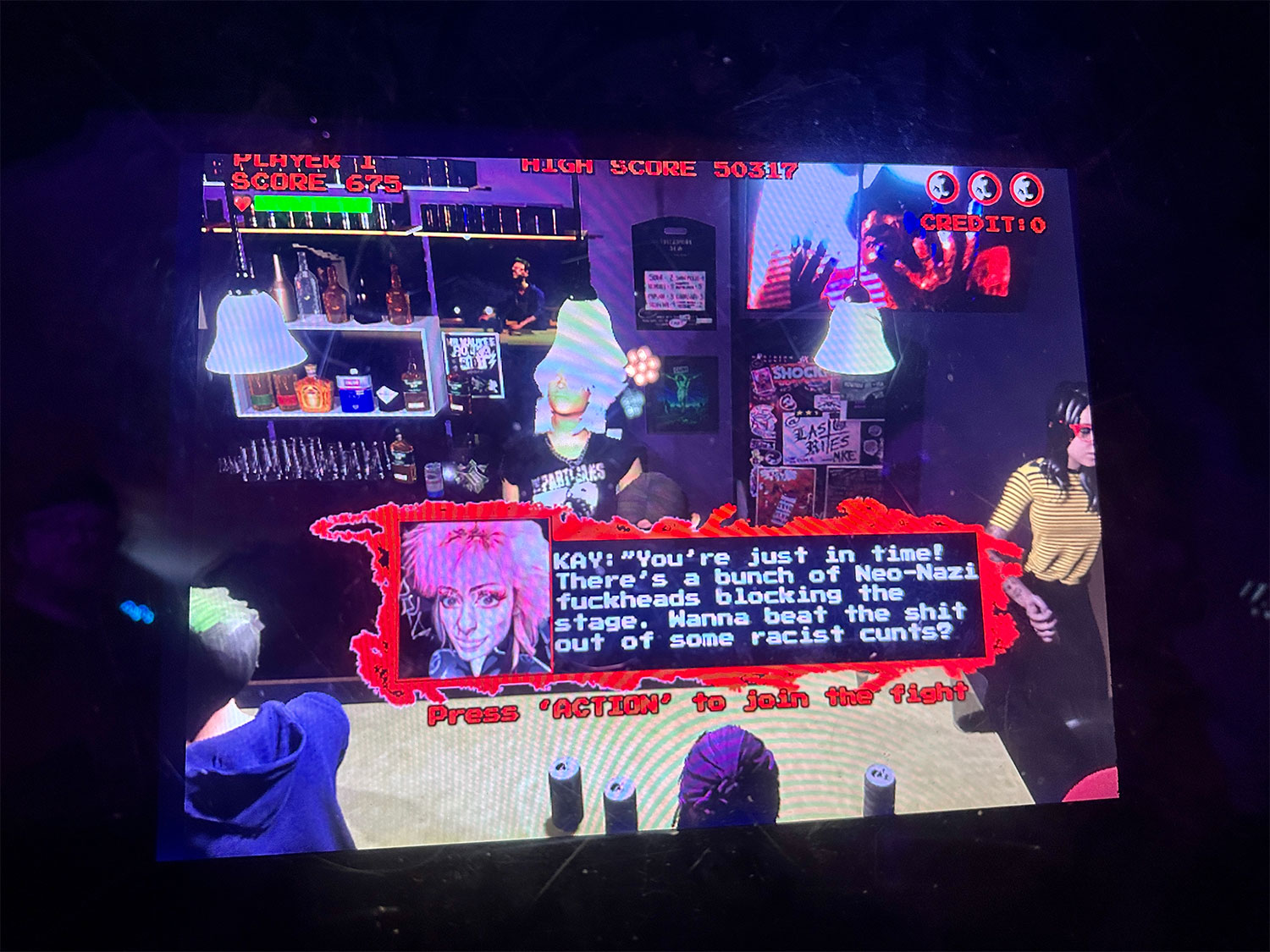 This isn't the first time a Milwaukee band or other entity has appeared in a video game. In 2020, Jordan Davis ported his band Space Raft into an NES game as a love note to Milwaukee music.
In the end, Altenbach says he wants his game to be a celebration of friends in active bands.
"The fact my band's name is in the title of it is a little bit of branding on my part. We don't feature as playable characters, we're in the background and try to give everyone even footing," he says. "It's kind of a celebration of the Milwaukee scene as it is right now. It'll be something reflective of this time period and this city."
Sticker donations on the machine from touring bands are welcome, Altenbach adds.

Want more Milwaukee Record? Subscribe to our free weekly newsletter and/or support us on Patreon.
---
RELATED ARTICLES
• Now Milwaukee music is playing with power in the delightfully retro 'Space Raft: The Game'
• Remembering 'Jam City Rollergirls,' the 2011 Wii game featuring the Brewcity Bruisers