The most surprising thing about Brett Newski writing a book is that he hasn't written one already. Or two. Or three. Here's a Milwaukee musician who has, over the past 10 years, toured the world (he spent roughly 18 months playing music in Vietnam), released oodles of albums and videos (some of the latter featuring him getting kicked out of Walmart) and launched a podcast (Dirt From The Road). Newski's heart-on-its-sleeve folk-pop may be gleefully lodged somewhere in the '90s, but his work ethic is pure 21st century hustle.
And so it goes with the new It's Hard To Be A Person, a chunky little picture book that gives readers tips and strategies for A. defeating anxiety, B. surviving the world, and C. having more fun. Those suggestions range from practical and no-nonsense (How to avoid feeling bad because of social media? "Unfollow those who make you feel bad," of course.) to whimsical and silly (How to kill boredom in traffic? "Leave car and walk to Chuck E. Cheese.") Newski's charmingly crude illustrations give the book a childlike pop, even when dispensing sober wisdom like: "When you're down and out, it's normal to feel like you'll be stuck there forever. Please note, everything is temporary."
And yes, there are dating tips: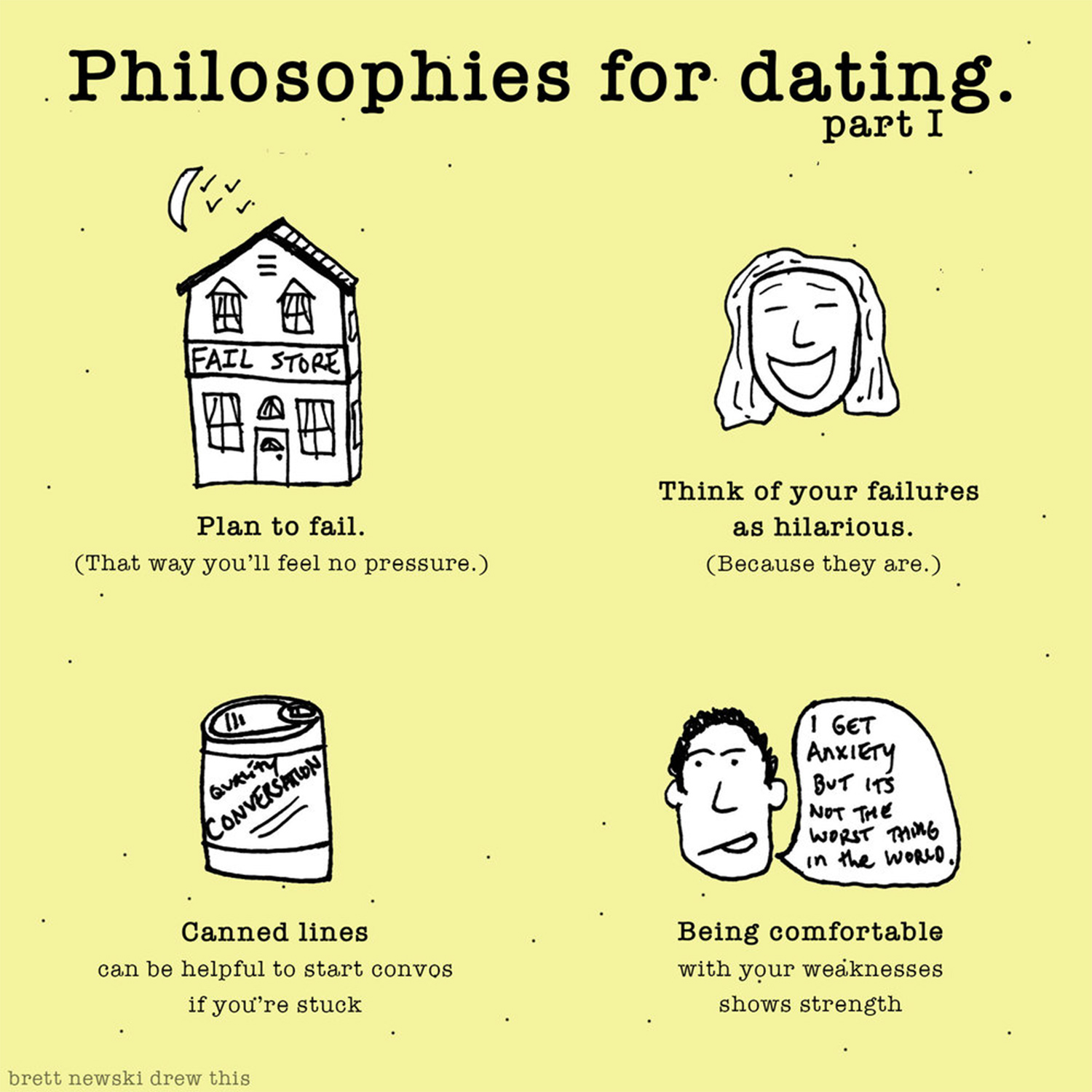 Recurring themes emerge: stress and anxiety can be harnessed for good; social media and smartphones can be harmful, alcohol and soda and junk food can be avoided. There's a difference between "going solo" and being alone, and talking to someone directly is almost always better than doing so online. (Carrier pigeons also work.) And seriously: take a step away from the internet and your phone every now and then.
"Years ago, somewhere on the internet, I posted a few dumb drawings making fun of my own anxiety and depression," Newski explains in the book's intro. "The response to them was warmer than anticipated, and people kept asking for more. Blending humor with pure depression seemed to strike a chord with a decent amount of people. So I kept going, and after about three years of drawing, I had enough dumb drawings for a book."
One of those "dumb" drawings slyly comments on both It's Hard To Be A Person and Newski himself. In "Good Things To Do When Feeling Lonely," Newski includes "Create something that didn't exist before: a poem, song, drawing, etc." Well, Newski did just that. Again. The fact that It's Hard To Be A Person exists at all is perhaps its best lesson.
Newski will celebrate the release of It's Hard To Be A Person with a book launch party and solo performance at Shank Hall July 25 at 2 p.m. Order the book and/or the accompanying album HERE.
Exclusive articles, podcasts, and more. Support Milwaukee Record on Patreon.
---
RELATED ARTICLES
• Brett Newski writes book, enlists Barenaked Ladies co-founder Steven Page for "I Should've Listened To Ferris Bueller"
• Auction of latest Brett Newski song will support FairVote, and oh yeah, the song is on VHS
• Watch Brett Newski annoy/delight people (again) in video for "What Are You Smoking?"
• "Quarantine brings clarity": Stream Brett Newski's empowering new "Fight Song"
• Watch Brett Newski play a show at Walmart, get kicked out