Blyth Renate Meier was born in Milwaukee but raised in North Dakota. After returning to Milwaukee and earning a master's degrees in art and film at the UWM, she took a job at Milwaukee Film. It was during this time that Meier began taking Instagram snapshots of various downtown buildings and urban landscapes she encountered on her morning walks to work. Eventually collected under a "Good Morning, Milwaukee" hashtag, these photos—many of them shot from the ground looking up—depicted the city in ways rarely seen: beautiful, timeless, distinctive, hopeful.
Now, several years after leaving Milwaukee Film, Meier has assembled her still-growing collection of "Good Morning, Milwaukee" photos into a show for the Portrait Society Gallery. Before an opening reception Friday, September 9, Milwaukee Record spoke to Meier (a past Milwaukee Record contributor) about the genesis of her project, the process of transitioning it from a phone screen to real life, and the old Sydney Hih building.
Milwaukee Record: Tell us about the project's inception. Was it even conceived as a "project" at all, or was it just you taking snapshots on your way to work?
Blyth Renate Meier: I started it when I worked for Milwaukee Film. In the early days of the festival, two things were happening. One, we didn't have a lot of year-round events. From a marketing perspective, I was struggling with how to fill all of that time outside of those 11 days [of the festival] and keep people engaged throughout the year. Two, in the beginning, we were testing out different venues. "We're at the Ridge! We're at the North Shore!" A lot of the feedback people were giving us was that they didn't want to come downtown because it was scary. And here I was walking through downtown on my way to work every day thinking, "I'm not scared. I think it's beautiful." It must have been one of those days walking to work that I just started taking pictures of buildings and posting them. I don't remember how the instinct started, but I just started one day and didn't stop.
It was meant to celebrate the beauty of Milwaukee. We were also a young arts institution, and we wanted to put ourselves inside that space, the Milwaukee community. So when people thought of Summerfest with pride, or the Art Museum, we wanted to be that embedded in people's feelings of Milwaukee. So I figured we'd celebrate the things that were good about Milwaukee and eventually Milwaukee would celebrate us as one of those good things.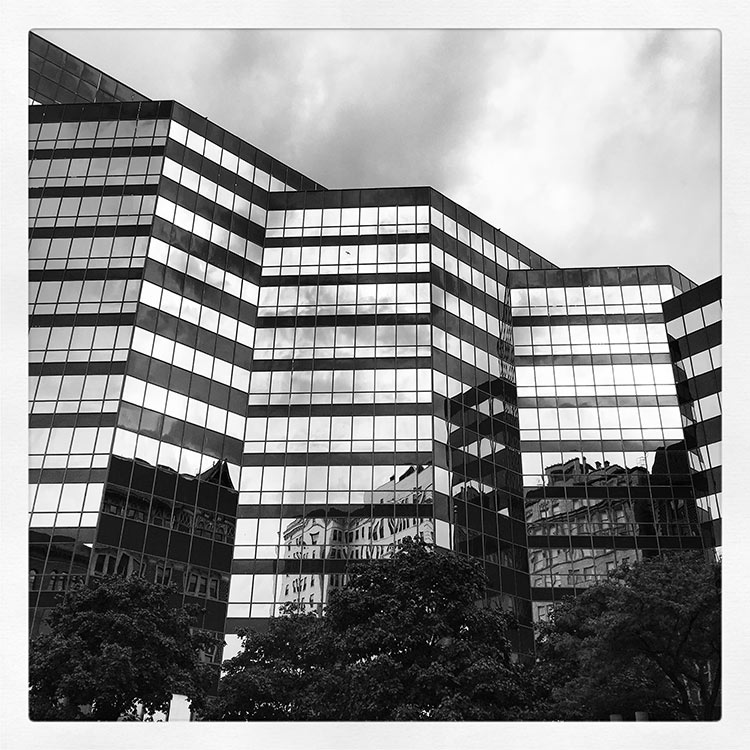 MR: How did the project change after you left Milwaukee Film?
BRM: It became one-hundred-percent personal. While I was there, there would be times I would take pictures of places because they were sponsors, or because Summerfest was starting, that kind of stuff. But since I've left there I can definitely…There was one week I took a picture of the [J.L. Burnham Building] in Walker's Point. I took a picture of that building every day for five days as it was being demolished. That kind of thing, or a picture of a burned down house, that's stuff I never would have done when I was trying to do something positive marketing-wise. [Laughs]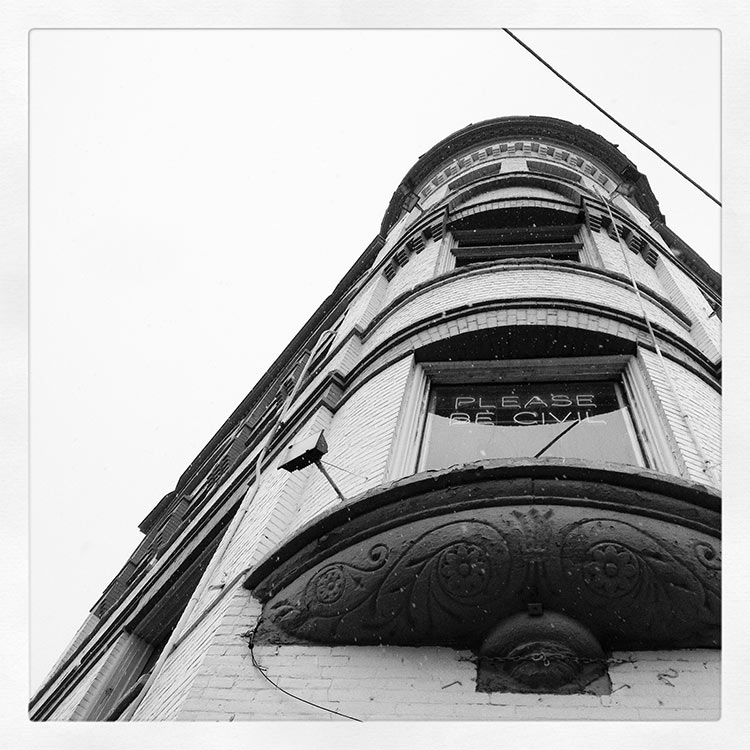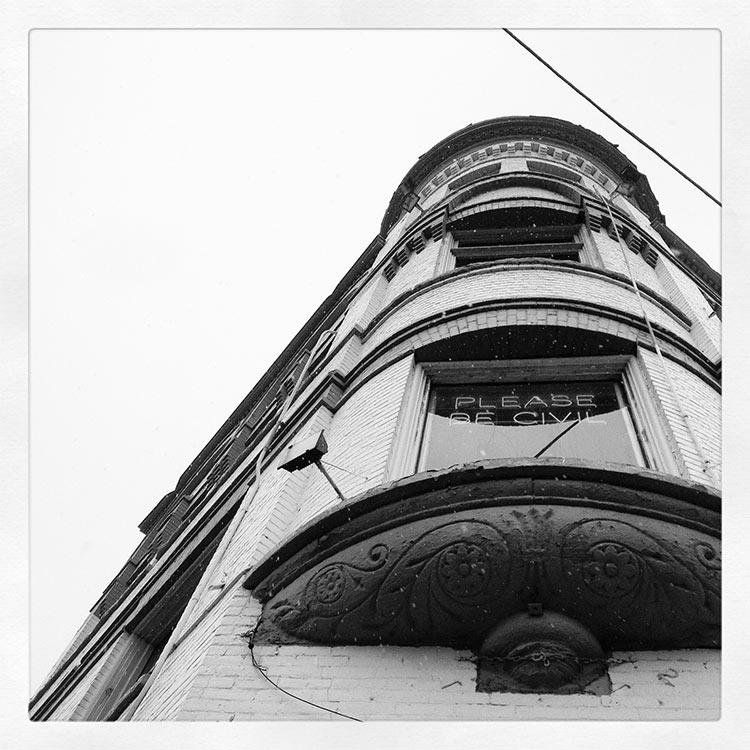 MR: Are these shots you're specifically seeking out, or just things that happen to catch your eye?
BRM: Both. Sometimes I walk to work, sometimes I drive to work. Taking a bus to work is the hardest for taking pictures [laughs], so I tend to not do that. Sometimes it's just what I happen to be driving by. Sometimes I just let myself be pulled in whatever direction. "Oh, I feel like turning right here. I'll see what's in this neighborhood." If I'm out at different times of day and I remember a building that I want to go and get, then I'll sometimes go specifically to that building that day. But a lot of times it turns into a picture of a different building nearby.
MR: What is it about these buildings, these urban landscapes, that you find interesting? What are you looking for?
BRM: I don't know if there's one thing. It depends on the day. Anything that's visually striking to me. Sometimes it's the sky, how it highlights the silhouette of the building. Sometimes it's the overlapping buildings, which I like, and how they merge together. Sometimes, if it's a really sunny day, there'll be some sharp shadows.
I also take the pictures and post them on the same day. I don't "bank" them. Probably within a half an hour, if not sooner. So there's something about it marking what time of year it is, or what the weather is like. If it's raining, I like to find a building that shows the wetness. There are a few concrete buildings in town that you can get some really nice shapes of the water soaking into them. It's a variety of things. Anything that strikes me as special that morning.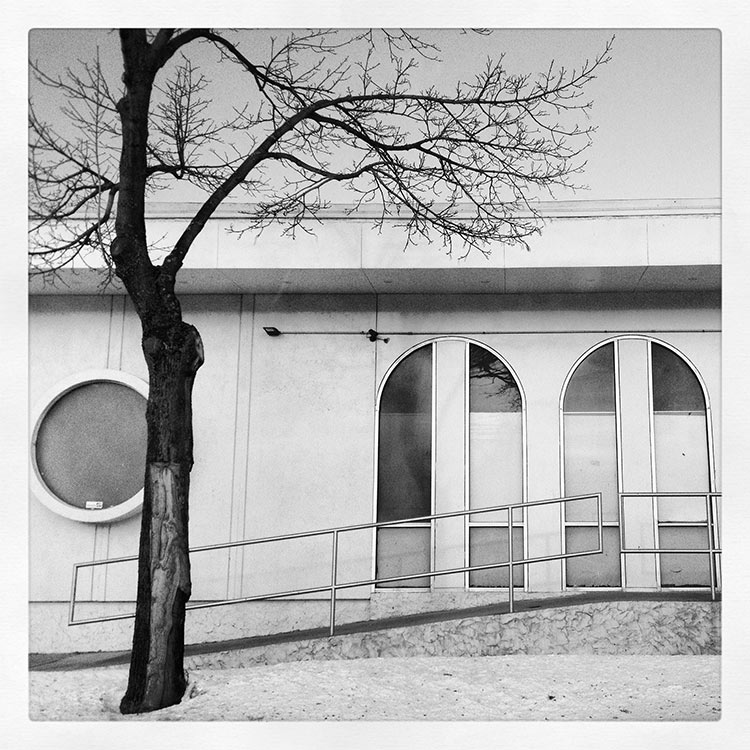 MR: How did you end up working with the Portrait Society Gallery for this show? It seems like a big jump from these photos existing only on computer and phone screens to "real life."
BRM: Mary Louise Schumacher from the Journal Sentinel invited me to be a contributor to her Art City group. I went to a brunch with Mary Louise. I had met [Portrait Society Gallery Director] Deb Brehmer in the past, but I became reacquainted with her and she started following me on Facebook and Instagram. A couple of weeks later she asked if I wanted to show my photos.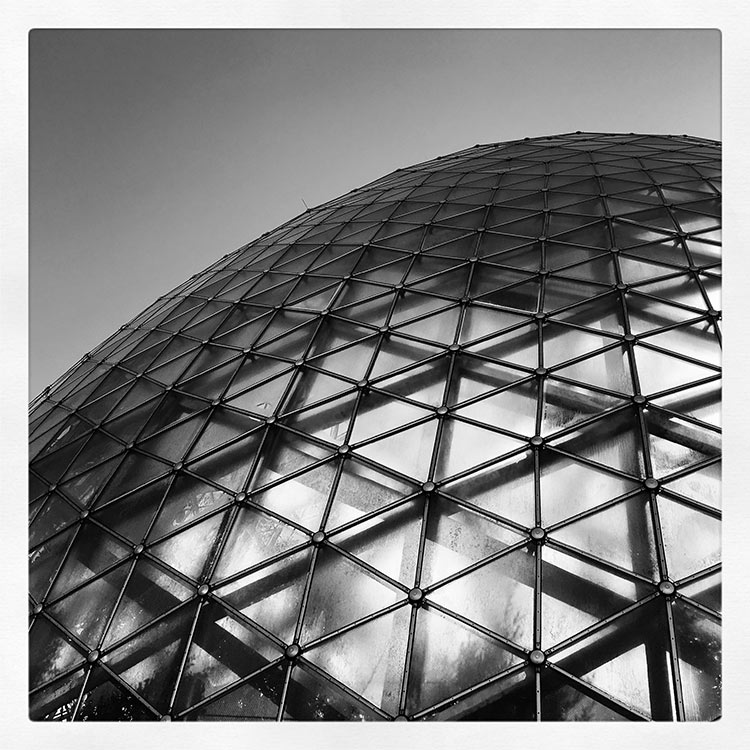 MR: What can we expect at the show? How did you decide what to show and what not to show?
BRM: Just so it's clear, in the gallery space there are three different shows going on. There's one in the Project Gallery space outside, and the bulk of the interior gallery space is Art Elkon's photos. I have one wall right when you walk in, and it's basically a big grid of 203 photos. For this show, for the first time, whereas I can see a lot of different subgroups within it—churches! Nice skies!—I thought for this first one I wanted to give an overview of the project. I went through the 1,200 photos and picked out my 200 favorites.
They're presented in chronological order, and nearly half of them are from 2016. I'm not sure what that says, but it feels like…There have been times when I thought the project should end or my interest was fading, but this last year has been so good for it. I feel really motivated again.
MR: It seems like a perfect time to be doing this, with the amount of change going on downtown and in Milwaukee in general. There may even may be a time capsule element to it all.
BRM: For sure. When I started looking at the photos as a group…In the beginning, I was just pumping them out there, but I didn't even have them all together in an archive for myself until a couple of months ago. When I started looking at them, I realized, "Oh, that building is gone. That building is gone." The first shot in the show is the Sydney Hih building. And you're like, oh, yeah, I remember the time everyone wanted to stay, and now it's just like, "Well, moving on!"
An opening reception for "Good Morning, Milwaukee" is Friday, September 9, 6-9 p.m. at the Portrait Society Gallery. Follow Meier on Instagram @blythrenate.