Art, as we all know, is in the eye of beholder. But so too is the purpose of art. What is art supposed to do? Inspire? Memorialize? Provoke? Decorate? "Start a conversation"? Here are five examples of recent Milwaukee public art pieces—murals, sculptures, signs—that have done all that and more.
1. "Headless woman" mural
Let's start with something that's burning up the local internet right this very minute. This summer, German artist Andreas von Chrzanowski—a.k.a. CASE, a.k.a. Case Maclaim—was chosen to paint a mural on the north face of the Dye House building at 320 E. Buffalo Street. According to a press release, "the structure was originally built for a hosiery company in the 1920s, and Case Maclaim's mural will pay homage not only to the women who used to dye nylons there, but to the many women who work in the Historic Third Ward today and to working people everywhere. The model for the mural is an entrepreneur who works in Milwaukee's Historic Third Ward today."
And yet the mural's absence of a head—not uncommon in Maclaim's work, it should be noted—has rubbed some people the wrong way. OnMilwaukee has a piece detailing those concerns. ("I don't feel honored as a woman that works for a living, just silenced, if you will.") The owners of BlackPaint Studios, meanwhile, have blasted the image and the Third Ward Architectural Review Board on Instagram.
2. Blue Shirt
The grandaddy of modern-day Milwaukee public art controversies. Back in 2001, famed conceptual artist Dennis Oppenheimer was set to create a 35-foot-tall sculpture of a blue shirt for the parking structure at Mitchell International Airport. Milwaukee residents and officials weren't having it. They found the whole "blue shirt" thing to be nothing more than a snide reinforcement of the city's "blue collar" past. Oppenheimer denied the charge.
When Oppenheimer died in 2011, the Milwaukee Journal Sentinel summed up the rest of the story thusly:
The controversy that ensued over "Blue Shirt" was covered coast-to-coast by mainstream media and the art press. It was one of the most controversial works of the artist's career.

In the end, the $220,000 contract, which was to be paid for by the airlines, was terminated ostensibly because a deadline was missed.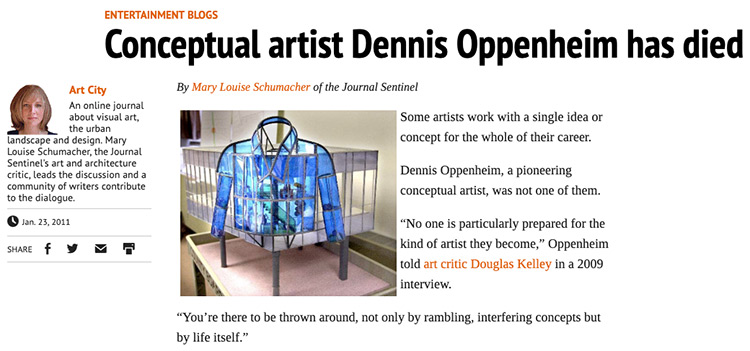 3. Bronze Fonz
Last summer marked the 10-year anniversary of the unveiling of the Bronze Fonz. At the heart of the original controversy was the question of Milwaukee's image. Artist and gleeful shit-starter Mike Brenner publicly threatened to close his gallery if the statue were built. Harsh words were exchanged—often homophobic—and death threats were made. (Brenner later collected a series of threatening voicemails and set them to music.) When the bizarre, TV Land-fueled firestorm reached its peak, Brenner made good on his promise, and closed the doors to Hotcakes on July 3, 2008. A month later, the Bronze Fonz, created by artist Gerald P. Sawyer, was officially dedicated.
Now, lo these many years later, the statue is nothing but a kitschy, harmless landmark. Cue the Aimee Mann and Ted Leo song!
4. Devontay
Since opening in September 2016, the East Side's Black Cat Alley has seen its fair share of controversy—mostly thanks to one long-gone mural. Adam Stoner's "Devontay," which depicted a black man in an orange prison jumpsuit, immediately came under fire for its subject matter and for the color of its artist (white). Stoner saw the piece as a comment on "how we as white people disfigure the humanity of our black and brown brothers and sisters by projecting certain qualities onto them." But some critics saw the image as another "aggression," and said they were "overwhelmed with disappointment at witnessing another black body 'displayed' as socially 'undesirable' no matter what the intent."
One year later, the mural made news again when it was used as a backdrop for a wildly inappropriate Milwaukee Magazine fashion shoot. A few months later, it was vandalized. A few days later, it was removed completely. These days, the wall is covered by a piece from busy local muralist Emma Daisy Gertel.
5. Couples are boring/boning at Fink's
If you walked, biked, drove, or stumbled past the corner of N. Humboldt Avenue and N. Water Street / E. Kane Place during the summer of 2015, you undoubtedly saw a striking addition to one of the intersection's main draws, Fink's. There, on the exterior of the bar's north-facing wall, was a message spelled out in big, friendly letters: "COUPLES ARE BORING AND EVERYONE KNOWS IT." It was funny because it was true.
But not everyone found it funny. "Couples are NOT boring and I won't be spending any more of our money at your bar," went the typical screed on social media. When the outrage continued to grow, Fink's and sign artist Sarah Linkus announced a contest to come up with a new slogan; before that could happen, however, someone changed the "R" in "boring" to an "N," creating a new sign that read "COUPLES ARE BONING AND EVERYONE KNOWS IT." It was funny because it was true.
Oh, and the sign just reads "HELLO MILWAUKEE" now. Everyone happy?
6. UPDATE/BONUS/OOPS
This happened in Shorewood, but good grief, what a mess.