Few things are as subjective or nostalgic as posters. A blown-up snapshot and all that it stands for may conjure a million different reactions in people. Posters are like charming ghosts from a childhood bedroom or a basement where friends gathered. A poster may also come in handy if you're the sort of person who's got to tunnel out of prison.
For these reasons and more, we wanted to acknowledge the thin, glossy rectangles that cling to vertical surfaces, those colorful scrolls that fight the tedium of staring at a blank wall. Some of us maintain the posters that showcase Wisconsin sports figures present some of the boldest imagery this side of the Sistine Chapel, but we can all agree that posters are subjective. Ranging from cringeworthy to cool, these are the nominees for Dairyland's finest sports posters.
Paul Molitor & Robin Yount
Robin Yount shares a first name with a celebrated sidekick. Paul Molitor was a ballplayer known for hitting the baseball with, you know, a bat… Add to the mix a couple toy guns and the effects of a smoke machine to cloak the fact that that's not the real Batmobile and you have this baffling spectacle from the '80s. Now, we're not trying to start a gun control debate here, but why did Molitor and Yount need to be brandishing plastic firearms? If we're lucky, that question will someday be answered in a big budget motion picture based on this poster, starring Channing Tatum and the redheaded guy from Game of Thrones.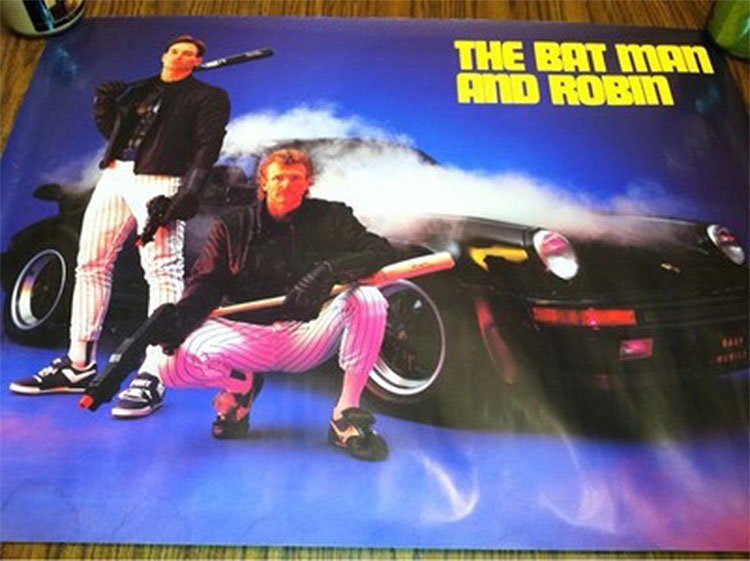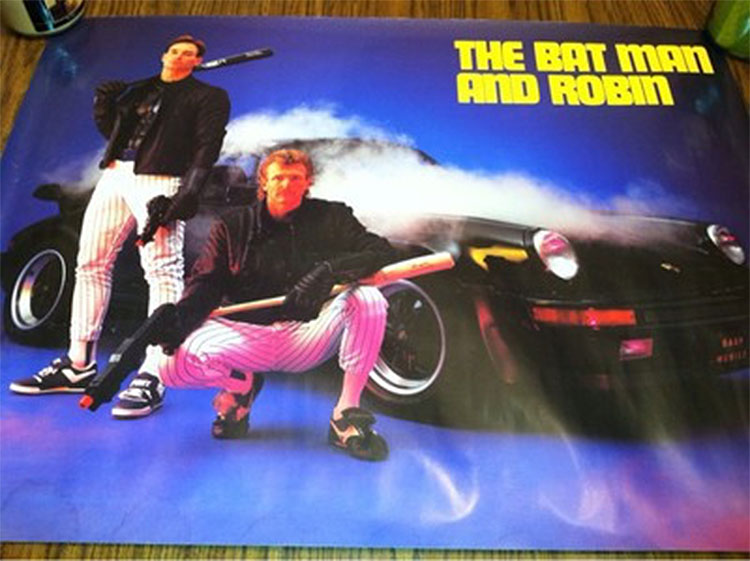 Don Majkowski
An angelic mullet, a magic wand, and a football with no fishing line whatsoever attached to it: those are the main components of the Majkowski classic "Majik Man." Some believe that Majik used sorcery to command the scoreboard in the background, while others haven't really put that much thought into it. On a final note, we've seen this poster dozens of times, and we finally just realized the Majik Man is wearing a shorn jersey to prove he's not hiding any tricks up his sleeve. Over 25 years after its debut, the "Majik Man" poster is still finding ways to blow our minds.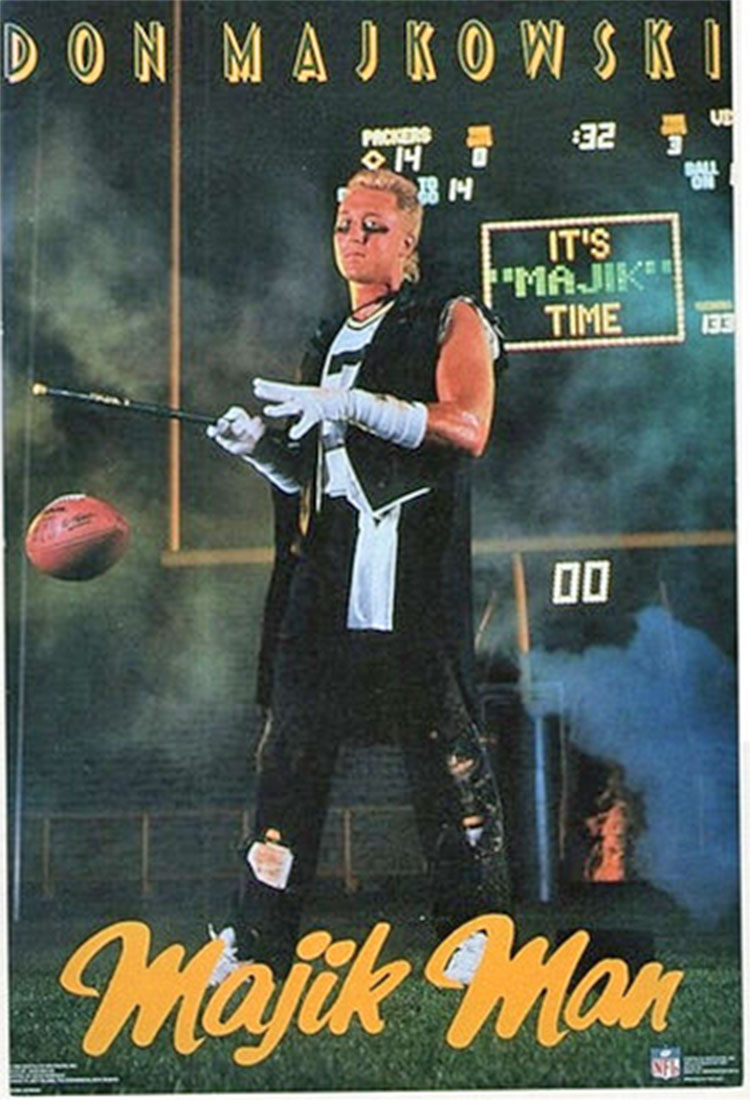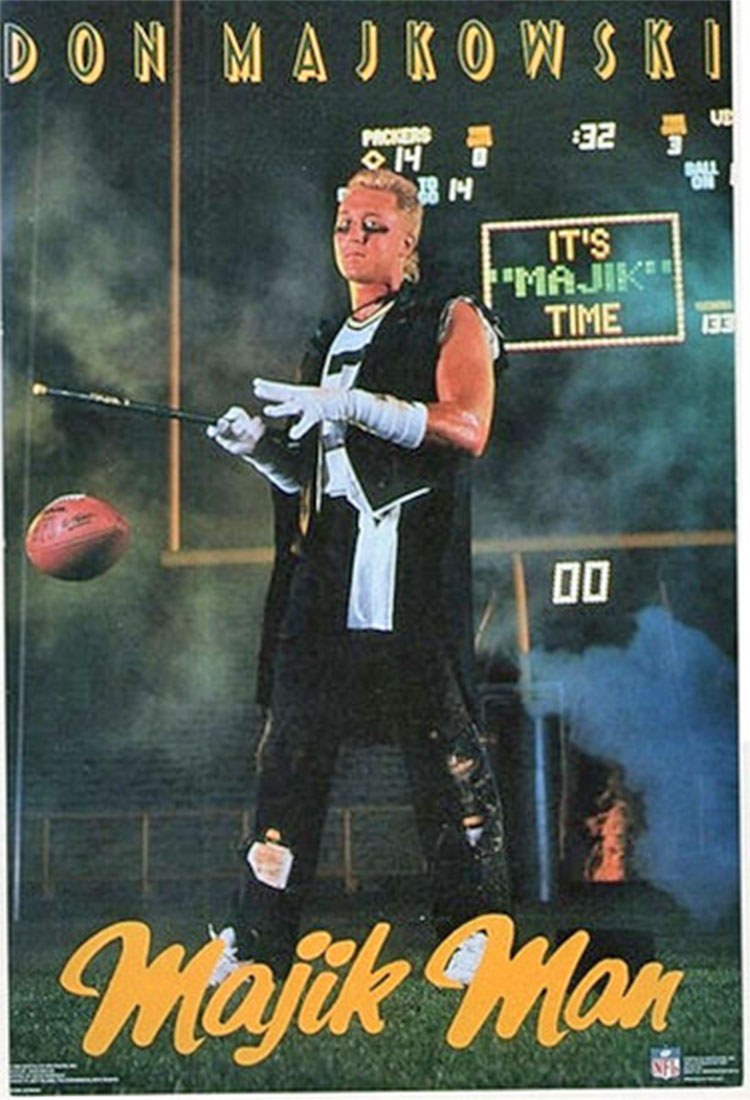 Glenn Robinson
Nothing captures the essence of basketball quite like Glenn Robinson throwing down a dunk in the moonlit wilderness with the silhouette of a mighty buck in the background. That seemed to be the manifesto of whoever designed this poster, anyway. It's oddly soothing to see the Big Dog throw down a dunk in front of the team mascot in its natural habitat. There's only one thing on Earth that could spoil this borderline-majestic scene: the wolfman.
Rollie Fingers
Seated in the stands in the background we can see every fan who ever had the guts to badmouth Rollie's mustache to his face. Posing here like he's a stone-cold member of the baseball-themed street gang from The Warriors, 1981 saw Fingers win both the American League Cy Young and the MVP as a dominant closer for the Crew. The Hall of Fame starter-turned-reliever thrived on snuffing out the last hopes of the opposition, which helps explain his resemblance to scheming cartoon villain Dick Dastardly.
Gilbert Brown
A large man, a shovel, a bizarre reference to chowder, and a hefty, sweltering mess of beef, dairy, and greasy veggies. Those are the ingredients of Gilbert Brown's iconic-in-Wisconsin poster. Recognized as a loyal patron of a Burger King in Green Bay, the run-stuffing mammoth of the Packers' front four got a sandwich named after him in 1997. The Gilbert Burger was a double Whopper with double the cheese, lettuce, and mayo, as well as double onion and double ketchup (and some customers also got the double-bypass).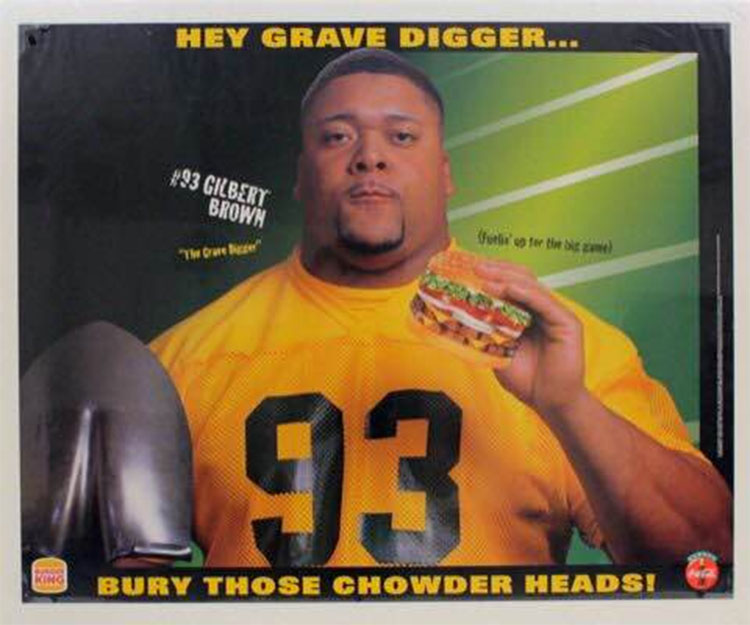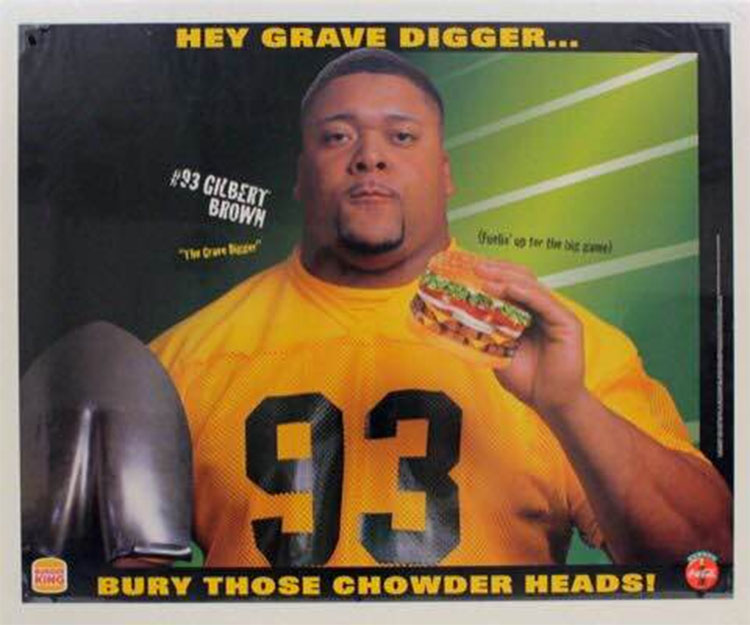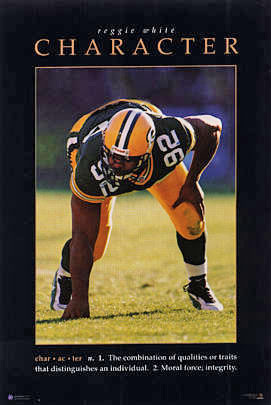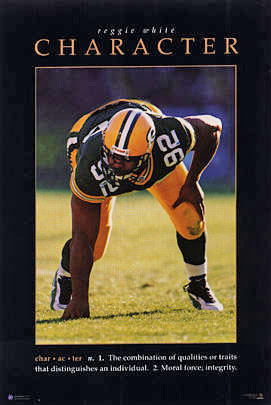 Reggie White
Last seen taped to the classroom door of an awkward biology teacher at a Fond du Lac junior high school in 1998, Reggie White's "Character" was unique in its ability to take itself so seriously. If the first definition of the word "character" didn't make you fork over a wad of cash to the poster clerk, you'd better believe that second definition did.
Ray Allen
Seen here in one of Bill Walton's acid flashbacks, Ray Allen appears to be dunking at the focal point of 12 intense dark-green beams. After the Bucks dealt him to the Sonics in 2004, the playmaking sharpshooter went on to win a title on both the Celtics and the Heat, but thankfully, his career highlight of slam dunking a ball at warp speed occurred when he was an All-Star in Milwaukee.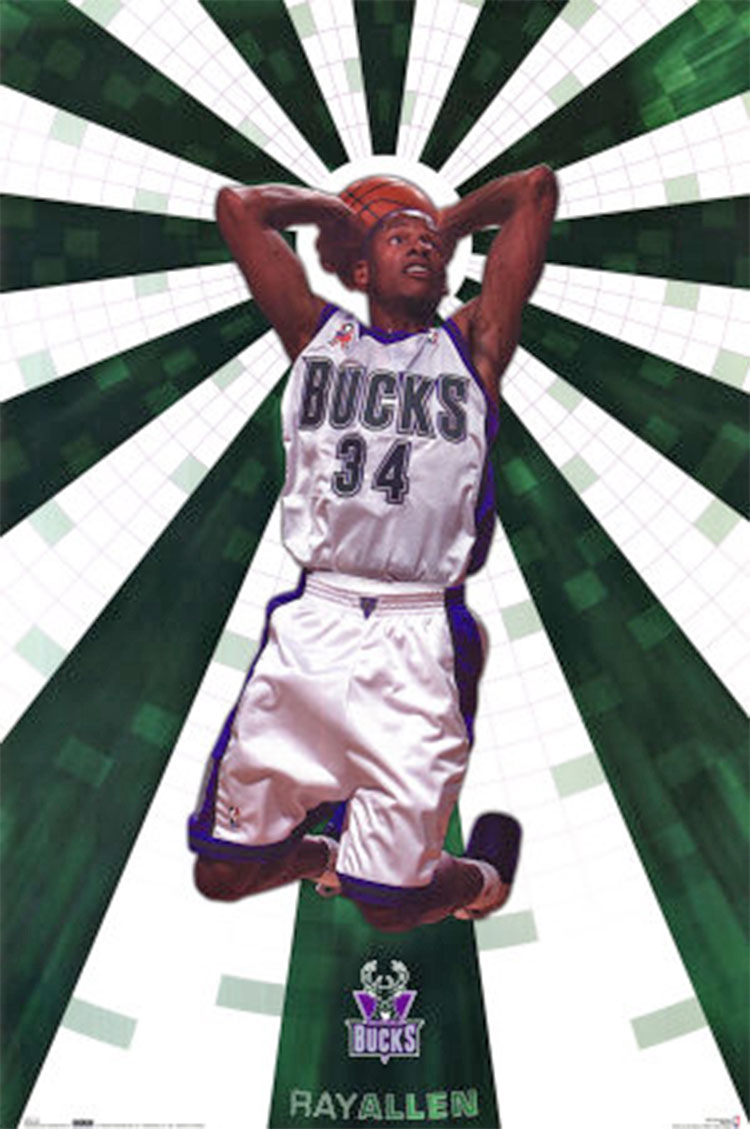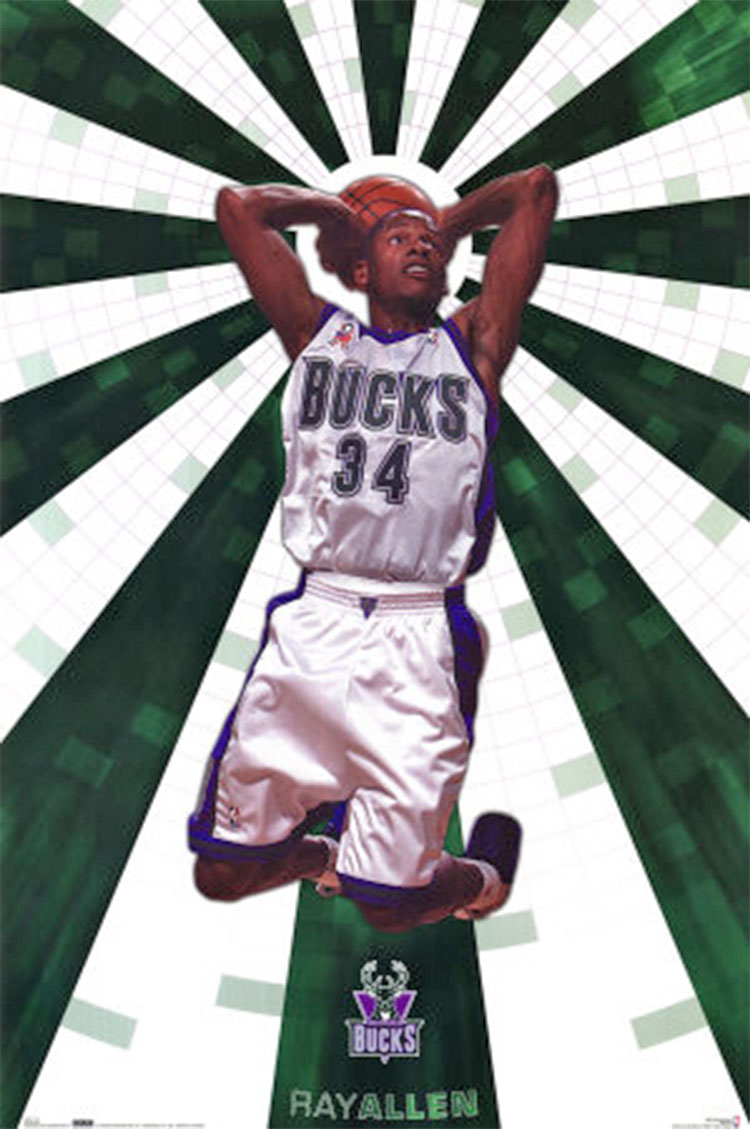 Brett Favre & Donald Driver
Perhaps the most purely appealing poster to make the list, this picture commemorates (arguably) the best quarterback-to-receiver combo in the rich history of the Packers. From 1999-2007, Favre and Double D connected 503 times for almost 7,000 yards. Favre's unbridled love of the moment shines off the surface, and the Gunslinger's grin makes it clear that he's got Driver in what could only be described as a friendly fireman's carry (and not a John Cena finishing move).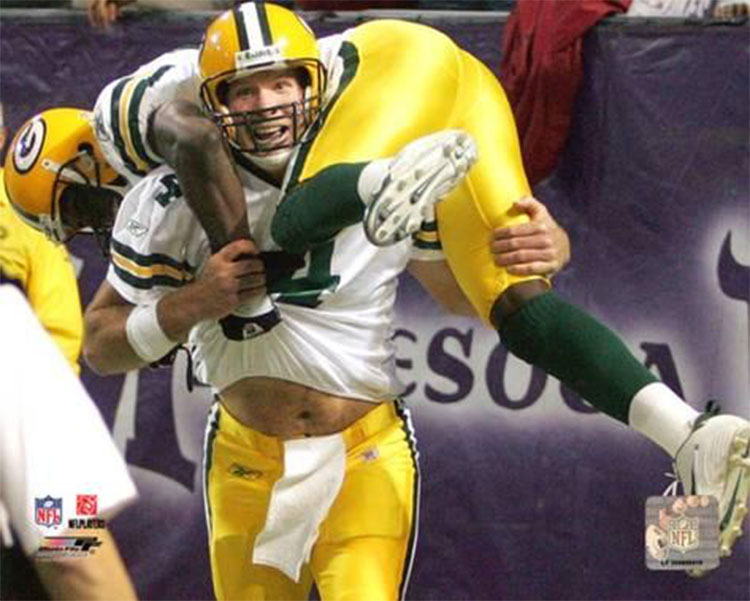 The '80s Bucks
If you didn't know about the Bucks' standard of excellence during the decade of Reaganomics, get a load of this: From 1980-1987, Milwaukee's regular season record totaled 382-192, good for a winning percentage of about 67%. Sadly, Milwaukee could never advance past Julius Erving and the 76ers, nor Larry Bird and the Celtics dynasty. But the smily, cartoony likes of Sidney Moncrief and Terry Cummings make for a forgotten gem of a Wisconsin sports poster.