In many ways, R & D's House Divided is like a lot of bars in northeast Wisconsin. There's Tuesday trivia, karaoke on Wednesday nights, and bingo on Thursdays. The menu features bar and grill staples like wings, nachos, Friday fish fry, and a pretty good chicken bacon ranch wrap. On occasion, patrons can take advantage of $1 burgers, "double bubble" specials, and live music. White Claw, Fireball, and Blü Bobber all flow liberally.
By most accounts, this young Green Bay bar isn't exactly reinventing the wheel. However, this otherwise-standard watering hole sets itself apart from its Titletown contemporaries in one unusual and ultra-specific way. R & D's considers itself to be "the only sports bar for Packers and Bears fans."
The business—located at 2148 University Ave. in Green Bay—was started in 2016 by spouses DeeDee and Ron Klug. She's a Packer Backer and he's a Bears fan. Naturally, they decided to base their bar's motif on the longest and most intense rivalry in sports history, as well as their sporty household dispute. Back in July, we happened upon R & D's by sheer chance while on our way back to Milwaukee from Michigan's Upper Peninsula (which, as we've mentioned, is decidedly Packers country). We'd gotten off the highway with the intention of hitting up a Taco Bell, but plans immediately changed when we saw R & D's distinct signage.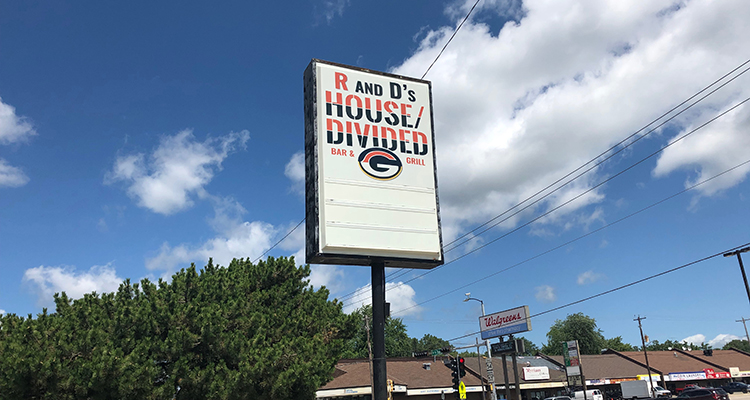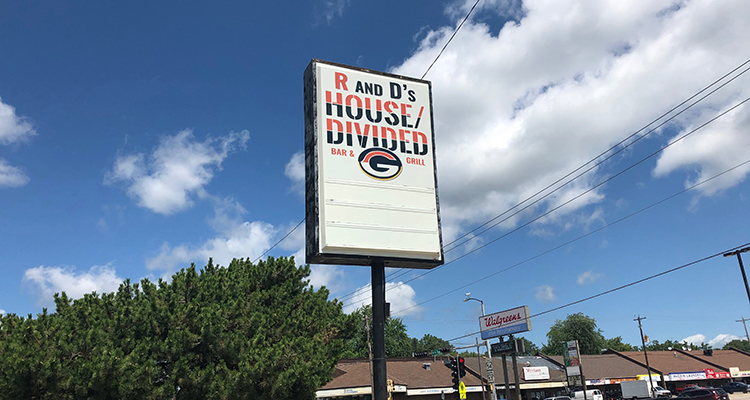 We pulled into the parking lot situated near the sign that seamlessly merged the Bears' navy and orange "C" logo with the green and gold "G" that's one of Wisconsin's most recognizable symbols. Upon parking, we thought to ourselves, "There's no way this could actually be a bar whose entire concept is based on catering to both Packers and Bears fans!" As it turns out, we were dead wrong.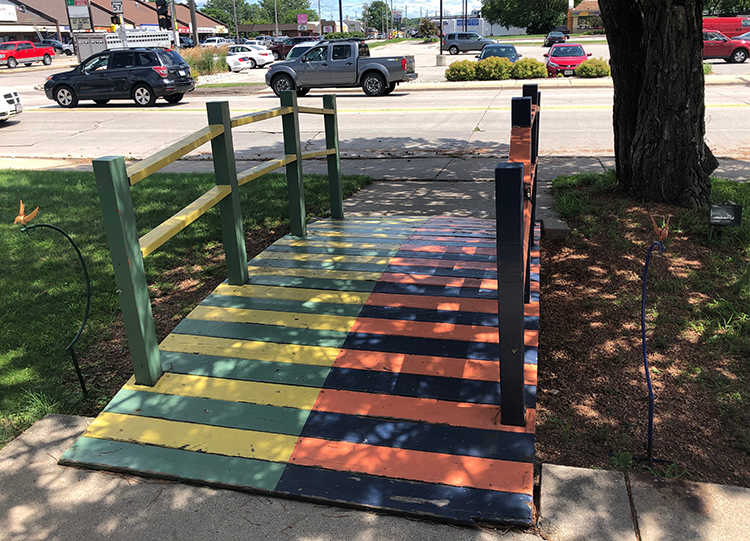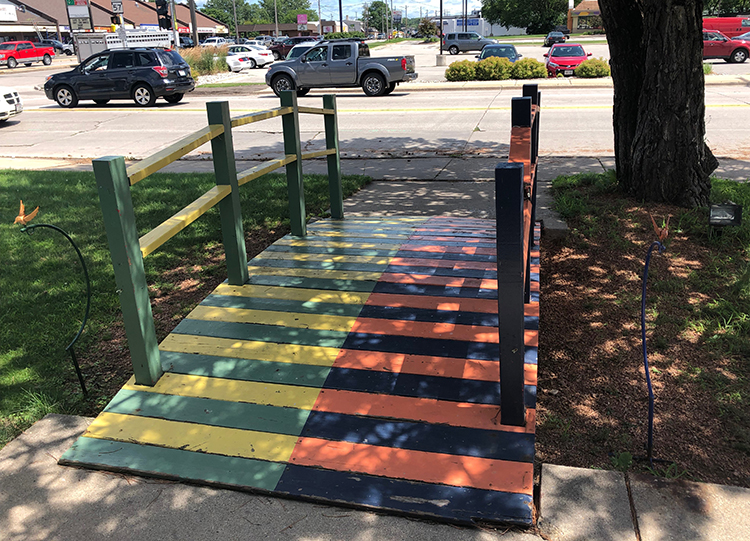 As we approached the entrance, we encountered yard decorations that instantly bolstered the bar's apparent theme. First, we spotted this curiously-painted footbridge.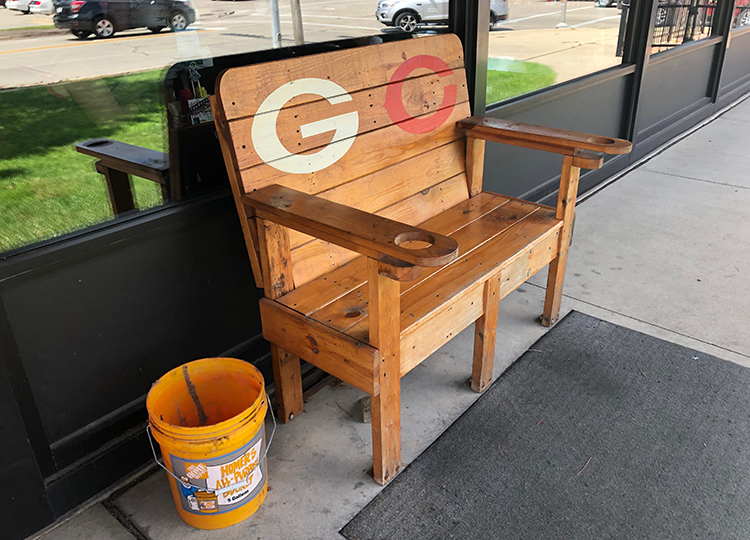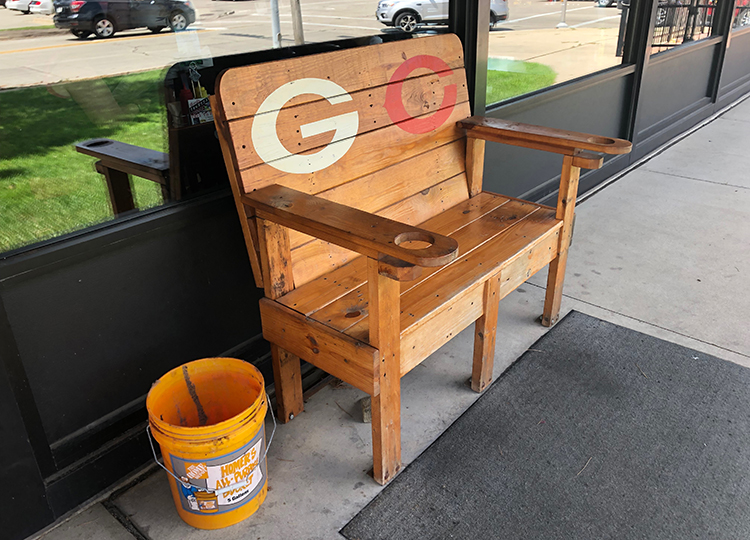 Then we saw this bench.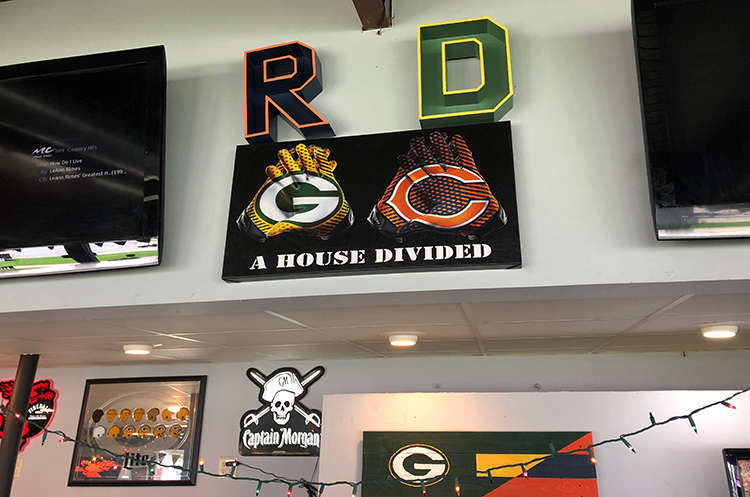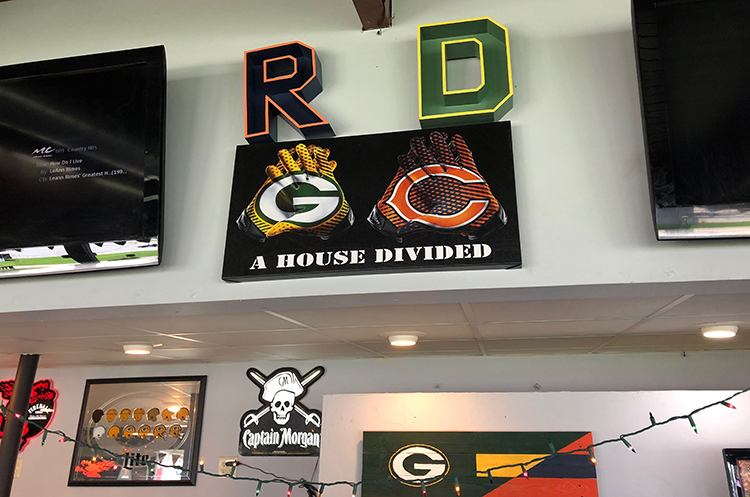 Finally, we made our way into the business and saw interior decorations that further stressed R & D's apparent two-team affiliation. After placing our order (once again, that chicken bacon ranch wrap wasn't too shabby!) and enjoying a deviled egg our bartender/server offered us, we couldn't help but explore the rest of the tavern in order to see just how committed they were to this concept. Like most good rivalries—and most good marriages, for that matter—it seemed to be well-balanced.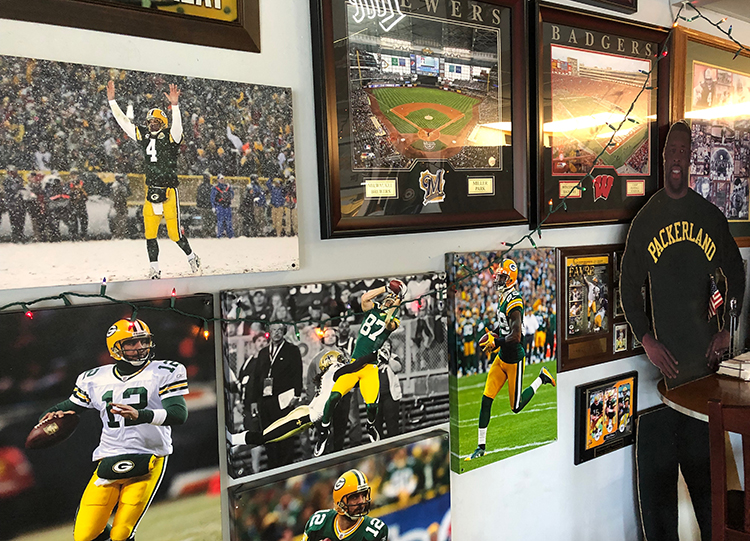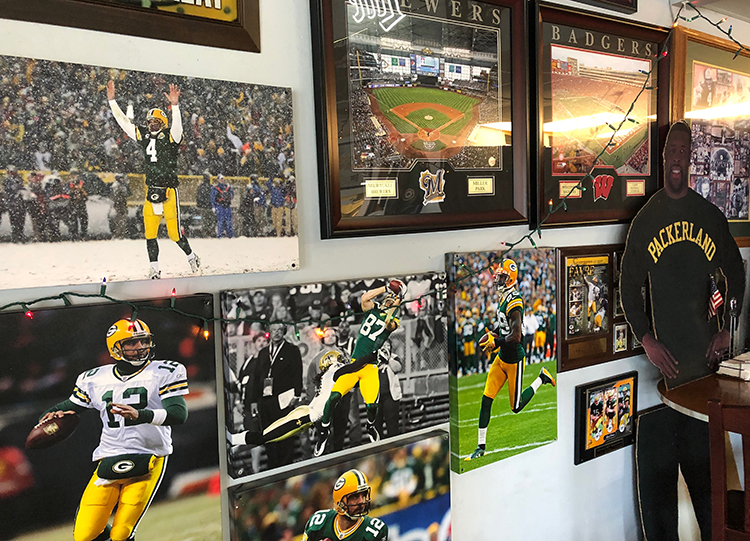 One wall was plastered with Packers (and other Wisconsin team) photos and memorabilia.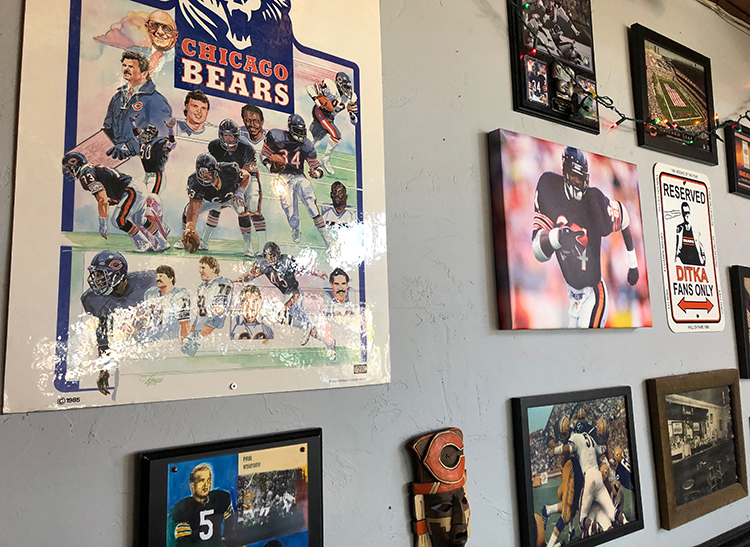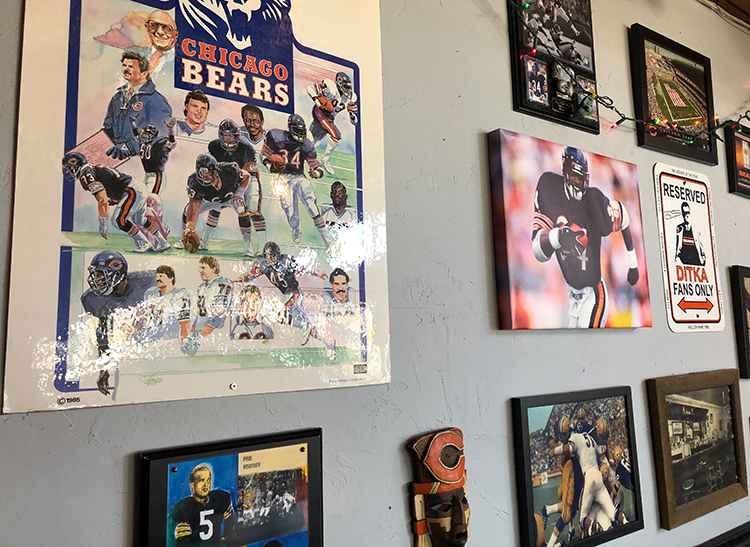 Another wall was rife with Bears pictures and other items that honored the Monsters Of The Midway. In between those walls on either end of the property, the middle of the dining room was like Switzerland…or Kenosha, as it functioned as a neutral embassy of sorts that honored both historic franchises and the incomparable rivalry they've forged together over the course of 100 seasons.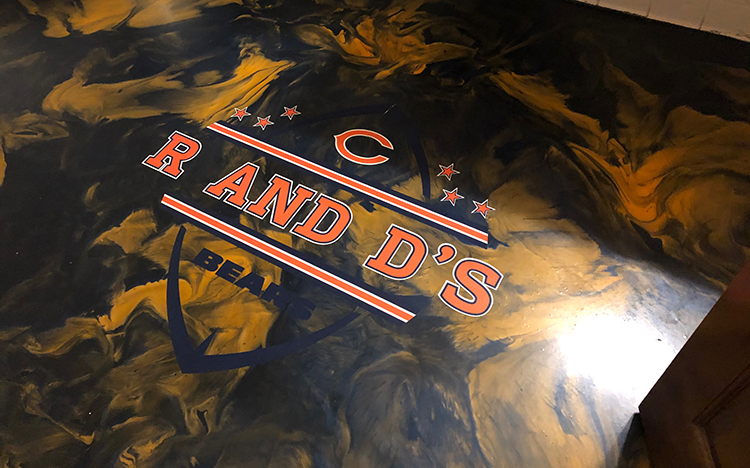 Even the bathrooms weren't immune from playing into the football-focused theme. Nodding to Ron's allegiance, the men's room floor was emblazoned with a Bears logo.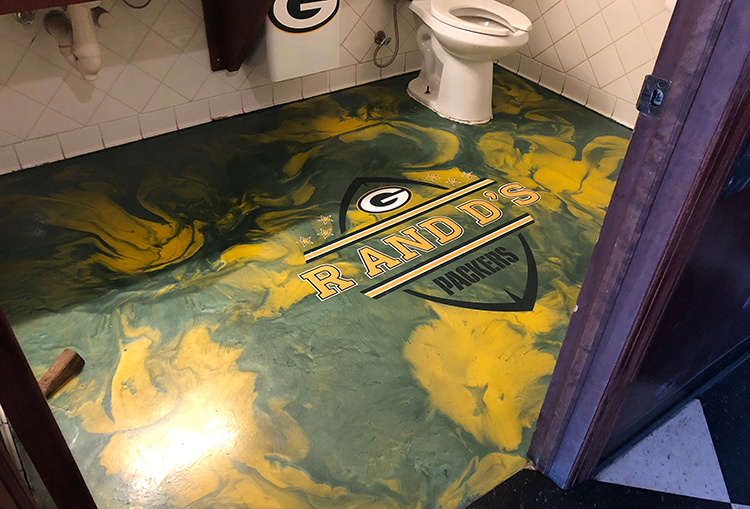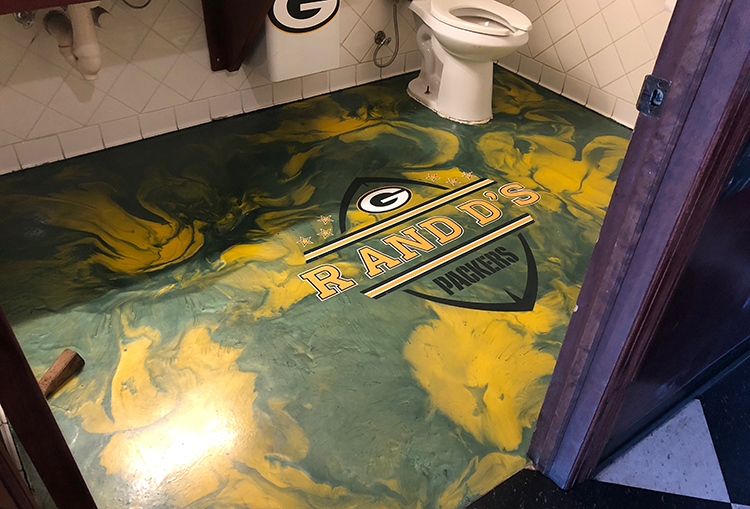 The women's room was green and gold in honor of DeeDee's love for the Packers.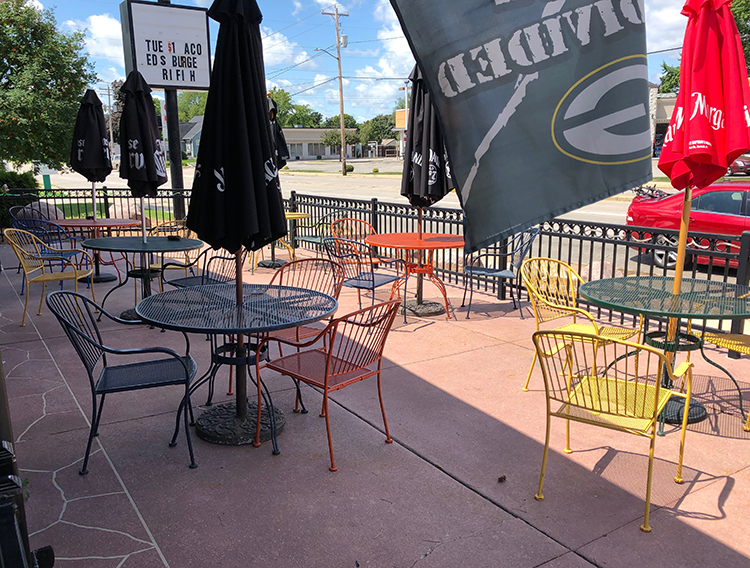 Fittingly, the patio seems suited for fans of both teams, with chairs and tables painted green, yellow, orange, and navy blue standing side by side in clashing camaraderie on the edge of bustling University Avenue. All told, it appears the Klugs put in a great deal of work to create a space where Packers and Bears fans could both feel welcome and comfortable.
Sure, there are dedicated Bears bars in Wisconsin and places the Packers are celebrated out-of-state, but we can safely say we're not aware of any other business on earth that's gone this far out on a limb to brand itself as "the only sports bar for Packers and Bears fans." At a point in time where society seems irreparably split and segmented, it's kind of nice knowing there's a little bar in Green Bay that's tailor-made to encourage people with differing preferences and unshakable views to watch a game together.