This Sunday afternoon, the Chicago Bears will host the Green Bay Packers for an important late-season game. The outcome could either clinch a division title for the Bears or potentially extend Green Bay's slim playoff chances for another week. No matter how this crucial meeting of professional sports' longest rivals turns out, people in Bay View will be cheering.
For the last four years, Highbury Pub—regarded as one of Milwaukee's finest soccer bars—has temporarily shifted its focus from futbol to football on select Sundays (or Mondays or Thursdays on occasion). More specifically, the longstanding Bay View pub caters to an unlikely group of pigskin enthusiasts: Chicago Bears fans. Just as Flannery's is to Cleveland Browns devotees and Steny's is to a passionate group Buffalo Bills backers, Highbury serves as an embassy of sorts for Illinois transplants and all others who prefer the Bears to the hometown Packers.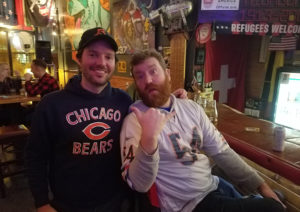 The so-called "Highbeary Pub" was set into motion by Win Allison, a Highbury bartender and a lifelong Bears fan. Allison—a native of Prospect Heights, Illinois—moved to Racine when he was a boy. Though he crossed the border into Packers country, his devotion to the Bears persisted.
Of course, the excitement and dominance of the incomparable 1985 team didn't hurt.
"I was always into the Bears because of family members. Then the Bears got really good. In '85, it was spectacular," Allison says. "It wasn't until a few years later in my college years that I realized how bad [the Bears] were."
In the mid-'90s, the tables turned when Brett Favre helped lead Green Bay out of mediocrity and changed the divisional dynamic for years to come.
"I didn't eat shit until I went to college in the '90s. That's when I realized how important a quarterback could be," Allison says. "People would always give me shit. Even today, I'll walk into bars and people will go over to the jukebox and play 'The Bears Still Suck' song."
Once he moved to Milwaukee, Allison struggled to find a consistent place to watch his beloved Bears. At one point, he convinced Points East to show Chicago games. He occasionally watched at Jamo's and the now-closed Irish Pub. As recently as five years ago, he was watching games alone at a the home of a friend that had NFL Sunday Ticket. Then it dawned on him. If he couldn't find an ideal place to watch games, he'd do it himself.
"About four years ago, I talked to [Highbury Pub owner] Joe Katz and was like 'Hey, I've got a crazy idea. Let's be a Bears bar,'" Allison says. "He was like 'Why?'"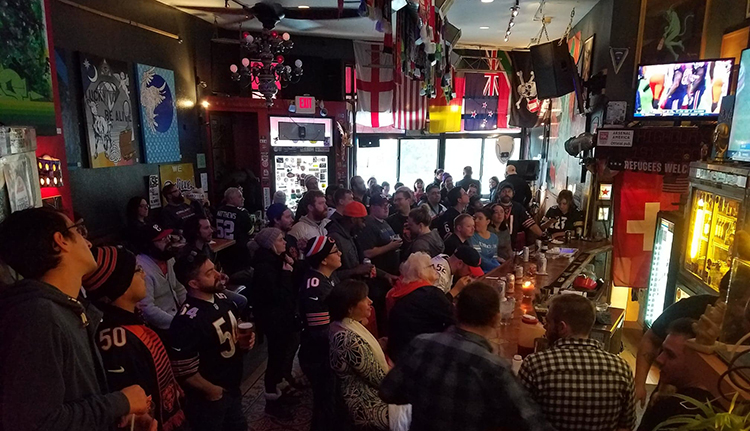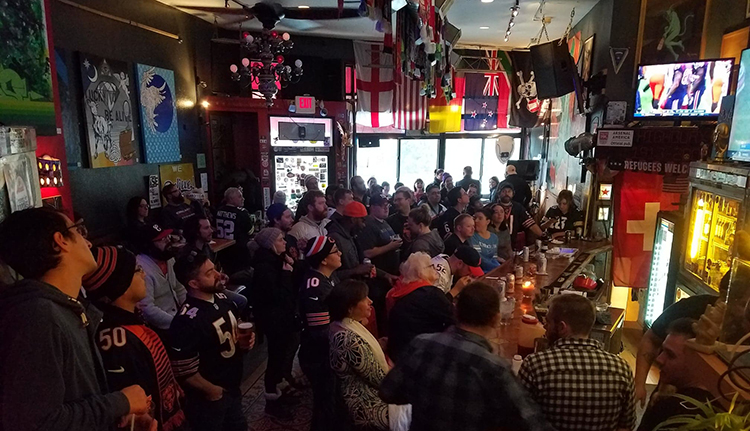 Eventually, the fact that Milwaukee is home to a significant number of Illinois expats, along with the notion that virtually everyone else was playing Packer games proved too good to pass up. Highbeary was born.
Initially, attendance was low. But as Chicago's performance on the field improved, so did Highbeary's attendance.
"At first, I'd say there were about six to eight of us. The last two years, it started growing gradually. I'd say we were averaging about 30," Allison says. "This year, we're over 60 the last few weeks, which is crazy to me. People have been coming out because they're winning. Normally by this time of year, we'd be 3-10 and talking about draft picks already. For the first time since 2010, we're talking playoffs."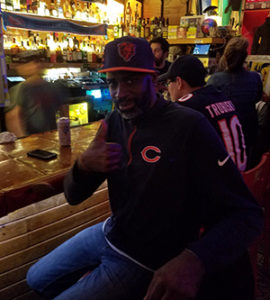 This year, Allison says groups have even made the trip up from Chicago experience a game with the Milwaukee crowd.
In addition to showing the Bears on the bar's 70-inch screen and giving the team audio priority, the Highbeary experience is made all the more special with Chicago-centric drink specials like $2 Old Style tallboys, $5 Half Acre pints, and yes, $2 shots of Malort. The bar also serves up a different hometown dish each game day. In recent weeks, sausages and Chicago style hot dogs were on the menu. This week, the bar will "bear down" with Italian beef sandwiches, ribs, and specials on 3 Sheeps beer. Patrons are invited to bring a dish to share.
Though its primarily focus is on the interests of Bears fan, Allison says Highbeary is an inclusive place. A group of Chiefs and Lions fans (and even one Jaguars fan!) can follow their team on a TV somewhere in the bar. Even Packer fans can come in to watch their team each week…on a small screen at the back of the establishment.
"It's a great environment with a lot of camaraderie. Everyone gets along there," Allison says. "It's definitely created a little community in itself. Joe Katz has been absolutely lovely about it and the patrons themselves are fantastic. They're the ones that really made sure this happened by showing up, even when we're terrible."
On top of hosting the games and tending bar, Allison is one of the hosts of the Highbeary Podcast, which records episodes at the pub every Wednesday during the season.
With a formidable defense highlighted by Khalil Mack, a semi-competent quarterback for once, and what looks to be the team's first playoff berth since 2010 on the horizon, Bears fans have a lot to be happy about. Thanks to Win Allison and the generosity of one of Milwaukee's favorite soccer pubs, they now have a place to watch games together.
Plus, it keeps them away from Packer fans, so it's a win-win.