Last week, the NBA unveiled its six new end-of-season trophies to recognize top performers, each named to honor "the league pioneers who helped define the standards of excellence that these trophies represent."
Our job as journalists is to make every cool national story about Milwaukee, of course. In this case, the easy route would be to stir the pot with a clickbait-y headline that presents a baseless argument like, "Did the NBA make a mistake in naming its newly designed MVP trophy after Michael Jordan rather than two-time winner Giannis Antetekounmpo???"
Fortunately, there's a more direct connection between the Michael Jordan Trophy and Milwaukee thanks to Vanguard Sculpture Services, located on our city's near west side on Hopkins Street at Capitol Drive. Vanguard is 95.8 miles up I-94 from the United Center in Chicago, where Jordan won six Finals and those five MVP trophies. And Vanguard is where the NBA chose to pour bronze and cast the first MVP trophy named after him.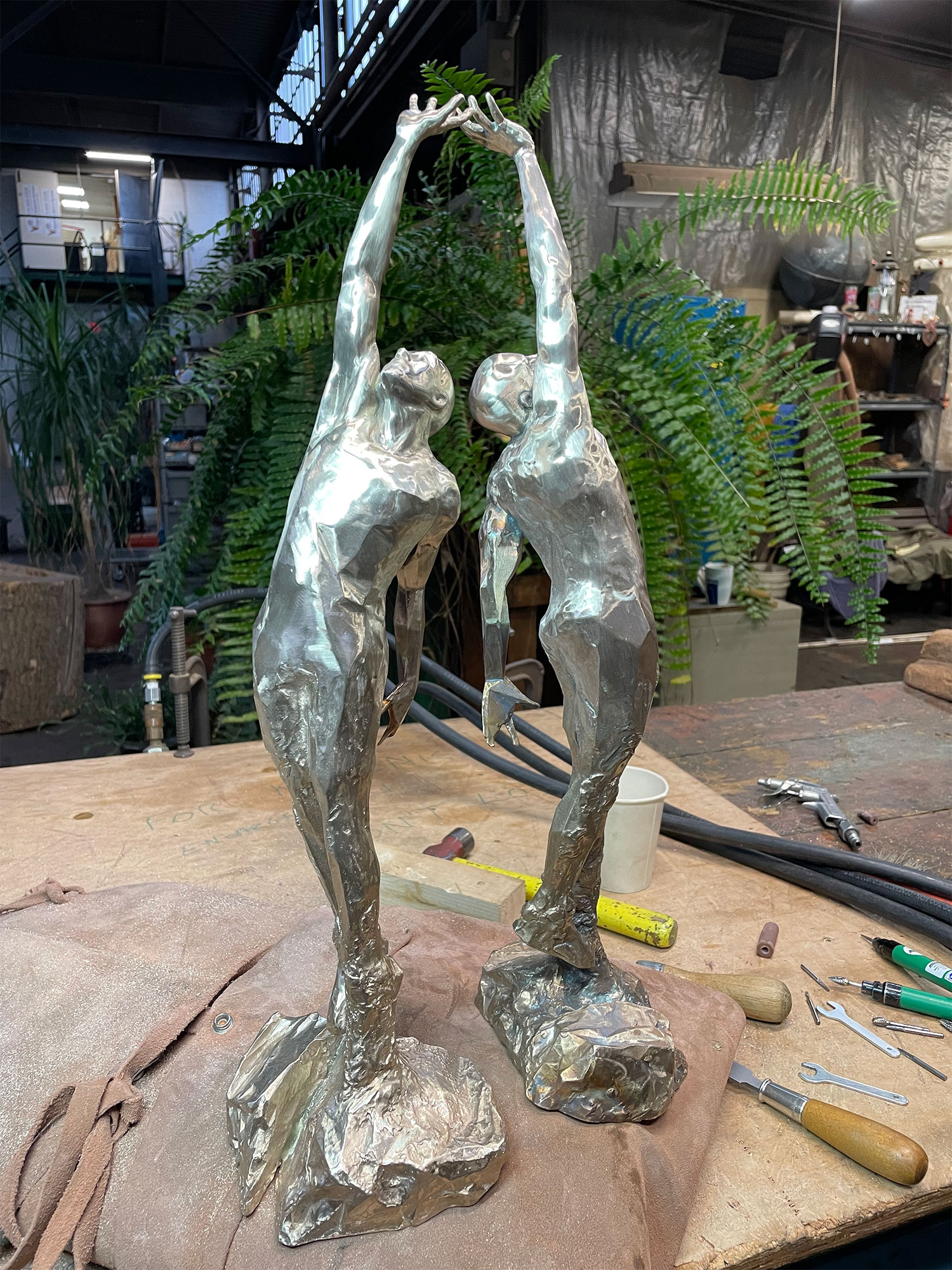 The sculpture was a creative partnership between Jordan himself and Mark Smith, the Jordan Brand creative director and former Nike VP of Innovation Special Projects. So how did the NBA come to select a place in Giannis Country for its high-profile project? Maybe someone in League offices Googled, "The Best Fine Art Foundry on Planet Earth," and their amazing website ranked as the top result. But that's simply speculation.
To get the full story, Milwaukee Record contacted Shawn Stephany, a longtime Vanguard employee, in addition to being a terrific visual artist and member of such recognizable bands as Hello Death and Altos.
Milwaukee Record: How did the NBA get in contact with Vanguard for the contract to cast the new Michael Jordan Trophy? How long has this been in the works?
Shawn Stephany: We initially started working with Pete Mauhar who is working with Mark Smith, creating 3D-printed versions of the sculpture. Pete, who I believe lives in Milwaukee, contacted Vanguard co-owner Michael Nolte about the projects final stages, i.e. getting the sculpture/trophy from what was, again at that point, a 3D-printed object to the final bronze. There was some back-and-forth with Michael [Nolte] and Pete for a few months regarding our process and any changes Pete could make to the 3D-printed version to fit the bronze casting process. I'd say Vanguard has been involved in this project for maybe six months—a couple months of discussion and the rest being studio work.

MR: Did Michael Jordan himself have any input on the finished product?
SS: If you mean did Michael Jordan work directly with us, the answer would be no. But to my understanding, Michael Jordan and Mark Smith were in regular communication throughout the sculpting process, from the symbolism to the gesture/movement of the piece.
Mark came to the studio to see us pour one of the sculptures and to guide the patina for the first one. He was really great and into what was happening and even did a little metal work himself. He then took that first one with him and I assume talked to Michael Jordan about the final look.
View this post on Instagram
MR: What do you do at Vanguard? What role did you play in the MJ trophy's creation?
SS: I am one of six (including the owners) who all do a little of everything, from sculpting through patina. My focus is probably metal finishing. Here this means welding the sculpture back together and taking the surface to its final/original form. Re-sculpting the welded areas, recreating the artist marks—90% of the time a sculpture is cut into smaller pieces to help the casting process go smoothly.
View this post on Instagram
MR: Other than the Bronze Fonz, what else will Milwaukeeans know Vanguard for? Anything this cool or cooler on the horizon that you can talk about?
SS: "Da Crusher" by Tom Holleran in South Milwaukee, "Mary Tyler Moore" in Minneapolis, "Gertie the Duck" by Gwendolyn Gillen, and "Acqua Grylli" by Vanguard co-owner Beth Sahagian. The last two are on the Milwaukee Riverwalk. The "James Lovell" by Julie and Omri Amrany was a cool one in the Adler planetarium in Chicago. Oh, and the "Al McGuire" by Omri Amrany at The Al McGuire Center on Marquette's campus.
As far as anything in the future? There were a couple that the pandemic derailed that are exciting that may come back…so I will leave them in the dark for now. But we always have something going through. I'll try to keep our Insta page updated.
MR: Do you promise our readers to withhold the Michael Jordan Trophy from NBA Commissioner Adam Silver should such an injustice occur as someone other than Giannis Antetokounmpo winning MVP this season?
SS: No comment. *winky-face emoji*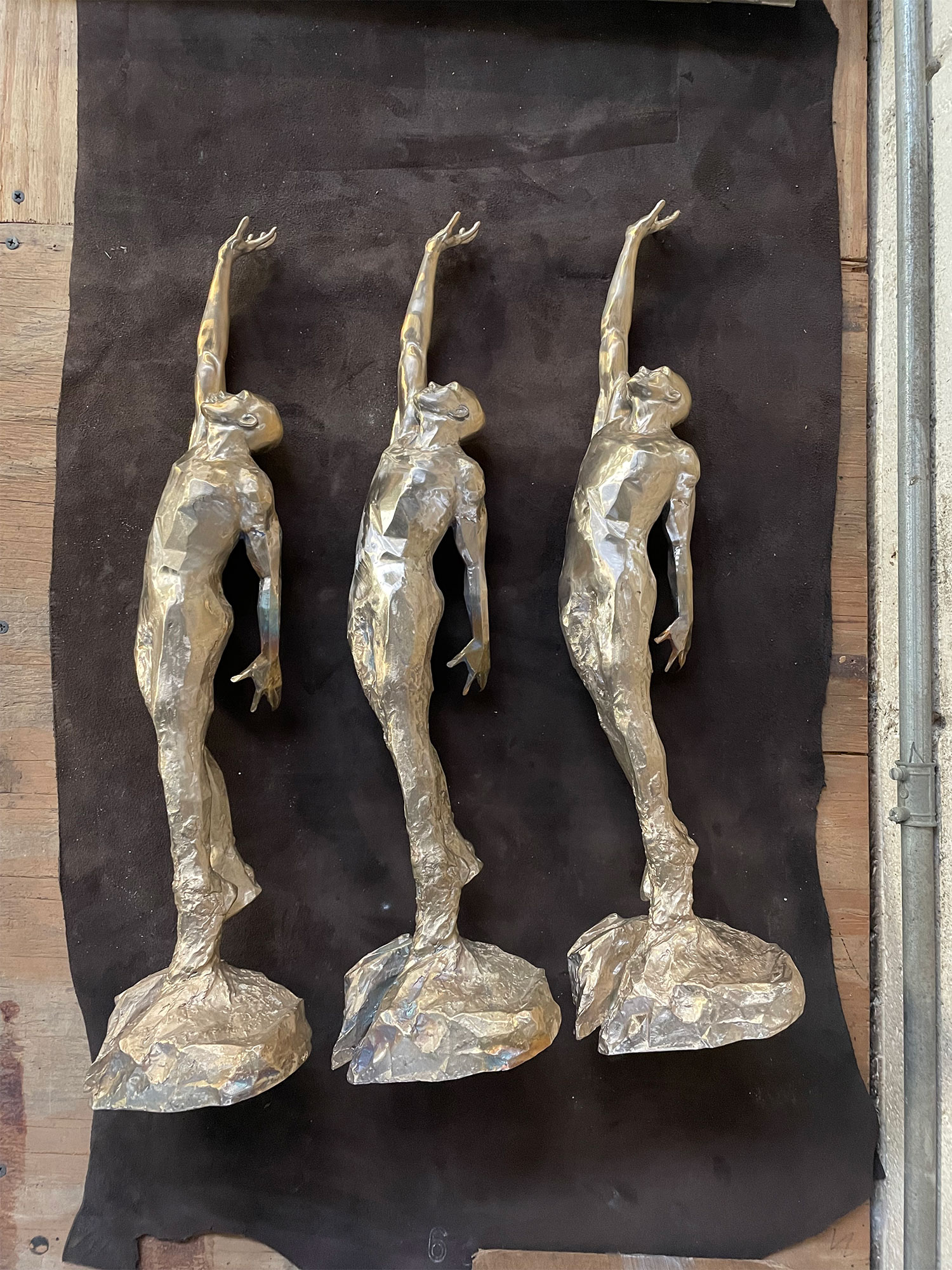 Exclusive articles, podcasts, and more. Support Milwaukee Record on Patreon.
---
RELATED ARTICLES
• Watch da pouring of (some of) "Da Crusher" statue
• On the 3rd month the Bronze Fonz rose again, in fulfillment of the Scriptures