One of the many events to be canceled due to coronavirus is WWE's Road To WrestleMania event at Fiserv Forum on Saturday, March 28. The non-televised event was going to be WWE's last stop in Milwaukee and one of the final shows before their biggest spectacle of the year, WrestleMania. (Which is still happening, by the way.)
Exactly when WWE will return to Milwaukee is a mystery and, honestly, who cares right now? The mere idea of going to Fiserv Forum with thousands of people is a scary one at the moment. Going with thousands of WWE fans? Absolutely terrifying.
The good news is, there have been a lot of WWE events in Milwaukee over the years that you can watch without leaving the house. Thanks to the power of the internet and the WWE Network, we have years of WWE programming live from Milwaukee that we can watch from the comfort of our own homes.
Here are some of the best Milwaukee WWE matches to watch since you can't go to WWE Milwaukee.
WWE SmackDown #514 (June 23, 2009) John Morrison vs. CM Punk / Chris Jericho & Edge vs. Jeff Hardy & Rey Mysterio (Watch)
Of all of the WWE Milwaukee shows on Cagematch.net, this one has the highest overall rating and, with these two matches on top, it's easy to see why. John Morrison and CM Punk had feuded back in 2007 ECW with some good matches, but their work here showed how much both had matured in the two years and it is a very good match. For most WWE live shows in Milwaukee, a match like that would be enough to give it a thumbs up, but WWE followed that up with an absolute banger cage match with Chris Jericho and Edge taking on Rey Mysterio and Jeff Hardy with Punk back to referee. Throw in a strong ECW on Sci Fi episode taped on the same night and this might be the best WWE TV show taped in Milwaukee.
WWE SmackDown #736 (September 24, 2013) The Real Americans vs. The Prime Time Players (Watch)
This match exists for one reason: for Cesaro to swing Titus O'Neill. That reason is spectacular.
WWE NXT #1 (February 23, 2010) Chris Jericho vs. Daniel Bryan (Watch)
Before it was the place for WWE fans to go for great wrestling, NXT was WWE's attempt at making a reality show in their unreality. NXT Rookies (like Bryan who had been wrestling for 11 years at this point) were teamed with WWE Pros (like The Miz) to compete for a shot to win a WWE contract.
Daniel Bryan was fresh from Ring Of Honor and the independent scene where he was considered to be the best in-ring wrestler in the world, and he quickly proved why he had that reputation in this match with Chris Jericho, the World Heavyweight champion at the time. This is one of the best sub-six minute matches you will ever see and it's a real shame the two of these never had a bigger match down the line.
WWE Raw #1005 (August 27, 2012) Steel Cage match: CM Punk vs. Jerry Lawler (Watch)
While maybe not one of the best matches in WWE Milwaukee history, CM Punk vs. Jerry Lawler in a steel cage has to be the most "wait, that actually happened?" match that has taken place here.
WWE Raw #1293 (March 5, 2018) Asuka vs. Nia Jax (Watch)
Asuka can make putting batteries into a Kirby doll seem interesting, so it's no surprise that she put on the match of the night with Nia Jax here. This match might be the best example in WWE of what a badass Asuka is/can be. Her absolute refusal to release the arm as Nia is hitting her with everything she's got is the stuff of legends.
Honorable mention: Symphony of Destruction match Braun Strowman vs. Elias
Also on this episode was the "first-ever" Symphony Of Destruction match…a.k.a. Braun Strowman hitting Elias with a bunch of instruments. Watch if you like guys from Slinger who are bad at keeping their nipples tucked into their shirt breaking guitars.
This was the final Raw from the Bradley Center and arguably the last good WWE show (not including NXT) in Milwaukee.
WWE SmackDown Live #864 (March 8, 2016) Sami Zayn & Neville vs. Kevin Owens & The Miz (Watch)
Sami Zayn's in-ring (non-NXT) WWE debut! He reignites his rivalry with Kevin Owens from NXT (and PWG and Ring Of Honor and everywhere in between) while teaming with Neville (PAC in AEW) in a fun little match.
WWE Fastlane (March 5, 2017) Roman Reigns vs. Braun Strowman (Watch)
WWE Fastlane was the last WWE pay-per-view event in Milwaukee and is probably one of the better in-ring shows that has ever taken place here. However, the results were so weird at the time that it's not looked back on fondly by many fans.
Still, it's hard to deny how great this Braun Strowman vs. Roman Reigns match was and is. Strowman is an unstoppable monster here and Roman has to give him everything he has and then some just to keep up. It's the best possible version of both men as they just went out there and beat the hell out of each other. Dave Metlzer awarded it four stars, one of the highest rated WWE Milwaukee matches in history, and it absolutely holds up.
WWE Main Event #74 (February 25, 2014) Cody Rhodes, El Torito, Goldust and Los Matadores defeat Drew McIntyre, Heath Slater, Jinder Mahal, Curtis Axel and Ryback (Watch)
This match is a showcase for how great the 4-foot-5-inch El Torito (Mascarita Dorada) is and it rules. Heath Slater and his "bandmates" in 3MB play their roles to perfection here and Slater shows why he's always been one of the most underutilized guys in WWE. Bonus points for future megastars Cody Rhodes and Drew McIntyre being here.
WWE Elimination Chamber (February 19, 2012) Elimination Chamber match: Daniel Bryan (c) vs. Cody Rhodes vs. Santino Marella vs. The Big Show vs. The Great Khali vs. Wade Barrett (Watch)
WWE's 2012 Elimination Chamber took place at the Bradley Center and featured two Chamber matches. This is the better of the two and features one the weirdest collection of names that has ever been in one of these matches. Dave Meltzer rated this one three-and-a-half stars.
Dishonorable mention: Nattie farting
Also on this show, WWE had a weird thing going on where Natalya kept farting backstage. She ate some local cheese with Wisconsin native Hornswoggle and, well, you know.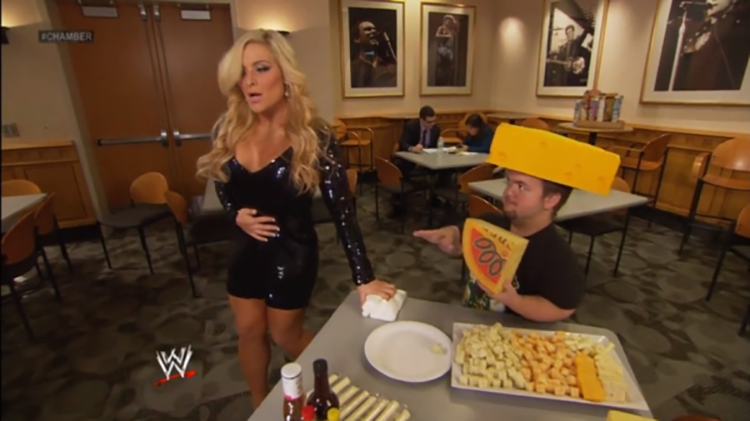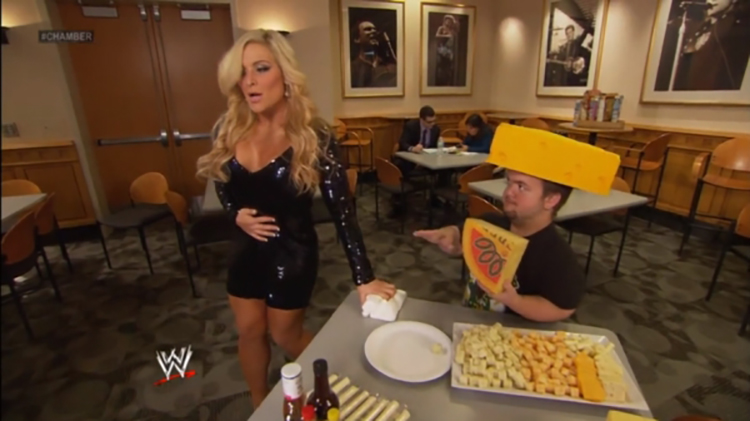 WWE Raw #772 (March 10, 2008) Chris Jericho vs. Jeff Hardy (Watch)
Another Jericho match because he's been great at this for over 25 years now. This might be a good show to watch in its entirety with John Cena wrestling Shawn Michaels, plus Edge taking on CM Punk. If you watch one match, though, make it this one. Chris Jericho and Jeff Hardy steal the show in a fun Intercontinental title match.
WWF Over The Edge (May 31, 1998) Steve Austin vs. Dude Love (Watch)
The best match in WWE Milwaukee history, period. Dave Meltzer gave this one a four-and-a-half star rating, and it set up so much (for better and worse) of what WWE main events would look like in the years to come. Steve Austin is the ultimate ass-kicker here against Dude Love/Mick Foley who is the ultimate ass-kicking recipient. A great story with a fantastic brawl that is better than anything you might've seen at Fiserv Forum on Saturday. That's not a knock on anyone in WWE right now, it's just that dang good.
Want more wrestling content? Check out Vince's work at Babyface Bullies, watch their videos, listen to their brand new podcast.