When Milwaukee-born (and now Chicago-based) comic Sammy Arechar isn't on stage making audiences laugh, he's on stage making people dance with his DJ alter ego, Yung Zucchini. The DJ project performs somewhat regularly in Chicago, and took part in this year's Milwaukee PrideFest as well as hosting an annual "Zucchini Party" to celebrate Arechar's birthday.
Through the miracle of social media, Yung Zucchini connected with the Hayward Zucchini Festival, an annual celebration of the versatile green vegetable that has taken place in the Bay Area of California city every August for the past 35 years. After some back and forth with the event's organizers, Arechar was sent a contract, he purchased a flight, and Yung Zucchini was officially booked on an old zucchini festival. Hours after his return, he was gracious enough to send us an evaluation of his experience.
***
I'm very happy to share this experience with you, reader. I went to this event by myself and I'm happy Milwaukee Record has allowed to reminisce and revisit the Hayward Zucchini Festival.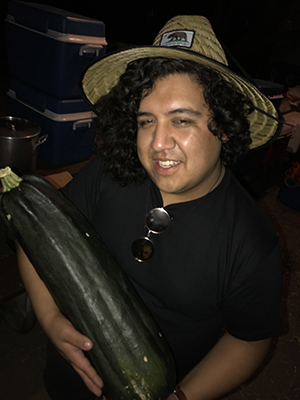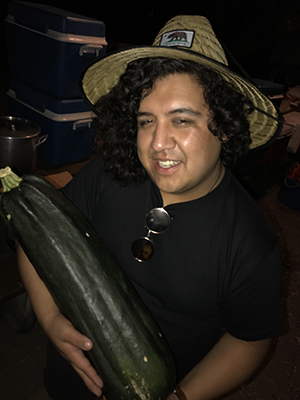 I was asked to write a review, and long story short, it had a little bit of everything, and I would recommend it to anyone in the area when it comes back next year. There's lots of great food, ice cold drinks and desserts, live entertainment, vendors selling handmade goods and artisanal dips. They also had someone in a big zucchini costume, as well as a zucchini growing contest (15-pound zucc pictured). It had everything a festival-goer would love. Honestly, I am giving you my highest recommendation to go if you make it down to California's Bay Area this time next year.
I'm having a hard time writing this because I am not a professional festival-reviewer, and also because I want to use this platform to talk about my personal experience with the festival organizers, patrons, the city of Hayward, and how I became involved this year, rather than giving this A+ festival some type of grade.
There's probably a few questions you have about all of this. Like, Who are you? Why are you reviewing a festival that's not even based in Wisconsin?
I was born and raised in Milwaukee, but I'm currently based in Chicago. I started doing stand-up comedy in Wisconsin and met the Milwaukee Record staff through that outlet. I rode along when Tyler Maas went to every Taco Bell in Milwaukee. Later, I wrote a review of Smash Mouth's Summerfest appearance, which won a Man Booker Award (it's a literature award that celebrates the bookers who book only men on comedy shows). Now, Milwaukee Record invited me back to once again knock it out of the ballpark with another review.
The beginning of this story started shortly after the 4th Annual Zucchini Party, a birthday party that showcases comedy, music, and friendship that I threw during the Cream City Comedy Festival back in May. I was using hashtags to look back at all the videos and pictures taken during the event on Instagram. I started to notice how the hashtag kept getting misspelled #youngzuc #yungzuch #djzuchini. It was my fault for not really promoting the hashtag, but one thing that I did find out is that #zucchini hosted a few uploads from the event, along with zucchini-based memes, as well as movie and TV stills with pictures of zucchinis Photoshopped into them. I noticed that these things not hosted by many, but by just one entity: the account for the Hayward Zucchini Festival.
There was no rhyme or reason why I chose "Yung Zucchini" years ago. It was the only name that rolled off the tongue when I came up with it. Over the years, I learned there were a lot of parallels with where this whole DJ project took me and the vegetable itself. One of them was that outside of my annual zucchini party, a "zucchini party" is when the guests would bring either their surplus of homegrown zucchini, or a zucchini-based dish to the host. It is a vegetable that brings people together…and a vegetable that parties.
In late May, I tagged them in a few comments under Yung Zucchini promotions, asking to be considered for this year's fest. They messaged me privately, we had a back and forth, followed by them asking for my mailing address. Soon, I was sent a performing contract. The quick response and pleasant interactions were both very professional and very exciting.
This festival took place on August 19-20. This edition marked Hayward Zucchini Festival's 35th year at Kennedy Park in beautiful Hayward, California. It's located right next to a Target, which is perfect because I wanted to waste some money on blind box Spongebob collectables.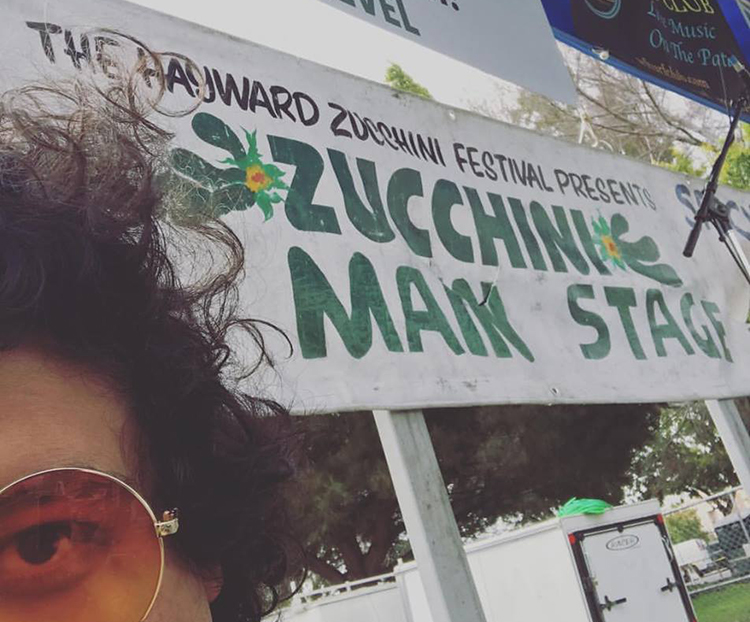 I was set to perform 10:30 a.m. both days, along with 6:30 p.m. on Saturday 5 p.m. on Sunday. If you give a listen to my mix below, you can probably imagine how out of place I could've been on my morning spots. In no way is this a slight to the festival. They did me a huge favor by giving me four spots to cover my flights, lodging, and however much a bunch of bacon wrapped zucchini dogs, chicken shish kabobs, garlic fries, deep fried artichokes, and the three fidget spinners I bought there amounted to.
During festival hours, I spent time roaming the grounds by myself and getting to know the other performers. They all were very welcoming and very supportive of each other. After festival hours, I spent most of my time with Reese Essi & Daniela Elizondo. Reese manages the festival's Instagram account and he was the one I interacted with during the booking process. Daniela worked as the administrative assistant. She has been involved with the festival for many years and volunteered as a kid. They were some of the most driven people and they were passionate about making the festival nothing but a success. As someone who helps produce an independent comedy festival, it was good to talk to like-minded people who want to make the festival experience the most enjoyable for the attendants, and to give a receptive audience to their performers.
Some festival highlights:
• There was a guy who had this ringtone for his wife.
• After I bought my second fidget spinner, the vendor cut me a deal by offering two dollars off my third spinner.
• There was a group of four elderly women who attended both days and choreographed dances for the daytime bands. Friendship is forever and music brings us together.
• There's a rumor that the Hell's Angels do security for the festival, and that's why they've never had complications with fights and that made me feel safe, but it also made me feel like I was being laughed at by men in leather vests. Cool guys in leather vests, though. No diss, Hell's Angels! (I later learned this was not true.)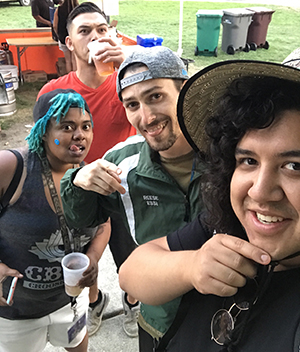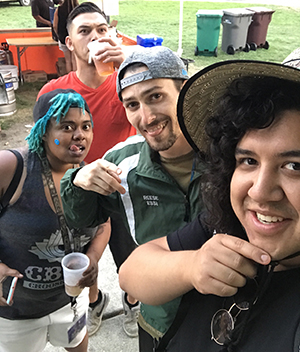 In summation, this whole experience came together when two people who were states apart found each other on Instagram. The simplest inquiry turned into becoming friends with a handful of genuinely good-hearted people.
If there's anything I can encourage you all to do, it's to support local events, and please tell people about the engine that could…aka the Hayward Zucchini Festival. I hope that next year, I am invited back for more money, which is what I actually care about the most.
Review: This festival gets my coveted 69 out of 420 rating.