Love it or hate it, it's safe to say Record Store Day is here to stay. What started as an honest-to-goodness movement to encourage listeners to get out and support independent music retailers who were suffering in the advent of Amazon, streaming services, and the industry's stark shift from physical to digital formats has quickly mutated into a halfhearted "holiday" with its fair share of icky elements. While this Saturday's Record Store Day exclusives include three hastily packaged David Bowie cashgrabs (lest his body get cold enough to no longer turn a profit), and albums from struggling and little-known artists like Justin Bieber, The Doors, Lil Wayne, a collection of Disney songs, and another Run The Jewels LP everyone you know is bound to post on fucking Facebook, acts on smaller labels are forced to endure pressing delays and elevated prices. Still, it's hard to hate an event that gets people out to support their neighborhood record store—even if they're doing so by purchasing Carl Douglas' "Kung Fu Fighting" single and the Skrillex, Diplo, and Justin Bieber collaboration the world didn't want or need.
Amid the ugliness of desperate novelty records and greedy "collectors" re-listing rarities on eBay while they're still waiting in line to pay, some Milwaukee record shops, local bands, and other area businesses are doing their part to make this happening a worthwhile occurrence for all. On Saturday, April 16, the consumer event will become a full-fledged local holiday, complete with new releases from beloved Milwaukee bands, in-store shows, giveaways, and sword swallowing for some reason.
1. Acme Records & Music Emporium
With an undeniable love and appreciation for all things vinyl, every day is Record Store Day at Acme Records & Music Emporium. However, the Bay View shop is upping the ante for the "holiday" with live music from Dancing Silks, Marielle Allschwang, Red Stuff, and The Ornerys. There's also promise of (limited) food, wine, and beer from Lagunitas. Oh yeah, Acme will also be stocked with most of the RSD exclusive releases you so crave. Show your Acme bag at Honeypie or Palomino and get a free pint of beer on Saturday.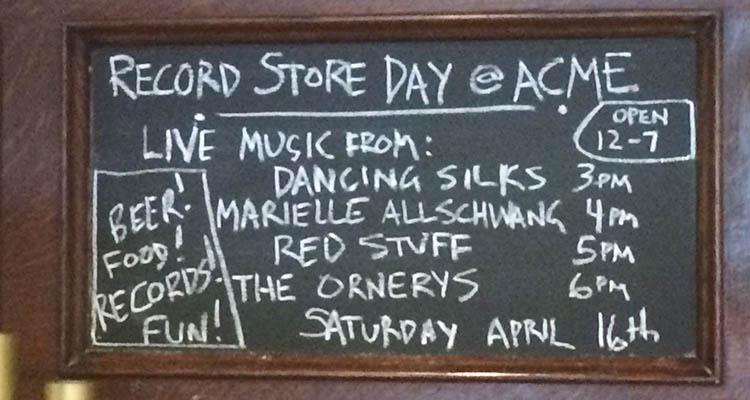 2. Bullseye Records
Last year, Bullseye Records kept things pretty tame, offering great deals on used CDs and records during a sidewalk sale as a rotating cast of local DJs played music outside Comet Cafe and our pals at Ale Asylum distributed free beer. This year, the East Side audio institution has pulled out all the stops. Assuming management isn't fucking with us (and we've been assured they are not), Bullseye will play host to record jugglers, sword swallowers, a dunk tank, and other surprises. If "sword swallowers" is one of the things they're willing to mention, who knows what crazy shit the shop has in store. Of course, there will also be discounts on music.
3. The Crusties vinyl re-release on Beer City Records
A laughably egregious omission on our recent rundown of Milwaukee record labels was Beer City Skateboards And Records, the granddaddy of local imprints. (Sorry!) Not only is Beer City still alive and kicking, the label is going big this Record Store Day with a flurry of releases from acts like M.D.C., The Faction, Cancerous Growth, and Attitude Adjustment. Best yet, Beer City will put out Crustunes, a remastered version of the early '80s Milwaukee hardcore staple's 16-song album that's been out of print for close to 30 years. Originally laid down on cassette, this marks Crustunes' vinyl debut.
4. Direct Hit! split 7-inch with The Brokedowns
Milwaukee's own Direct Hit! just inked a deal with Fat Wreck Chords, which will release the pop-punk outfit's downright incredible forthcoming record this summer. In the meantime, the band supplied two new songs to Making A Midwesterner, a split with Illinois band The Brokedowns, that also serves as Direct Hit!'s swan song on Red Scare Industries. Limited to just 700 copies, this one might be tough to get your hands on. RedEye Chicago premiered a Brokedowns song, and we'll have a Direct Hit! video for a song off this split at some point this week.
5-7. Exclusive Company locations offer sales and a show
Say it with me! The Exclusive Company? Before Record Store Day transformed into a city-wide spectacle, Ex Co. stood a little ahead of other shops in town by booking in-store performances by local artists at nearly every one of its locations throughout the region. This year only features one show at a metro Milwaukee franchisee, but what a show it will be. GGOOLLDD will play an exceedingly rare outing during an intimate (and free) in-store bill alongside NO/NO and Gauss at the Farwell Exclusive Company. The West Bend location will offer discounts on almost everything (with extra savings when customers bring in non-perishable food donations) as well as free Jimmy John's subs. The Greenfield shop will offer modest discounts on new and used CDs and DVDs along with double reward points for one day only.
8. Frank's Power Plant to "give back"
Over at Frank's, there isn't so much "giving back" to anyone in particular—rather, the bar is making the record-buying experience a little more lucrative on Record Store Day. Proof of purchase from a local business earns $1 off customers' first drink. Patrons are encouraged to play their new purchases on the turntables between noon and 4 p.m. After that, Montauk Project will have a jazz open jam until 6, which will give way to the punk rock stylings of Fetch The Pliers, Ratbatspider, Cold Ghosts, and The Slurs from 9 o'clock to close.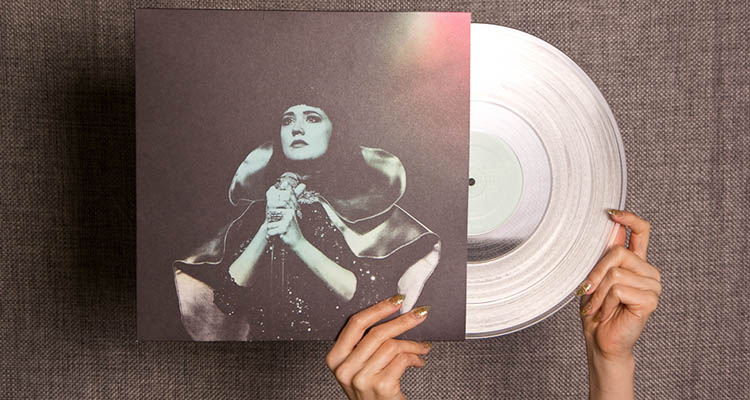 9. New GGOOLLDD release
Not only will GGOOLLDD be performing on Record Store Day, the synth-pop phenoms will also celebrate the release of last year's For The Night EP on clear plastic vinyl. Put out by Gloss Records, the record is limited to just 500 copies, which can be procured at Rush-Mor Records, Bullseye Records, and of course before and after the band's set at the Farwell Avenue Exclusive Company. If you can't make it out Saturday, the For The Night record can also be ordered from GGOOLLDD's brand new website.
10. Good Land Records sale
Though drummer extraordinaire and Good Land Records founder Jon Phillip now resides in Nashville, his love for his hometown shines through, even down to his label's name. With the hope of spreading Good Land's catalog of (mostly) Milwaukee-made music to people throughout town, the label's selection will be discounted at the Farwell Exclusive Company all day.
11. Off The Beaten Path
Compared to many of its older and more established East Side neighbors, Off The Beaten Path is just that. However, the oft-overlooked record retailer should be part of your holiday shopping spree. Much like last year, Off The Beaten Path will have bins of records lining its sidewalk (weather permitting) that will be sold for $1 from 9 a.m. to noon, 50 cents from noon to 3 p.m., and 25 cents from 3 p.m. to 6 p.m. Inside the shop, all LPs will be 20 percent off, and turntables will be priced to sell.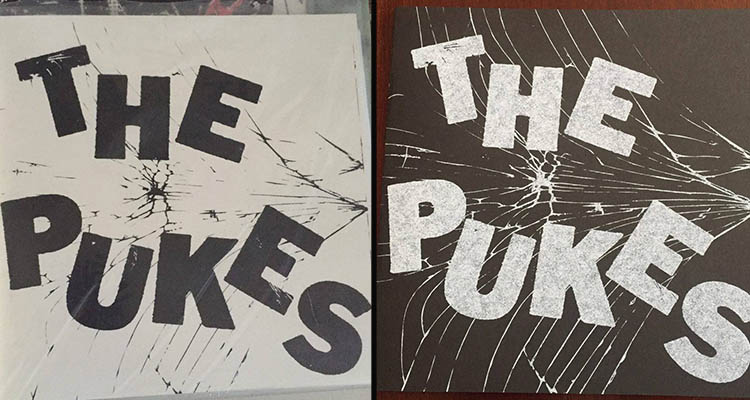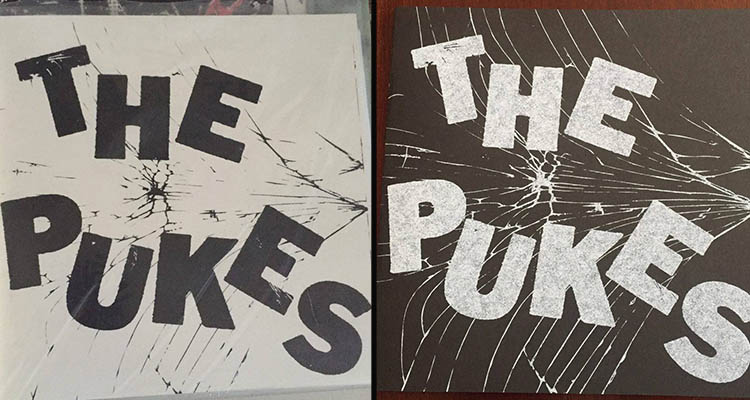 12. The Pukes to put out vinyl debut
If you've paid any attention to local music lately, The Pukes are likely on your radar. The young punk project has a song in regular rotation on 88Nine, and they're playing out at an incredible clip. Miraculously, one of the city's most active bands at the moment still doesn't have anything more in regard to recorded material than a crude self-recorded CDR. That is, until now. In light of Saturday's festivities, The Pukes will issue their vinyl debut in the form of an untitled two-song 45 that features "Murder" and "Execution." Eric Von Munz designed and hand-printed the cover art. The first run will feature 50 white sleeves and 50 black sleeves, only available at Rush-Mor Records.
13. Rush-Mor Records
Close to last but certainly not least is Rush-Mor Records. Obviously, Milwaukee's longest-running record shop is celebrating Record Store Day. Aside from stocking Record Store Day exclusives from nationally known artists, Rush-Mor will be the exclusive brick and mortar retailer of The Pukes' 45 and The Crusties' re-issue (as both noted above), and will have limited copies of other local releases from GGOOLLDD, WMSE, and Ratbatspider, along with nationally distributed RSD goodies. A turntable will be raffled off and a special Rush-Mor Record Store Day 2016 shirt will be available for purchase.
14. WMSE to release live Sylvan Esso 7-inch
Last Record Store Day saw Milwaukee public radio institution WMSE getting into the record business by releasing a pair of in-studio songs from Field Report. It went so well, the station decided to do it again with an even higher-profile act with local ties. Live From The WMSE Studios, Sylvan Esso will feature two songs, "Dreamy Bruises" and "Dress," that were recorded when the dreamy pop duo (featuring Milwaukee expat Nick Sanborn) came to WMSE studios on September 5, 2014. The rare release was mixed and mastered by station engineer Billy Cicerelli.