Some people think the Milwaukee music scene can be too insular. There's some truth to that, but not all local bands stay nestled in the supportive confines of our city limits. Some venture well beyond Milwaukee and, oddly enough, find their music going over better elsewhere. Others never actually visit locales in which they're popular, but enjoy fanfare thanks to the help of the Internet, strange connections, or by sheer chance. Sure, bands like Field Report, Jaill, Maritime, and Vic And Gab get national nods with regularity, but they still enjoy peak popularity in their own neck of the woods. Instead, Milwaukee Record wants to talk about 11 bands that are notable in town, but a liiiittle bigger elsewhere.
1. Old Earth (Scotland)
Thanks to the miracle of the Internet, Todd Umhoefer's experimental folk project Old Earth found its way into the ears of a writer at Edinburgh-based music blog Song, By Toad. From there, it was relayed to mini50 records (also in Edinburgh) and a beautiful cross-continental partnership was forged. Old Earth doesn't just release music on the label, he also visited Scotland last autumn to record a song, play traditional shows in Edinburgh and Glasgow, and make field recordings. Umhoefer combined them into a tour album, and another trip is planned later this year. Moreover, Old Earth song "Less Words" just broke the 150,000 play mark on Soundcloud. Umhoefer claims a staggering number of those come from Italian listeners.
2. Holy Shit! (Japan)
Honesty time. We can't say with total certainty that Holy Shit! is actually more popular in Japan than they are in town, but it's pretty fucking awesome to see some Japanese people loving them some Holy Shit!
3. Midwest Beat (Italy)
Sure, Midwest Beat lives the high life in Milwaukee, but the timeless folk-rock quartet also enjoys some success in Europe, and especially in Italy (where the band releases music on Italian label Wild Honey). The band has toured successfully throughout Europe twice. Kevin Meyer, owner/operator of Midwest Beat's U.S. label Dusty Medical Records, says Wild Honey's owner was led to the band through exposure to other Milwaukee acts, including Mistreaters and The Goodnight Loving. Since then, the Italian label released a Midwest Beat singles compilation, co-released the band's last record Gone Not Lost, and will partner with Dusty Medical again on the forthcoming Free Of Being (out September 9). Additionally, the band is on the roster of Waterslide Records in Japan.
4. Misery Signals (Canada/throughout U.S.)
The metalcore community is a small, but exceedingly devoted one. When Misery Signals returns to the city that berthed them during its "MaliceX" tour in August, The Rave will be brimming with local support. Outstanding as that is, it's not a unique response for Misery Signals. The band enjoys a similar (if not larger) turnout throughout the country. Also, with three of the band's five members now scattered throughout Canada, Misery Signals' gigs in the great white north go over just as swimmingly.
5. Joseph Huber (throughout U.S.)
It wouldn't be an exaggeration to say Joseph Huber's last project, .357 String Band, might be one of the most popular Milwaukee bands ever. The seminal streetgrass outfit's farewell shows sold out Turner Hall…twice, and Jim Linneman told us a .357 album release show is still the best attended event in Linneman's history. When String Band ex-pat Joseph Huber played his own Milwaukee album release show at the Riverwest club earlier this month, the patchwork assemblage of bluegrass fans didn't exactly threaten fire code capacity. Perhaps competing with a goodbye show by Jayke Orvis And The Broken Band (fronted by another .357 alumnus) at The Uptowner had something to do with it, but the solo work by the member of the legendary local ensemble is also woefully under-appreciated in town. However, the country and roots music sects have gladly adopted the somewhat neglected Milwaukee son. This year alone, Huber had high billing on the four-day, 50-act lineup for Farmageddon Records Music Festival and he'll play the massive Muddy Roots Music Festival in rural Tennessee next month. He's also toured throughout Europe extensively.
6. Direct Hit! (Canada/throughout U.S.)
We've touched on this before. For quite a while, pop-punk phenoms Direct Hit! were a Milwaukee band only in the sense that they lived and rehearsed here between wild and well-received shows for out-of-town fans spread generously throughout America and Canada. Singer and guitarist Nick Woods tells us that Madison shows go especially well, as do shows in Cleveland, Richmond (Virginia), and recent tour stops in Toronto, Ottawa, Winnipeg, and Regina. "Fest out in Gainesville, Florida is always really big for us every year," Woods says. Direct Hit! will play this year's Fest as well. Woods also acknowledges the band has been privy to some uncharacteristically packed hometown shows of late. "It's been great," Woods says. "I can't say that nobody knows who the fuck we are here anymore."
7. Sugar Stems (Japan)
Sugar Stems are pretty popular in Milwaukee and, judging by recent attention from the likes of Noisey and The A.V. Club, are at least on the radar elsewhere in the states. Surprisingly, the pop-rockers are also big in Japan. Dream On Records in Japan released the first two Sugar Stems CDs. The band's drummer Jon told us two singles they released before Can't Wait sold out very quickly, largely because of Japanese orders. He estimates just under a third of Sugar Stems' Twitter followers are in Japan. Miraculously, they've never toured the nation (though they plan to by the end of 2016), but other bands have told the drummer they've heard Sugar Stems songs being played at venues.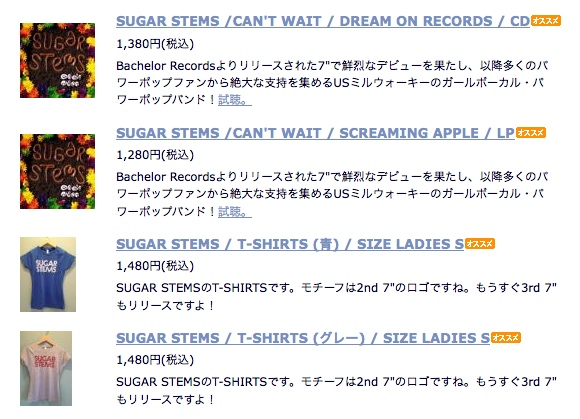 8. Moon Curse (Germany)
Local stoner rockers Moon Curse specialize in psych-slathered classic rock that has just as much of a home on stage today as it did in the '70s, and (apparently) just as much in Germany as it does right here in Milwaukee. Last year, Moon Curse inked a deal with a Berlin-based record label called Kozmik Artifactz to spread its harsh, Sabbath-inspired brand of rock and roll across the pond.
9. Kings Go Forth (everywhere)
We can't narrow down exactly where in the world Kings Go Forth's funky fun goes over the best. In fact, it could very well be Milwaukee. Yet the band's reception across the country and overseas makes KGF a necessary inclusion on this list. Unfortunately, the band has played out considerably less lately, withholding its sweet sounds and outstanding live shows from Milwaukee and the world.
10. Brett Newski (South Africa)
With the amount Brett Newski tours, the cow-punk performer's Milwaukee residence is more of a technicality than anything else. When he isn't regrouping in the city his mail is sent to and continuing to establish himself here, Newski tours around the world. He's in Berlin with his roommate and fellow road warrior Jon Phillip as we speak. We recently spoke to him about his constant touring, and he told us where he's most popular. It's nowhere near Milwaukee:
"I would say stuff gets really well received in South Africa. That's the place that got me back on the horse when I wasn't doing much musically. I went there to play and the response was way stronger than I ever thought it would be. I thought 'Maybe I can make this work. Maybe I should not be making tampon ads anymore.'"
11. Juiceboxxx (the Internet)
To us, Juiceboxxx will always be a Milwaukeean. However, the rapper has since lived in Los Angeles, and his current residence of New York. No matter where he moves, the Juicer: Rapper And Producer will always live online. Every time he releases a new song, puts out a new video, or performs on local news, the Internet is set ablaze with stanch support, rampant hate, and an inability to look away. Keep being you, JB, and we'll keep the conversation going.