Hailed as "Wisconsin's Largest Flea Market," the elusive 7 Mile Fair is one of the few places where you can buy live birds, bootleg Beats by Dre, fresh produce, fidget spinners, pork rinds…you get it. Located in scenic Caledonia, thousands frugal shoppers from all over Wisconsin and Illinois flock to the fair on Saturdays and Sundays to see what kind of deals are in store.
The mere $2 admission price includes access to both the inside and outside of the flea market. The air temperature varies significantly, and so does the stock. The two inside buildings have "new" goods like DJ equipment, socks, herbs, formal dresses, and luggage. The outside flea market is mostly people selling their used goods, not much unlike a thrift store. Most things are covered in a thin layer of dust or dirt. If you're willing to get your hands dirty for a few hours, the possibility to find some treasures is high.
7 Mile Fair occasionally hosts live music that is free to fair patrons. On August 5, the $2 admission price included a show that would probably have been free if it was held 20 miles north in a Riverwest dive bar. Sat. Nite Duets, Scrimshaw, and Fudgy all made the pilgrimage to the flea market.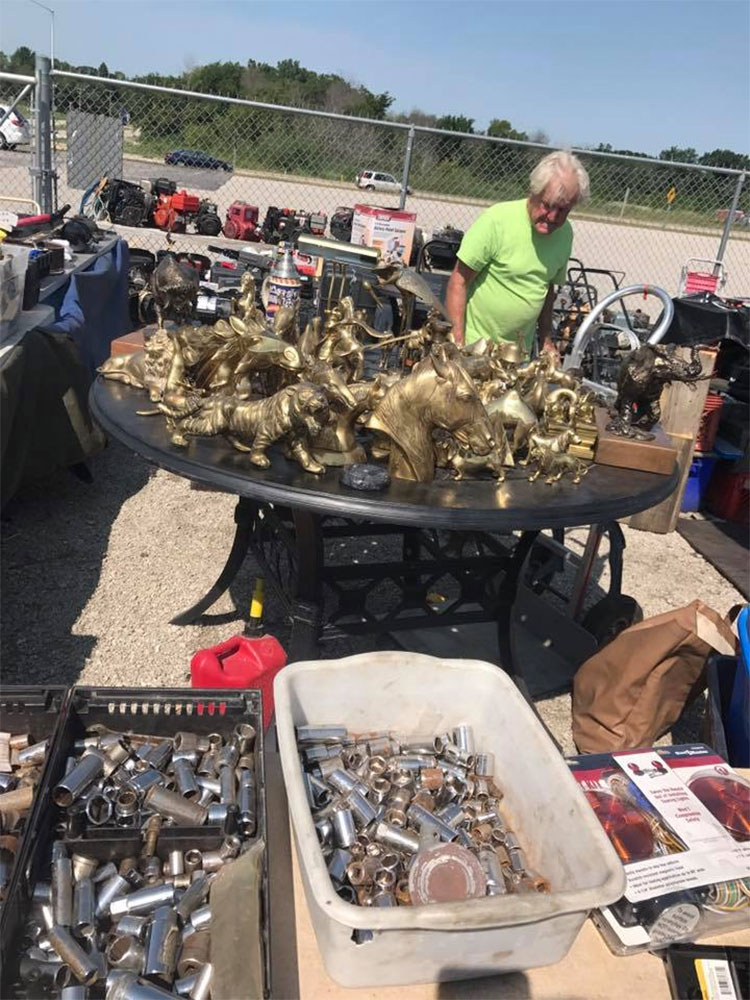 The show's start time was 12:30 p.m., but I arrived bright and early to peruse the eclectic selection. As someone with a maximum of $50 in their bank account at all times, I spent most of my time seeking cheap thrills outside. I found a free (!) puppy, a $10 rabbit, a $10 turtle, and a $15 exotic bird. No, I did not purchase an animal…though the free puppy was tempting. My friends bought $20 Doc Martens, jars of local honey, and vintage Harley shirts.
Around 10:22 a.m., we saw an elderly man passed out in the gravel—not a good omen for what the rest of the day had in store. We decided to migrate indoors because, yeah, it was fucking hot.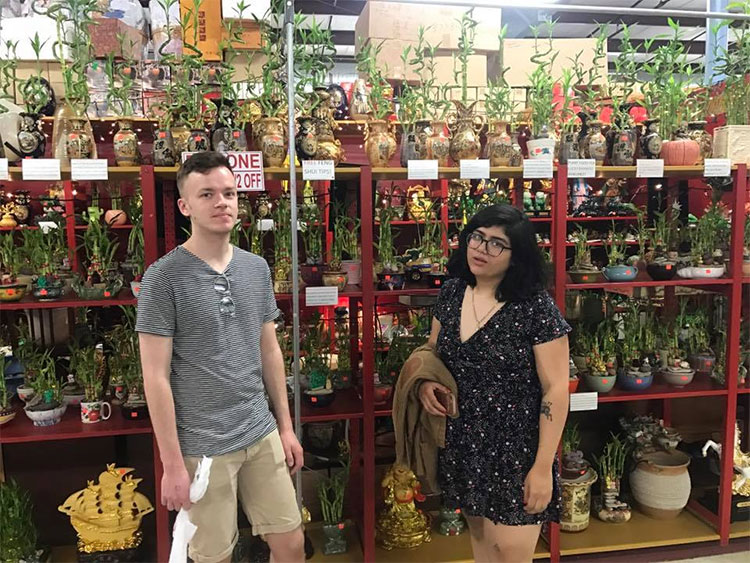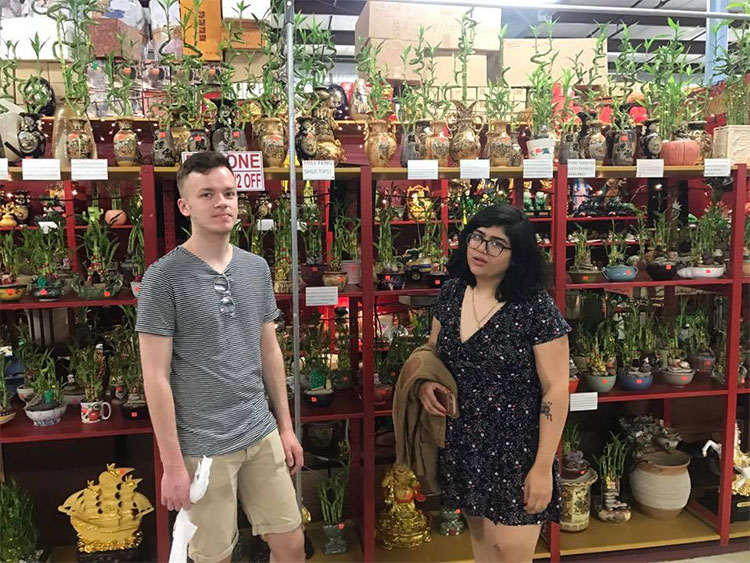 Once inside, the tantalizing smell of roasted corn tickled our nostrils. We walked through the seemingly never-ending aisles but purchased nothing. We finally sat down in the food court area to take a breather.
A man I did not recognize approached us. "If you happen to be here for the weird show, it's outside. We're probably going to start around 12:45."
"How can you tell?" I asked, though I knew it was obvious.
"Oh, I've actually been going around to every table," replied the mystery man. We were, in fact, the only people he approached.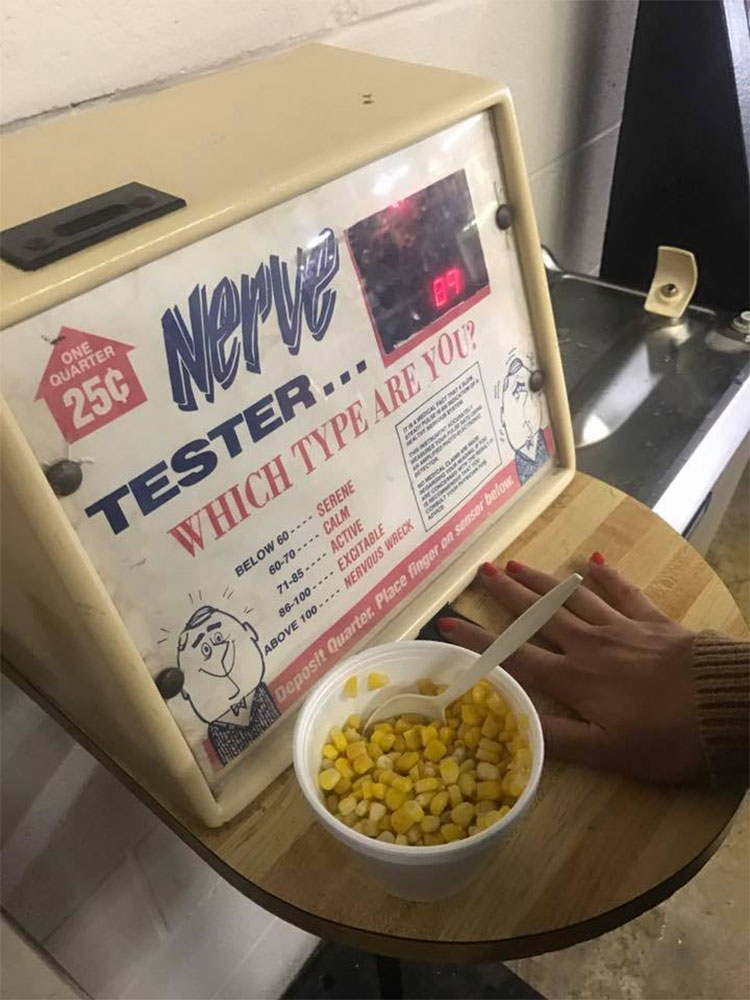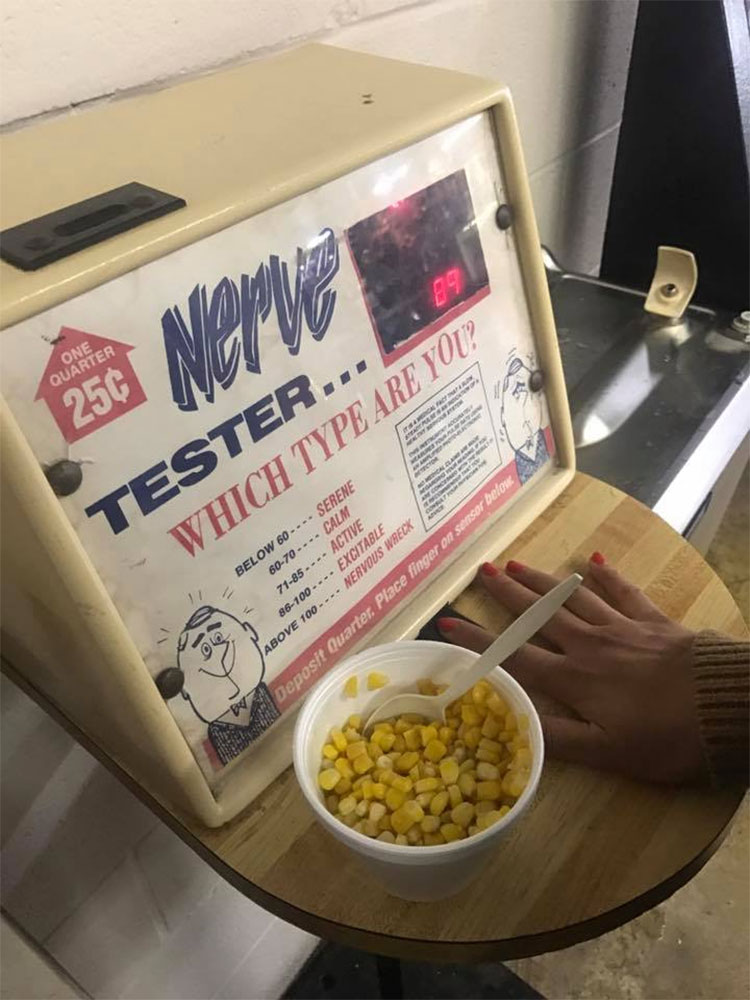 An hour later, we made our way back outside to check out the stage, which is located between two 7 Mile Fair buildings. Many fair employees were enjoying their lunch breaks on the surrounding picnic tables, and most of the "crowd" consisted of band members, their family members, and a few confused onlookers.
The show started almost an hour late, but that didn't matter—there was hardly anyone there to witness this spectacle. Opening the show was Fudgy, a Milwaukee supergroup of sorts featuring members of Scrimshaw and Crappy Dracula 2. No offense to the other bands who played, but this was by far the highlight of the show, if not the entire day. Fudgy singer/occasional Milwaukee Record contributor Justin Kern and his hilarious charisma made the painfully awkward show slightly more bearable. He performed as if the crowd was more than 30 people large.
After a few original songs, Fudgy did a cover of Siouxsie And The Banshee's "Cities In Dust." Later in the set, Kern encouraged some audience participation. He asked one half of the picnic tables to shout their emails, and the other half to shout their passwords. This created a crowd dynamic that was endearingly uncomfortable, but admittedly very entertaining. When Fudgy concluded their set, he told the audience, "This may be the third best day of my life. The other two are the other two times I was able to play 7 Mile Fair."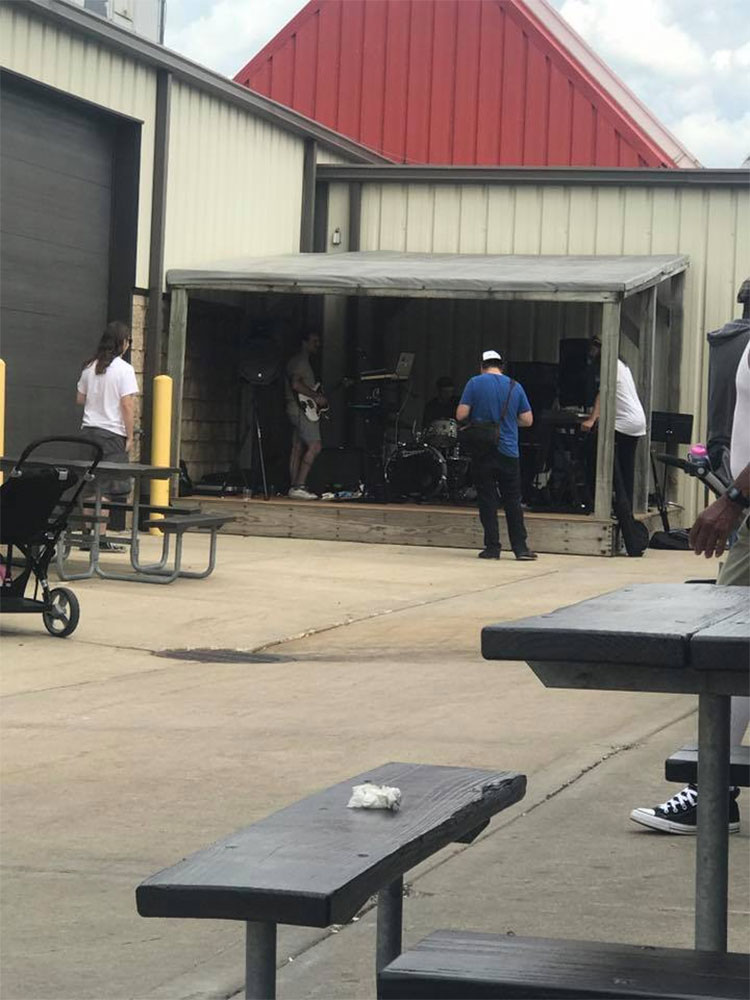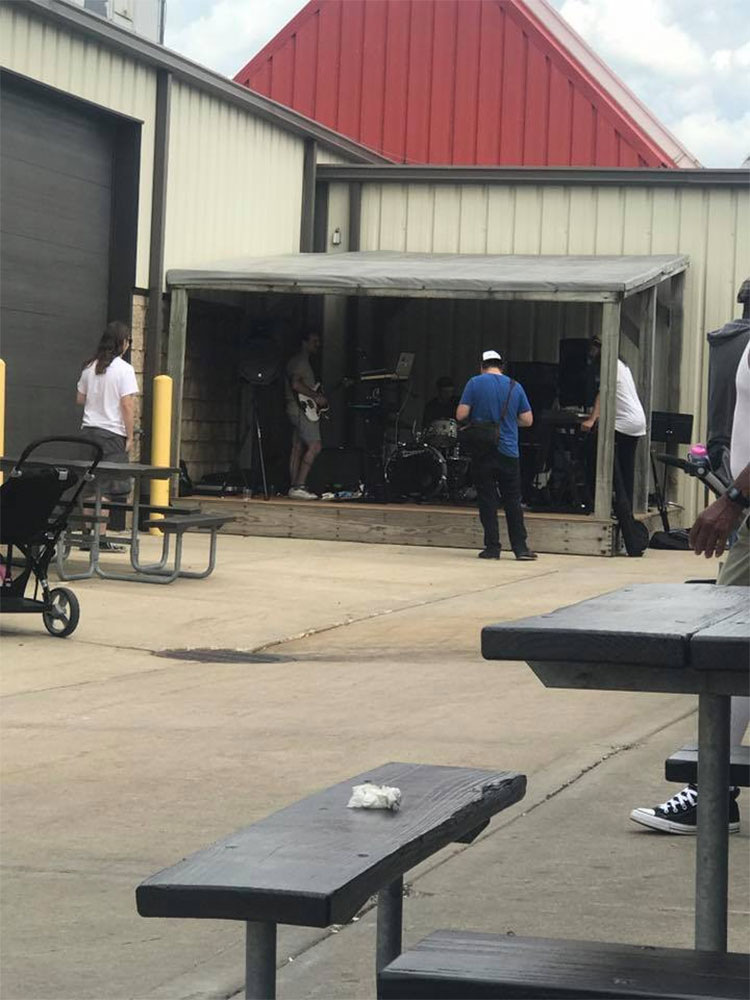 While warming up for their set, Sat. Nite Duets singer/axist Ben Gucciardi sang a few bars of Red Hot Chili Peppers' classic self-hatred anthem "Under the Bridge." Sometimes I feel like I don't have a partner / Sometimes I feel like my only friend / Where weekends meet bargains / 7 Mile Fair…
The band has recently downsized from a five-piece to a three-piece, and their shows have certainly changed with the tide. To the dismay of longtime fans, they no longer play hits like "TAFKA Salieri" and "I Have The Wine." Though their setlists have changed significantly, their signature sense of humor is very alive and well.
"If you're looking for a cocktail, I don't recommend the pimp juice," said Gucciardi midway through the set. Noted.
An amateur cinematographer filming the entire show made the event feel like an episode of The Office or What Would You Do? Though he was blocking the stage most of the time, at least his presence and dedication meant this show will be documented and preserved forever. Unfortunately, not many people were there to experience it in person.
Sat. Nite Duets finished their show with a rendition of "Big Worm." Though I was gunning for a "Margaritaville" cover, a la their 2016 Locust Street Fest performance, my dream did not come true. As I walked away to get a lemonade, the chorus followed my every step.
I finished my 32-ounce lemonade shortly before Scrimshaw began their set. I felt a major sugar crash coming on. It was really hot. I touched so many live animals. At this point, I really wanted to leave.
Scrimshaw drew a pretty sizable crowd for their set, and most viewers did not look like they were familiar with the band. Their energetic, sax-driven punk attracted more onlookers than the previous two bands, and the anticipation in the air could have been cut with a very sharp knife.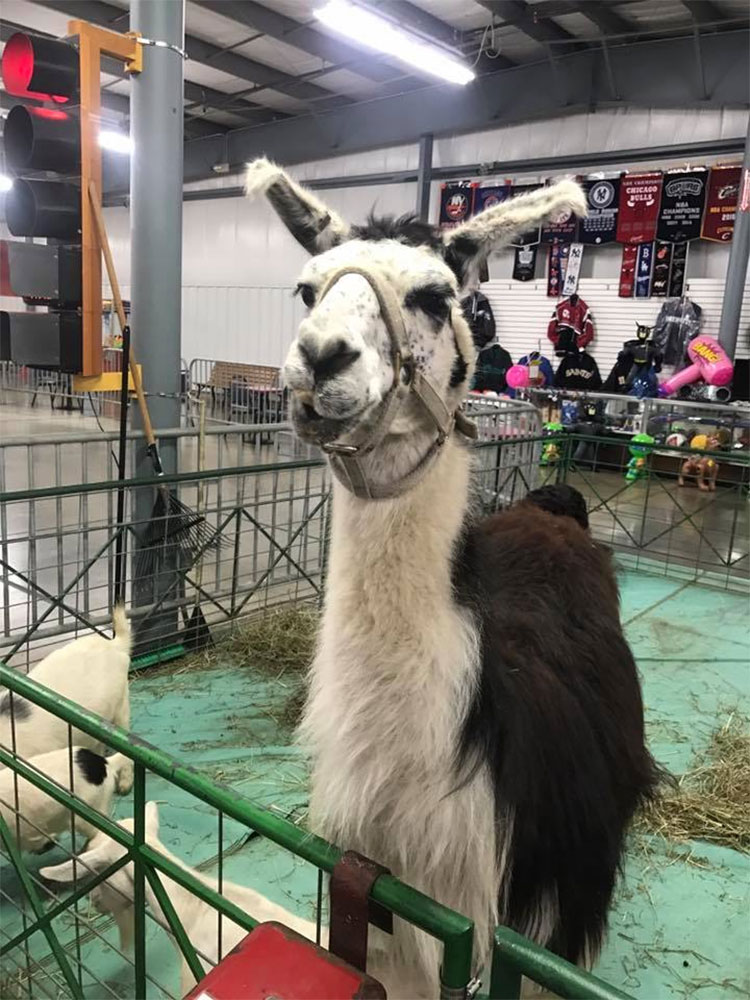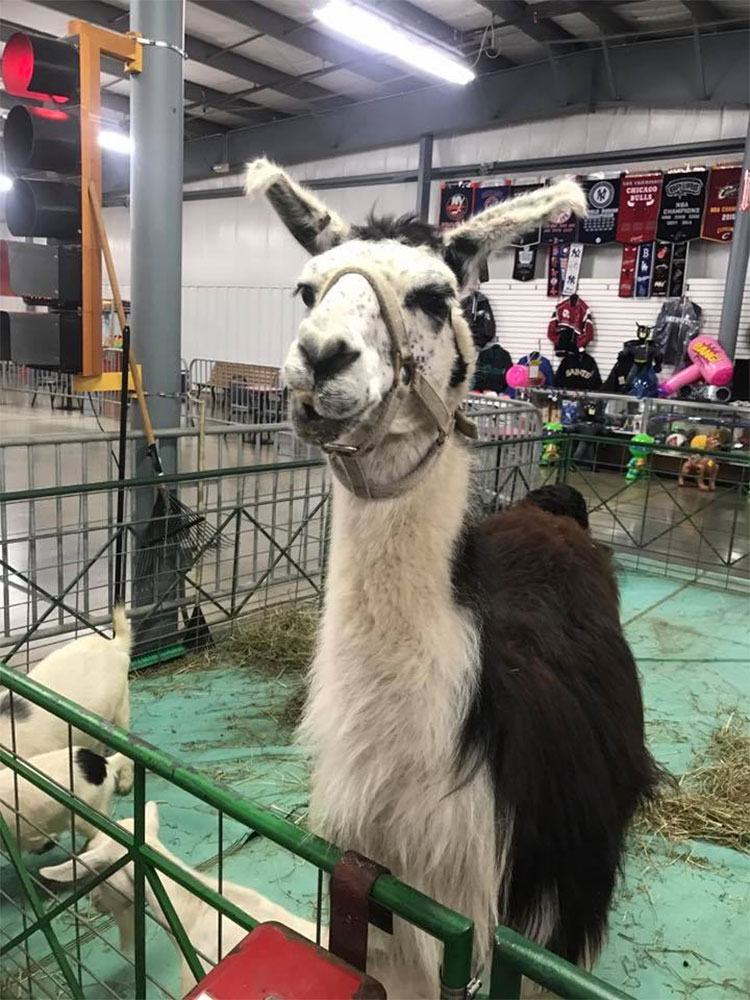 If you think about it, 7 Mile Fair and live music have a lot in common. They both attract people from all walks of life and provide a special emotional fulfillment that is rarely matched otherwise. Above all, live music and Wisconsin's Largest Flea Market are both inexpensive, fun ways to spend a weekend.
Hopefully, more people will show up to a future 7 Mile Fair rock show. It's worth the drive, I swear.