To paraphrase Chuck Klosterman—who has a new book coming out and will be at Turner Hall on July 18—nostalgia, when it comes to music, may have less to do with warm and fuzzy memories and more to do with repetition.
Klosterman thought this wouldn't happen so much in the digital era. Yet, when faced with infinite streaming options, I often became paralyzed and, in a panic, hit play on whatever new-ish album is already in my library. (To be fair, the new National record deserves a minimum of 13 spins.)
What is definitely being lost in the streaming era is the muscle memory that comes from holding, gazing at, and maybe even sniffing a physical album, cassette or CD. Not to mention that the time, energy, and thought that once went into the art of making mixtapes has been replaced by playlist algorithms.
As such, you can be sure that when the New Kids On The Block's Mixtape Tour rolls into Fiserv Forum on Wednesday, nostalgia will be hangin' tough.
Among the "very special guests" on the Mixtape Tour is 1980s teen pop star Tiffany, best known for touring malls and her hit cover of the 1967 Tommy James And The Shondells song "I Think We're Alone Now." In her day, Tiffany was the youngest female artist with a debut album to top the Billboard charts, and she enlisted New Kids On The Block to open on her tour.
For girls born in the late 1970s and early 1980s, Tiffany was it. Unlike fellow Mixtape Tour special guest Debbie Gibson—her teen pop rival—Tiffany had an alluring edge. My fiancée was among her legion of fans.
"She was just a normal kid who had a hard life and got plucked out of it somehow. She made me want to be a singer," recalls my fiancée.
My fiancée remembers first hearing Tiffany at a roller rink in Burlington, Wisconsin, which is about 35 miles southwest of Milwaukee. Her family had recently moved there from Santa Cruz, California. She was in third grade and was teased by some of her new classmates for her West Coast style. She eventually made friends, but never felt like she fit in. And she never got to see Tiffany live.
Last summer, I got an email from a Brooklyn singer-songwriter's publicist. I noticed a tour date in Kansasville, Wisconsin. "Where the fuck is that?" I thought to myself.
Turns out, Kansasville is a couple towns over from Burlington. When I checked the venue's calendar, one name jumped out at me: Tiffany. The Tiffany. Live at 1175 Sports Park & Eatery. What the hell? Of course, I bought tickets and recruited one of my fiancée's best friends for a surprise birthday trip.
The anticipation leading up to the Tiffany show was worth the price of admission itself. My fiancée had no clue and it was driving her nuts. She scoured the internet for every possible concert and art opening in the upper Midwest. After dinner we hopped on I-43 and headed south. She was certain we were en route to Chicago. Her head started to spin when we exited onto Spring Street and drove west towards Burlington.
"I swear, if we're just going to have dessert with my parents this is a bunch of bullshit!" she yelled.
Suspense built as we cruised down the dark country roads. My fiancée was getting anxious. She was not looking forward to seeing people from high school. It had been almost 20 years since she had gone out in this part of the state.
1175 Sports Park & Eatery opened in February 2018. It may be a modern bar, restaurant, and adjacent concert hall, but it still has a classic road sign. As we pulled into the parking lot my fiancée could see the word "TIFFANY" in big black letters, just below "GIRLS NIGHT OUT" and "COMEDY NIGHT."
"What!?! Noooo…" She was stunned. She slapped me hard on the shoulder, despite the fact that I was driving.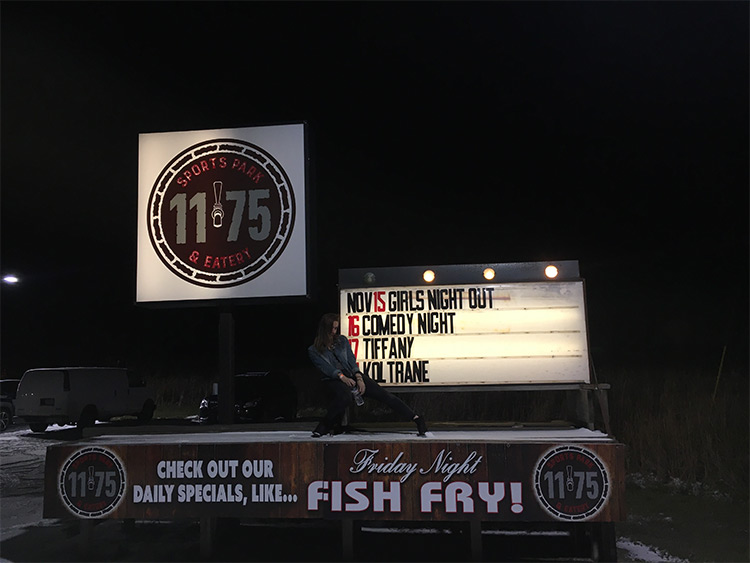 We headed straight to the bar for shots of tequila. They were cheap, as you can imagine. Women were wearing side ponytails, neon colored spandex, and headbands. It was like one of those '80s nights at a college bar, but this time an actual '80s icon was going to show up.
We could hear deep bass thumps coming from the venue. A line was forming at the middle door separating the two rooms. When the doors finally opened cheers rang out and the 10 or so superfans shuffled in. Being in the venue felt a bit like being at the Summerfest Rebel Stage, if it was enclosed in white walls and a high ceiling. At some point a VJ took the stage and the party started in earnest.
The VJ was playing safe hits of the '80s and the crowd was absolutely loving it. Everyone seemed genuinely excited and grateful to be there. We were dancing and singing and couldn't believe how much fun we were having. My fiancée turned to me during a Mellencamp song and whispered: "I'm pretty sure I went to school with the girl next to you. And she is dressed just like when we were in the fifth grade."
The sound/video engineer was a character. He had long black hair, a pressed suit, and a bowtie. He strolled back and forth between his board and the stage, tinkering throughout the VJ's set. Apparently they were having technical difficulties.
About an hour and a half after the show was scheduled to start, the owner of 1175 came out to hype up the crowd and welcome Tiffany. Two women hopped onto their dudes' shoulders. They both were wearing headbands. One was waving a vinyl Tiffany record.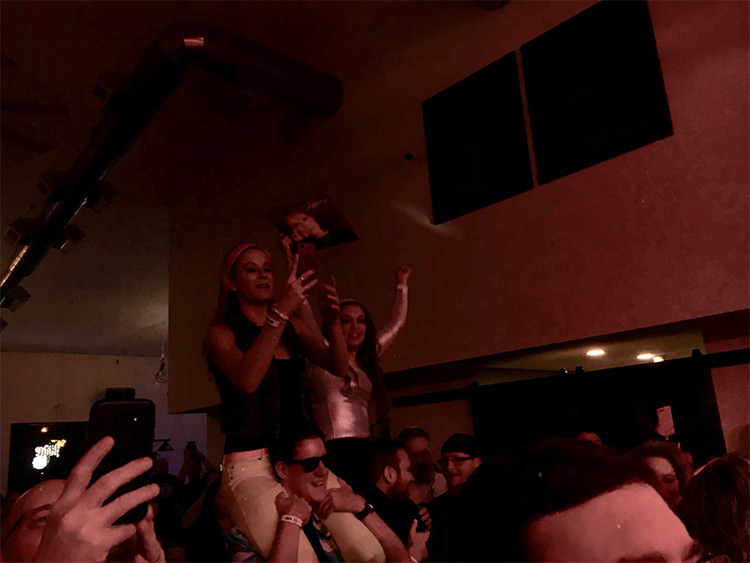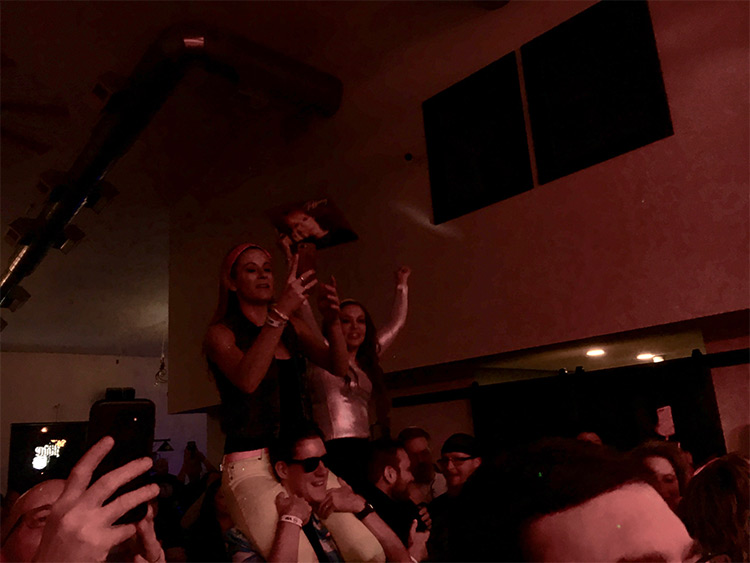 Tiffany took the stage. It seemed like she expected the video screens to be in sync with her DJ, but that was not happening. Smoke machines and lights would have to do. She kicked off the set with her cover of The Beatles' "I Saw Him Standing There." It took a minute for the crowd to adjust from watching familiar music videos to watching an actual person sing. By the second song ("Could've Been"), Tiffany was in the crowd and taking selfies with everyone. She passed the mic. The room was bright. It all felt surreal.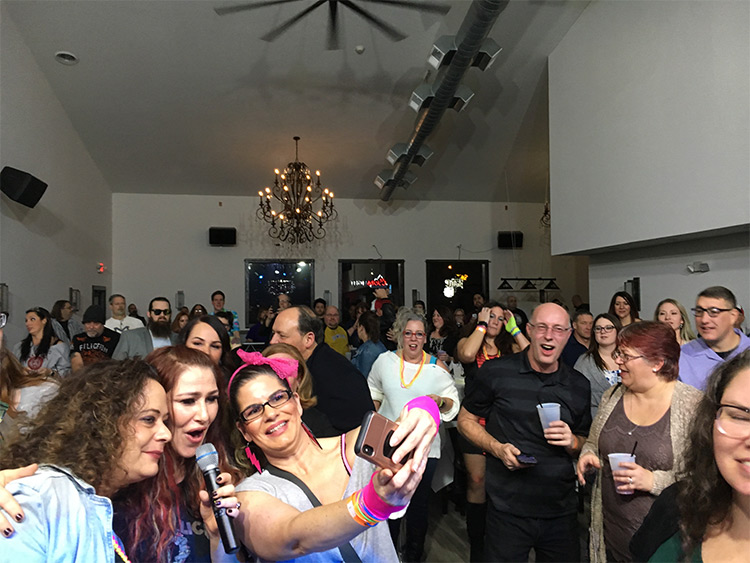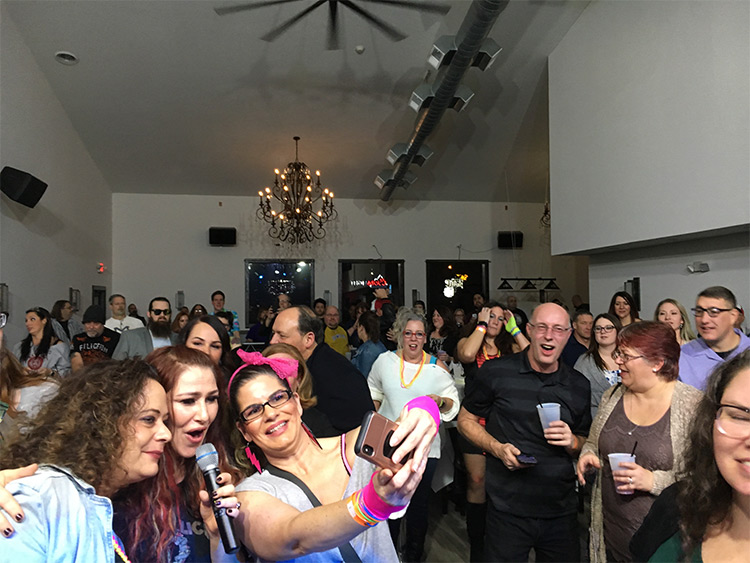 Tiffany was back onstage for the third track, which turned out to be the midway point of her set. She tried out a new song. The crowd was patient and her voice was still impressive, but the energy clearly dipped. Tiffany then brought it all the way back up with her anthem, which needed no introduction.
By the time Tiffany sang "I Think We're Alone Now," everyone in the room was either shooting video on their phone, belting out the song, or both. My fiancée turned to me with a look of amazement, bewilderment, and pure joy. I hadn't actually seen the home video where she sang that song into a hair brush, but I could see it now.
There was no unanimous call for an encore, but the owner of the 1175 forced the issue and got in on the action. He performed a duet cover of the Poison song "Talk Dirty To Me" with Tiffany. It was a ridiculous way to end a ridiculous night.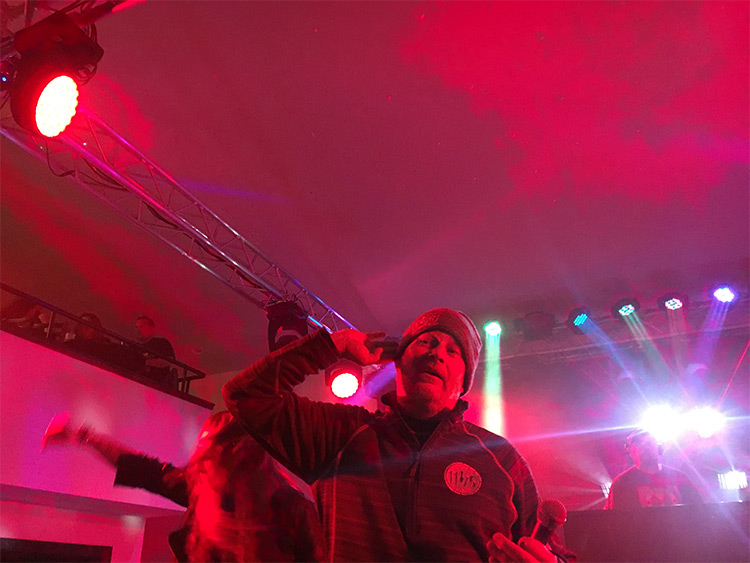 "Despite feeling like you don't fit in somewhere, there are certain things that connect people," says my fiancée, looking back on the night. "You can drift apart and feel like you have nothing in common, but music is one of those things that brings people together, at least for a little while."
And so it was, and so it could be for you at 1175 Sports Park & Eatery if Scott Stapp of Creed (June 25) or Sebastian Bach of Skid Row (September 18) is your childhood icon.