In our MKE Music Rewind series, we revisit a notable Milwaukee song that was released before Milwaukee Record became a thing in April 2014.
Milwaukee bands often have limited lifespans, barely existing long enough to grow their fanbase within the city, much less beyond it. This is an all too common tale for many of our city's acts of yore, and while some are perhaps best left in the past, others made valuable contributions to the Milwaukee music scene and deserve to be revisited. Temper Temper is one of those acts.
While it wasn't that long ago, the mid-2000s were an incredibly rich time for music, especially acts in the underground. Emerging from bands like Insidious, The Goodboy Suit, and Hero of A Hundred Fights, the band that would eventually become Temper Temper was formed by five friends looking to do something different. While vocalist Patrick Fuller, bassist Andy Menchal, guitarist Jim Neumeyer, drummer Keith Stendler, and keyboardist TJay Christenson all came from similar backgrounds, they came together with the goal of breaking away from what they had done previously.
"We all came from playing in emo and hardcore bands, and were looking to do something else" Menchal says. "TJay and Keith were really into classic rock like Zeppelin and the first Boston record. Pat and I were really into the Gang Of Four records and some Touch And Go stuff, and Jim was somewhere in between. I think the idea was just to do a band that was kind of fun and goth-y; something that was a little bit more challenging in terms of songwriting."
While these influences may seem a bit wide-reaching, a handful of contemporary acts helped the band focus their sound.
"I think a big catalyst was seeing the Rapture at the Bremen House with Black Dice," Menchal says. "We loved all those early records they were doing that were super noisy but also really dancy. The Faint was big for us, too. They played Milwaukee a lot and Blank Wave Arcade was a record we all really liked."
Over the course of three years, the band wrote the songs that would eventually become their first and only full length. Writing songs in this vein was new for everyone, however, so the process took a little bit longer for the new band.
"We didn't really take the easy way out when it came to writing songs," Menchal says. "We wanted people to move their hips but also wanted to make things kinda dissonant and noisy." Eventually, the band developed a sound that, while similar to their contemporaries, was a bit darker—owing as much to post punk as it did to acts like Samhain.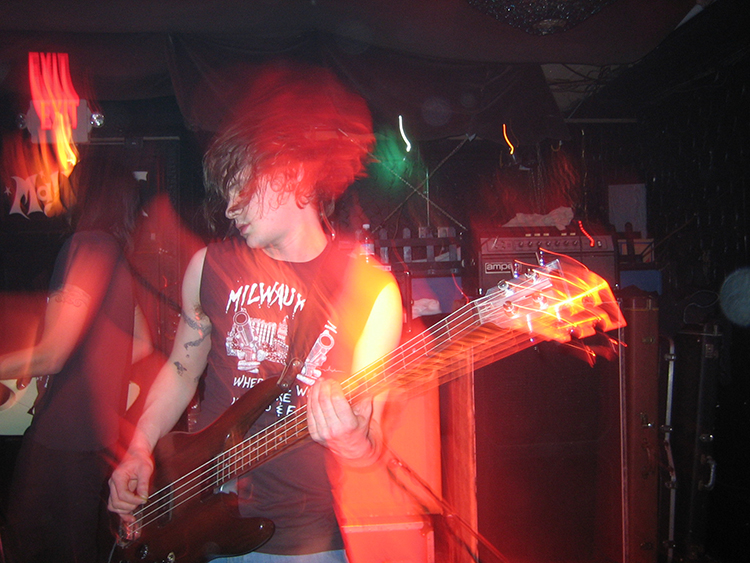 The band eventually recorded a demo with Ryan Weber and started to look into signing with a label. While Milwaukee had its fair share of artists who were signed to larger record labels, many worked with smaller, DIY-based operations. Following the mainstream success of The Strokes, as well as the breakthrough of acts like Death Cab For Cutie and The Shins, however, major labels and indie giants found themselves actively seeking out new talent. Not surprisingly, two of the most important record labels in music history were interested in working with Temper Temper.
"Interpol helped us get our demo into the hands of the folks at Matador who were interested in us," Menchal says, discussing the label responsible for releases by Belle And Sebastian and Liz Phair. "At the time, there were two guys running the label. One of them was really into us and the other guy was kind of on the fence, so they ended up passing on us."
Temper Temper's other suitor was also an impressive one.
"We also had some discussions with Capitol Records," Menchal says. "Listening to our demo in a Capitol Records boardroom was one of the biggest thrills of my life. We got to hang out on their roof which was incredible." Ultimately, though, the band decided that Capitol wasn't the right home for them.
"They offered us a development deal, but accepting it would have meant that we would have had to relocate to L.A. and work with a producer and have our songs, I guess, homogenized." Menchal says. "We saw it as a great opportunity, but also a compromise, and not really the direction that we wanted or were ready to go in."
This isn't to say that Matador and Capitol were the band's only options. After careful consideration, the band ended up signing with Revelation Records. It was a somewhat strange move for the label known for muscular East Coast hardcore, but the label was looking to do something outside of the umbrella of aggressive music, not unlike the band themselves.
"A big reason why we signed with Rev was because they had Since By Man, who were our brothers," Menchal says. "At the time, they had this awesome A&R guy named James Allen. He's just a great human being. He liked our band and offered us a one-album deal, which is what we wanted. He eventually ended up signing us and Call Me Lightning."
Upon signing with Revelation, the band began work on their debut with Jim Diamond, the producer known for his work with The White Stripes, The Von Bondies, and many other garage rock bands. While choosing to work with Detroit-based producer seemed fitting, the band's reasoning to do so was yet again influenced by friends above all else.
"The White Stripes and Electric Six stuff sounded good, but honestly, we loved the way that the Mistreaters record sounded. It's probably my favorite local release," Menchal says. "Plus, Jim's studio was all analog, and we kinda looked at it like 'Well, we may never be able to make a record to two-inch tape ever again,' which I haven't since."
Spending a week in the studio with Jim found the band hard at work crafting the best album they could possibly make, though Diamond initially didn't understand the band's vision.
"I don't think he even listened to our demos," Menchal says. "We started recording and he didn't really get it, but once we had the basic tracks laid, he was like "Oh, this is actually really, really good" and got excited. From there, he started bringing a lot of great creative ideas to the table. It was just a fun week of recording and a great experience."
The album wastes no time in getting down to business, and of all the band's songs, it's the album opener, "Trust Me," that stands out as some of their best work. Opening with a simple-but-infectious synth hook, the song showcases all of Temper Temper's strengths: a focused in-the-pocket rhythm section, angular guitar playing, and memorable vocal melodies.
"TJay had recently purchased a new synth and, basically, "Trust Me" was a product of the synth line that he wrote," Menchal says. "We wrote everything around it. I think we wrote that song in five minutes. It was probably the easiest song we ever wrote as a band."
Filled with attitude and bravado, Fuller's lyrics fit the song's dark and stylish vibe. The origin of those lyrics, however, is a bit more comical than one may expect.
"Pat was working at this restaurant called Barossa at the time and he was having a conversation with this line cook," Menchal says. "He was talking about how he was going to go out after work, and the line cook guy looked at him and said 'I'm going out too, man. Trust me, I'm a wild bitch.' I don't want to speak for Pat, but if I had to guess, I'd say the lyrics are just about being self-indulgent and partying, and not being ashamed about being so self involved."
A fan favorite and live set staple, "Trust Me" proved to be successful for the band in more ways than one. The song eventually found its way to prime time, getting played on the massively-successful teen drama The OC.
"We had a publicist for the album who had submitted us to [the music supervisor] for The OC, and they were really excited about the track," Menchal says. "They asked us if we wanted to do it, and we agreed, and the money we got from that pretty much paid for a van that allowed us to tour more regularly."
A solid live show, a great record, and TV spots can only go so far, though. Almost as quickly as the band appeared, Temper Temper quietly broke up in 2006. While health issues prevented the band from touring as regularly as they wanted, the band was tired and wanted to move on. Since their split, members have since gone on to play in acts like Decibully, Moon Curse, Dramatic Lovers, and Space Raft. Thirteen years after its release, the album still sounds as exciting as it did when it came out, and serves as a wonderful snapshot of the era, most especially to those who created it.
"I go back and listen to that record once a year, because it's like visiting an old friend," Menchal says. "I started dating my wife during that period. There's a lot of strong emotions there. Temper Temper is still so important to me because it reminds me of a very carefree and positive point in my life. It's always nice to go back there and revisit it."