In our MKE Music Rewind series, we revisit a notable Milwaukee song that was released before Milwaukee Record became a thing in April 2014.
If you were going to hardcore shows in Milwaukee in the early 2000s, there's a fair chance that you probably saw Since By Man. The five-piece, then consisting of drummer Jon Kraft, guitarists Justin Kay and Kevin Herwig, bassist Bryan Jerabek, and singer Sam Macon, were very much a staple in the city's all-ages scene, playing a unique brand of hardcore that recalled the spastic punk of Swing Kids, angular metallic hardcore of Botch, and the dancefloor-ready sass of Q And Not U. Whether you saw them under the fluorescent lights of Mad Planet or on the slippery checked floors at the Shorewood Legion, the band's eclectic style allowed them to play with a wider swath of acts than many of their peers. You would be just as likely to see them sharing the stage with Seven Days Of Samsara as you would The Rapture.
Since By Man's debut album, We Sing The Body Electric, was released in 2002 by legendary west coast hardcore label Revelation Records. Produced by Converge guitarist and engineering mastermind Kurt Ballou at his Godcity Recording Studio, Since By Man found themselves working with someone who, even then, was well respected in the scene.
"Recording We Sing The Body Electric was one of the best times of my life," singer Sam Macon says. "Kurt was a cool, nice guy who took us and what we were trying to do seriously, and I think that meant a lot to us as a band, especially at a time when much of the older Milwaukee vanguard wouldn't give us the time of day."
The result was an album that was chaotic, danceable, urgent, and dense. While the record has many strong moments, few truly sum up the sound of Since By Man better than the opening track, "Push The Panic." Preceded by a noise-laden spoken preamble, "Push The Panic" all but explodes from the speakers. It's truly an all-out aural assault.
"We didn't usually go into the writing process with too many preconceived notions, but I remember thinking we needed a really aggressive and sonically violent ripper of a song," Macon says. "It was the first song that we wrote that really had a drum machine part, which I had only recently maxed out a credit card on after several failed shoplifting attempts."
To the average ear, the song's lyrics may sound too distorted to understand, but Macon was touching on subjects that are as relevant today as they were in 2002.
"It's essentially a rage poem in response to what I considered to be a lot of unhealthiness and emotional vacancy in sexual relationships within 'the scene'" Macon says. "It's a mediation on how we all considered ourselves to be so politically and socially 'woke,' but were still treating each other like shit behind closed doors. Men seemed specifically poor at being good partners and advocates."
This lyrical and vocal aggression was delivered with extreme intensity, so as to match the energy and performances of the band's other four members. A backdrop of organically heavy guitars, complex rhythms, and razor sharp in-the-red production round out the song's arrangement, leaving the listener with a dense and colorful wall of sound.
"I personally felt that between all of the elements that made up the song, that 'Push The Panic' was the strongest expression of what we thought a Since By Man song should be," Macon says.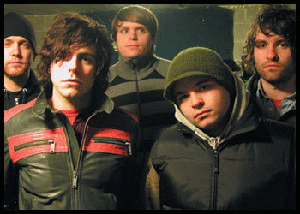 While the band went on to release another EP and full-length for Revelation before calling it quits in 2007, We Sing The Body Electric will forever be their crowning achievement, and "Push The Panic" their defining track, as evidenced by their live shows, in which the song always evoked an intense enthusiasm from their audience.
"This song was so fun to play, despite the lyrics being pretty intense and purposefully challenging to the listener," Macon says. "It featured all the best things that Since By Man had to offer. Sometimes, people just want to spazz out and scream 'This is how you fucking die!' over and over again."
This was a very common sight at most any Since By Man show. In Milwaukee, the band often played alongside Call Me Lightning and Temper Temper, two bands who not only became eventual labelmates with the group, but were also consisted of close friends.
"Those bands, along with Seven Days Of Samsara, were made up of some of my favorite people with the most impressively creative minds," Macon says. "By the end of every tour, we just couldn't wait to come back and play a show on the floor with our friends. Those shows, that time, it just seemed like we all helped build something really meaningful."
Though many of their peers in the underground were signing with larger labels at the time, nothing ever fully materialized for Since By Man.
"I was extremely into The Icarus Line and The Blood Brothers at that time," Macon says. "I desperately wanted to be on a non-genre specific label that was putting out adventurous heavy music, but it was not to be."
Still, Macon looks back on the band's tenure with fondness.
"[I look at] Since By Man as being one of the most rewarding creative pursuits of my life," he says. "I think we owe most of that to the city of Milwaukee and the community that we were lucky enough to be a part of."