In our MKE Music Rewind series, we revisit notable Milwaukee music that was released before Milwaukee Record became a thing in April 2014.
The third wave of ska crested in the mid-'90s, when bands like The Mighty Mighty Bosstones and Reel Big Fish crossed into the mainstream market. The genre, particularly the ska punk variety of it, hit me in the fall of 1998, when I was 12. Bands like Less Than Jake, Operation Ivy, and Five Iron Frenzy helped me escape—if only in my mind—the small grade school I attended in Fond du Lac, where I was cut from the basketball team but sort of did okay at playing the saxophone. The music helped give me a sense of belonging and community, when I eventually found others who liked it. While in my sophomore year of high school, either in late 2001 or early 2002, someone burned me a CD of a Milwaukee ska punk band: 5 O'Clock Charlie.
I was told that the band had recently broken up, but I didn't know anything else about them besides where they were from. It seemed like the CD I was given was of an album, as there were some sound bites before the first song and then after the last song which tied it together, and there was also a hidden song at the far end. I had no idea what the song titles were, and I could only make my best guess as to what the lyrics were saying, let alone what the songs were about. I did recognize that one of the tracks was a cover of the M*A*S*H* theme, "Suicide Is Painless," and that the hidden track was a Misfits song, but other than that I was lost. I'm not sure why I never tried to get the tracklist from the person who burned me the CD, and I can't remember if I dialed up the internet to find more information about the band at the time, but if I did, I didn't find much.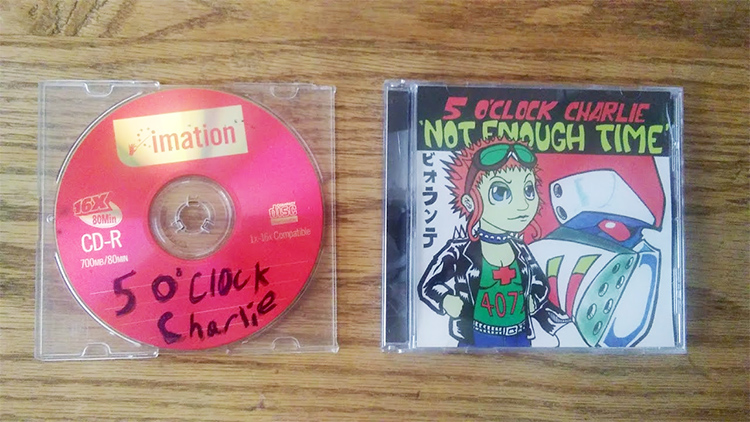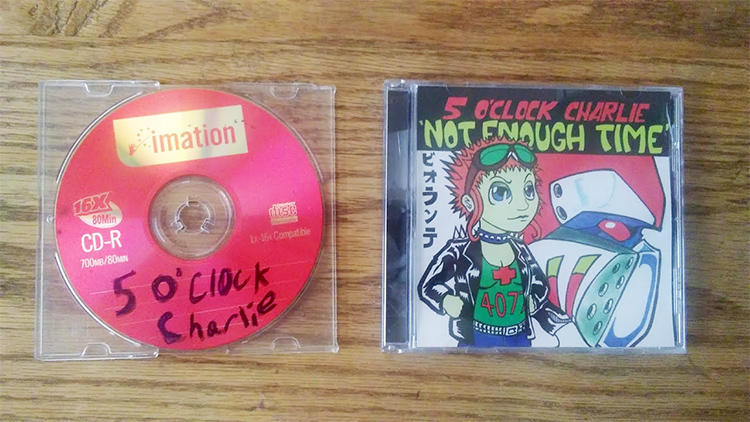 I write the following without a hint of hyperbole: the album, or collection of songs, or whatever it was, became one of my favorite ska punk CDs of all time. At some point in time (a decade later, maybe?) I found out that it indeed was an album, and that its title was Not Enough Time. It was the one full-length album the band put out during their four or so years together. What particularly caught my ear were the horns. This was not a band that tacked horns on after the fact—the horns drove the music. The horn melodies were all catchy, as was everything else about the songs, and besides two slower songs, the album refused to let up. I was just starting to play in my own bands when I first heard the album, and it had a huge influence on me.
Years passed. I moved to Milwaukee in January of 2012 and eventually started paying attention to the local music scene. Sometime in late 2018, I realized 5 O'Clock Charlie had reformed and had played a show at Club Garibaldi in September and I had missed it, but I also found out that they were playing at Kochanski's in December. I made it to the Kochanski's show—it had been years since I was that excited to see a local band. After the gig, I walked up to Nate, the guitar player and vocalist, and told him I had been waiting for 17 years to see them live. I reached out to the band online a few days later, to share the story of how I had gotten into them. I was surprised when Mandy, the saxophone player, mentioned in her response that she had listened to my band, Devils Teeth. Here I had been listening to and been influenced by a band for almost two decades, and someone from the band who played the same instrument as me knew who my band was. Crazy.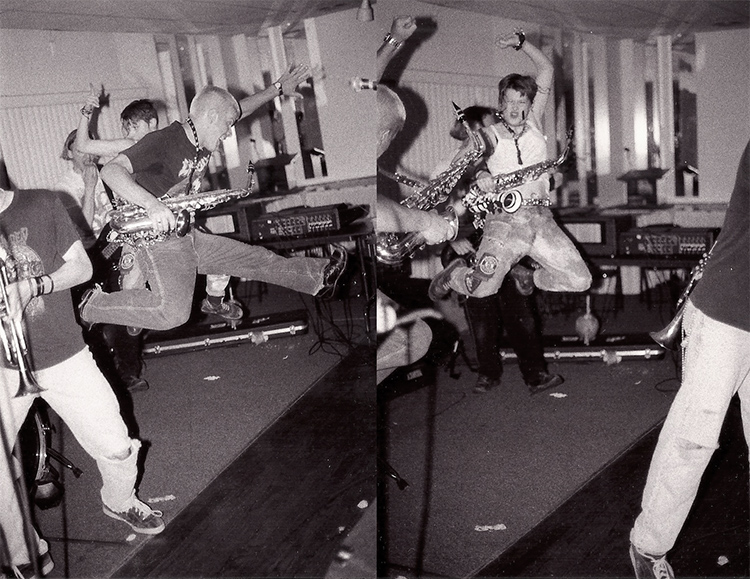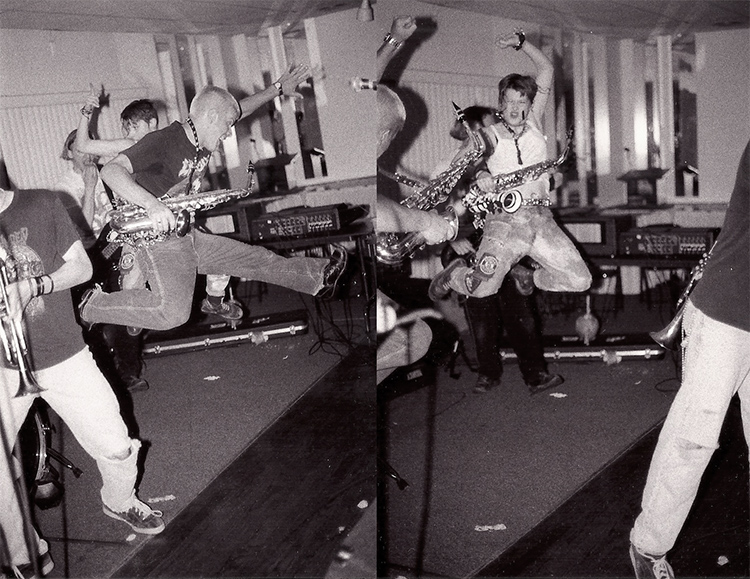 5 O'Clock Charlie played five shows between September 2018 and September 2019, and then posted on their Facebook account that they were taking a break. They played Kochanski's, two shows at Club Garibaldi, The Rave with The Mighty Mighty Bosstones, and Bay View Bash. Although I made it to three of those shows, there was still much I didn't know about the band's story. It seemed obvious that a band was worthy of a MKE Music Rewind if they had an effect on a 15 year old kid who didn't even live in Milwaukee, but in a small town about an hour away. If they had put out an album that I had enjoyed for hours on end for almost two decades, they must have done even more for the people who came of age seeing them live in Milwaukee. So, I reached out to the band and asked if they'd be willing to meet up and discuss all things 5 O'Clock Charlie related.
When I walked into Toni's Moody Blues, I thought perhaps one, maybe two, or possibly three members of the band were going to be meeting me. When I opened the door, I found all five members of the reformed group sitting at the bar: Clay Anderson (trumpet/vocals), Nate Kresse (guitar/vocals), Dale Darling (drums), Brian Majewski (bass), and Mandy Clarke (saxophone/backup vocals). All of these members played on Not Enough Time. The only member who played on the album who did not join the reformed group was Adam Wencka (saxophone, backup vocals). Over about four hours time, 5 O'Clock Charlie gave me insights on how they formed, some memorable shows, Not Enough Time, and much more. The following is that story, which I frantically scribbled on paper while downing two mini pitchers of beer.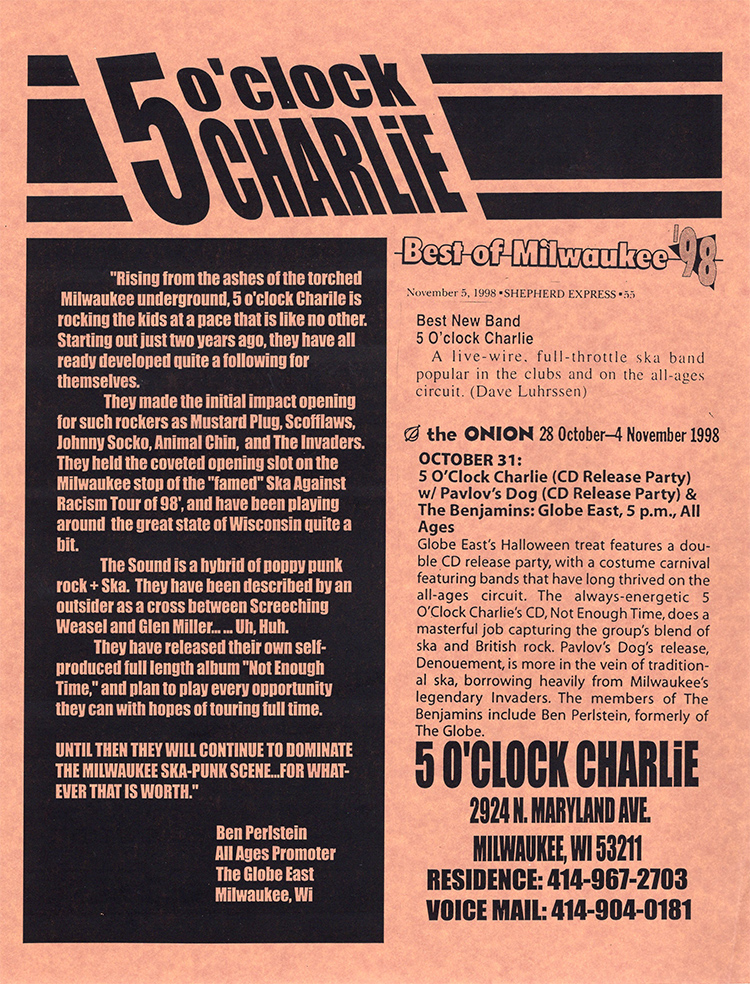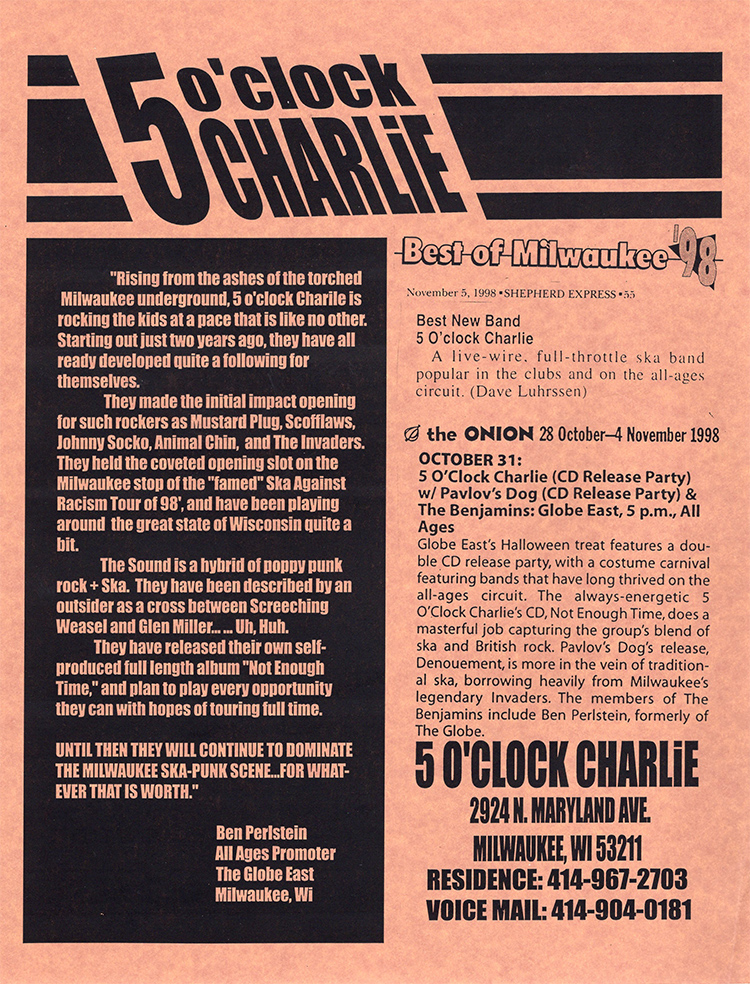 Like with most bands, it all started when two of the members met while working the Knife Throw at the Bristol Renaissance Faire. The year was 1995, and between making sure people didn't get hurt throwing knives, Clay and Mandy found out they had similar musical tastes. Clay soon bought a used trumpet—he had never played trumpet before in his life—and the knife experts became members of the Illinois-based Cibaphones. The band released a tape, but shortly thereafter Clay was kicked out and was replaced with an actual trumpet player. This lit a fire in him, and he decided to actually learn how to play the trumpet and then to start his own band.
While working at Planet Video, Clay met saxophone player Adam Wencka, who was dating one of his coworkers. Clay gave him a Voodoo Glow Skulls album, to show him the type of sound he was aiming for with the new band he wanted to form. After the first recruit, the rest of the band came together pretty quickly, forming at the end of 1996, at about the same time the Packers were blazing through the playoffs on their way to Super Bowl XXXI. Nate was recruited at one of Mad Planet's free beer nights. Brian and Dale were acquaintances of Clay—Brian joined up first, and Dale came on after a disastrous tryout with a prospective drummer. Mandy also signed on, reuniting the Renaissance Faire knife experts.
Although the band ended up playing ska punk, they all had their own unique musical tastes and influences, with not everyone being a diehard ska fan. Nate was a huge Stiff Little Fingers fan, as well as a fan of Milwaukee punk band Drop Forge, a band which he had earlier hoped to join—he wrote "Lonely Crashing Lonely" and "Postman" with aims of bringing them to the band, but they instead became 5 O'Clock Charlie songs. Mandy was influenced by the stage antics of the Toy Dolls. Brian and Dale had previously played together in non-ska bands. Besides the Voodoo Glow Skulls, Clay was also tuned in to The Mighty Mighty Bosstones, Slapstick, and Less Than Jake, whose album Pezcore—and particularly the song "My Own Flag"—became a template for the sound the band went for.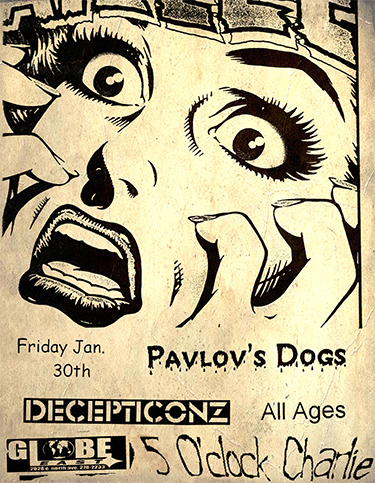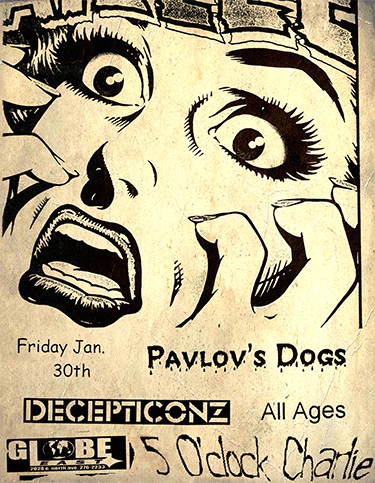 They wanted a band name that included both a word and a number, and after first trying to pull names out of a hat, they settled on Section 8. They played their first show with this name, in May 1997, at a same-sex wedding. Despite somewhat diverging musical interests, everyone in the band had an affinity for the television show M*A*S*H*, and they soon changed their name to 5 O'Clock Charlie, which they took from the title of an episode in the series. Early on they had a practice space in West Allis, but they eventually got a band house near the intersection of Maryland Avenue and Locust Street, where various members lived from time to time. They lived on the first floor and practiced in the basement, while Mike from Beer City Records lived on the second floor.
The band stressed to me the inclusivity of the ska and punk scene around Milwaukee at the time, saying it was never a competition between bands, but was about helping each other out. The already-established Pavlov's Dogs, a Franklin-based ska band, helped 5 O'Clock Charlie out when they were just starting, letting them open for them. The two bands would go on to play many shows together, and 5 O'Clock Charlie even wrote a song about them: "Seven Samurai." The Straight Edge Crack Whores were another nearby band they often played with. They also shared bills with many regional and national bands that came through the area, such as Alkaline Trio, Mustard Plug, MU330, The Pietasters, Edna's Goldfish, Blue Meanies, and Animal Chin.
When playing in the Milwaukee area, they were often at The Globe East on North Avenue, which hosted both all ages and 21+ shows, or the Franklin Legion Post (which is now The Hideaway Pub & Eatery, where you can get a Friday fish fry. They also made appearances at places like The Rave, Cactus Club, Vnuk's Lounge (now X-Ray Arcade), and countless attics and basements in Riverwest and the East Side. They once played a bar mitzvah. They even once played a talent show at Oak Creek High School, even though none of them went there or were still in high school. For some shows they had to run their own sound, and brought along their huge mixing board, which they named the Millennium Falcon. A friend of theirs became their mascot. He handcrafted and wore a bomb head apparatus (an allusion to the M*A*S*H* episode), and threw out candy and shot silly string at the crowd.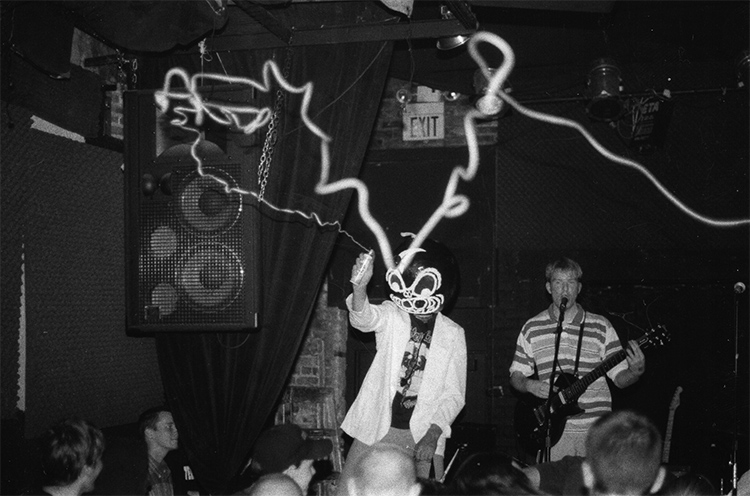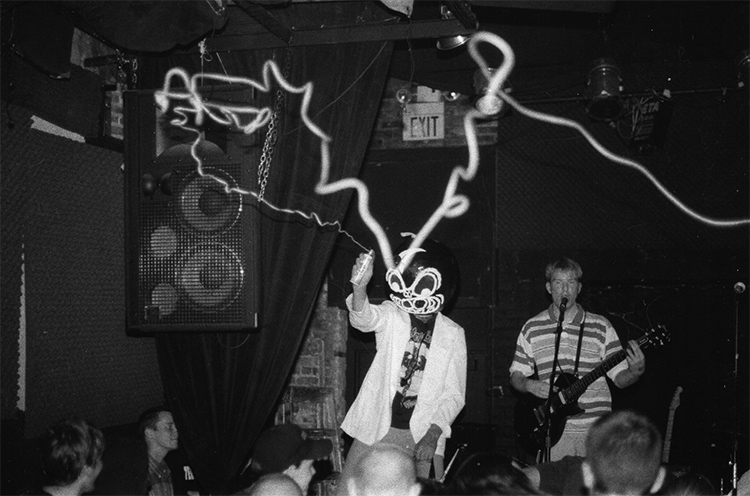 On May 2, 1998, ska called. 5 O'Clock Charlie received a phone call asking if they could be at The Rave in about an hour and a half to open the Milwaukee stop of the Ska Against Racism Tour, where The Toasters, Five Iron Frenzy, MU330, Less Than Jake, and The Bruce Lee Band were set to perform. The Invaders were supposed to open the show, but one of their members was stuck on a fishing trip and couldn't make it back in time. Some of the members of 5 O'Clock Charlie were planning on being at the show anyway, but some of them were at work at the time the call came in. In this pre-smartphone era, the band agreed to the show, and then quickly went to round up all their members. They went to the mall and begged Mandy's boss to let her off work. Nate got off his job at Kinko's, came directly to the venue, and was handed his guitar as he walked on stage, playing the show in his work uniform. It was the biggest stage they had ever been on, and as the band remembers it, Mandy and Adam came out onto it doing dive rolls.
This was also the year that the band released Not Enough Time. They recorded it in about four days in their friend Jeremy Prout's basement studio, on an eight track reel-to-reel recorder with one-inch tape. All the horns were recorded on one track. It then went through a longer process of getting mixed and mastered, which was done by "Danger Dan" in his living room in Glendale. The original thought was the album would possibly be released on cassette, but they instead put it out on CD. They said once the mixing and mastering costs got higher, it made sense to release it on CD, and they told me that they likely would have recorded it in a regular studio if they would have known ahead of time that CD was going to be its format. The album artwork was done by James Kloiber, who was doing flyers for The Globe East at the time.
The album consists of 10 tracks, with the final one containing a secret cover of "I Turned Into A Martian" by the Misfits at its end. The first track, "Tramp," is an ode to Charlie Chaplin. Traveling at a frenetic pace—just as its subject was often known for doing—the Clay-penned song closely sandwiches together references to many Chaplin films, such as The Gold Rush and The Great Dictator. Nate wrote the guitar-distorted second track, "Last to Know," while sitting on his dad's washing machine. The catchy-as-hell horn line was his doing as well. (For a band that has so many memorable horn lines, I think it's important to take notice that they were usually written by a guitar player or by a self-taught trumpet player.) He wrote the song about his ex-girlfriend, who was the muse for multiple songs on the album. Because of this, she even made it into the liner notes thanks, being listed as "Nate's Ex-girlfriend."
Next up is "Postman," one of the songs that Nate wrote that he had hoped to bring to Drop Forge. Continuing the breakneck pace of the album, it contains lyrics such as The postman sings "hello hello" / The sparrow sings "I know, I know." According to Nate, the song has no meaning and "doesn't make any sense at all." The album slows down with "Two Tone Half-Step," an early Clay composition which took influence from Glenn Miller. It was to be the band's "swing type of song." The band said people seemed to like it, but they themselves really didn't. This is followed by "Lonely Crashing Lonely," another song that Nate had in mind for Drop Forge when he wrote it. It includes lyrics such as So darling how'd it feel / When half of your heart just ceased to be real. Yeah, you know who this was written about—it's another "ex" song.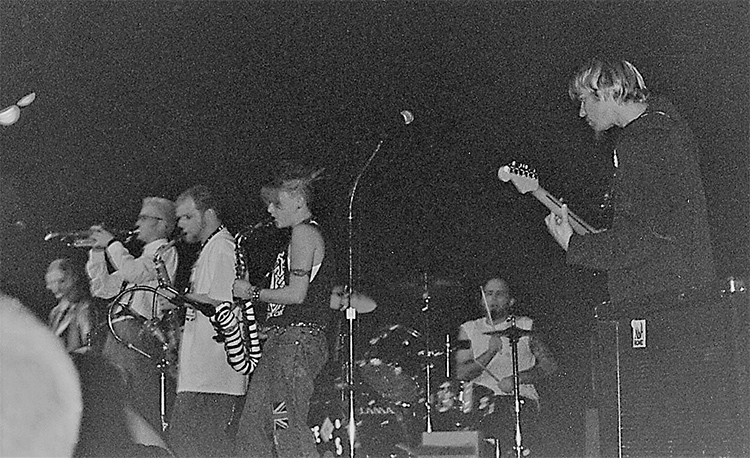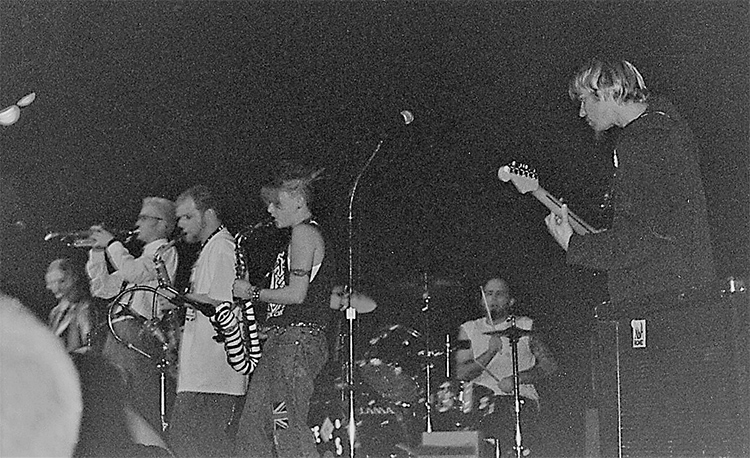 "Fantastic Four," written by Clay, is the prototypical 5 O'Clock Charlie song: it was the first song they did and a signpost for what they were shooting for after. A lot of the lyrics have double or personal meanings. Most notably, the Human Torch is an allusion to their friend Johnny Storm, who was named after the superhero's alter ego. Johnny was possibly going to be in the band, but passed away around the time they formed. They dedicated Not Enough Time to their late friend.
"Down," my personal favorite on the album, begins with an upbeat guitar lick, followed by a bass drum kick and snare roll that ushers in upbeat horns. But the upbeat nature quickly recedes when the lyrics arrive. Well, you play your games little girl, yes / And try your best to wreck my world, Nate intones, in the third and final song on the album that came from his muse. The M*A*S*H* theme is up next, which the band said connected them to feelings of their youth in the 1980s.
Well, I'm sitting at the corner bar, early afternoon / And I'm staring over my umbrella, wanting you, open the lyrics from "Another Day." The corner bar? It's Cactus Club, back when it had a circular bar that you could look across. Nate wrote the song, taking cues from cocktail lounge music. The final song on the album besides the hidden track is "Lightspeed." It was the first song the band wrote where Nate and Clay volleyed lyrics back and forth, and they took turns writing lines for it. Between the volleying verses, the chorus repeats The Clock is my enemy / I make it bleed, which is punctuated with Mandy's almost indecipherable Not enough time! yells.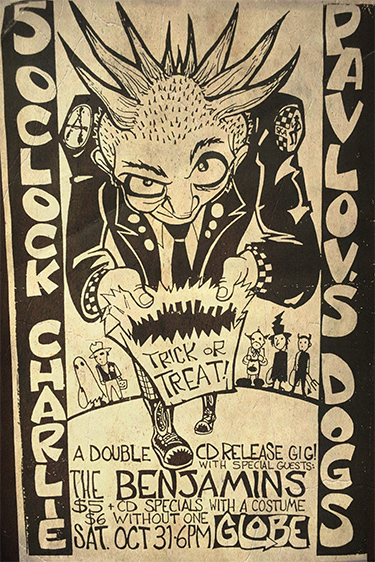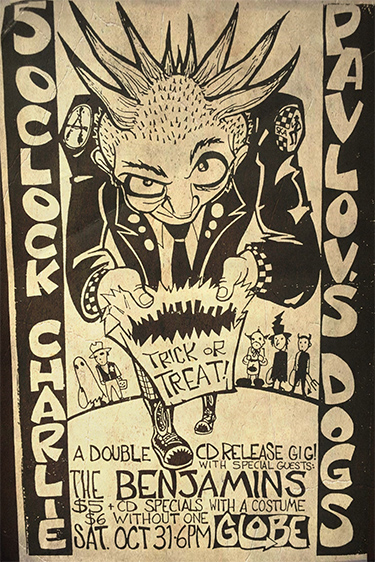 The band had two album release shows in October, and put on an impromptu concert for the San Francisco 49ers in between the two dates. The first show was on Saturday, October 10, with Mustard Plug and Subside at The Rave—a tentative release show as they weren't sure the album would arrive in time. Similar to the close call they had earlier in the year at the venue, their CDs arrived right before the show started. The band sent a friend to pick them up at UPS as they were setting up to play.
Their second album release show was on Halloween, but they also had a show booked in Appleton the night before, Friday, October 30. Upon arriving in the city they found out the gig had been cancelled. Not to let a trip to the Fox Valley go to waste, after getting tipped off that the 49ers would soon be arriving at the Paper Valley Hotel, the horn section set up outside of it and waited for about an hour. The bus eventually arrived, and as Steve Young, Jerry Rice, and company disembarked, the 5 O'Clock Charlie horns serenaded them with "Suicide Is Painless." Some of the players weren't amused, while others were baffled. The next day, the band played their second album release show, at The Globe East with Pavlov's Dogs (who were also releasing an album) and The Benjamins. Hours later, the Green Bay Packers beat the San Francisco 49ers at Lambeau Field, with a score of 36 to 22. There's a good chance 5 O'Clock Charlie played a role in this victory.
Following the release of the album, they continued to play around the state and Milwaukee. They played Summerfest in 2000, and were told they had to play a two-hour set because another band dropped off the bill. They got creative and played a half hour worth of music, talked a bunch in between songs, took a 20 minute break, and came back on and played their whole set again in reverse order. Although they never did any heavy out-of-state touring, they did once play the legendary Fireside Bowl in Chicago.
They went through some lineup changes. Nate left and formed Johnny Toymaker and was replaced by Jason Bell. Mandy left and rejoined the band a few times, and Joey Houghtaling came in on trombone. In the fall of 2000, they put out an EP, One Lung To Live. (The name came from their van, the Iron Lung, a green industrial van with no back windows that was always full of cigarette smoke.)
As the third wave of ska waned and emo ascended, the crowds at their shows began to shrink, and they eventually decided it was time to call it quits, playing their final show around March 2001. One of their last shows was at Illusions, a venue located in the basement of the (now-leveled) Karl Ray Lanes in Fond du Lac. It was at this venue that I would see my first local punk show in October 2001—I was that close to catching 5 O'Clock Charlie live their first time around. They played their final show at UW Stout.
The idea for reforming came up a few times over the years, but nothing ever materialized. But when the Invaders played Chill on the Hill on August 8, 2017, people started talking about how it felt like the '90s again, and started asking, "When is 5 O'Clock getting back together?" So they became a band again, albeit in a more laid back fashion than their initial run. After playing five shows over a year's time, they are now back on hiatus. But their current break isn't a definite thing, so don't count them out.
Thanks to the band for sitting down and talking with me. I found them just as cool, witty, and down to earth as I had hoped. 15-year-old ska kid me would have been over the moon, and 33-year-old me still thought it was pretty rad. Special thanks to Clay for providing some additional clarification via email on questions I had. Oh yeah, and thanks to the band for getting me a real copy of Not Enough Time. I'm still gonna hang on to that burned one, though, just for all the good times I had listening to it. Ska's not dead.