Following five nights, more than 70 performances, and a bunch of new elements added to the mix, another Riverwest FemFest is officially in the books. The third annual benefit just so happened to overlap with a particularly pivotal time for women in America, which prompted Saturday's Women's March. As the new administration with all its anti-women policies was being sworn into office, hundreds of musicians, poets, artists, filmmakers, teachers, and performance artists took to a number of Riverwest establishments to come together and to raise thousands of dollars for Milwaukee Coalition For Justice and Milwaukee Women's Center.
Though we simply couldn't attend everything, Milwaukee Record managed to catch a good chunk of Riverwest FemFest 2017. Here are some standout moments.
WEDNESDAY — ART BAR
• To help accommodate FemFest's rampant growth, organizers have added an additional night of entertainment to the festivities, which have also expanded to let in comedians, performance artists, and burlesque performers. Art Bar proves a perfect host for a stylistically scattered soiree that starts will Negative/Positive. The young women (ages 11-13) kick off the five-day event in grand fashion, while simultaneously reminding the more-than-respectable Wednesday-night turnout their support also pays future dividends. The Girls Rock Milwaukee grads whip through songs off their Lumanescent EP— including one about "impractical" fashion like heels, jeans, and lipstick ("Done With This")—as proud parents, upcoming acts, and others watch intently. Near the end of the set, singer-guitarist Ava Gessner rocks out so hard that she cuts her finger. She plays on, setting quite the tone for the weekend to come. [Tyler Maas]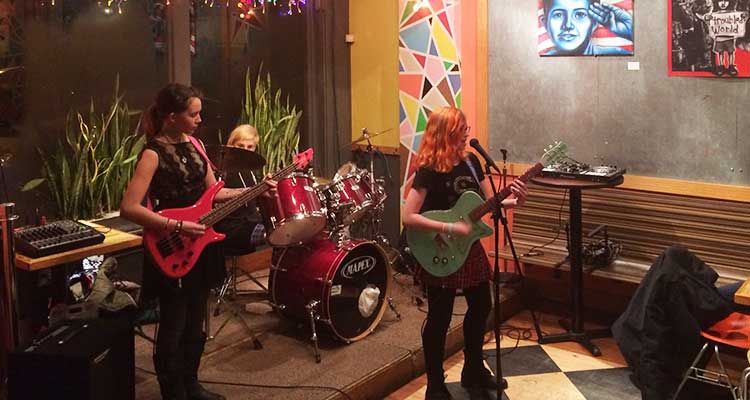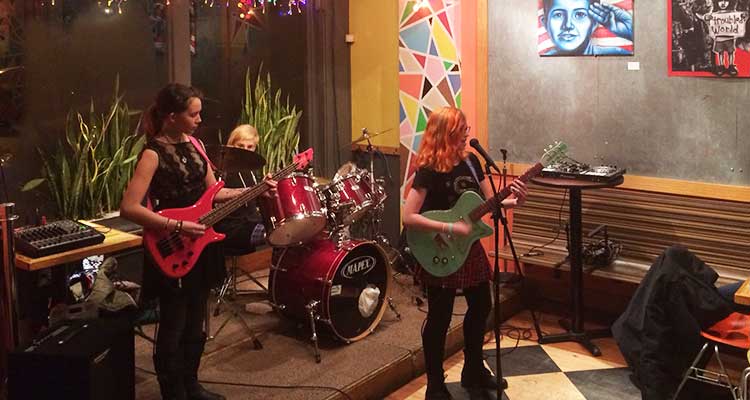 • Once the youngsters pack up and leave, comedian Kaitlin McCarthy is safe to take the small stage and perform a short-yet-memorable set with jokes about having a holiday birthday, edible weed, making Spotify playlists for sex, and having a great 2016 in spite of "the world burning down around us." It's nice to see Milwaukee's growing music and comedy overlap continue into FemFest. [TM]
• Burlesque act Theda de Sade comes out in a nun costume, but that quickly changes. In one My Chemical Romance song's time, she's down to her underwear and strategically placed electrical tape crucifixes. We can't help but notice a Jesus painting near where we're standing. [TM]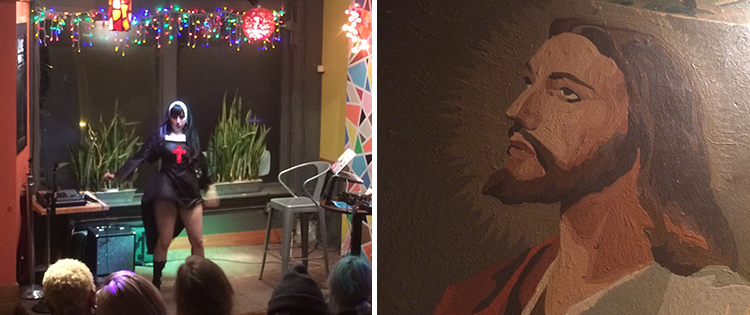 • After "drag poet" Rufio Cur lip-syncs two Franklin K.R. Cline poems that quickly careen from humorous to poignant, a lone robed violinist in Maplewood Gardens signals the performance art troupe's set by producing labored, screeching notes. Meanwhile, two blindfolded counterparts in white dresses slowly shuffle toward the noise from the back of the bar, coughing. Their moans eventually turn into a harmonized chant of (we think) "Come!" Blindfolds eventually come off so the nervous and intrigued crowd can be collectively corralled in red yarn with bells attached. The violin persists. The yarn is emotionally torn and as the 15-minute act concludes, it's time for us to go. We miss a few more performances, but there's so much to see in the four remaining days. [TM]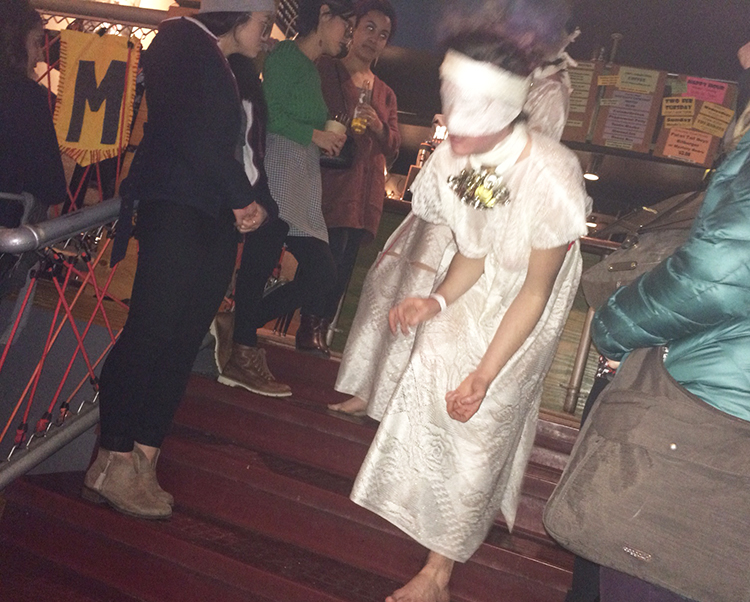 THURSDAY — RIVERWEST PUBLIC HOUSE
• Note to clock watchers who complain about late starts: The difference between on-time and 8:15 mean nearly double the crowd for Apollo Vermouth. Her long-awaited new full-length is due this spring, and judging by tonight's set, it'll be far from more of the same, but still unmistakably hers. [Cal Roach]
• We miss the live music at the Groovy Dog Gallery, but the place is still packed to the gills around 8:45. The women at the door offer us balloons to "install" wherever we feel like. There are rad pieces of art on every wall. The Spice Girls' "Wannabe" plays on the sound system. The energy in here is a great contrast to the dimly lit rock-club vibe we're accustomed to. Let's hope the recently established gallery manages to stay in business for a while.
• The enigmatic Ms. Lotus Fankh runs through a quick solo set ranging from violin-based balladry and traditional blues to funk and experimental quasi-doo-wop looping. Her many talents may not have gelled into a cohesive vision quite yet, but there's no way a voice as versatile and powerful as hers is going to stay below the radar for long. [CR]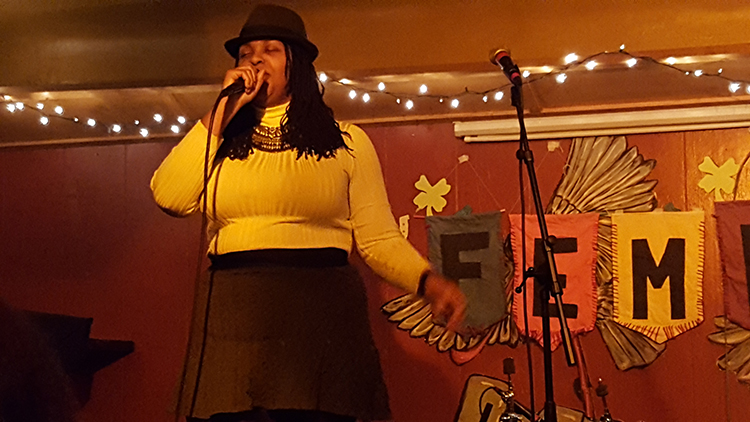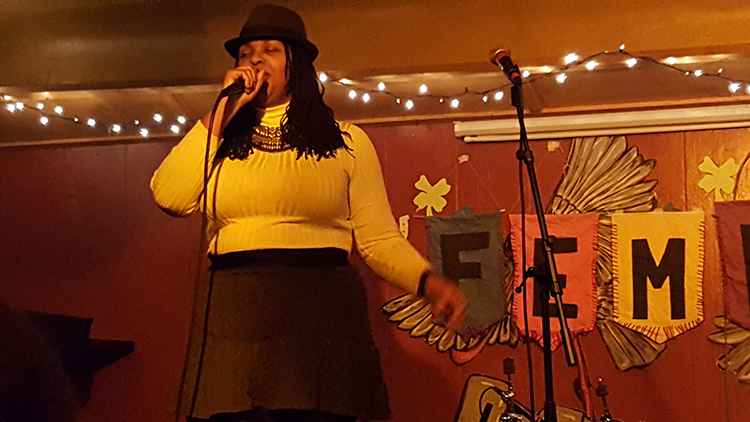 • Holy fuck, Rocket Paloma puts on a riveting live show. [CR]
• It's a great night for one-woman bands, as Siren goes it alone with just a laptop. It's a treat to see her perform "Bleed Out," a terrific unreleased track that was supposed to be on her new EP and now might never be coming out—but surely, eventually, she'll release a record. She encourages people to buy Fivy merch, though. "I don't have shit for sale, you can pay me to…mow your lawn," she announces in closing. [CR]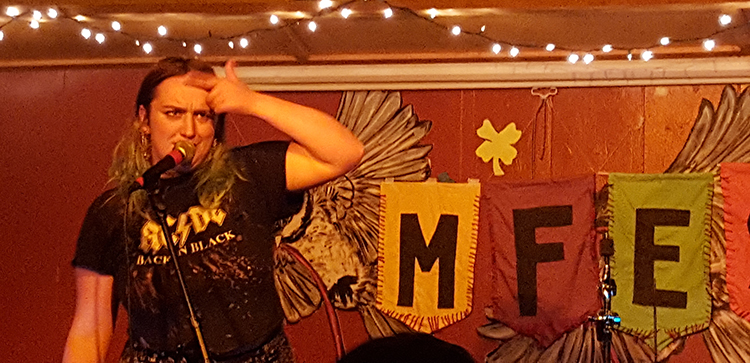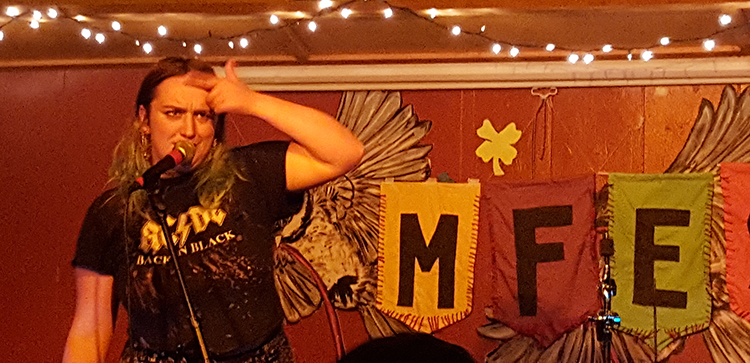 • "Happy anniversary, FemFest!" says Fivy to start out her set. "To be honest, I'm just here to shake my titties all weekend." Fivy has emerged as one of Milwaukee's rising stars with the release of her excellent Dreamscape EP last year, and she's put together a tight band as well. She brings out Chakara Blu (who also, surely, eventually, will release a record) for their smooth collaboration, "Rock," and gets the crowd riled with some teases of Aaliyah's "Are You That Somebody?" towards the end of the set while the band jams. There's no doubt that she's earned this headlining slot. [CR]
FRIDAY — JAZZ GALLERY
• We arrive at 6:02, and things are running a little late. Most of the crowd appears to be the parents of the first band, Gas Station Sushi. The all-girl five-piece formed at Girls Rock Milwaukee and are the youngest band performing tonight. The night's tone is set quickly when the band opens with an ever-appropriate cover of the Runaways' anthemic "Cherry Bomb." They play some of their own original garage-rock-y material, including a song for""all the dads out there doing a top-notch job." The ode to fathers includes lyrics about all things traditionally paternal with lines like, "I think my sandals are super rad / Hi hungry, my name is dad!" They end their set perfectly with another cover, Nirvana's iconic "Smells Like Teen Spirit." [Lauren Keene]
• Hardcore triplet Saunter is up next. During the first song, the singer's cheetah print bass strap breaks and the band starts the set over. The microphone suddenly isn't working either. Despite the technical difficulties, the women sail smoothly through the rest of the set. The band brings glitter, plastic gems, and temporary tattoos along with its merch to add some glitz and glamour to the audience. [LK]
• Bay View's Heavy Hand takes the checker-printed stage and singer Anthony Weber gets the crowd ready for some political punk. "This song is about Sheriff Clarke. Feel free to boo. In fact, you can yell at us the whole time. We're sadists like that." After the energetic set, Grasping At Straws chill out the crowd with their unique blend of alt-folk Americana. [LK]
• Later, Madison duo Seasaw dazzles with their unique take on indie synth-pop. Multi-instrumentalists Meg Golz and Eve Wilczewski play a combined seven instruments between the two of them—and they both sing, too. Their set includes a twee cover of Weezer's "Say It Ain't So" alongside their other duets. Chvrch ov Misandry plays last. The queer power-violence band ignites the first and only mosh pit of the show. Around 9:40 p.m., things are cut short due to Jazz Gallery's time constraints. Headliner DUSK is moved over to the late show at Company Brewing. [LK]
FRIDAY — COMPANY BREWING
• "Who cried today?" The question comes from Fox Face bassist—and FemFest organizer—Mary Joy. Dozens of hands shoot into the air. Yeah, it's been that kind of day. Luckily, Fox Face's blistering, bottom-heavy, and pissed-off punk does wonders in lightenning the mood. "Tar," from the band's recent Teen Wiccan 7-inch, is an unmistakable highlight, along with a "nasty woman"-channeling song from an upcoming anti-Trump comp. [Matt Wild]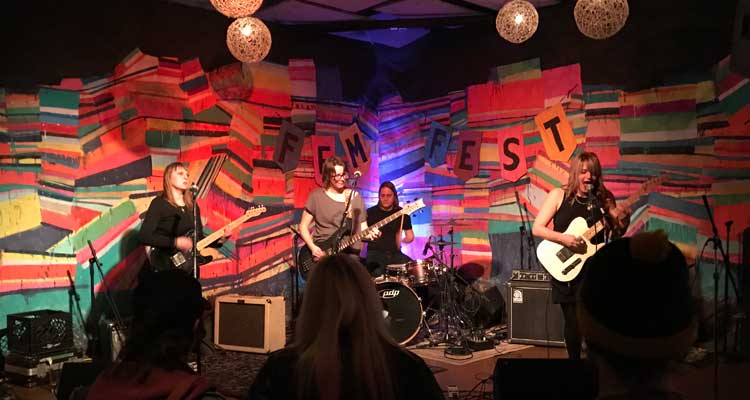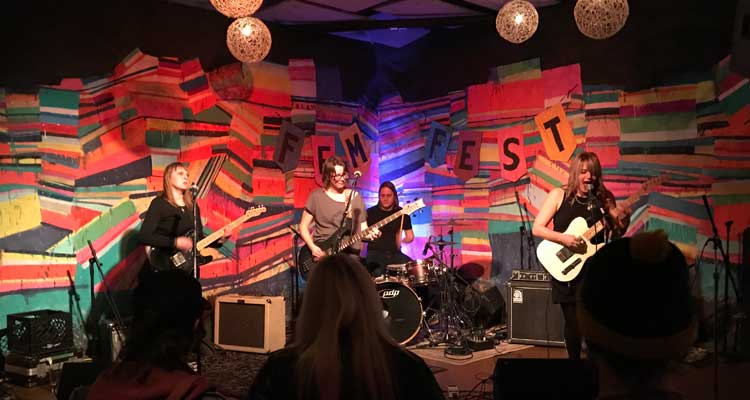 • Appleton's DUSK lightens the mood even further with a wholly welcome and overwhelmingly appreciated set of top-shelf roots rock that veers from twangy, upbeat Americana to bar-time tear jerkers. In a band stuffed with big harmonies and bigger hooks (and past and current members of Tenement and Surgeons In Heat), the terrific vocals of Julia Blair ring out the loudest. The crowd loves it. [MW]
• Tidal, hailing from Lansing, Michigan, take the stage next and win over the ever-growing crowd with three-chord pop-punk and an infectious graciousness. The band is delightfully rough around the edges, and the three members seem totally taken aback at the crowd's huge response. It's the feel-good moment of the night. [MW]
• Outside, while Devin Settle and friends engage in some dance and performance art that includes passages like, "We all have nipples here at FemFest," a crisis is unfolding: It seems the drummer for Tidal accidentally broke the bass drum head of the shared drum set during the band's set, leaving everyone to wonder what to do next. But aha! The drummer for Detroit's Mexican Knives is also outside, and offers up his head as a replacement. Crisis quickly averted! [MW]
SATURDAY — COMPANY BREWING
• Day four of FemFest starts bright and early with the Women's March. Hundreds of Milwaukee women, children, and their male allies walk the streets of Riverwest together in solidarity against Donald Trump. Chants include "My body, my choice!" and "This is what democracy looks like!" Many members of the crowd carry colorful handmade signs and other protest materials. Everyone is riled up and ready to continue the rest of the fest (and fight systematic oppression, of course). [LK]
• Spirits are high outside Company Brewing following the march. While some linger outside as noon strikes, a sizable portion of marchers and attendees alike gather inside to enjoy coffee and specialty beers as they await the start of the fest's Film Showcase. We resist 5 Rabbit's Chinga Tu Pelo and the event-specific "Femme-Pire Strikes Back" in favor of a delicious Milwaukee Record Re-Porter! [TM]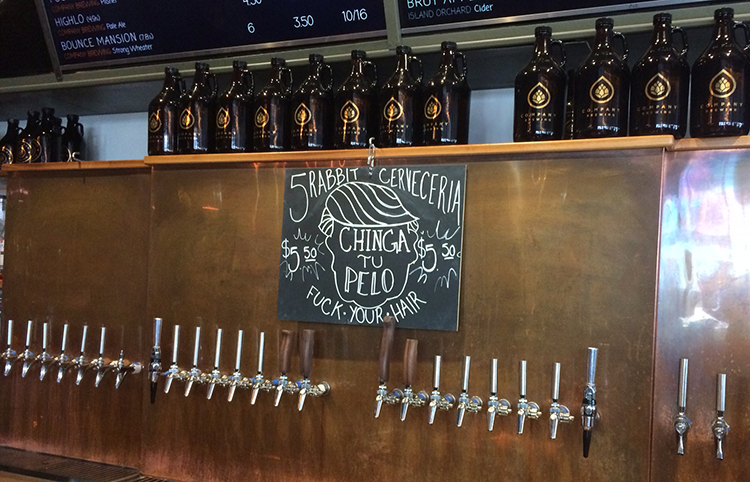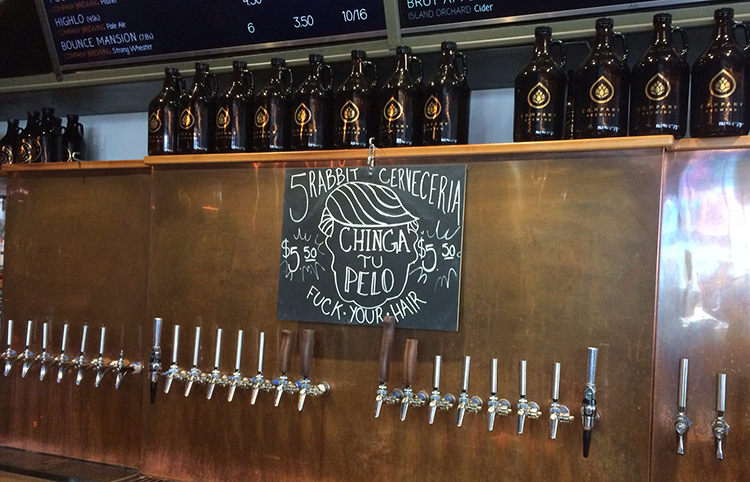 • The first-year addition to the FemFest lineup brings a hush over the packed bar, as Ashley Altadonna's Whatever Suits You starts off the first session. Later on, we enjoy Kristin Peterson's recent Milwaukee Film Festival-screen @Me again, as well as a short starring Dan Black, who you may know better as the "snowflake" who dared to shake his head in the vicinity of Milwaukee County's embarrassment of a sheriff. [TM]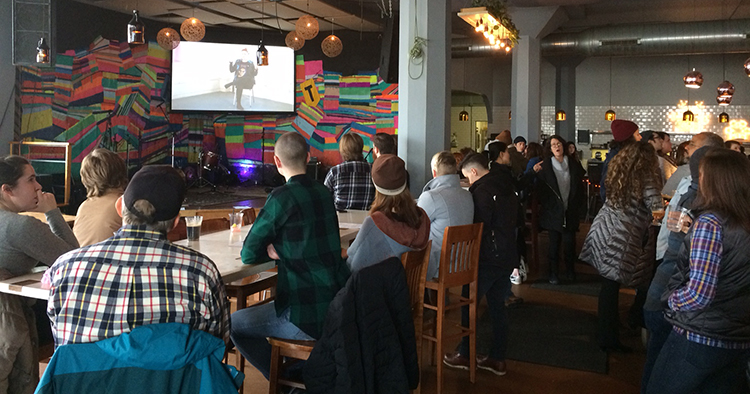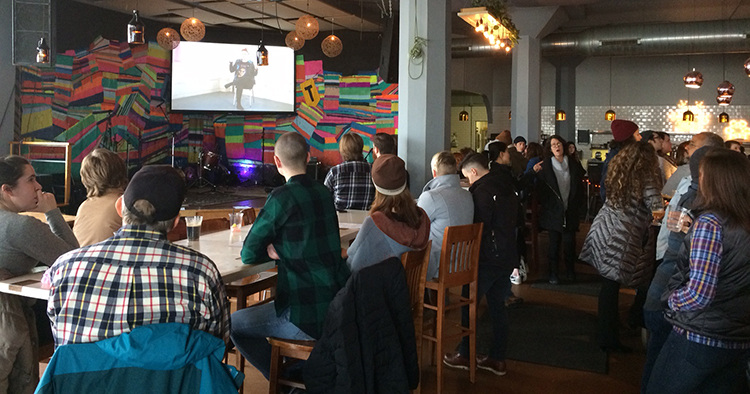 • Also beginning at noon, the Maker's Fair takes over the upper level of Company Brewing. Over 30 female creatives are selling their art, ranging from Shrinky Dink rings to stick-and-poke tattoos. Between all the hustle and bustle, Shelly Schauer begins her upstairs and all-ages set of acoustic, soulful melodies. She's preceded by Laura Hunter and Jen Cintron who both play similar styles of mellow, girl-power infused indie. [LK]
• When Desi takes the stage, the entire room gets quiet. Everyone's eyes are on her as she performs her spoken word. Sharing the stage with her three Demigoddesses, the women take turns reciting their poetry over beautifully crafted vocal harmonies and subtle drumbeats. Subjects like exploring womanhood and embracing sexuality are the themes of the women's work, using clever metaphors to express empowerment. [LK]
• Closing out the upstairs show's musical lineup is Scape. FemFest organizer Ellie Jackson thanks everyone for supporting the festival before she and Cheston Van Huss begin their set. When she yells "Fuck Trump!" into the microphone, the gallery explodes with cheers. The band mellows continues to play their shoegaze-y tunes as the crowd simmers. [LK]
• Downstairs, Company has not yet made the transition from chatterbox cafe to music venue by the time Marielle Allschwang starts playing; she has to try to drown out some posturing loudmouths at the bar, an apt metaphor for the basic feminist struggle and ultimately a victory. For the set closer, "Let Me In," Adam Krause's saw is cranked to 11, and his solo at the end feels like it could almost topple the patriarchy all by itself. [CR]
• The BlowUp Dolls play their debut show tonight, sparking a lengthy stretch of noisy, guitar-based bands. "Milwaukee's most unruly band of banshees" comes across as classic riot-grrl punk with shades of Breeders and Young Marble Giants. "We are The BlowUp Dolls," they sing, "and we're here to ruin your life!" [CR]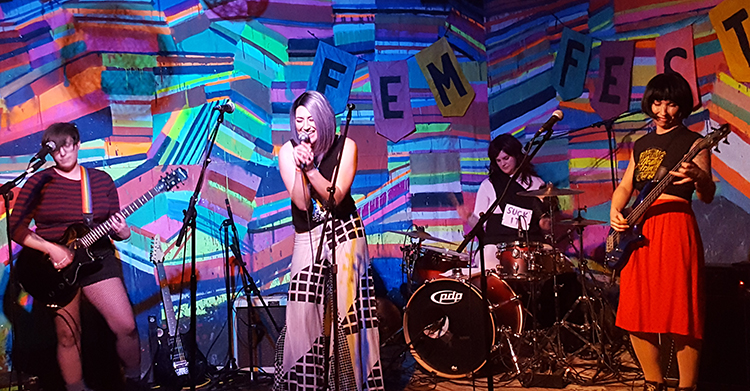 • Micolash: Host Of The Nightmare is not on any of the fliers or website listings for FemFest that we've seen, but the band takes the stage shortly after 6 with an angry poetic rant from vocalist/guitarist Margaret Loren that includes the phrase "Fuck FemFest." She then leads the band through an abrasive set of plodding post-sludge with spastic metal outbursts. Her vocals ran the gamut from death growls to hardcore screams to animalistic squeals not associated with any genre we're aware of. It ain't pretty, but everything seems to be proceeding as normal… [CR]
• Sometimes you know a band is going to be good just by the shirts they're wearing, and this is definitely true of Minneapolis' Star Child. The easy highlight of their set is a punk-infused cover of the Leslie Gore feminist anthem "You Don't Own Me," but their quirky, noisy originals are all pretty great, too. [CR]
• Things get a bit tense and chaotic following Faux Fiction's soundcheck, at which point the members of Micolash return to the stage and start setting up as if to play again, until being basically booted from the stage. After a half hour or so delay, the organizers emerge onstage to apologize for the misunderstanding in the most gracious and peaceful way possible without really handing out any blame. "We all get angry and we all don't react the way we should," says workshop coordinator Lian Markovich. "But please, keep listening." [CR]
• Shortly after the melodrama ends, Faux Fiction takes the stage. "It's time to get back to fucking rock and roll," says singer Gabriella Kartz, and they do. They play a new song called "Skin" that instantly becomes our new favorite Faux Fiction song ever. [CR]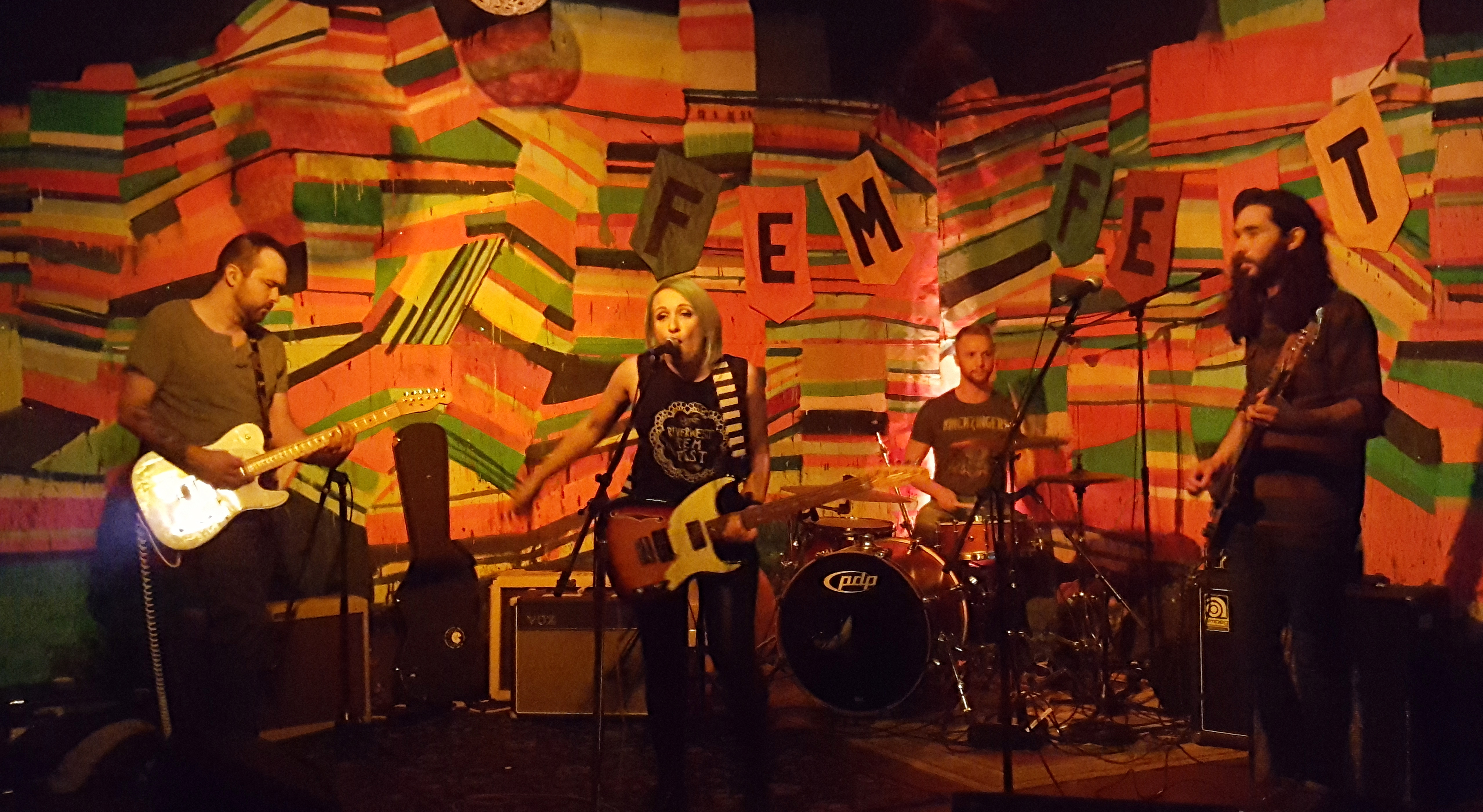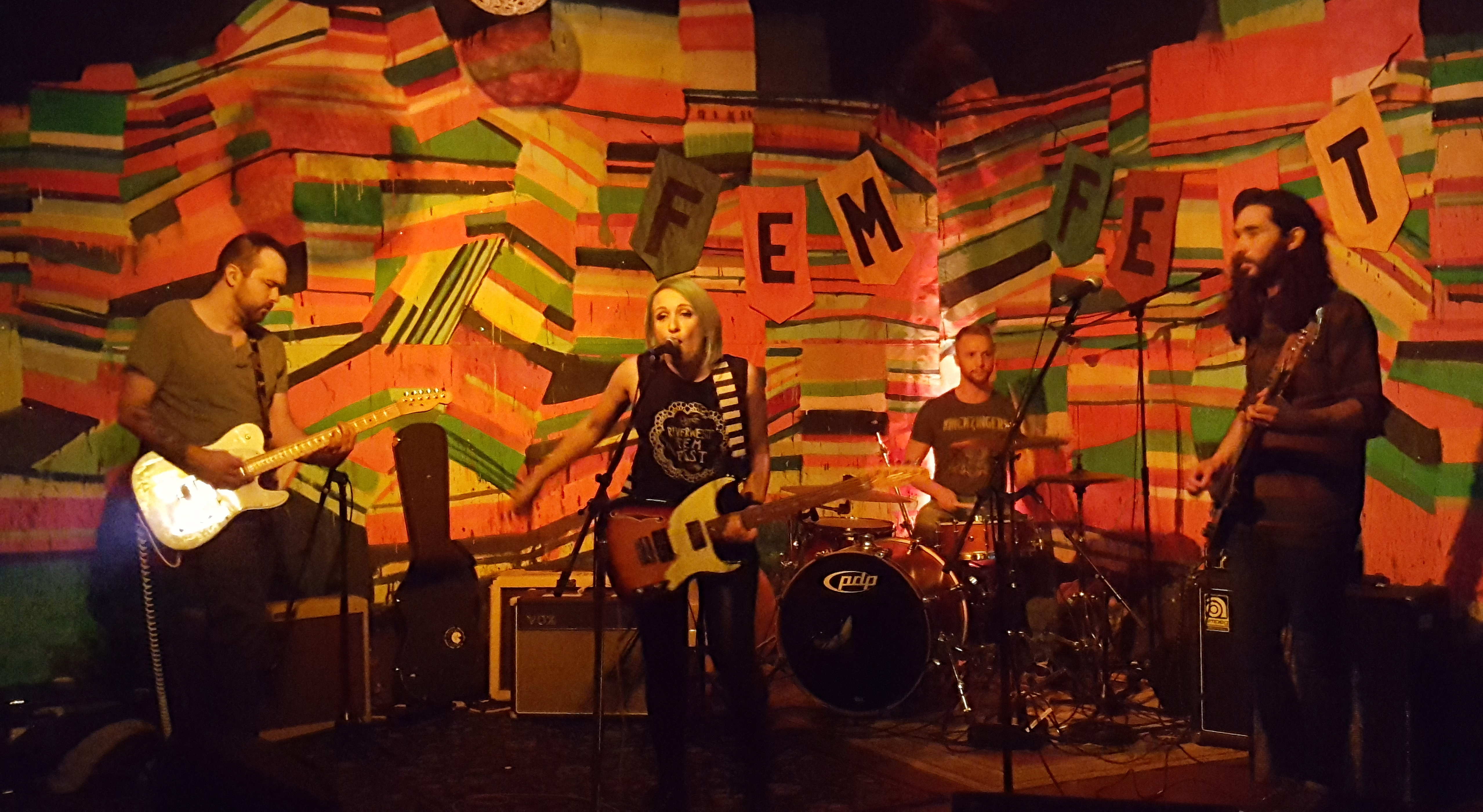 • Duluth's Paper Parlour signals a somewhat welcome downshift from fast-n-loud with their bluesy, psychobilly-tinged southern rock. Guitarist Moriah Skye has got some legitimate chops, and the band's more psychedelic tunes lend themselves to a bit of improvisation. The band's sound isn't terribly original, but they do justice to Jimi Hendrix's "Machine Gun." The crowd, though thinned out a bit, seems pretty focused on the music for once. [CR]
• Sadly, by the time soprano Elizabeth Renee Smith takes the stage, the room is back to relentless gabbing, and at the worst possible time given the relatively quiet nature of her music. Smith takes it all in stride, however, and proceeds to bowl us over with her powerful voice. The ramshackle nature of FemFest may seem like an odd setting for classical music, but Smith's warm stage presence is the furthest thing from stuffy, and her performance is one of the most riveting of the night. [CR]
• The soulful one-two punch of B~Free and Kyndal J. provides a much-needed dance party/mood lift as the room gradually begins to fill up again. Kyndal's 2016 EP Finding Freedom somehow got lost in the shuffle, but based on her performance, it needs revisiting. B~Free, of course, has won well-deserved praise for her Ode 2 A Luv Affair album, and the full-band treatment takes her '90s-leaning R&B into a realm that hearkens back even further into the history of the genre, yet ultimately shows how timeless the tunes themselves really are. [CR]
• By midnight, the place is jam-packed again. Film showcase coordinator Jenna Knapp reads some poetry. Allen manages to capture the attention of a decent percentage of the crowd, at least. [CR]
• Holy hell, how have we not ever seen Chicago's The Cell Phones live before? Theirs isn't just the best rock and roll set we catch all weekend—we're now convinced that they're one of the best live rock bands on the planet. Frontwoman Lindsey Charles is an insanely talented vocalist and her energy is infectious in every respect. It's noise rock that swings between ridiculously catchy and mind-numbingly brutal but without any overt metal trappings. That doesn't make much sense but it's the best we can do. [CR]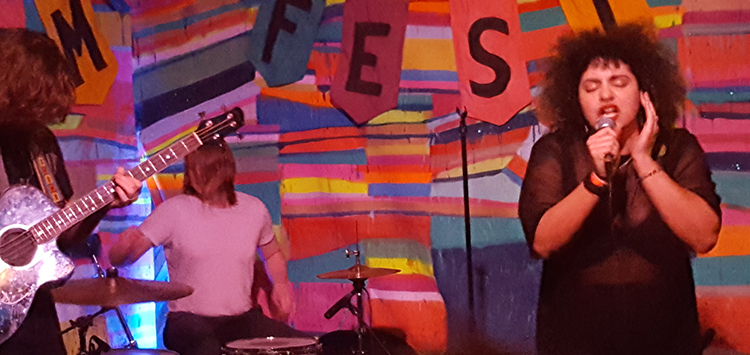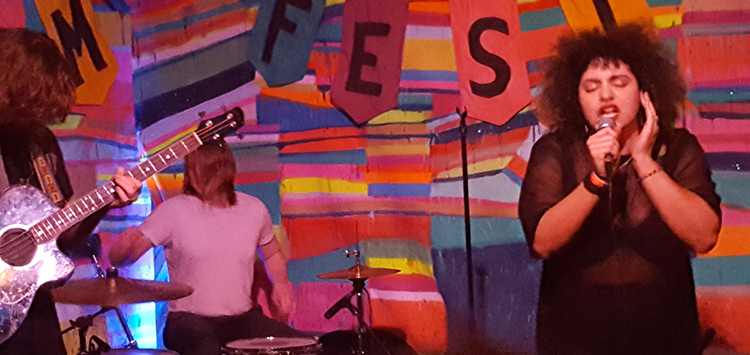 • Zed Kenzo is a bit slow to warm up to the occasion for her headlining set, but the crowd is certainly into it from the moment she gets onstage. It reminds us of last year when Siren headlined Saturday night of this festival: Only the diehards remain, enthusiastically enjoying one of Milwaukee's best performers and exuding gratitude. Thankfully, we even get a rare appearance from criminally under-appreciated local rapper Taj Major, who never fails to ignite a room. The atmosphere of the night may have been weird at times, but the spirit of the event triumphs through Kenzo's typically riveting performance. [CR]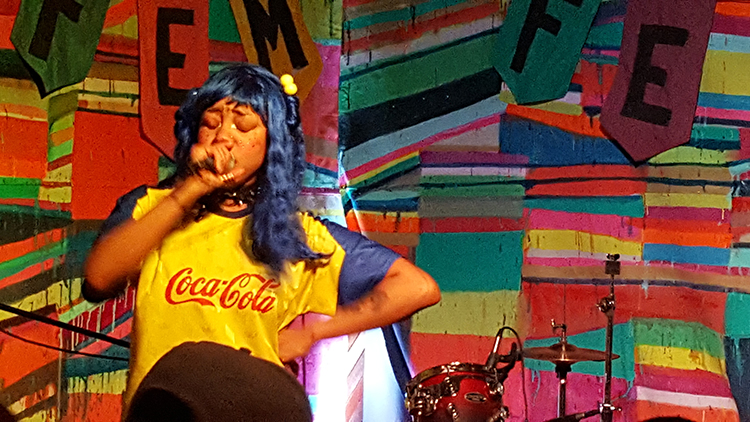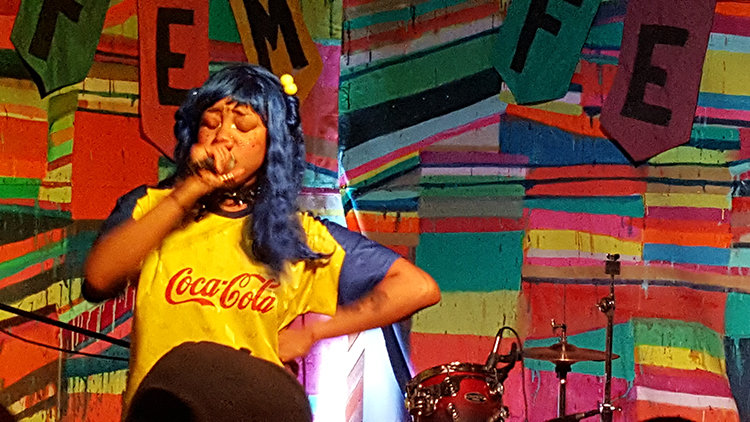 SUNDAY — COMPANY BREWING
• Back upstairs, the second day of the Maker's Fair is considerably quieter than the first (presumably due to the Packer game). Two-piece group The Answer Is Yes is scheduled to perform, but one of the singers missed her flight from D.C. The second member performs solo using samples of her own voice to create energetic harmonies. Before her last song, she asks the crowd to sing along. "If you're too nervous to sing, that's fine. But you don't have to be. It's FemFest." Attendees create a soft chorus together, resulting in quiet melodies echoing through the halls of Company Brewing's upper level. [LK]
• Portland triplet MOONCHYLD are second to perform. Their experimental noise music is created with a synthesizer propped up on two cushioned ottomans. They're definitely one of the most unique acts of FemFest, featuring distinct gothic aesthetics and a post-punk influenced sound. [LK]
• Saint Lewis And The Smudge perform their "cute, lo-fi, bedroom pop" set with a guitar and various sound effects. "We're goddamn adorable. Just look at us," they say. LUXI plays her electro-pop indie and draws a crowd of dancers to the stage. [LK]
• Recently featured in PASTE Magazine, Caley Conway is the Maker's Fair final act. She strums an acoustic guitar, creating a mellow, laid-back vibe. Her voice is soft, sweet, and very powerful. She looks out into the crowd and spots her mother. "Thanks for coming, Mom. I'm surprised to see you!" she laughs. The mother/daughter reunion is a fitting way to end the day's performances, seeing as FemFest brings together generations of femmes to create solidarity and promote empowerment. [LK]