Caleb Westphal hasn't missed a Friday fish fry since 2013. Follow along with his never-ending adventures here.
Despite disparate goals and missions, one thing that fraternal organizations in Wisconsin share in common is that they serve fish frys on Friday nights. I've eaten at branches of these organizations from time to time, such as at North Shore American Legion Post #331 (now closed) and Milwaukee Elks Lodge #46. In April 2014, I got a fish fry at the Double Eagle Pub in the basement of the Humphrey Scottish Rite Masonic Center (also now closed), where the person I placed my order with at the bar called someone in the kitchen on a corded telephone and the meal miraculously appeared minutes later. In August 2016, on the day after my grandfather died, I ate a fish fry with my grandmother and some other family members at Fraternal Order of Eagles Aerie 270 in Fond du Lac. This past Friday I got a fish fry at Waukesha Eagles Club Aerie 453 (709 N. Grandview Blvd. 262-547-3911).
I wasn't even sure if they served one. When I looked at Google Maps, it appeared that a fish fry was served at the address. The Eagles Club popped up there, as did something called "Ginny's Fish Fry." When I went to Google Street View, it showed that a sign outside the location said "FISH FRY FRIDAY PUBLIC WELCOME." I picked out a backup spot in the area just in case they didn't end up having fish. I later realized that the Eagles Club Facebook page provided some evidence that they had a fish fry, and I should have looked closer at that. I never got to the bottom of what Ginny's Fish Fry is, although I did ask my server, who didn't know the answer.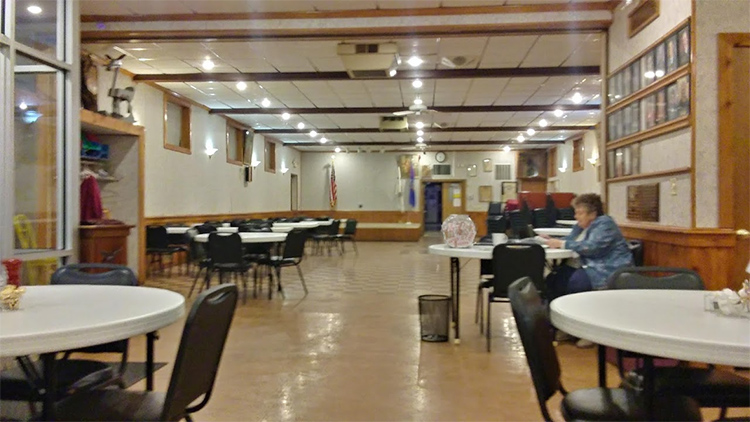 When I arrived shortly after 6 p.m., the bar was somewhat full, but it was to the hall towards the back of the building that I was headed. The front half of the hall was completely empty. An older woman was sitting at a table towards the dining area in the back of the hall. I first mistakenly thought she had something to do with the fish fry operation so I asked her about fish. It turned out she was just selling pull-tabs—or attempting to, not one person bought one from her the whole time I was there—and she directed me to the small dining area past her, where nine tables had numbers on them and three people were eating. Someone was there to help my friend and I out immediately: they let us pick out where we wanted to sit and brought us menus.
The Friday seafood offerings, which are served from 4–8 p.m., are beer-battered cod ($9.95), baked cod ($10.95), perch ($11.95), shrimp ($10.95), and a fish sandwich ($6.95). An extra piece of fish is $2.25. The dinners come with a choice of french fries, seasoned fries, onion rings, or potato pancakes. Carryout orders are available for an extra $1.25. I ordered the fried cod with pancakes as well as an Old Fashioned.
The Old Fashioned was not simply just spirits and soda. No, it was delicately muddled with cherries and orange and had a well-balanced flavor. We were brought two pieces of rye bread, sliced in half, and stacked on each other. Interestingly, the bottom one was light marbled rye with a heavier caraway flavor, while the other was plain light rye. With such a modest gathering of people, the fish came out in no time.
One plate had three potato pancakes on it, while the other had three pieces of cod. The pancakes were thin, soft, and mild in flavor, having not a hint of onion or other seasoning. From a distance they looked like they might be similar to hash browns, but they were much denser and less stringy than their potato cousin.
The cod was covered in a batter that managed to be both light and crisp. Like the potato pancakes, the batter of the fish was rather neutral in flavor. Although the fish itself consisted of hearty chunks, it was middling overall. However, the tartar—a pickle-relish-forward, mayo-based mix—was both tangy and sweet, and brightened the fish up immensely. The plate of fish also held a small cup of creamy coleslaw, which was extra juicy and zesty.
As my friend and I were getting close to finishing up, something transpired which raised our eyebrows, and I can't in good conscience finish this article without mentioning it. We heard someone violently vomiting in the bathroom adjacent to the kitchen. When they came out we realized it was someone who had been working in the kitchen, and then we saw them walk back into the kitchen for a brief period of time. My friend and I stared at each other, not knowing what to make of it. I'll let you make your own judgment on it. Ironically, this isn't the first time sickness has hit the kitchen staff. Knowing that precautions have been taken in the past gives me a little hope, but this was a strange thing to witness.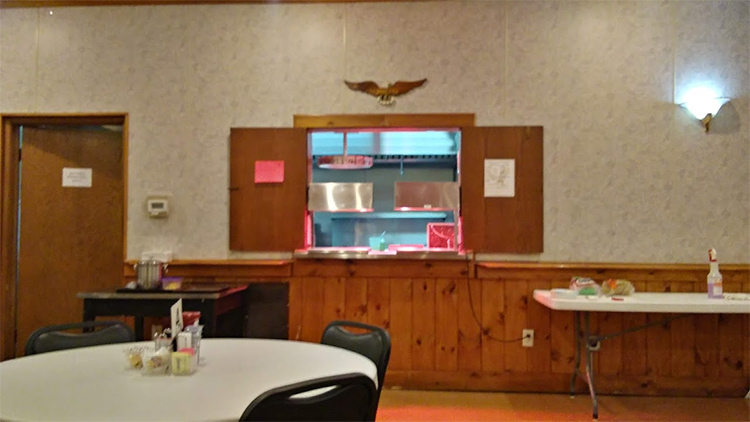 Less than a handful of people eating in an almost-empty hall, a lady selling pull tabs to no one, a stuffed eagle behind some glass, the sound of a dude vomiting in a nearby bathroom—these were just some of the things that made getting a fish fry at Waukesha Eagles Club Aerie 453 a real trip. It was all rather Lynchian. Still, this is a place you could go if you want to get a quick, reasonably priced fish fry. But dammit, don't all go there at once, because they won't be able to handle a large crowd. That being said, unless you live in the Waukesha area, it's probably not worth the drive. If you do find yourself out in the area, you might be better served to head to the Cue Club of Wisconsin, where the fish is much more flavorful and is all you can eat. But the choice is yours about what kind of adventure you want for the night.
Takeaways: An almost-empty hall where you can buy pull-tabs; reasonably priced fish fry; decent, and rather mild fish and pancakes, but nothing remarkable; tangy and sweet tartar; two kinds of rye, oh my.