Caleb Westphal hasn't missed a Friday fish fry since 2013. Follow along with his never-ending adventures here.
"And I would eat them in a boat.
And I would eat them with a goat.
And I will eat them in the rain.
And in the dark. And on a train.
And in a car. And in a tree.
They are so good, so good, you see!"

-Dr. Suess
Green Eggs and Ham
Dr. Suess' words may have been about green eggs and ham, but I think they are even more applicable to fish frys: you should convince your friends to eat them, and they should be eaten anywhere. Although I've usually eaten mine while sitting at a table or bar, and I'm usually not focused on doing some other activity at the same time I'm eating one, I've contemplated other possibilities. When I found out there was a place nearby that served Friday night fish frys that also had a pool hall, I figured I had to get there and eat a fish fry while concurrently playing a game of pool. I wasn't sure if it was allowed, but I was going to attempt it. This past Friday, I asked friend and author Becky Franzel to join me, and we headed to the Cue Club of Wisconsin (2454 N. Grandview Blvd.; 262-522-3615).
As we walked in, my eyes shot straight to the pool tables. Surprisingly, they were largely empty; almost everyone was either seated at tables in the dining area or at the bar—presumably eating fish frys. I did notice some of the pool tables had chairs and tall two-top tables by them, which raised my hopes that my plan for the evening would be possible. I eagerly asked the hostess if we could eat by the pool tables, and she said yes, but that we would have to order our food at the bar in order to do so. She also told us that pool was free for anyone who was waiting for a table to eat at. I again enunciated that we weren't planning on waiting for a table and that we just wanted to eat by the pool tables.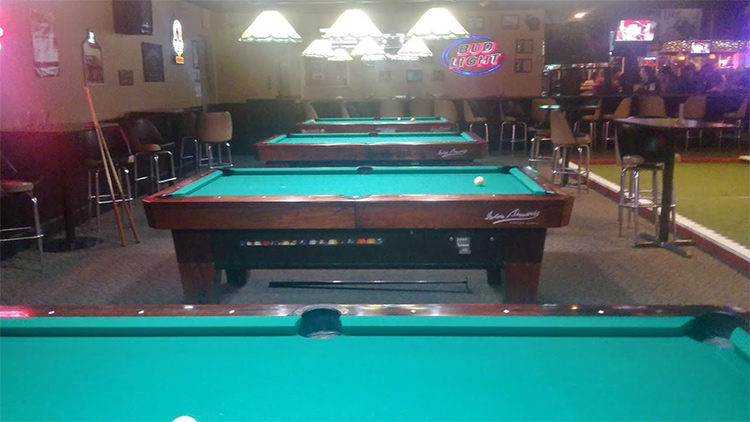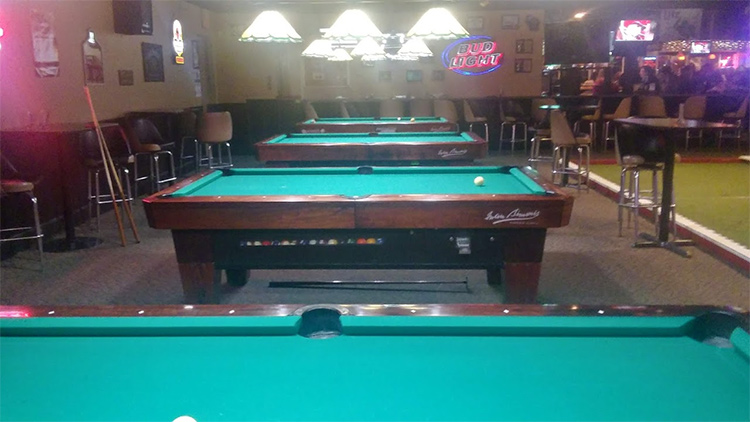 We briefly looked over the menus while standing next to the bar. Fish fry choices include cod ($11.99 for 4 piece/$14.99 for all you can eat), walleye ($14.99), perch ($12.99), and bluegill ($13.99). The fish frys come with waffle fries. The Cue Club also has a "mini fish fry" for $6.50, which consists of two pieces of cod and the rest of the fry sans slaw and bread. One can also purchase an "ultimate fish sandwich" for $8.50. Fish frys are available on Wednesdays and Fridays, from noon until 10 p.m.
After our Old Fashioned orders were in, I prefaced my meal order by saying that we were going to eat over by the pool tables. "That sounds great," the bartender responded. But when I said I was going to go with the all you can eat, she said she was sorry but that was not an option if we were going to be eating by the pool tables. (This made sense to me, because if it was allowed, people would be running their plates up to the bar to get more fish, which seemed like it could get messy.) I said that was okay, and that I would just go with the four piece meal. Perhaps there was some disappointment in my voice, because a few moments later she quietly told me that she would let me have the all you can eat anyway, as long as I didn't tell anyone. Hooray!
We left the bar and dining area and headed to the large, open area where pool tables and other games are located. Two bocce ball courts were in the middle, which had a few bean bag toss boards inside of them. On one side were 9-foot Olhausen pool tables, a ping pong table, foosball tables, dartboards, and shuffleboard tables. On the other side were 7-foot Diamond pool tables. We claimed one of the Diamond tables, and I tried the Old Fashioned. A small handful of cherries and an orange slice were muddled at its bottom, and it was mixed with a generous amount of Korbel brandy, but wasn't overbearing. It was of the kind of quality you hope for as you start a Friday evening. Within a few minutes, our electronic pager went off and the food was ready.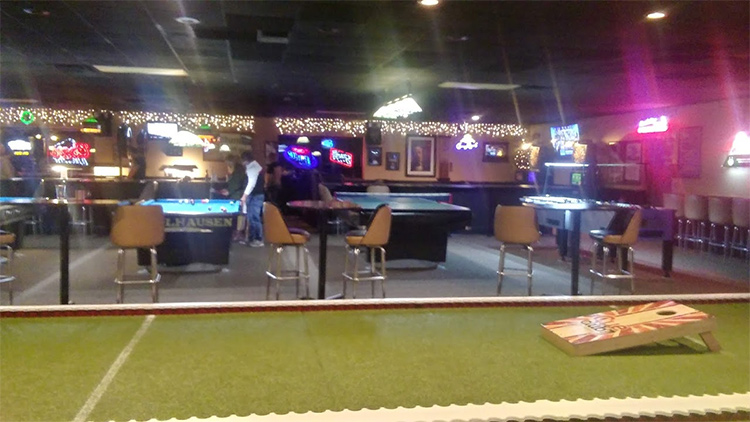 The following is a minute-by-minute account of the pool game and fish fry eating:
6:54 p.m.
I rack up the balls, and then try the cod as Becky shoots. The fish is covered with a thin breading that can easily be cut through, but it still holds together well. The breading has an exceptionally satisfying flavor to it, which stems from a healthy mix of seasonings and a hint of beer. The pieces of fish are of high quality, being thick and flaky. This fish swims with the best of them on its own, but when the tartar sauce is added it takes it to an even higher level. The tartar is tangy and sweet and is a perfect match to the fish. Becky hits in a stripe but scratches.
6:56 p.m.
"After this shot I'm going to try the coleslaw…if I make it," I announce. I take a shot at a stripe and miss. "Oh, I missed it. Well, I'm still going to eat the coleslaw," I say.
6:57 p.m.
I'm eating the coleslaw. It's crunchy and flavorful, with a lighter cream, as well as some pepper that gives it a zip. As I am chomping on the coleslaw, Becky takes a shot. "No, no, that's not what I wanted to do," she says. She hits the 13 but doesn't sink it. I walk over to play but realize I have left my cue stick by my fish fry. My head is obviously not in this game. All I am doing is thinking about fish. "It's still open, right?" I ask. It sure is.
6:58 p.m.
I go for the 9 ball in the side pocket. "Yes, I am stripes!" I declare, after it goes in. I hit another stripe in on slop. This ends up being okay, as we are playing slop. Counting the first ball that went in on a scratch, I now have three balls in. I shoot again and miss, and head back to my plate to investigate the rye bread. I have been given a half piece. It is moderately thick. Earlier I saw on the menu that it is locally made.
6:59 p.m.
The balls clump together after Becky shoots. Meanwhile, I detect a robust caraway flavor in the rye bread. The bread's appealing mouthfeel belies its somewhat dry appearance. "Okay, I'm going to break those up now that the rye bread is gone," I say.
7:01 p.m.
While attempting to break up the balls, I end up getting in a solid. "I did that on purpose so I could have some waffle fries," I lamely joke. The menu said I was supposed to get a "mountain" of waffle fries. Sadly, I don't even think I was given a hill's worth. Nonetheless, they are adequately seasoned and cooked. It seems like it is hard to mess up waffle fries, and these ones are just fine. "There you go, now you are catching up," I say, as Becky puts in a solid. A second shot isn't successful.
7:02 p.m.
I once again walk to the pool table without my cue stick. What is up with that? I'm in a place called the Cue Club for gosh sakes. "Alright, the 10 is going in!" I sink it and then call out the 15 ball, which I also put in. "Shenanigans!" Becky exclaims.
7:03 p.m.
I miss my next shot. Becky puts one in. I eat some more cod. "The bottom pieces are a little soggy on the bottom…" I observe. "Nope," Becky says as she is shooting (the shot is not going very well.) "…They still taste good, though," I add, finishing my thoughts on the cod. "No, no, no," Becky continues, as the ball she hit rolls to a less-than-ideal stopping point.
7:04 p.m.
I shoot again and miss, and Becky does the same. Afterwards she says, "Everybody has their strengths and their weaknesses."
7:05 p.m.
"I've got two left on the table. You have four. And I've got a piece and a half of fish, and about half of the coleslaw, and that's it. So I have to win this pretty quick here," I declare. There is no clear shot. I shoot and miss.
7:06 p.m.
Becky shoots and gets one in, and then misses. She has three left on the table and I have two. I take down the rest of my Old Fashioned with the thought that it may help me, as I still have nothing to shoot at.
7:07 p.m.
We start comparing the merits of waffle fries and potato pancakes and I miss again. Becky shoots and once again gets one in. "See, now we're tied," I announce, as I finish off my coleslaw. She misses her second shot.
7:08 p.m.
"No…No!" I exclaim during my shot, as the 8 ball rolls and stops at the precipice of a corner pocket.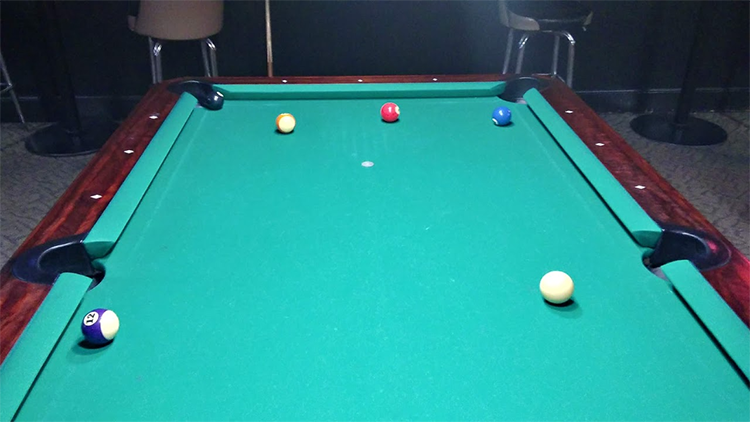 7:09 p.m.
I miss a shot. Becky misses a shot. I am now on my last piece of fish.
7:10 p.m.
"I don't know what to do here," I impart. "There is nothing you can do," Becky assures me. "I'm almost out of fish. My incentive to win is that I can get more fish," I pronounce. I miss.
7:11 p.m.
Becky makes a shot and takes the lead. She just needs to sink one more solid and will then have an easy shot at the 8 ball to win the game. As I finish off the last piece of cod, Becky hits in the 8 ball instead. I have won the game and cleared my plate almost simultaneously.
Did we end up playing another game of pool? Na. Did I go up and get two more pieces of cod? You better believe it. I feel that the Cue Club of Wisconsin has a good enough fish fry to warrant a recommendation. Even though potato pancakes and clam chowder aren't on their menu, and despite the fact that the coleslaw and rye bread were pretty commonplace, I still think it deserves it. In the end, one thing can ultimately make or break a fish fry: the fish. In this case, the fish—and the tartar—were exceptional. Did it help that I could eat the meal while playing a game of pool? Well, it certainly didn't hurt. I'd suggest that you give it a try. If you are extra nice, they might even let you turn your four-piece meal into an all you can eat.
Takeaways: Excellent fish and tartar sauce—the breading was flavorful, the morsels were of high quality, and the tartar was sweet and tangy; pretty solid waffle fries, but I did not get a mountain of them; relatively standard coleslaw and rye bread; well-made Old Fashioned; you can play a game of pool (or darts, bocce ball, cornhole, ping pong, foosball, or shuffleboard) while you are eating your fish fry. RECOMMENDED