By now, you've likely plowed through the first season of the new Netflix original series Russian Doll. Though the Natasha Lyonne vehicle is inventive, hilariously dark, and incredibly enjoyable on its own, you might be happy to know that the outstanding series has one rather significant local tie. Russian Doll's score was composed by Milwaukee-born musician Joe Wong.
Since leaving Milwaukee in 2012, Wong has made a name for himself in the world of television and film. Before Russian Doll, he worked on notable projects like Master Of None, Adult Swim's Ballmastrz 9009—both collaborations with Milwaukee's Didier Leplae—and the 2018 surprise hit film To All The Boys I've Loved Before. Last year, Wong also co-produced Fred Armisen's Standup For Drummers comedy special. However, the longtime percussionist is probably best known as the host of the popular podcast called The Trap Set, which has allowed Wong to interview some of the world's most legendary drummers over the course of the show's 200-episode run.
Once we finished binging all eight episodes of Russian Doll, we called Wong to ask him how this latest opportunity came to be, exactly what the role of a television and film composer entails, and what he's learned from interviewing Phil Collins and 199 other drummers on The Trap Set.
Milwaukee Record: We were both at The Vanguard on Halloween for their Punchline comedy night. Were you involved with booking Jon Daly for that?
Joe Wong: Yes. Christ Schulist is an old and dear friend of mine, and he reached out to me when he came up with the idea of transforming The Vanguard into a comedy club. I had been playing with Jon and working with him recently, so he was kind of in the front of my mind. Both Chris and I are fans of his comedy, so Chris asked me to make the introduction.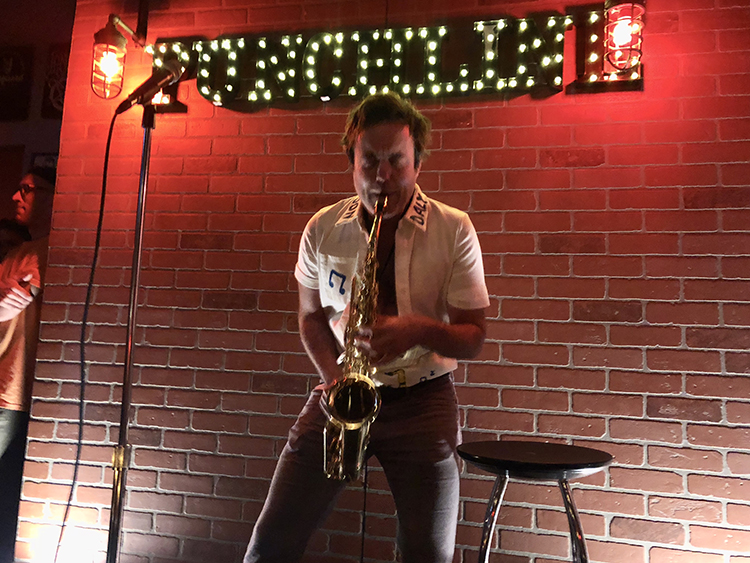 MR: How do you think it went? Do you feel the audience, who didn't know he was going to be part of the show, was into it?
JW: Everybody that I talked to had a good time. Chris and Jon were into it. It's kind of an unusual gig for Jon because he's most famous for being an actor and sketch comedy guy, and he's been branching into this solo stand-up stuff more frequently lately. So he doesn't follow the same trajectory of other stand-ups where he tours a lot. I think it was a fun experiment for him to do a fly-in stand-up show and I think he had a good time.
MR: But onto you and what you're working on. I recently noticed you did the music for the new Netflix series Russian Doll. How did that all come about?
JW: Well, I met Natasha [Lyonne] because I was working with Fred Armisen on his Standup For Drummers special. I co-produced that. Natasha and Fred go out, and she was at one of the shows we were doing. I kind of got to know her through that. We previously worked on an Adult Swim show called Ballmastrz. I worked on the music for that show, but we hadn't met through that. But we have a lot of mutual friends and when I was working with Fred, we spent some time together. So that's kind of how we met.
I'm not really sure, but I think she probably went out to a few people [requesting music]. Usually what will happen is you'll send in some proofs of concept and spec tracks when you're starting a project. She happened to like what I was doing, and it turns out we have a very similar aesthetic, so it was a great experience. I absolutely love that show and I love her and her writing partner Leslye [Headland]. I just feel lucky to have gotten to do it.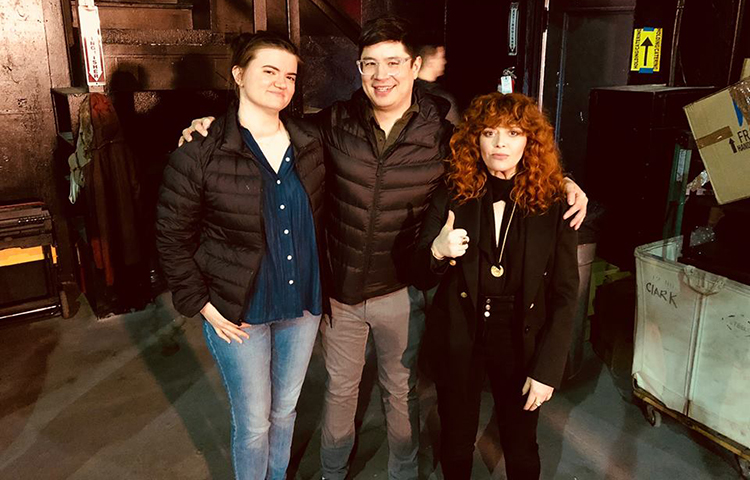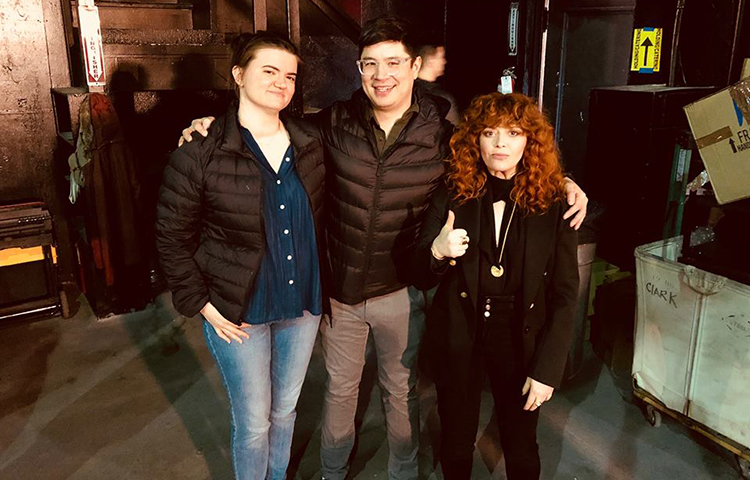 MR: What was the approach you took with the proofs or the tracks you sent her? What type of background or aesthetic were you going for?
JW: For the demo tracks I made, I think I read the pilot and I kind of got the idea to write music that reflected the recursive nature of the show. So I was writing in such a way that there were these musical motifs that were repeated and also nesting inside of each other, like a Russian doll. Doing something like that just gives me a palate to work with, and setting those parameters for myself is just a fun way of restricting what I'm doing and narrowing down the plethora of options when you start a project. Basically, my goal is to try and zone in on something as soon as possible.
Then as far as the actual sounds that we used, a lot of the stuff in the soundtrack that Natasha herself picked out as songs is stuff that I love a lot. You know, bands like Love or artists like Harry Nilsson both kind of have this psychedelic and orchestral quality to them. More importantly, they strike a balance between a buoyancy and a darkness. I felt that fit the tone for what I wanted to do with the score. And when I was writing the score, I kind of pretended I was in a recording studio in 1969 and mostly limited myself to instruments that would've been available then. I also made sure to use live musicians and those kind of restrictions helped me suit the show's emotional needs and also feel at home among all the other songs that they picked.
MR: Did you work with Natasha directly when scoring this, or was it more of a reactionary approach based on what she was looking for or what others were looking for?
JW: Of any of the shows I've worked on, she's been more involved than most. I live in a loft downtown in L.A. and I have my studio inside. She lives in New York, but any time she needed to be in L.A., she would come over and we'd spend hours talking about music. One of the things that I realized is sometimes something that sounds minor to me makes a huge difference to someone like Natasha, who wants the emotional needs of her show to be serviced. It might just be a matter of taking out a tambourine and it totally changes her reaction to it. So that was really cool.
MR: I feel like that's very much in line with the show itself. The more you watch, the more you realize small differences in the plot have a huge impact on the show and on specific characters.

JW: Traditionally, most television shows were driven by score. And I think ever since shows like Master Of None, which I also worked on, the role of songs has been larger. On a show like Master Of None, which is really song-driven, the score is there to glue it together and bring emotion to scenes that might be a little more subtle. I think with Russian Doll, it's more balanced. There's certainly really important song moments, but also really important score moments. It kind of just depends. If you're an architect, there's an element of artistry to it, but whatever you make has to fit onto the plot of land and serve the function of whoever is hiring you. Being a composer is the same thing. My music has to fit around the dialogue and not get in the way, and it also has to be something that lives in the world of the show. The most important part is figuring out what that means. Often, you're working with people that don't have a musical vocabulary, so you have to figure out what they're responding to and understand how other people are seeing the world of the show.
MR: Even though you and Natasha seem to have this symbiosis and a similar musical vision, it must be hard for most collaborators to effectively describe what they want and what they're doing. You seem to have a gift for that. You've had a lot of time to practice that over the course of 200 episodes of your Trap Set podcast.
JW: Yeah, I actually think that the podcast has helped me in everything that I do. I've learned how to listen better by doing the podcast and that's incredibly good for composing, the ability listen to people talk about what they want for this show they've poured their heart into. I think I also soaked up some of the wisdom of the people that I've interviewed, hopefully.
MR: You've literally spent days of your life recording conversations with legendary and appreciated musicians. What has that experience been like?
JW: It's been incredibly creatively rewarding and spiritually rewarding too. It's probably been the most healthy thing I've done as a creative person in over 10 years. I've gotten to meet all these people that are heroes to me and ask them questions, but more importantly, as people living in the era we're in now, it's increasingly rare to sit down for an hour with someone else and ask them about their life and engage with them on that level.
Humans are designed to be social creatures, and the way in which social interactions have been commoditized now makes it difficult for us to engage on a meaningful level socially as a regular part of our lives. So building that into my life has just been great for my mental health. Putting something out every week has also been really healthy. As a film or TV composer, you're totally working on someone else's schedule. So if that's all that you do, you're kind of waiting around for people to give you permission to create. With doing a podcast, I'm able to hold myself accountable and take control over putting a little something out into the world every week. It also made me less precious about what I was putting out. I think that's been really great, and it's kind of exceeded what I could've ever dreamed of.
MR: Now that you've hit the 200-episode milestone, are there any guests that stand out? I know that's like asking a parent to pick their favorite child, but when you think about the show, do any specific moments come to mind?

JW: I feel like I get something important out of every time. But there have certainly been moments where, both as it's happening and after, I'm shocked. For example, when we started the show, my co-producer Chris—who also has Wisconsin ties and was an Onion writer for 12 years—and I we were joking about getting Phil Collins as a guest. We knew that the show would've made it if we got Phil Collins. So when I actually got to have Phil Collins on the show, it was totally surreal and crazy. Like, getting an email from him and going to his place in Miami. Then about halfway into the interview, I was looking at his face and it was that famous face that's on millions of record covers. It kind of tripped me out. I wouldn't say it was the most meaningful, but it was more of a marker that we had arrived in the world of drummers to have a world famous pop star would want to be on the show.