At first it seemed as though Ludacris might've gotten the crowd too hyped. He'd dug back almost a quarter-century to perform his debut single "What's Your Fantasy," stomped around in his giant Air Force 1s for "Stand Up," and even busted out the giant arms from the ""Get Back" video. By the time the iconic "Move Bitch" beat dropped Sunday night, the American Family Insurance Amphitheater was a sea of bobbing bodies and voices shouting in unison. The buzz seemed to carry through the intermission; once every few decades, Milwaukee gets a Memorial Day weekend of nothing but sunshine and pleasant temperatures, and folks who rolled out were ready to party.
The lights went down again at 9, and after a brief pre-recorded montage, Janet Jackson emerged like the high priestess of pop she is, draped in a massive hooded purple robe. The crowd went nuts, but "Damita Jo" wasn't exactly an explosive opener. Jackson's voice was barely a whisper, and for a few minutes it seemed as though the 57-year-old icon might glide regally through this performance without too much exertion. After four decades in the spotlight, she's certainly earned a victory lap.
Hardcore fans knew better, though. "Damita Jo" is the title track from Jackson's overlooked 2004 album (titled after her middle name), and she'd never performed it live prior to this tour. "Sexy, quiet / Shy but down for a good time," she sang in greeting, as though letting us all in on intimate secrets. But there was a deeper significance in leading with this track, originating as it did in the wake of her (and Justin Timberlake's) Super Bowl snafu and her subsequent media blacklisting. This was a reclamation of her identity, or perhaps simply putting the "wardrobe malfunction" nonsense behind her once and for all. The song flowed into an initial portion of "Together Again," the namesake of the tour. Jackson shed her robe to reveal a close-fit shimmering gold outfit, and thus began a dance party that never let up for more than a song or two the rest of the night.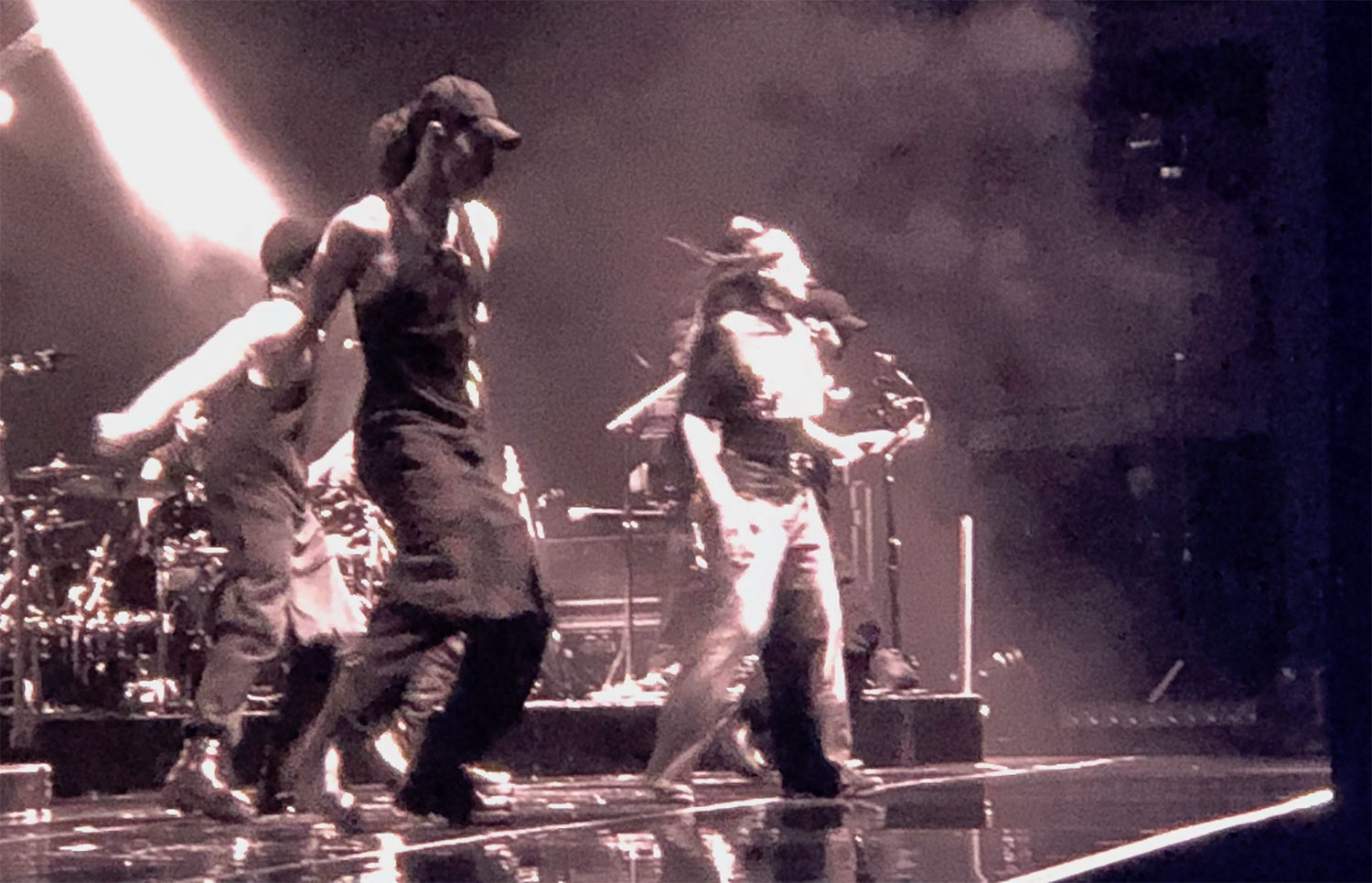 Back in 2020, Jackson had a full tour booked. Dubbed Black Diamond, it was billed as celebrating a new album of the same title as well as Rhythm Nation 1814, her best-selling album which had just turned 30. That new album is still supposedly on the way, but Jackson is keeping the new songs under wraps thus far. The Together Again setlist is a full career-spanning affair, including several deep cuts she's rarely, if ever, performed live before this year.
Rather than an immediately dive into Jackson's pile of platinum hits, Sunday's first act showcased the modern Janet, including the night's only offering ("No Sleeep") from Unbreakable, her most recent album. Four purple-clad dancers joined Jackson onstage, the choreography immediately striking; during "If," they even briefly recreated the iconic 1993 Rolling Stone cover photo—fully clothed, of course. It was an easing-in, mostly slow jams, closing out with "Enjoy," a dream-pop entreaty to embrace the good things in life. The band, impeccable though mostly shrouded in darkness throughout the show, carried the song off on a blissful cloud, keeping the crowd dancing as Ms. Jackson snuck away for her first change of clothing.
The next portion of the show was pure nostalgia, a nonstop parade of hits. While Jackson didn't perform her '80s gems in their entirety, the set also didn't have the feel of a medley; each partial song got its proper due, many of them benefiting from updated arrangements, allowing the oldies to play nicely with the newer songs. The inclusion of later nuggets like "Because Of Love" and "When We Oooo" also served as a reminder that as much as Jackson's style and image have transformed over the years, there remains a sense of almost childlike simplicity balancing out the more serious and complex sides of her songwriting. When the crowd serenaded Jackson with "Again" as the band just barely played behind her, it sounded like something that could've been plucked from the earliest days of the Jackson 5, straddling the line between cheesy and timeless the way only this family ever could.
The show's third act was where the beat got serious and the choreography truly dazzled. The easy highlight was "Throb," a quasi-mashup with "Free Xone," both pure dance interludes of their respective albums. The crowd was also treated to the tour debut of "Rock With U," a request from one of the dancers. The only question was: where were all the Velvet Rope bangers? The album, arguably Jackson's artistic peak, just turned 25, and the tour is named after a song off it, but it just didn't produce the massive singles. As Jackson stepped backstage for a third time, there was little doubt what was coming: there'd only been one Rhythm Nation tune up to that point. She tore through six of 'em to close the show (not counting the cruel single-chorus tease of "Black Cat"), as well as a fierce take on her 1995 duet with brother Michael, "Scream."

The encore was a third variation of "Together Again," begun via video feed from Janet's dressing room. Forty songs in just under two hours felt like a marathon, but she seemed unfazed. For an artist of Jackson's stature to be able to curate her own four-decade career retrospective, and to perform it night after night with all the vigor it deserves, is a miraculous feat. Whether or not Black Diamond arrives any time soon, we're not likely ever to see another Janet Jackson tour this chock full of hits, unless she some day arrives at the crooning-from-a-stool phase of her career. Thankfully that possibility still seems like a distant one.
Exclusive articles, podcasts, and more. Support Milwaukee Record on Patreon.
---
RELATED ARTICLES
• Janet Jackson, Lizzo, Bikini Kill and 22 other standout spring events
• Janet Jackson will play American Family Insurance Amphitheater May 28