Following months of planning, the night is almost upon us! Friday night, historic Turner Hall Ballroom will play host to Milwaukee Record's fifth annual Local Coverage benefit concert. Over the course of the event's short history, the show has moved to a larger venue and has featured dozens of acts taking their material to unexpected and awesome places. We've written about the our favorite show of the year before, but if you're still in the dark about it, here's everything you need to know about Local Coverage 2019.
What is it?
Way back in October, seven Milwaukee bands and solo artists drafted another project from the pool of performers. In the approximately 100 days that followed, each performer was tasked with assembling a 15-minute set to play "as" the band they drafted. Does the show's concept sound complicated? It's not. In short, a bunch of local bands and solo artists are covering a bunch of other local bands and solo artists at an event that raises money for a local charity.
Who's playing?
We've worked hard to find a varied mix of acts from various corners of the Milwaukee music scene. This year, you'll see Fat Wreck Chords' own Direct Hit! adapting the folk stylings of Nickel&Rose. Paper Holland will give Immortal Girlfriend an indie rock makeover. LUXI (a solo electronic project) will redress a seven-piece ska band. Local Coverage is an incomparable event for a good cause. Unfortunately, Immortal Girlfriend had to drop off the show due to a serious medical reason, but the lineup is still stacked! Here's the full lineup, listed from headliner to opener.
Direct Hit! (playing Nickel&Rose)
Paper Holland (playing Immortal Girlfriend)
Amanda Huff (playing LUXI)
Something To Do (playing Direct Hit!)
Nickel&Rose (playing Paper Holland)
LUXI (playing Something To Do)
Who does it benefit?
Once again, this year's beneficiary is Milwaukee Women's Center. The organization is extremely local, woefully underfunded, and in many cases, is the last line of defense for people who are in dire need of assistance. According to the Women's Center website: "Founded in 1980, the Milwaukee Women's Center provides comprehensive services and treatment for women, men, and children whose lives have been affected by domestic violence, addiction, mental health issues, and poverty."
Learn more about the organization from Community Advocates CEO Andi Mallmann-Elliott in this episode of our "On The Record" podcast about Milwaukee Women's Center.
Once the venue costs are paid (which has already almost accomplished thanks to the generosity of Gruber Law Offices, Educators Credit Union, Nail Bar Milwaukee, and Stag Barbershop), all proceeds will be donated to the Women's Center. Tickets are only $12 in advance (NO FEES FOR ADVANCE TICKETS!!!) and $12 at the door. You should seriously think about buying your tickets in advance to avoid fees and to avoid lining up at the box office.
Are there any more reasons I should go?
If an ambitious and incomparable local benefit with performances you'll never be able to see again isn't enough to convince you, maybe the possibility of winning a bunch of free stuff will get you to Turner. Loads of local businesses have given us gift cards and other items to raffle off. Our raffle has honestly never been bigger or better than it is this year.
Just some of the businesses contributing to this year's raffle include: Lake Express, Milwaukee Bucks, Pabst Theater, Lowlands Group, Mod Gen, WMSE, 88Nine, Milwaukee Comedy, Comet Cafe, Hi Hat Garage, Fuel Cafe, Balzac, Flemming's, Andrew Toyota, Freya Salon, Palomino, Honeypie, Small Pie, Andy Tyra, JL Blooms Landscape LTD, Rush-Mor Records, Float Milwaukee, South Milwaukee PAC, Kindred On KK, Karben4 Brewing, Bittercube, Soul Boxer, Camino, Cubanitas, Adventure Rock, Urban Om, Trinergy Center, Sherper's, SkyZone Trampoline Park, Escape Room MKE, Educators Credit Union.
If paying for the chance to win stuff isn't your thing, how does a FREE shirt sound? Thanks to our friends at Gruber Law Offices, the first 100 people through the doors at Turner Hall on Friday will get a complementary Local Coverage shirt that was designed by Andy Tyra. These won't be for sale, so show up early if you want one.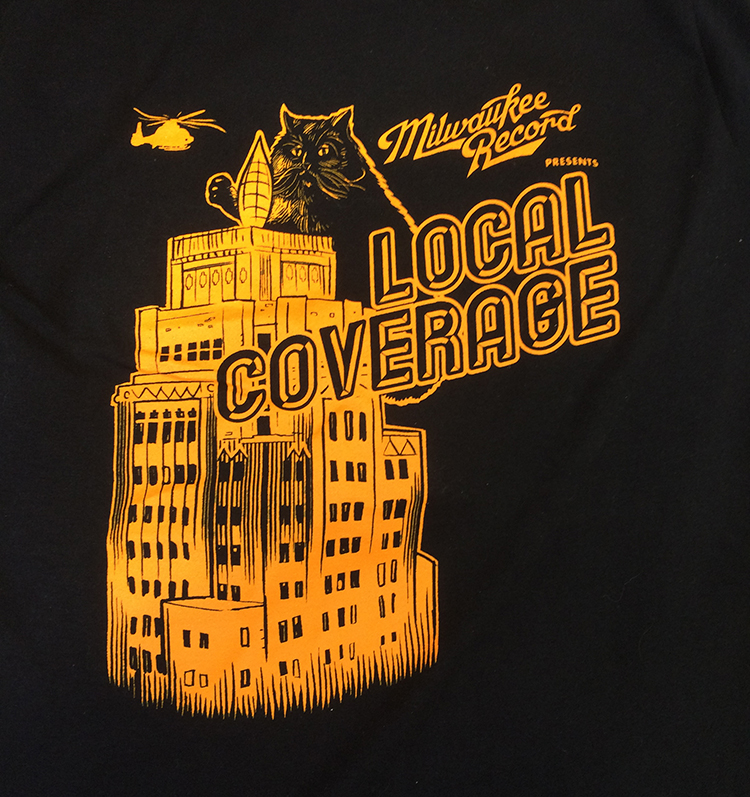 How can I help if I can't go to the show?
If you're disappointed you can't make it, but you'd still like to help, you can always cut out the middle man—since we're giving away all proceeds anyway—and donate directly to the charity. Visit the Milwaukee Women's Center website for more details. Or you can pay whatever you want to download the first three Local Coverage concerts, and we'll make sure the money gets to them.
Also, our Milwaukee Record Re-Porter beer (brewed in collaboration with Company Brewing) is still available around the city (and in Appleton!). A dollar from every pint sold benefits the Women's Center.
Can I afford to miss Local Coverage 2019?
No.