Now that March is here, we're nearing the one-year anniversary of the COVID-19 crisis making its way to Milwaukee and, in the process, throwing a wrench into the gears of a music scene that was truly in the midst of an especially productive and prolific period. During the last 12 months, local artists have taken a variety of different approaches to making and releasing music. Some musicians have dramatically slowed or completely stopped their output as they wait for better days ahead. Others have thrown themselves headlong into creating and releasing material in an effort to keep busy/stay sane during a particularly difficult time and to give people something new to look forward to. Guerrilla Ghost can firmly be counted as a member of that second camp.
Within the last year, the hybrid hip-hop duo has taken it upon themselves to write, record, and release a steady stream of singles, albums, remixes of other artists' material, and compilations that have found producer Tron Jovi and rapper/vocalist Bad Graphics Ghost bringing their music to new, exciting, and continually more impressive territory. Though they've certainly earned a breather after managing both a volume and a caliber of production that would even be astounding in non-pandemic times, Guerrilla Ghost has yet another release up its sleeve. And it's a doozy.
Later this week, the outfit will formally release The Trumaine EP. According to Bad Graphics Ghost, the five-song EP is meant to serve as "a vehicle to complete loose concepts and material" that were in the works prior to the production of Guerrilla Ghost's sophomore album. Some of those ideas found a spot on last summer's We Get What We Deserve, with others making their debut on this semi-conceptual collection of songs.
"The themes are mostly personal, speaking on topics such as addiction, mental health, family trauma, and community impact," Bad Graphics Ghost says. "Wesley Snipes was chosen as a protagonist of sorts based solely on our enjoyment of his films and career. The films chosen as song titles speak to the direction of the narrative within and help to soften the seriousness of the topics."
Guerrilla Ghost made The Trumaine EP—which is named after Snipes' character in the 1986 film Wildcats—separately on account of the ongoing health crisis, with Bad Graphics Ghost recording vocals at his home studio and Tron Jovi handling instrumentation and mixing duties in his home studio. The EP was mastered by Justin Perkins of Mystery Room Mastering. The Trumaine EP will be available to stream and purchase on digital platforms on March 5. Before it's released, you can listen to the EP in its entirety only on Milwaukee Record.
In addition to the digital release, a small run of lathe-cut 12″ vinyl copies (27 copies, to be exact) of The Trumaine EP were made. The physical version also includes the unreleased bonus track "Wesley Snipes In White Men Can't Jump." The glow in the dark records were screen printed by Francisco Ramirez of Bureau Of Print Research & Design and were hand-cut by Little Elephant Lathe Cuts.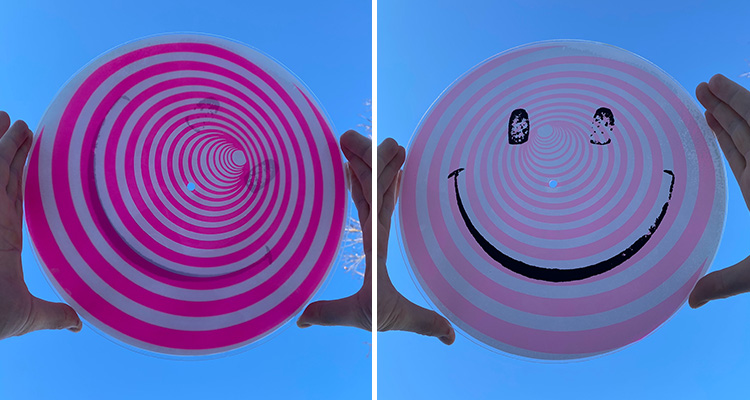 Records can be ordered in advance online or purchased in person at Rush-Mor Records. According to Tron Jovi, only nine copies are left at the time this article was written.