Does the thought of a new Milwaukee music venue fill you with fear? Do images of increased traffic in a tucked-away part of the city haunt your dreams? Are you nervous about the rampant crime that typically accompanies a Trampled By Turtles show? Do you have concerns about your property values?
Unless you live a stone's throw from the site of FPC Live's proposed two-venue live music complex in the Third Ward near the Summerfest grounds, the answer to those questions is likely "no."
Yet those were the concerns that dominated a two-hour "public input session" on the project Tuesday night at the Milwaukee Public Market. There were speakers. There were presentations. There were heated exchanges. There was a whole lotta NIMBY going on. A second session is planned for January 18.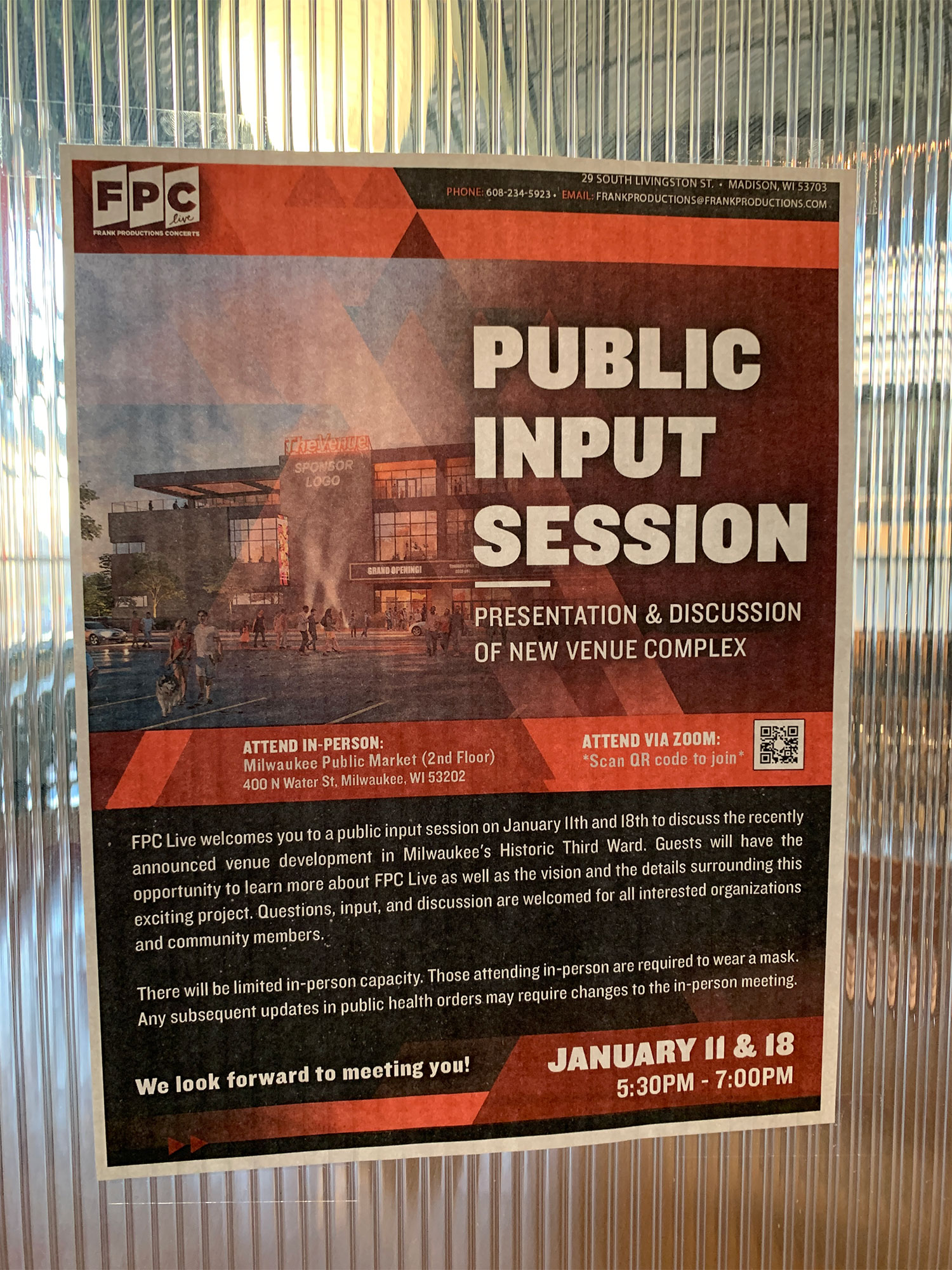 Some background: In early December, Madison-based concert promotion company FPC Live revealed plans to build a 108,000-square-foot, two-venue live music complex on a service lot owned by Summerfest parent company Milwaukee World Festival, Inc. One venue would boast a 4,000-person capacity; the other would have an 800-person capacity. It would look something like this: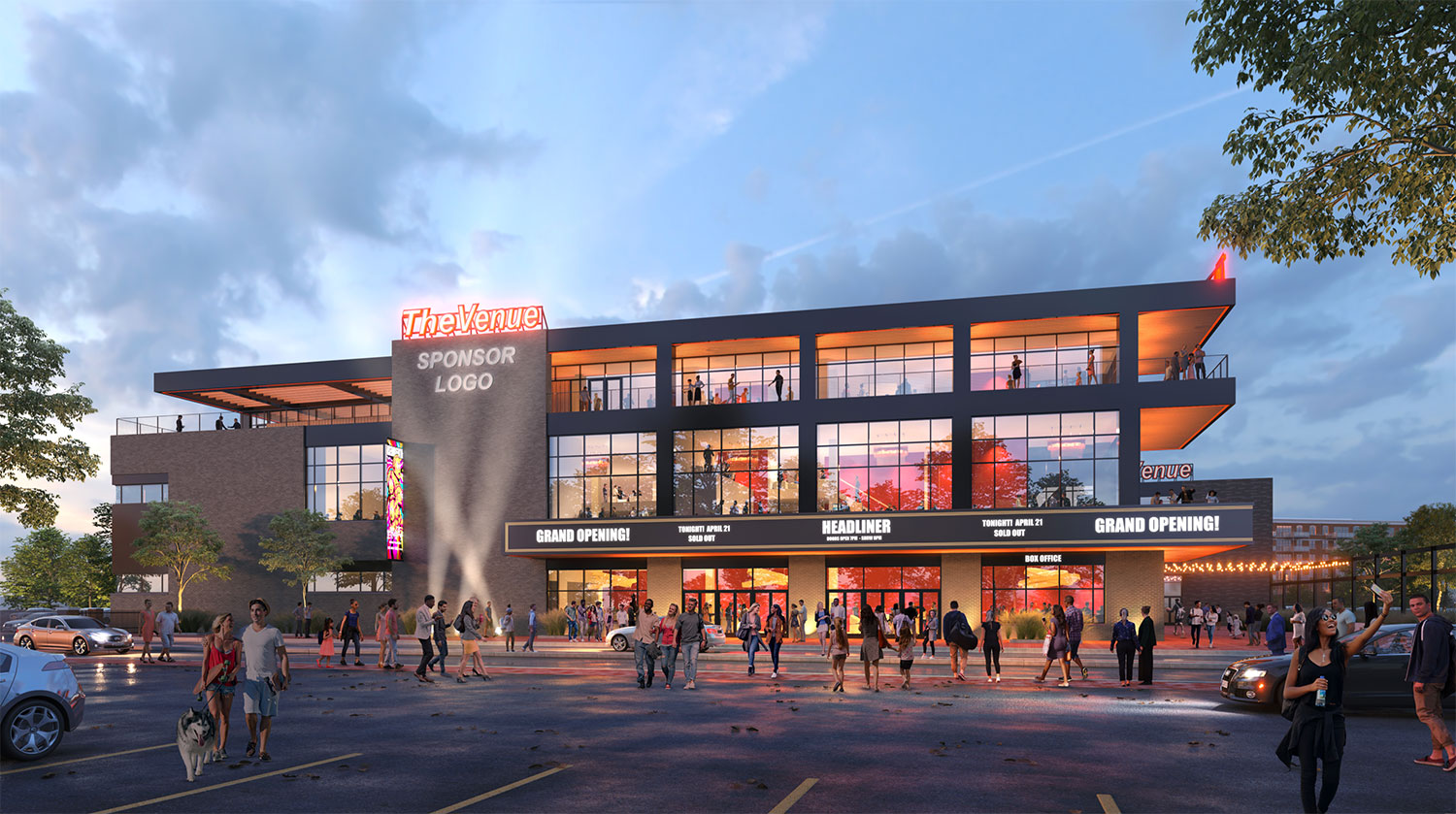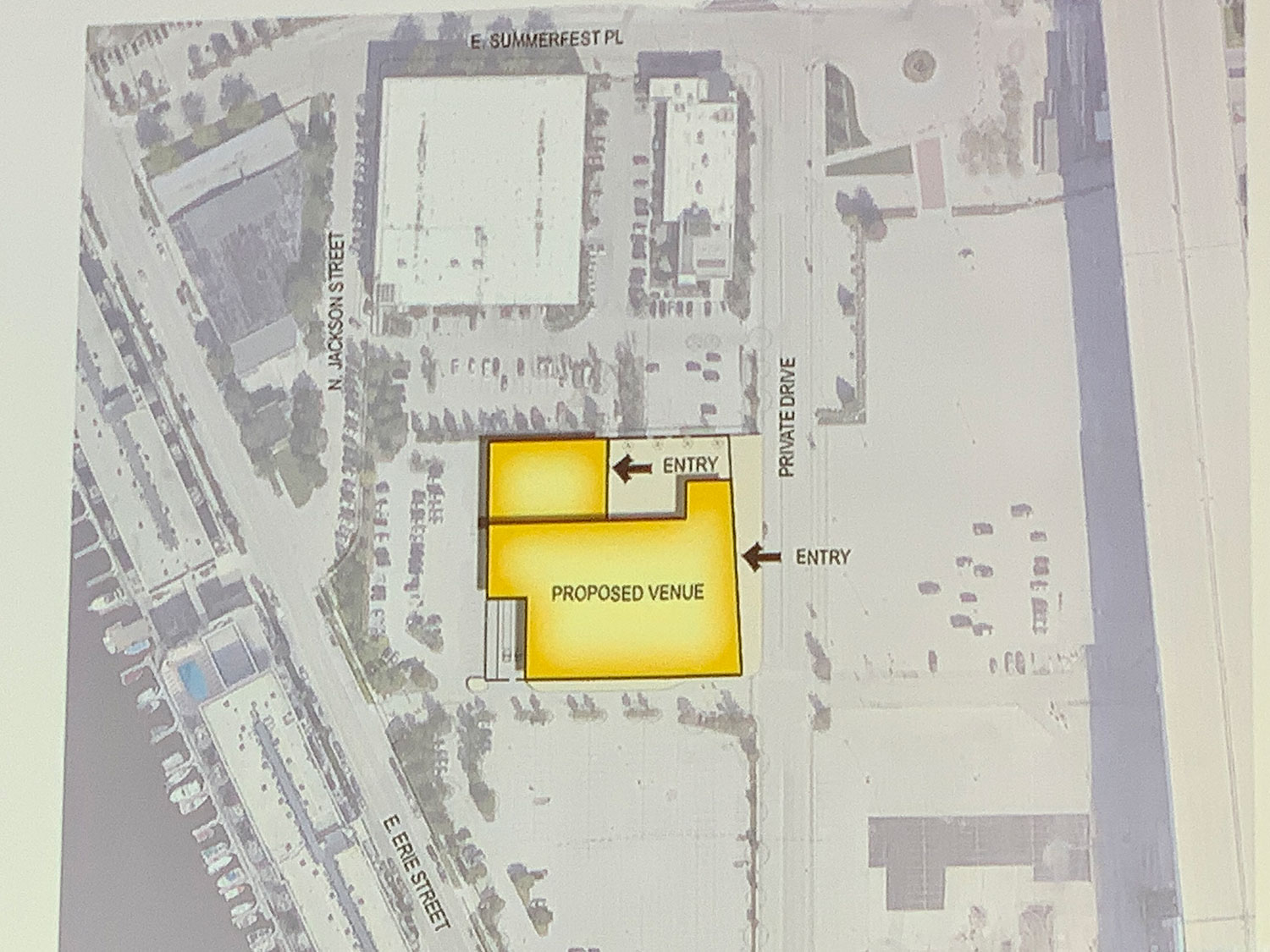 FPC, which would own and operate the venue, is currently the exclusive booker of Madison venues The Sylvee, the Orpheum Theater, the Majestic Theatre, and High Noon Saloon. FPC also books several venues in Missouri. A sister booking company, NS2, is the exclusive booker of several venues in Tennessee, Virginia, North Carolina, and South Carolina.
The parent company of FPC Live and NS2 is Frank Productions. Frank Productions, meanwhile, sold a majority interest of its company to mega music promoter Live Nation in 2018. Frank Productions now promotes more than 2,000 shows a year.
"Having venues of this caliber will make Milwaukee a must-play destination for all artists both at the developing level and those on the verge of playing arenas, amphitheaters, and stadiums," said FPC co-president Charlie Goldstein when the Milwaukee venue was first announced. "We are excited to add these rooms to the city, connecting more artists to more fans in Milwaukee."
But does Milwaukee need another music venue? Isn't it already a "must-play destination" for amphitheater-bound artists? FPC itself has booked some of those artists for Summerfest's American Family Insurance Amphitheater and BMO Harris Pavilion, after all.
Would a new FPC-operated venue attract artists that typically skip Milwaukee? When asked that question earlier, FPC offered up Sylvan Esso as an example of a group that could finally be lured to the city—even though Sylvan Esso has played here numerous times. Hell, the two members met here.
Wouldn't a venue of FPC's size directly compete with The Rave? What about that story about FPC trying to buy out The Rave, as reported by Urban Milwaukee? What about The Pabst Theater, The Riverside Theater, and Turner Hall Ballroom? Shank Hall?
Again, those questions went virtually unasked and unaddressed. Instead, a group of neighbors peppered Frank Productions CEO Joel Plant with questions about traffic, parking, noise, traffic, parking, noise, and whether or not the trucks loading equipment at night would beep.
"Why is this in our neighborhood?" went a typical question. "Why isn't this downtown in the theater district, or downtown by the arena, or wherever there's all sorts of activity? We're not looking for this kind of activity here. For people to say that, geez, you moved in next to an airport and now you complain? That's total nonsense."
The question of the venue's location led to a semi-heated exchange between two attendees. The pro-venue attendee even invoked Franklin D. Roosevelt:
Plant, for his part, calmly presented a vision of a state-of-the-art facility that would be of little concern to concerned neighbors. The venue would host only 135 events a year, including private events. Sellout crowds in both halls on the same night would be rare. Plant explained how FPC's Madison offices were attached to The Sylvee, and how both were attached to a commercial office building. No noise complaints had ever been filed, he said.
"Our project is not Summerfest" Plant said. "Our project is not a festival. Our project is not outdoor music. We are not going to have 50 or 60 or 70 or 80,000 people converging on the Third Ward. We're also not carpetbaggers. Our office is 70 miles west of here, and once we get up and running we'll have a full-time team here."
Plant's defensiveness was perhaps inspired by some mysterious postcards sent to Third Ward residents in recent days. A neighbor shared some of the cards with us, noting that the text on the back listed incorrect dates for the meetings. This, she said, was the product of some Watergate-inspired "ratfucking." Consider us Woodward and Bernstein.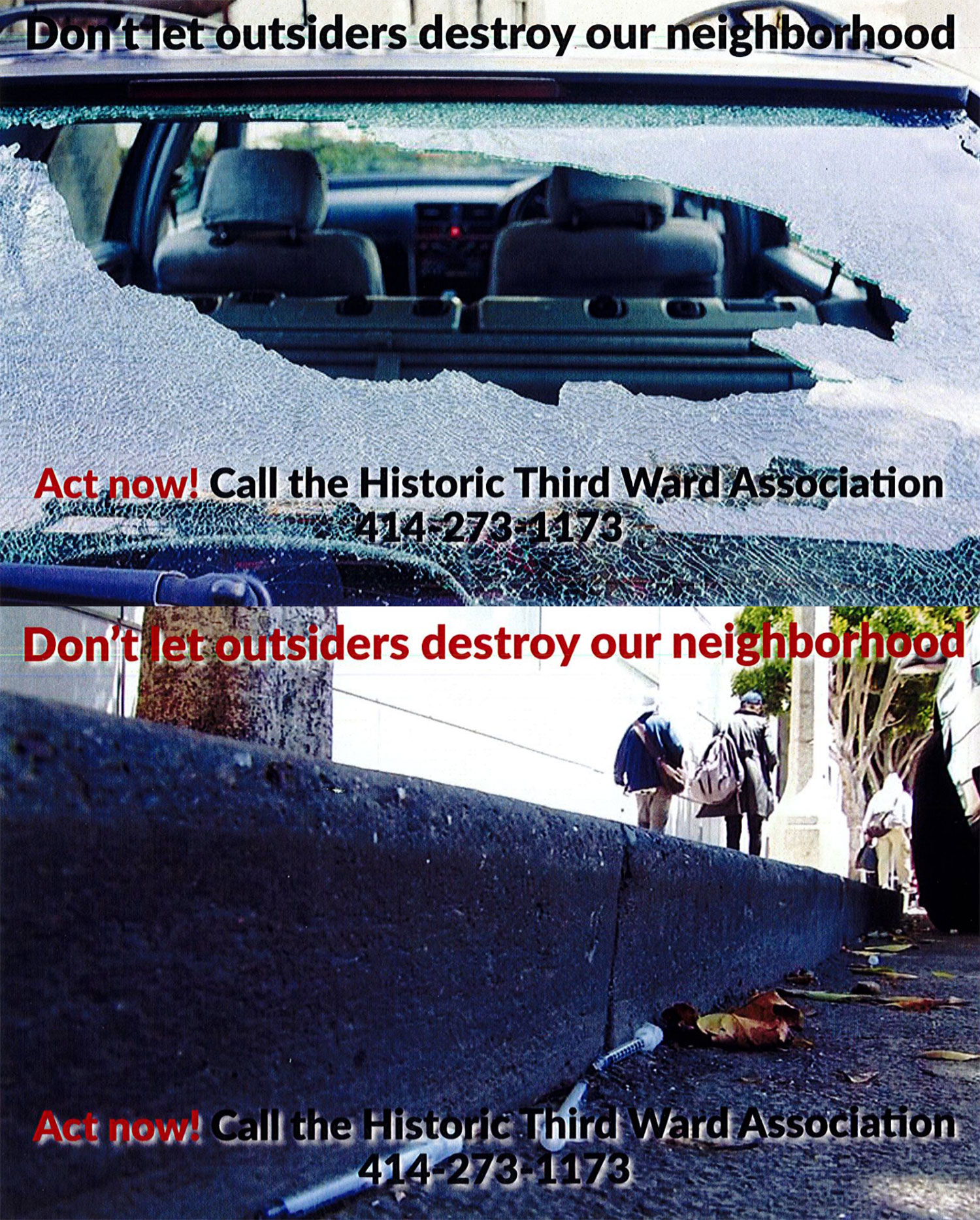 Not that any of it mattered. Late in the meeting, Ald. Bob Bauman, whose district includes the site in question, informed the crowd that the deal between FPC and Summerfest was a "private real estate transaction between two private parties." The city and the Common Council, in other words, could have no say in the deal. Current zoning for the area allows for a theater, as would any future rezonings.
The venue would face a private road, however, and a city-approved easement would be needed in order to give the venue a proper city address.
"We do not have the power to stop this through the zoning process," Bauman said, "but we do have the power to impede its movement through the easement question. But there are ways around that which could potentially be worse than the plan they have now."
The Third Ward's Architectural Review Board, which Bauman chairs, could also weigh in on the project, but only in relation to the building's design, not its purpose.
"Could Summerfest take a more active role here?" Bauman asked. "Could Summerfest say 'No, no, no. You've got to respect this neighborhood a little more than you're doing?' Of course they could! They're a quasi-public entity, but increasingly becoming a private entity. The subtext here is Summerfest's tax exemption. Now they're getting in the business of leasing commercial real estate for profit? Is that consistent with their tax status? A very good question, but not one the city has any role in. That's the Internal Revenue Service."
So, could Summerfest take a more active role here, directing FPC what to build and what not to build? "I suppose in theory Summerfest could tell us that," Plant said, "but that is not part of any conversation."
In the end, Bauman suggested that the only way the public and the city could meaningfully oppose the project would be through the Licenses Committee. Public testimony could be heard when the venue applies for a liquor license, and the committee could in turn grant or deny that license. The mayor, Bauman said, cannot veto license decisions.
And that was that. FPC had some cookies available after the meeting. We chatted with the "ratfucking" lady a bit. Sylvan Esso's Nick Sanborn had this to say:
if they bring up our band again could someone kindly remind them that we have played milwaukee several times

— Nick Sanborn (@MADEOFOAK) January 12, 2022
The second and final meeting is set for Tuesday, January 18 at 5:30 p.m. on the second floor of the Milwaukee Public Market. Wear a mask, or watch it via Zoom.
Exclusive articles, podcasts, and more. Support Milwaukee Record on Patreon.
---
RELATED ARTICLES
• FPC Live plans to open indoor venue complex near Summerfest grounds