A lot has changed since the last time Sylvan Esso performed in Milwaukee. Between the electro-pop duo's 2015 outing at Summerfest and last weekend's two-night, two-show Pabst Theater residency, the group—which, we'll remind you again, formed after singer Amelia Meath and then-Milwaukee musician Nick Sanborn met at Cactus Club—released its Grammy-nominated sophomore album, What Now. During that three-year span, Sylvan Esso also collaborated with WMSE on a Record Store Day 7-inch, toured extensively, played massive festivals all around the world, performed on a variety of late night shows (and The Gorburger Show), had a song featured on the new Amy Adams vehicle on HBO called Sharp Objects, and amassed millions upon millions of plays on various streaming platforms.
While the project that came out of nowhere to capture widespread attention with its self-titled 2014 debut went about proving it was here to stay, fanfare continued to swell and the group's reputation grew here in Sylvan Esso's kinda-sorta adopted second home. While The War On Drugs played a few blocks away Sunday night, a sold-out crowd packed the Pabst Theater for the second time in as many nights to witness the now-established indie-pop sensation's return to where it all began.
Before the headliners came out, Collections Of Colonies Of Bees took the stage. Playing a somewhat belated release show for HAWAII, the new and improved Milwaukee project (which formerly counted Sanborn as a member) played an entrancing and altogether entertaining opening set that was entirely populated by material from their astounding week-old album. Adding to the veteran band's guitar and percussive intricacies and the impressive vocal loops of newly-minted singer Marielle Allschwang were occasional cameos by Klassik. The versatile singer, rapper, and producer bolted out on stage early in the set to lend some bars and backing vocals on "Ruins."
After receding backstage to let the band play "For Ghost" and other songs with album-caliber accuracy, Klassik resurfaced to start HAWAII standout, "Harms," off with some improvised rap verses. As the song reached its crescendo of layered vocals, stacked guitars, and splashy cymbals, the guest performer and Allschwang won the few remaining CoCoBees doubters over with some artful choreography that found them dancing and swaying in unison as the soundscape and audience response grew around them. Despite being in a supporting role, it was a release show opportunity few local outfits would pass up, and Collections Of Colonies Of Bees made the most of it.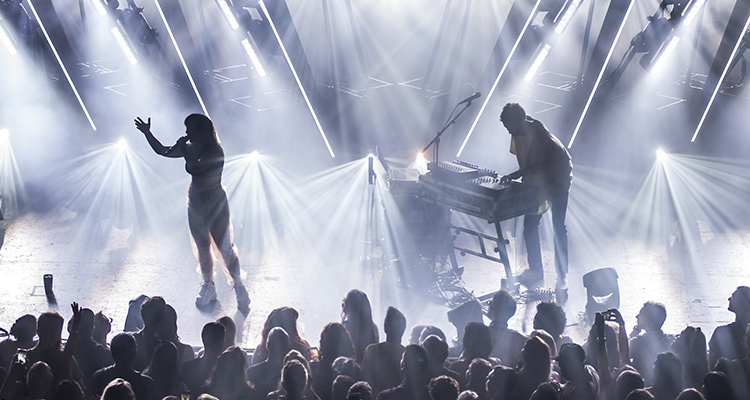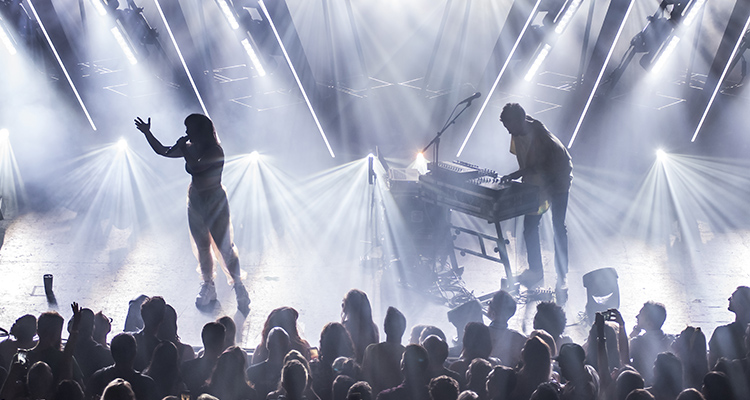 After Bees departed and the theater's few remaining seats filled in, the Pabst went dark and unmistakable ambient salvo of What Now opener "Sound" overtook the speakers and sent the sellout Sunday crowd into a frenzy. By the time the next song ("Could I Be" from the debut record) shot Sylvan Esso's set into gear, the dynamic duo's on-stage light display was in full swing and matching the group's intensity beat by beat. Tone effectively set, Sanborn made the first of many gracious and appreciative statements during his homecoming show by thanking the audience. "You could be seeing The War On Drugs, but you chose us," he said, before raving about his pre-show meal from the always great Benji's.
When Sylvan Esso played at Pabst Theater in 2014, they were forced to played almost every song in its catalog that spanned just one album. This time around, the setlist alternated between that eponymous debut and its 2017 follow-up. "Kick Jump Twist" found Meath heeding her own lyrical instructions, as the singer danced, bounded, and booted her way around the stage. Both her and Sanborn (when not tending to production duties) kept their feet moving and the energy high throughout the largely-uptempo set. While giving support to the new record with a few deep cuts from What Now, they managed to sprinkle their various popular singles and flat-out hits into various points of the performance. "Die Young" and "Coffee" both came and went before the midway point.
Following those two stunners (and "Jamie's Song" from the group's Radiolab episode), Meath asked the captivated crowd to help her breathe—or howl, rather—new life into "Wolf." They eagerly complied and filled the theater with canine cries that led perfectly into the song. Similarly, the majority of the Pabst (who stood and danced for the entirety of Sylvan Esso's stage time) skillfully provided the complicated claps in "PARAD(w/m)E" and eagerly took the brunt of vocal duties in parts of "Hey Mami" as Meath twisted and turned with each bass-filled drop. With the audience primed and thoroughly entertained already, Sylvan Esso closed things out with a particularly rousing rendition of "Radio" before briefly retiring behind the curtain.
The audience remained fixed on the empty stage as additional microphones and guitar amps were brought out. Soon, Sylvan Esso returned and Sanborn talked about once opening for Califone at Pabst Theater during his time with Decibully. After the story, he welcomed out CoCoBees and Mark Waldoch (whose Celebrated Working Man was also on that bygone bill) to collaborate on a cover of Califone's "Funeral Singers." Post-song hugs were shared and the guests left to let the headliners finish the already-unforgettable show with a one-two punch consisting of "Rewind" and a remix of "Play It Right" that Sanborn said was recorded at a Walker's Point loft.
The renowned project the world now knows and loves as Sylvan Esso has come full circle since its members met at a Bay View bar so many years ago. As their story, their list of accomplishments, and their catalog grows with each passing year, it's abundantly Milwaukee still holds a special place in Sylvan Esso's heart. And it's abundantly clear the feeling is mutual.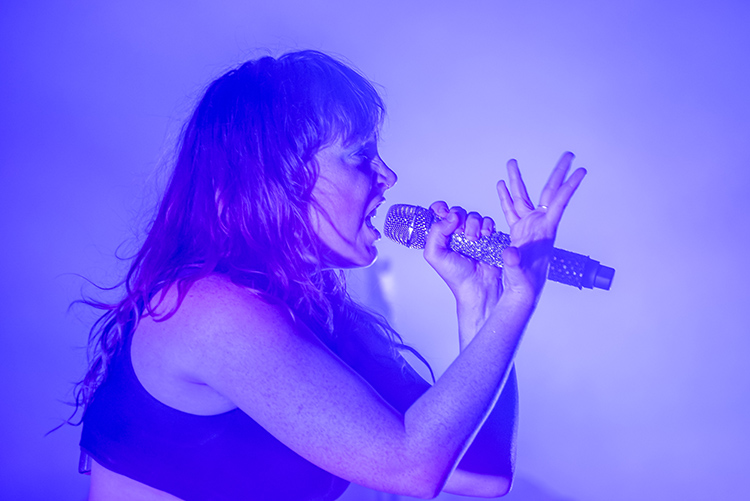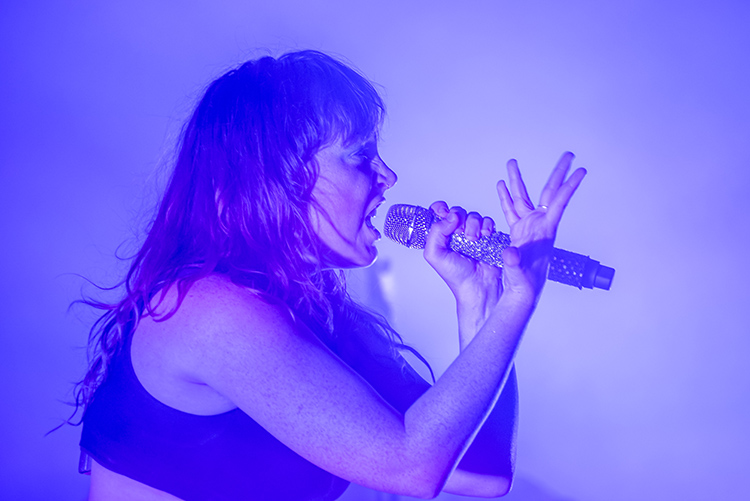 Setlist
Sound
Could I Be
Kick Jump Twist
Dress
Signal
Die Young
Jamie's Song
Coffee
Wolf
Just Dancing
The Glow
Uncatena
PARAD(w/m)E
Hey Mami
H.S.K.T.
Radio
Encore
Funeral Singers (Califone cover featuring Mark Waldoch and CocoBees)
Rewind
Play It Right