Nick Cave's most recent studio release is a 2021 duo album with multi-instrumentalist Warren Ellis called Carnage. Given that Cave's current tour is a rare one without the Bad Seeds backing him, it seemed a good opportunity to showcase some stripped-down recent material. Instead of Ellis, however, Cave enlisted Radiohead bassist Colin Greenwood as his lone accompanist for the tour, which got underway just over a week ago in Asheville and stopped at The Riverside Theater on Wednesday. It had been nine years, however, since Cave had visited Milwaukee, and he brought out a sample platter of misery and dismay from across his last several releases for the Brew City faithful.
When the house lights went down, Greenwood entered stage left and stood unassumingly with his bass guitar; Cave strode out quickly from the opposite side, his wide grin an intense showman's mask as he accepted the crowd's adoration before sitting down at the grand piano. His stage demeanor is that of a supercilious huckster; there's no question that he appreciates his fans' devotion, but his affected disdain is part of the fun, too. With the Bad Seeds, it's easy to play up the rock-star idolatry; for this tour, it's only Cave at the piano and Greenwood standing somewhat sheepishly across from him. The theatrics Wednesday night were as toned down as the music.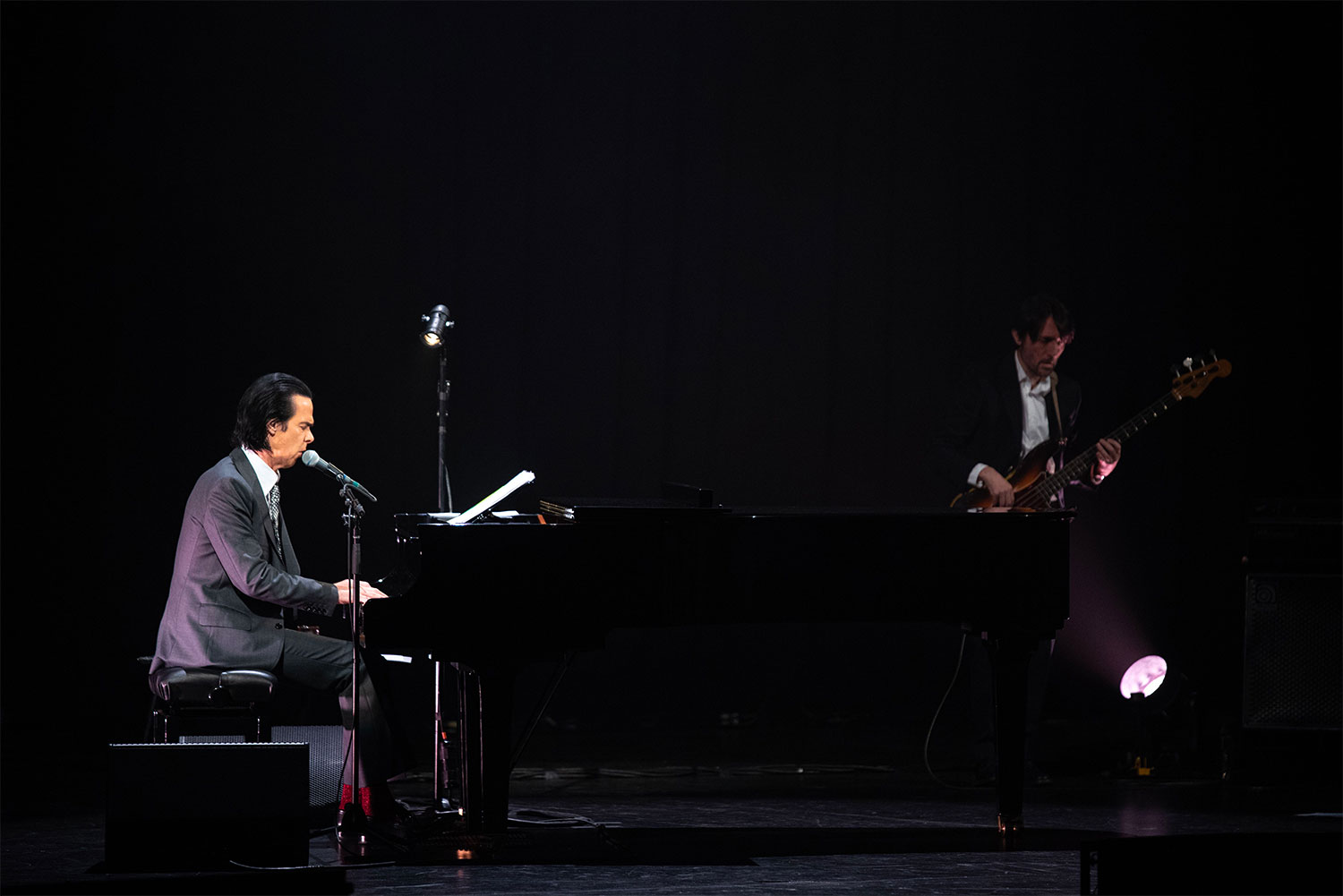 "We're gonna try and do some versions of my songs over the years, some new ones, old ones, ones you may not have heard before, in an extremely reduced form," said Cave, a gracious host, albeit one who isn't afraid to dive into heavy topics right when you walk in the door. Opener "Girl In Amber" was an immediate therapy session, a painful treatise on grief during which Cave seemed on the verge of breaking when he sang "If you want to bleed, just bleed."
Cave's output of the past decade in particular hasn't been the sort of music one listens to casually. Having lost two sons in this span, Cave has been making albums as well as films that deal with painful themes in a more direct way than his older work. The show could've been a miserable experience had Cave taken himself too seriously, but his charm and humor broke through even during some of his saddest songs, often in subtle interactions between himself and Greenwood, who generally watched Cave for cues with a sense of reverent delight.

Mostly, though, it was his banter that provided levity. Asking the crowd, for instance, if they liked his socks. "I had a green pair, and also a blue pair, back in the dressing room," he said. "I saved the red especially for Milwaukee." [laughter/applause] "I bet Thom Yorke wouldn't say stuff like that." True; Yorke surely must claim Cave as an influence, being another of the dourest rock stars around by reputation, but he couldn't pull off this type of attitude. Still, one could only hope for a similar outing from Yorke at age 66, chatting and doling out rarities for long-suffering fans.
For Cave fans, "Euthanasia" was a huge treat early in the set, a song that didn't make the cut when Cave had originally brought it to the Bad Seeds. "I played this little song that I'd written, and it didn't interest anyone. It was too small of an idea, or it appeared to be at the time. So it sort of disappeared, and I found it one day, and thought it was rather beautiful." Cave had only performed the song once prior to this year, and it featured some of the most arresting lyrics of the set.
One rousing tradition on this tour deals with the song "Balcony Man," one of only two songs off Carnage that Cave performed. He instructed folks in the balcony to scream any time he sang that word, and they gleefully obliged—even when the word popped up in the next song, "Carnage." Cave chuckled as if taken by surprise, although this too might've been part of the act.
Cave didn't play many of his best-known songs, nor did he dip into his rich pre-'90s back catalog much, but he did make time for his 1988 classic "The Mercy Seat," which, along with "Papa Won't Leave You, Henry" served as a bombastic highlight, and the set concluded with a powerful pairing of "Jubilee Street" and "Push The Sky Away." The crowd, prone to scattered standing ovations throughout the night, were all on their feet now and roaring for an encore after this. Cave and Greenwood returned to the stage and focused on two relatively unsung projects: the 2001 Bad Seeds album No More Shall We Part, and Grinderman, Cave's short-lived side project that called it quits in 2011 after two albums. He also squeezed in one more oldie, the rather brutal "Stranger Than Kindness," composed by former Bad Seeds bandmate (and Cave's romantic partner at the time) Anita Lane, which has been the traditional show-closer.
After this, Greenwood left Cave alone onstage for a stirring solo rendition of "God Is In The House." As he sang, one by one, dozens of fans left their seats and wandered towards the stage, to soak in one last moment. It was an almost spooky thing to witness in a mostly middle-aged and older crowd, and inspiring at the same time. After four decades of music and hardships most of us barely dare to ponder, Cave has not lost his shamanistic sway over his disciples.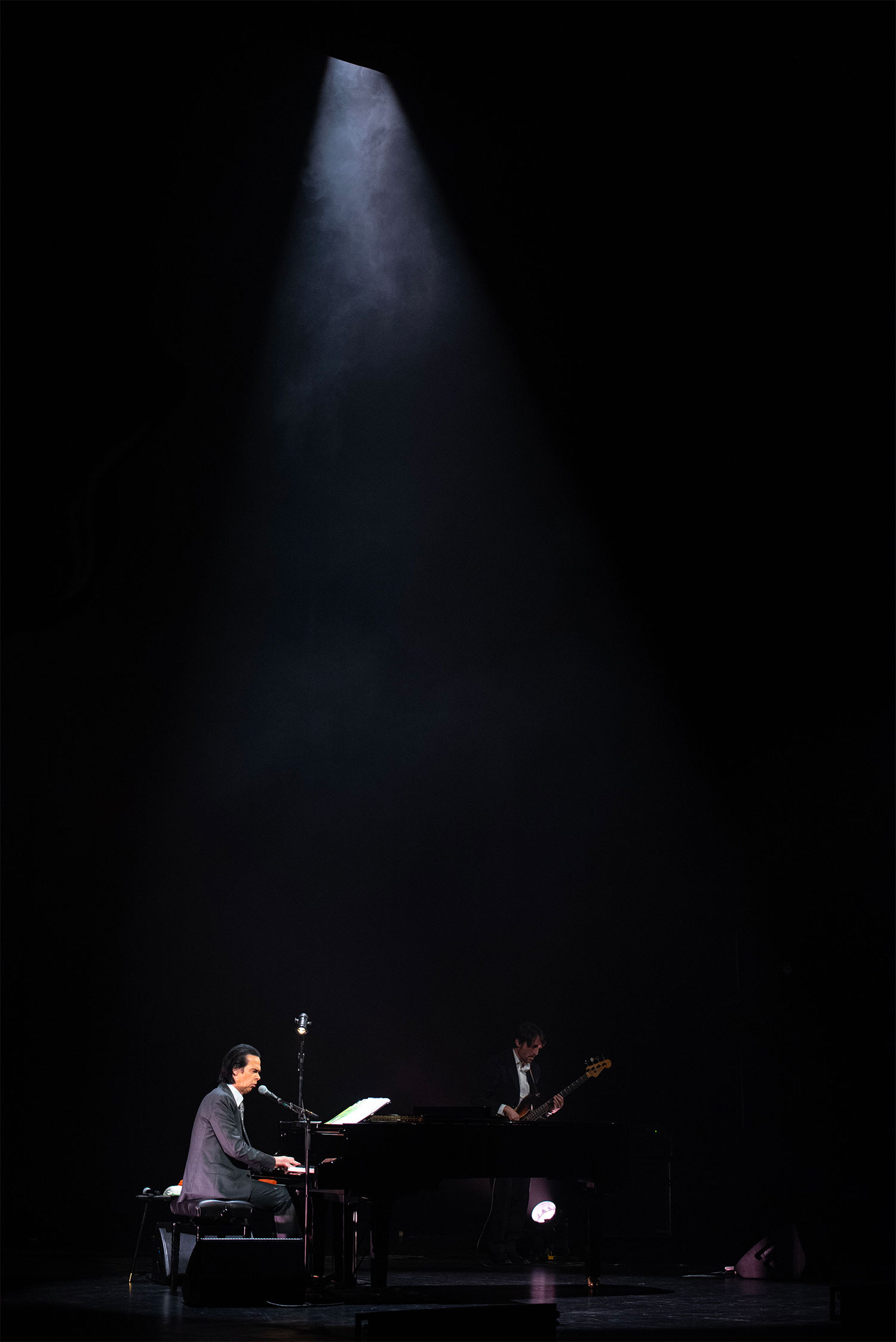 Want more Milwaukee Record? Subscribe to our free weekly newsletter and/or support us on Patreon.