Earlier this year, Milwaukee singer/musician/powerhouse/treasure Mark Waldoch released a song under his new Mark Waldoch & The Hallelujah Ward moniker called "The Blonde Song." Written by Charlie Bee and Taylor C. Hays, the song was/is a typically thrilling Waldoch performance: big, bold, raw, a little unnerving but ultimately redemptive. Now, there's an equally visceral video for the tune, featuring Waldoch donning a giant unicorn head and doing some late-night thrifting. Oh, and burning a bunch of Barbie dolls on a wintry beach.
"I came up with the whole concept over a year ago," Waldoch tells us. "Jason Puls directed it. This is only his second music video. We filmed it in winter all over Milwaukee and Door County while I was battling a next-level boss wave of depression with my doctor, and making this was a fine way to deal with that."
The video finds the singer visiting a number of Milwaukee locations (Antiques on Pierce, Fuel in Riverwest) and bumping into a few Milwaukee notables (Testa Rosa's Betty Blexrud-Strigens). It's pretty great. And where else are you going to find a closing shot like this: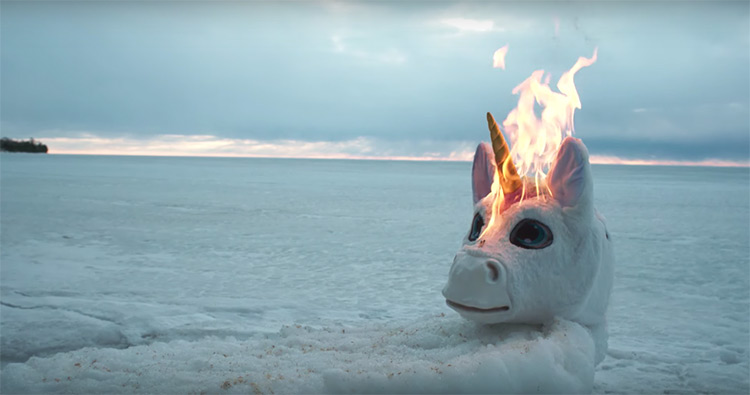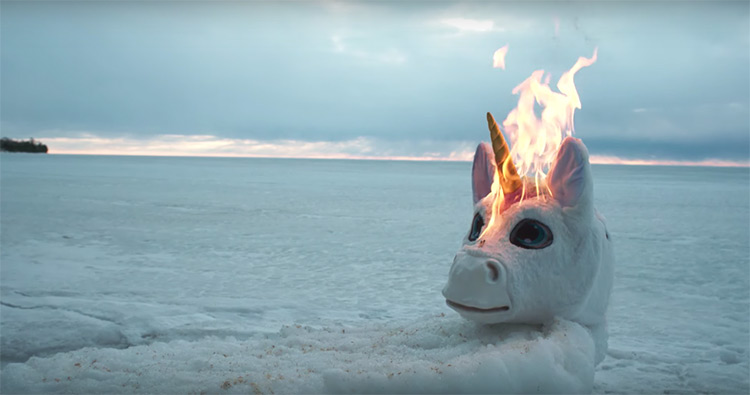 Waldoch's next show is Friday, August 16 at the Colectivo Lakefront Cafe, for our weekly Friday Nite Music series. Chances of Waldoch playing this song? Good. Chances of hearing his voice all the way over at Irish Fest? High. BE THERE.