Ah, the Walker's Point restaurant renaissance! These days, the transitional neighborhood's culinary and cocktail climate is all but indistinguishable when compared to the dining and drinking options available both on and around Second Street even as recently as five years ago. While the presence of no-frills Mexican food joints, gay bars, and factory-adjacent dives will thankfully never vanish entirely, the small plate revolution has recently reached its crescendo, giving parts of Walker's Point—a section of the city known for its vibrancy and acceptance—great food with a side of rigid exclusivity.
As the area grows more homogenized with each shrinking plate that's sparingly stacked with farm-to-table ingredients, there's a growing need for a simplistic new place to grab a sandwich and a good beer, lest diners be faced with going to Steny's for the 500th time. Enter Camino (434 S. Second St.), an unassuming craft beer bar with 20-taps and an unique-yet-accessible menu that opened on Second Street on October 16. With $3 Pabst pints, wings, and chili on the menu beside Three Floyds growlers, localized vegetarian takes on bar room staples, and charcuterie trays, could Camino be the bridge connecting free hot dogs at Just Art's and Movida's Spanish cider braised pork belly over uncertain Walker's Point waters? Milwaukee Record sought to find out.
The space: Having studied the vast menu in the days prior to our visit, we were somewhat surprised at the size (or lack thereof) of Camino. Not counting the dozen or so stools situated around the diminutive bar, Camino has 10 two- or four-top pub tables along the front window and flanking the thin corridor that runs the entirety of the establishment. At the rear of the restaurant, three dudes played arcade games (Donkey Kong chief among them) and pinball. As inoffensive '80s and '90s top 40s songs played, a rerun of Two Broke Girls showed on every one of the bar's TVs until someone realized football was on. With a stainless steel barback and brick walls, Camino's interior is sleek and stylish, yet classic and in no way forced.
The service: Once we took our seat, the bartender/server Greg wasted no time walking out from behind the pine to welcome us and issue menus along with some food recommendations. He was prompt, friendly, and already seemed to be well-versed in Camino's entrees and its beer list.
Milwaukee Record's food/drink: We started with a pint of Johnny Blood Red Ale ($5) from Green Bay-based Titletown Brewing, which has yet to carve out much of a Milwaukee presence. Camino's remaining 19 tap lines featured some expected area staples, such as Spotted Cow, PBR, a couple Lakefront options, and one from Lake Louie. Beyond state lines, the inaugural iteration of the beer list featured brews from Surly, Bell's, Founder's, Deschutes, Great Lakes, Alaskan, Three Floyds, and Boulder, among others. Though few (if any) beer options necessitate a visit on their lonesome, hop heads can be confident they'll have an apt beer pairing for whatever casual entree they order. There's also a modest wine and cocktail selection, but Camino is by all means, a craft beer bar.
Greg's glowing endorsement of Camino's Clock Shadow Curds ($8) proved impossible to deny. We left glad he'd steered us towards the unanticipated appetizer order. The fried golden hunks of white cheddar came out astoundingly fast, but the speed of delivery in no way hampered the quality. They were crispy on the outside, gooey within, and quite the filling starter, even when split between two people. We weren't completely sold on the cold Russian dressing that was promoted to dipping sauce, but the curds were good enough sans sauce to make it a non-factor.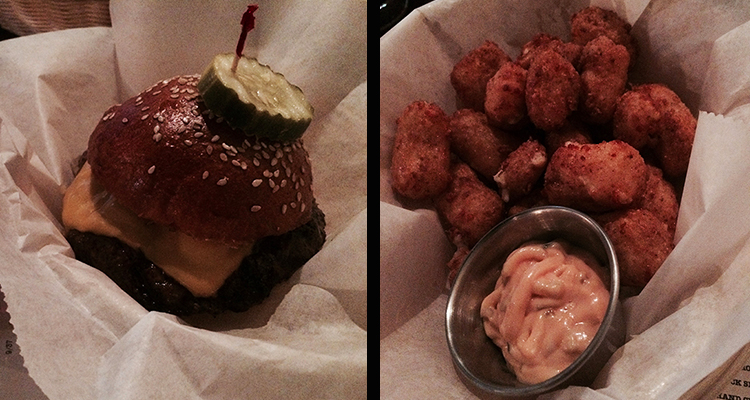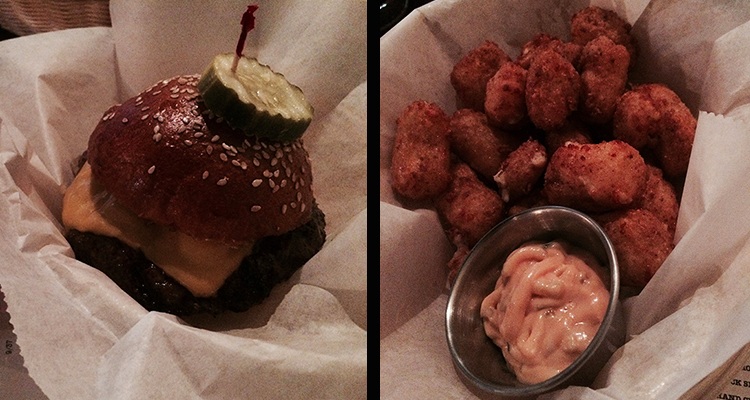 While we certainly appreciated Greg's stumping for the Beet Reuben (wherein beets took the place of corned beef), the Walker's Point Wings, and the Brussel Sprout Grinder (again, with sprouts substituted for meat), we ultimately opted for the Camino Burger ($10). Along with the wings, rib eye, seared yellowfin, fried chicken, and a select few sausages, the burger was one of the bar's limited meat options. Still, our burger was grilled exactly to our medium specifications. Save for a pickle, American cheese, and grilled onion, the hefty pub burger was absent of condiments, though Greg didn't seem to mind dropping some stone ground mustard off at our table to take an already satisfying burger to the next level.
Even though we filed the intriguing Brussel Sprout Grinder and Beet Reuben away for future visits, we managed to steal a bite from our guest's Kimcheese ($6), a kimchi and grilled cheese hybrid that perfectly combined three melted cheeses with the zesty Korean vegetable standard.
The verdict: With Second Street's epicurean identity up for grabs, it's refreshing to know there's somewhere like Camino, a place devoid of pomp where chicken wings and kimchi, bloody burgers and deconstructed brussel sprouts, and menagerie of beers at all price points can exist together in perfect harmony. We'll be back and we hope to see you there.