After putting out close to 50 releases from approximately 35 bands since 2005, Milwaukee's Dusty Medical Records absolutely has cause to celebrate. To mark the long-running label's decade-long run, founder/owner/everything else Kevin Meyer organized Dusty Medical Records 10th Anniversary Festival which found more than 20 acts from the U.S. and Canada (and mostly Milwaukee) playing a combined seven shows in Bay View and Riverwest from Thursday night through Sunday. Milwaukee Record co-founder/editor Tyler Maas and new contributor Arielle Smith joined forces to take in (almost) every note. Beyond the remarkably good lineup, the celebration also featured an art show, free Indian food, a nearby marijuana legalization rally, and an overriding spirit of togetherness and collaboration by bands whose only common thread is one small Milwaukee label.
THURSDAY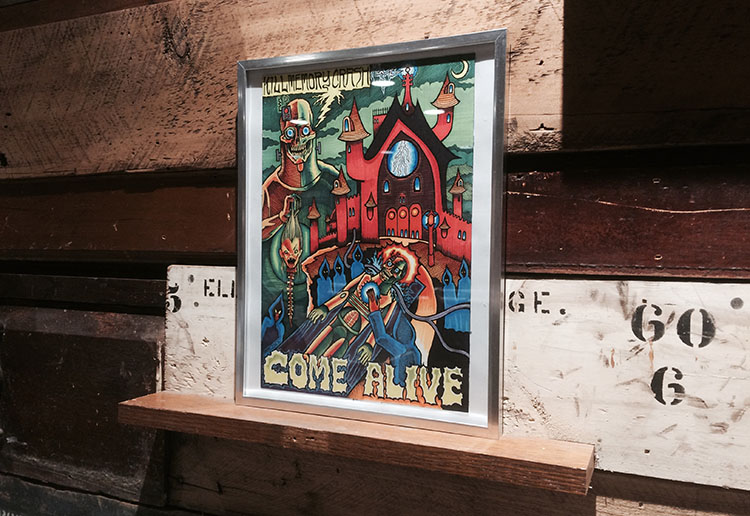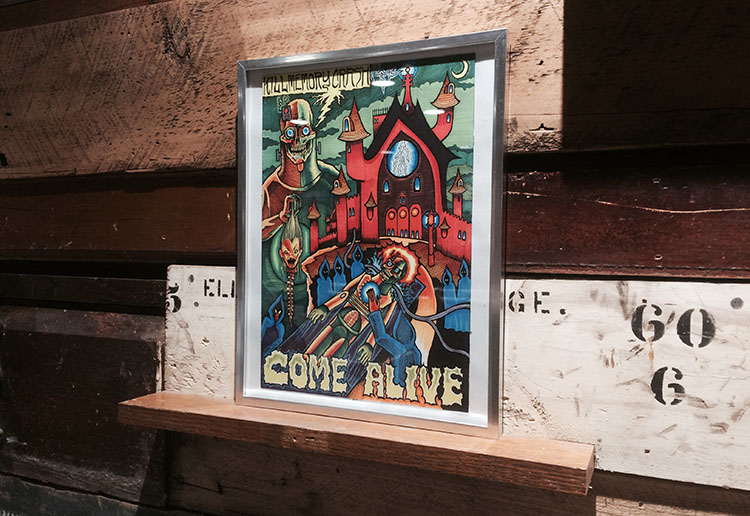 Ironically, the festival was kicked off at Acme Records by the only two acts with no direct Dusty Medical connection. Following a showing by Milwaukee artist and Drugs Dragons singer Luke Chappelle, The Ornerys took the single step up to the shop's small stage. The free show had Record Store Day-like attendance and the relatively unknown trio brought a basement show feel to the event. Featuring a drummer (with no hi-hat) as its lead singer, two guitarists, and no bass player, the band started things off in rowdy and enjoyable fashion with unpolished gems like "Fuck Me Up", "Gimme Some Drugs" and "Eric Poops." After the band incited a "Boz Scaggs" chant, Holy Shit!–which is also 10 years old–crammed an hour worth of energy into a 15-minute package, including an especially memorable rendition of "You Don't Care That I Die" that saw singer Tab Man, who also drums in Phylums, going wild in his first of two Thursday shows. Nearby, a guy with a rat tail dreadlock emitted a strange odor that was alarmingly similar to Doritos' short-lived Late Night All Nighter Cheeseburger chips. Even more strange…we liked it.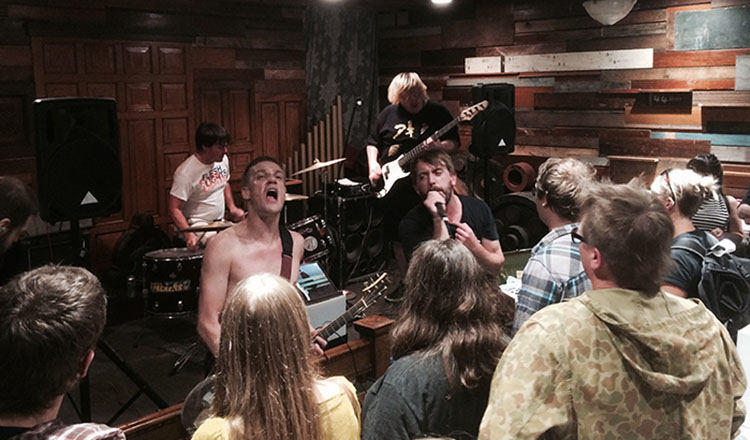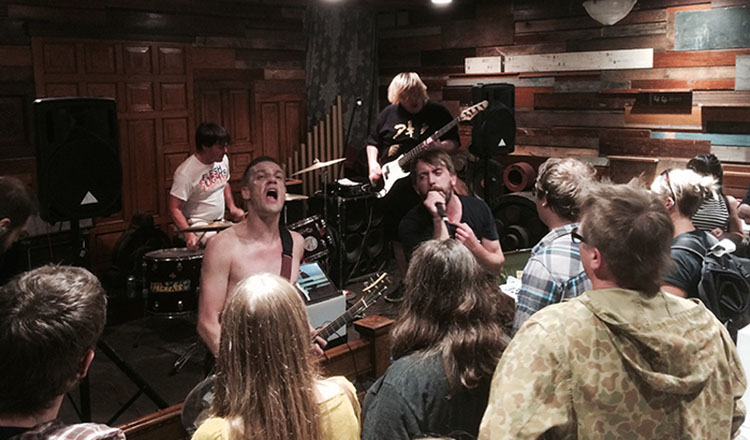 Phylums might have decided to put its great debut LP, Phylum Phyloid, out on Dirtnap Records, but its infectiously poppy brand of three-chord rock and roll was right at home on the first official 10th Anniversary festival show, which took place at Club Garibaldi. They started off the well-attended show on the right foot with an upbeat set heavy in new material, including "I Gotta Know" and "Stutter Bug." Like Dusty Medical, The Midwest Beat also started in 2005. Since then, they've grown together. The show doubled as release show for the band, which put out a two-song 45 on Italy's Wild Honey Records. In addition to playing both of those songs, they traversed all points of their extensive catalog with tight four-part harmonies, including "High Life," the standout single from its latest Dusty Medical release, Free Of Being. The label's newest act, Midnight Reruns, proved to be a perfect way to close out night one. After starting with "Eyes On The Sunset" from its recent self-released EP, the pop-rock quartet played a set almost exclusively populated with songs from its awesome forthcoming record, Force Of Nurture, which Dusty will release in October. A few exceptions include a new song apparently about deep web and a set-ending cover of "The Other Man" by (label founder Kevin Meyer's former band) The Mistreaters before calling it a night. [Tyler Maas]
FRIDAY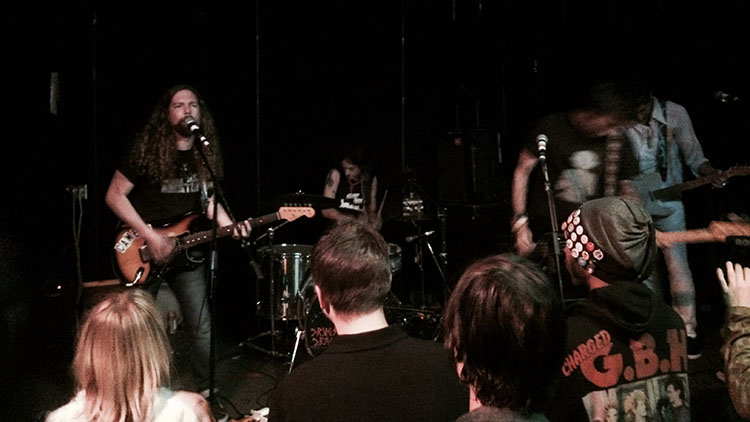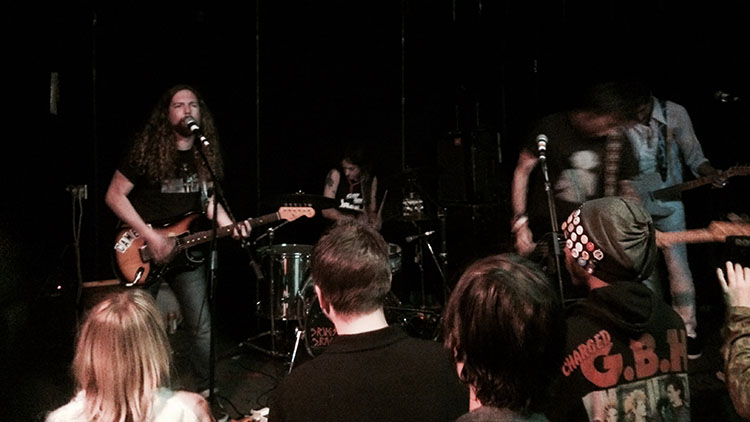 Friday's festivities brought a quintet of bands whose harsh, piercing sounds cut through the foggy, overcast evening. After Drugs Dragons opened things up and Detroit's Johnny Ill Band followed, the fest's first reunion set came to be, as Chicago's A/V Murder–featuring Milwaukee transplant and Vanguard co-owner Jim McCann on vocals–played a quick, blistering, and memorable set that left an impression on the respectably-sized Cactus Club crowd. One of the long-held TBA slots on the lineup turned out to be Montreal collective Red Mass. The group's rotating cast included a familiar bass player, Kevin Meyer, as well as the third Tab Man sighting of the past 30 hours, as he played saxophone for a song. The majority of the audience, however, was there to see New York (by way of New Hampshire) punk rockers LiveFastDie, who brought the show home in grand fashion with a tight, loud, and frenzied performance. [TM]
SATURDAY
Saturday saw the party move to Riverwest, with the day's events kicking off at Quarters.  Undeterred by the gloomy weather, a sizable crowd showed up early for free tacos and some DJ action from the inimitable Von Munz and Warlock. While the slightly eerie feeling of being at Quarters in the daylight was something to reckon with, the music kicked off around 5, led by Milwaukee's Midwives, who scorched through their set with their typical smart take on hardcore. Despite being plagued by some technical difficulties including a broken guitar string that saw guitarist Graham Hunt borrowing an instrument from Platinum Boy Matt Pappas (How's that for a sense of community?), Midwives' intensity remained thoroughly intact.
Up next was Head On Electric, whose garage-psych feel offered a different kind of intensity. Favoring heavily effected vocals from singer Erik Oley and a tendency to jam, just a little, HOE revealed midway through their set that in addition to being Dusty Medical Records 10th anniversary, it was the band's tenth year together, too. If their set was any indication, they're to be wished many happy returns. The show took a turn towards classic rock and roll in it's second half, starting with Ramma Lamma's signature glam rock sound. Best when a bit wound up, the band bounced through a set laden with catchy–dare it be said–danceable tunes, replete with that good-natured and energetic, good times rock vibe. Speaking of energetic, the already-beloved fellows of Platinum Boys took the stage next, bringing with them a well-crafted classic rock sensibility and a whole lot of irresistible groove. Including a cover of Creedence Clearwater Revival's "Born on the Bayou" and a performance of their gem of a single, "Candy," they closed up Saturday: Part 1 without missing a beat.
After just enough of a break for a kabob, volcano bowl, or disco nap, it was time to head to Mad Planet for the 9 o'clock festivities. Arguably the most can't-miss of all the shows on the festival bill, owing entirely to the much-anticipated, very-welcome reunion of The Goodnight Loving, the evening started off with some deep cuts from DJ Greg Cartwright, of Reigning Sound fame. The live music portion of the night began with Milwaukee's own Space Raft. Sounding not unlike a psychedelic Superdrag, Jordan Davis and company went through a brief set of pure pop melody siphoned through a thick psych haze. Up next, Montreal's Tang Soleil offered a sprawling take on bright, eclectic garage pop. Holding their own with good nature and anecdotes about falconers, they favored a shorter set. By virtue of their placement on the bill, it was rather unavoidable that the crowd would thin slightly for their show. Considering that many in the audience were on their sixth band and 700th beer of the day, it was understandable that the energy in the room took a brief hit. However, the crowd reclaimed their lost energy as soon as Tuff Bananas started up. Sassy as hell, Tuff Bananas made standing still impossible, and their feel-good anthems encouraging the crowd to "do it if it feels good" were just the thing to liven up a weary crowd.
This excitement continued as the crowd waited for the crown jewel of the fest–The Goodnight Loving reunion. No band is as synonymous with Dusty Medical Records, and no band in recent memory has quite touched GNL's ability to weave the personal and profound into their songwriting. Taking the stage to some raucous cheers, The Goodnight Loving opened with the perfect "Dead Fish On the Banks," and proceeded to have the crowd eating out of their hand for the rest of the night. By far the lengthiest set of the day (with good reason), the show felt like a true celebration. From country-tinged rockers like "Ol' Geraldine" and "Drag," to the softer sounds of "Another Foggy Yesterday" and closer "Purple Death (Theft)," you'd be hard pressed to find a happier crowd or a warmer, more ideal setlist. While the crowd was loath to see them close up the show, The Goodnight Loving had something up their sleeves–A three-song encore featuring Greg Cartwright on vocals and guitar and including a cover of "Musty Shade Of Brown" by Davis' former band, Mystery Girls, that was not to be missed. [Arielle Smith]
SUNDAY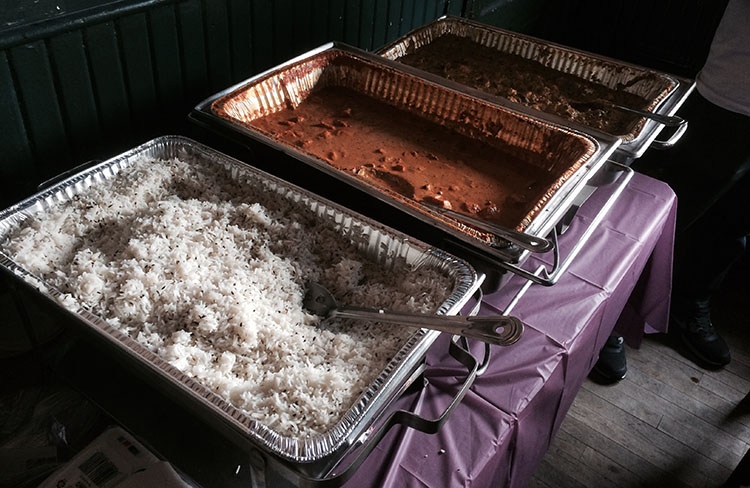 By Sunday, many folks who had gathered at Linneman's wore the same familiar look of fatigue brought on by the three previous nights of fun. Still, it was a packed house for the finale. The matinee show–located across the street from a two-man marijuana legalization rally–featured the best opener imaginable: free Indian food. Note to all Milwaukee bands: always do this for every show from now on. As the strikingly similar scents of chicken tikka masala and hungover people who couldn't motivate themselves to shower wafted through the air, Sugar Stems played a semi-acoustic set with the help of some friends. Specifically, the quartet was flanked by two background singers and (it should be obvious by this point) Tab Man, who sprinkled in saxophone, xylophone, and tambourine into the relaxed and well-received performance that featured "Make Up Your Mind", "Love You To Pieces", and "Can't Wait."
Earlybird audience good and primed, Asheville/Memphis singer-songwriter Greg Cartwright of Reigning Sound and Oblivians fame put an emotional bow on the otherwise raucous four-day affair with a solo set that had the audience eating out of his hand. Bellowing exposed lyrics about love and loss at the top of his lungs, the veteran troubadour reduced the room to complete silence with emotionally evocative renditions of songs like "Debris" and "Stop And Think It Over." Between songs, a woman asked him "How are you this awesome?" Without missing a beat, Cartwright deadpanned "Alcohol" for a rare laugh in the otherwise serious show. When he was called back up for an encore, Cartwright decided to dust off "Better Man Than Me," from his 2009 Dusty Medical album Live At The Circle A to help bring a fitting conclusion to a weekend of togetherness, collaboration, and just plain great music that was all connected by a one-man record label that had a hand in the release of so many memorable releases. [TM]