Milwaukee loves donuts. Dozens of bakeries in the city and its surrounding suburbs help people get a sweet start to their day with long johns, crullers, jellies, powdered, cream-filled, cake donuts, and more. If you're looking for the "hole story" on Milwaukee-area breakfast pastries, let our Dollars For Donuts column be your guide.
If you've read this series with any regularity, you're probably aware that mini donuts are kind of "a thing" in and around Milwaukee. Since Sil's first established a stronghold on North Avenue (for a time, at least) and at Summerfest, the dusted morsels of fresh-fried dough have also become part of the fan experience at Fiserv Forum and Miller Park. Thanks to Happy Dough Lucky, folks are now able to get their mini donut fix at farmer's markets, the new Mequon Public Market, and at countless other locations that decide to solicit the mobile donut outfit's services.
Since first coming onto the scene back in 2015, Happy Dough Lucky has slowly-but-surely become a fixture in the metro Milwaukee donut market. At its outset, the breakfast pastry purveyor was a vendor at local farmer's markets, block parties, and other instances calling for a dash of sweetness. Thanks to its automated system, Happy Dough Lucky is able to churn out consistent and perfectly-fried mini donuts in a variety of settings. Not coincidentally, as its setup has improved, its business has grown.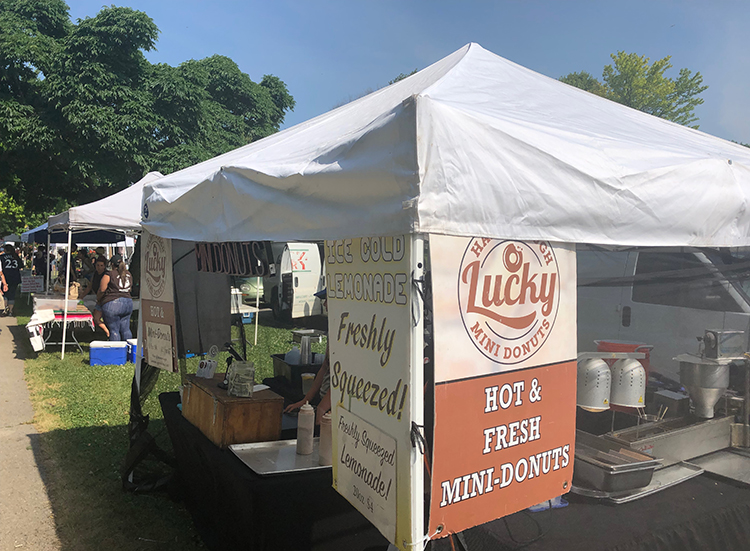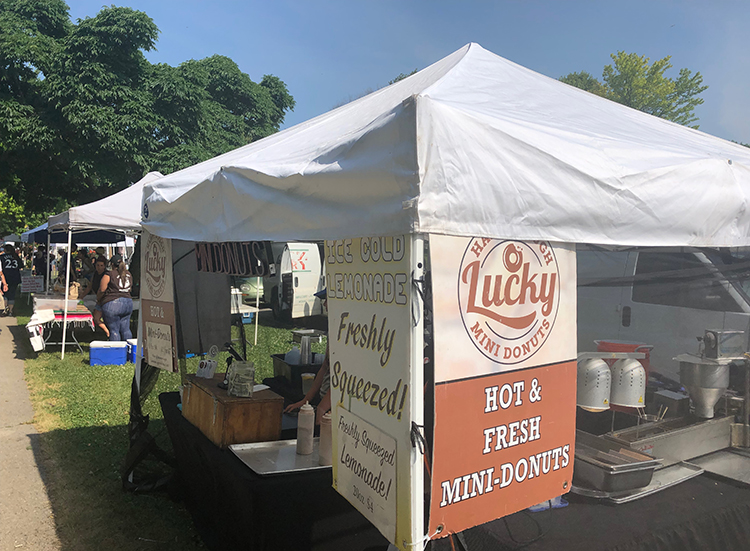 Despite being a permanent tenant in the brand new Mequon Public Market and also making a concerted effort to increase its catering presence at private functions, the business—which got its start exclusively in pop-up settings—Happy Dough Lucky hasn't forgotten its grassroots beginnings. Each summer, the stand can still be found at a variety of outdoor functions, including a regular presence at the South Shore Farmer's Market. Saturday, we took a lap at the vibrant Bay View marketplace and, while doing so, we enjoyed a fresh sack of Happy Dough Lucky mini donuts.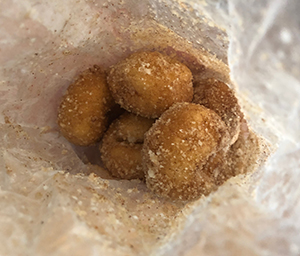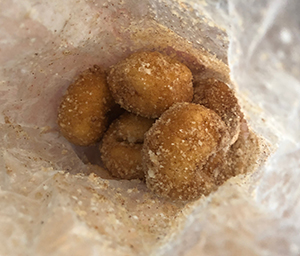 This particular weekend (perhaps in response to the high temperatures), Happy Dough Lucky had a donut monopoly at South Shore Park, as the East Side Ovens and Lopez Family Bakery stands—both of whom are known to stock donuts from time to time—allocated their table space to other items. Though it appeared that Happy Dough's fresh-squeezed lemonade was a far more popular option during our brief visit that hot and humid morning, we were glad to see the vendor hadn't also abandoned plans to serve up mini donuts.
Like Sil's and Fiserv's mini donuts stands, Happy Dough Lucky's goods are priced modestly. A bag of six runs a scant $4 and a dozen will set customers back only $7. Also like its counterparts, Happy Dough Lucky's mini donuts are topped with cinnamon sugar, powdered sugar, or a mixture of both. Already clutching a bag of Lopez Bakery's downright awesome bean and jalapeno tamales in one hand, we decided to keep it light with a six-pack of donuts that were liberally topped with both sugar varietals.
Less than two minutes later, our other hand was holding a wax paper bag containing six fluffy, piping hot, and sugar-buried donuts. We found Happy Dough Lucky's take to be thicker, softer, and—to be frank—better than renditions we'd had at Sil's and at the Forum. While they didn't exactly reinvent the mini donut, Happy Dough has certainly improved upon it with an effective frying process and massive granules of sugar. After this enjoyable first impression, we're interested in making our way to their flagship location in Meqon sometime to see how their specialty options stack up. Whether you encounter them at a farmer's market, a Public Market, a wedding, an office function, or anywhere else, you'll be glad you found Happy Dough Lucky.