Absence makes the heart grow fonder. While Blue Ox Music Festival managed to put together some impressive remote and socially distanced programming in 2020, we really missed the usual festival experience last year and were very excited to get back into it in 2021. Would a festival such as this live up to our expectations after we had such great experiences in 2018 and 2019 and then a year off? Let's find out!
Blue Ox Eve – Wednesday, August 18

Nighttime: Half of our team goes up a night early and stays at the Oxbow Hotel in downtown Eau Claire. A nice, modern hotel/bar/restaurant/event space with an outstanding burger, the Justin Vernon-owned joint provides the perfect space to spend Blue Ox Eve. You can shuttle to and from Blue Ox from the Oxbow, too!
Day 1 – Thursday, August 19
8 a.m.: Driving down Water Street on our way to set up camp at The Pines Music Park, a car that looks just like the one Mr. Miyagi gave Daniel in The Karate Kid was parked next to a bubble machine. We're off to a good start.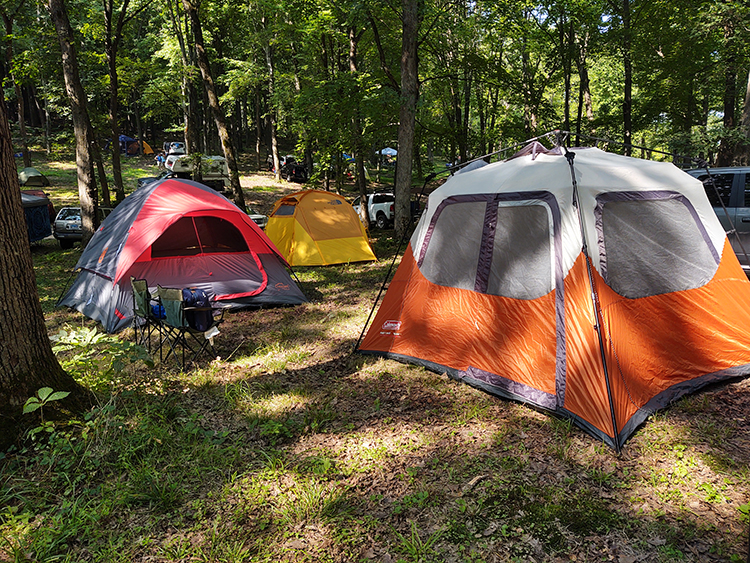 We pull into the Fields Gate and before entering the park, nice folks ask all entering cars for proof of COVID-19 vaccinations or recent negative tests. They also have free testing on-site. Good stuff. As always, there are 12 billion volunteers located throughout the park to help everyone get to where they need to go. For the third consecutive Blue Ox, Milwaukee Record takes up residence in the Woodchuck camping area. We would never regret that decision.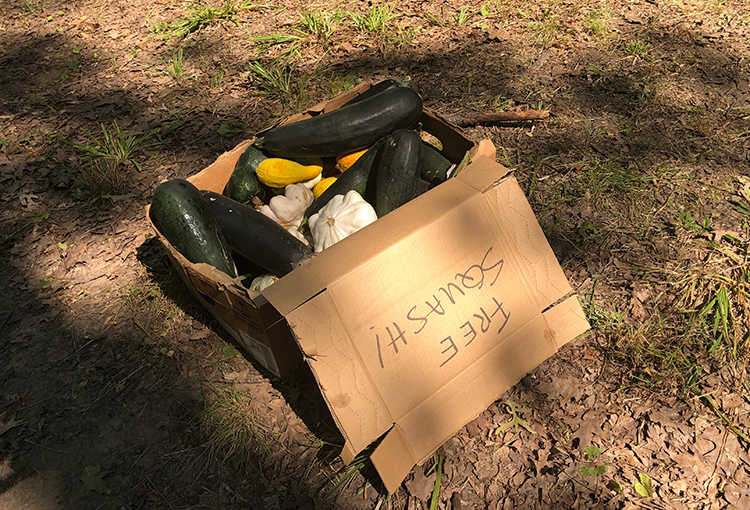 2 p.m.: Erected tents, open coolers, great neighbors, and a sign that says "FREE SQUASH!" are all part of the early experience for those in our group embarking on their maiden Blue Ox voyage. We talk about air fryers and Buffalo Gospel over High Life and homemade sandwiches. Our neighbors are also from Milwaukee, so Bobby Portis conversations are frequent.
4:45 p.m.: The concert area is slowly filling up as we enter and the Kyle Tuttle Band is warming up on the Main Stage. It's hot, but there are plenty of hydration stations, as always. They also have beer, so we also buy beer. Cash only.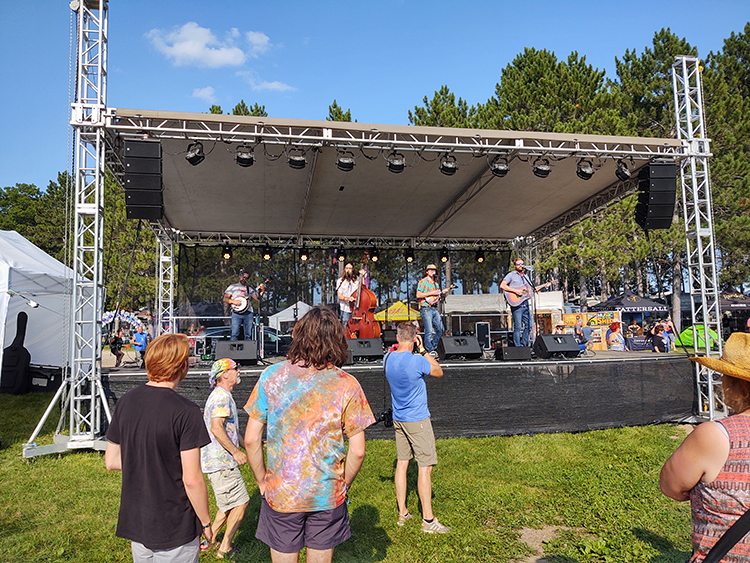 4:57 p.m.: Blue Ox 2021 kicks off with announcements and a great first set from Arkansauce on the Side Stage. For those not familiar, the Concert Area features a Main Stage (really big), a Side Stage (smaller, on the opposite side), a beverage tent, a bunch of food trucks, merch tents and tables, and even hammocks. Anyway, Arkansauce's "Peephole" gets everyone off to a hot start. Here we go!
5:30 p.m.: We've always been amazed at the multi-faceted music festival's ability to stick to the schedule, so the switch to Kyle Tuttle Band on the Main Stage at 5:30 sharp is impressive, yet unsurprising. Tuttle's banjo mastery drives the crowd through some great early evening jamgrass, including a nice little jaunt into John Denver's "Leaving On a Jet Plane."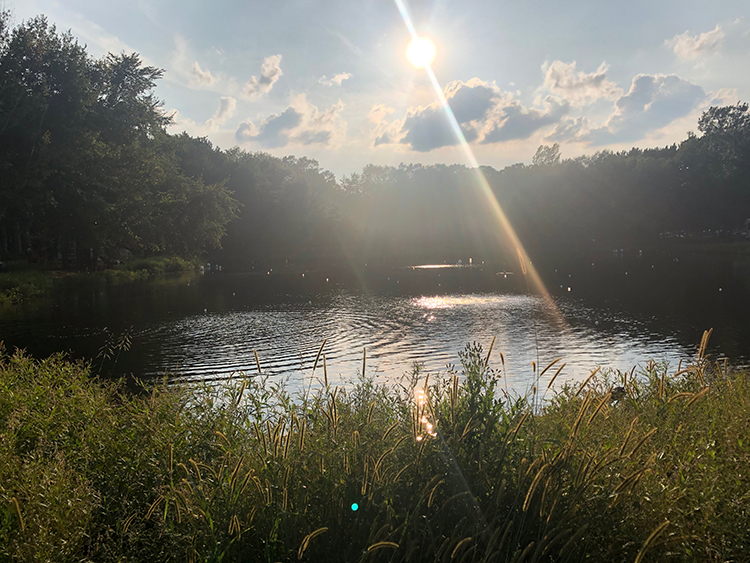 6:30 p.m.: Back to Arkansauce on the Side Stage. Again, if you're not familiar, the Side Stage acts generally play two 30-minute sets separated by a longer set on the Main Stage. Got it? More good stuff from Arkansauce as a nearby group discusses a story that ended with, "So then my mom gets a call from the nosy neighbor saying that a suspicious orange-haired man is in our pool." We don't have a pool here, but we do get another round of beers and head for some shade.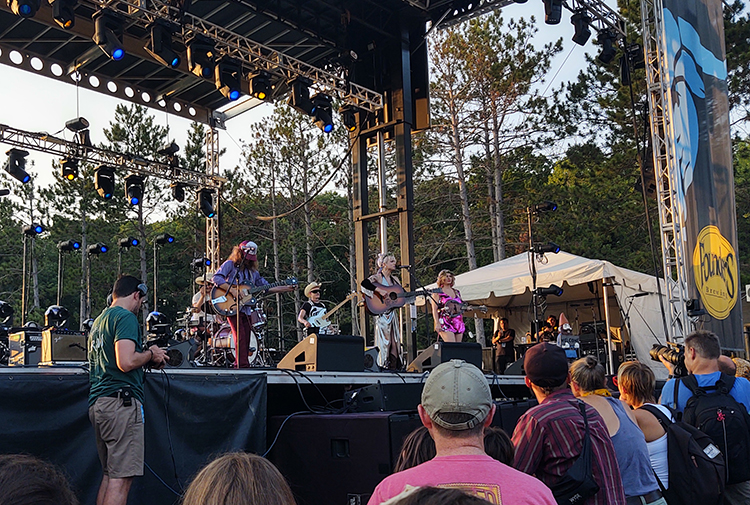 7:07 p.m.: The Lillie Mae set starts seven whole minutes behind schedule, but everything will probably be fine. The band looks sharp and plays some great country and Americana tunes that always make for a nice bluegrass palate cleanser, but they also wail on a nice bluegrass breakdown late in the set with Lillie herself moving from guitar and lead vocals to fiddle.
8:17 p.m.: The Kind Country Band takes the Side Stage for their first of two sets, and there's so much love in the air for these guys following the passing of mandolinist and singer, Max Graham, this past March. There's lots of great music and even greater vibes going through their evening performances.
8:45 p.m.: Stevens Point mainstays Horseshoes & Hand Grenades celebrate 10 years of banddom on stage while we wrangle up a bunch of fried snacks from the food trucks. There's lots of great food to be had this year! And we're pretty sure Adam Greuel used the word "humdinger" on stage, so you know fun is happening.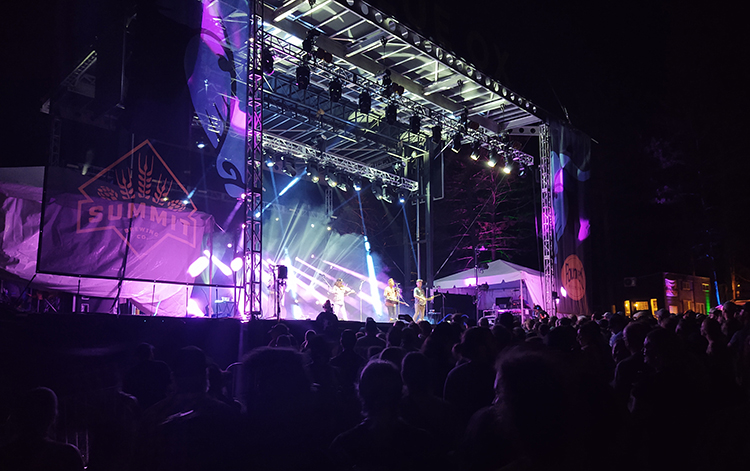 10:30 p.m.: A favorite from past years, The Infamous Stringdusters are a blast once again. We get deep into the pit for some serious progressive bluegrass. Is that what you call it? We're bad at classifications, but it's fun as hell. Go see them live (preferably at Blue Ox).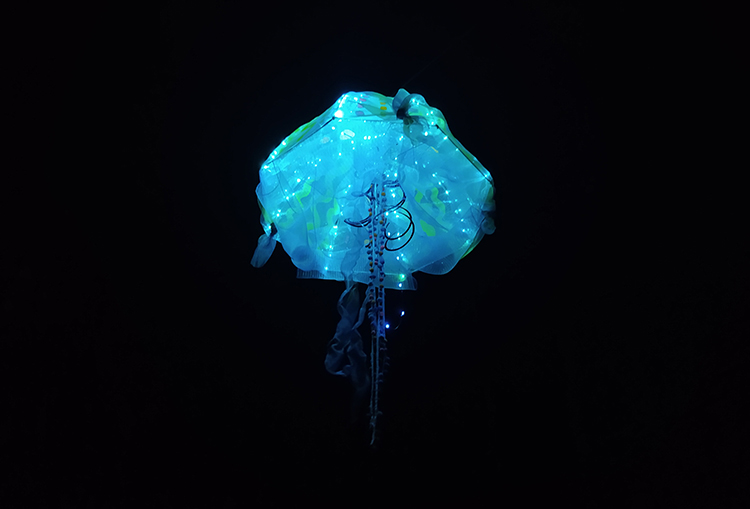 11:15 p.m.: We dip out of the Stringdusters a little early to go back to camp and do a little socializing before the Backwoods Stage shows (located in the Woodchuck camping area and surrounded by glowing jellyfish hanging from the trees). Mae Simpson is warming up and sounds fantastic! We all make jokes about how she's probably one of Marge Simpson's sisters, but then we remember that Bouvier is Marge's maiden name, so Mae Simpson probably isn't Marge Simpson's sister.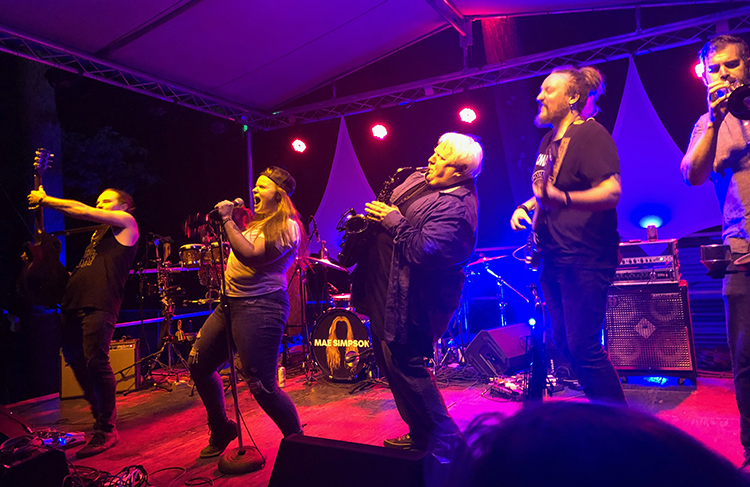 12 a.m.: Admittedly, we're exhausted from our trip across the state immediately followed by about eight hours of watching live music, but Mae Simpson's horn-laden soundcheck lures us to the Backwoods Stage for one of the most energetic and memorable performances of the weekend. The Twin Cities-based band led by astounding vocalist and namesake Mae Simpson bucks Blue Ox's bluegrass-leaning tendencies with a lively blend of rock and roll, blues, folk that throws the couple hundred night owls looking on with us into an after hours frenzy.
Day 2 – Friday, August 20
11:30 a.m.: There are Backwoods Stage shows running consecutively with shows running in the main Concert Area this year. In past years, we might worry about catching everything, but we're trying to report on the experience more so than every drop of music this year, so we're just going to take it as it all comes and see what happens. Hopefully it works. (Do you like this so far?) We catch a little bit of bluesy goodness from Doug Otto and the Getaways on the Backwoods Stage before reporting to Sunny War at the Main Stage.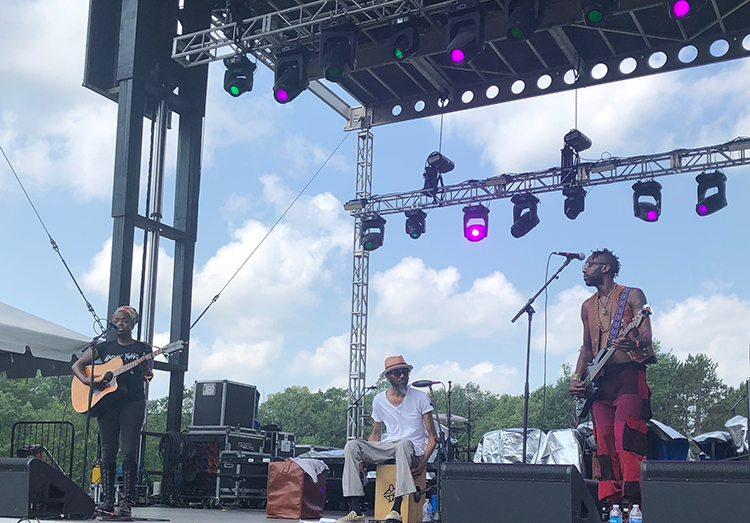 11:45 a.m.: We grab some Wonderstate cold brew from a nearby stand and settle in for the majority of a standout set from Sunny War. Between jokes about her bassist's patchy new pants, Sunny War and her backing band treat early-day attendees to smooth and satisfying songs with emotional melodies and all-around gorgeous vocals. The weather is nice, the sun is shining, and spirits are high. This set helps to establish the tone for a great day of music ahead.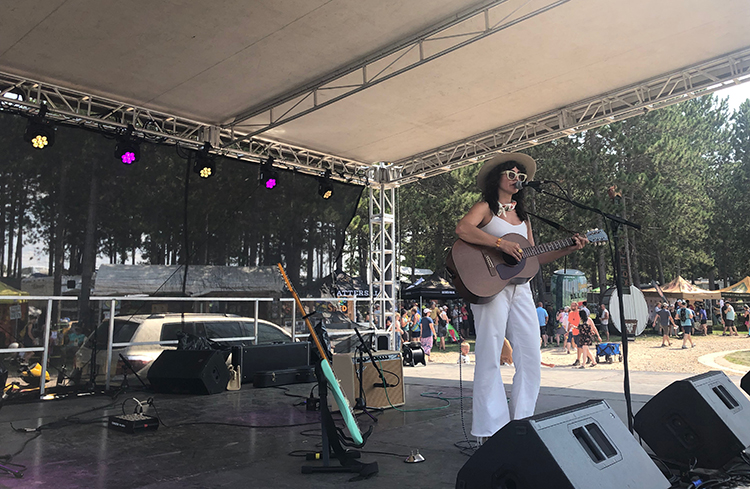 12:30 p.m.: Duluth singer/songwriter Lanue was a late addition to the Side Stage lineup (we're talking late, as in being booked a day earlier), but the dreamy songs she plays on her mint green Jazzmaster are just right for those of us still getting our legs under us today. She announces that she wrote her song "Mexico" during the winter. Honestly, what else would you write about in the northern Minnesota winter?
1 p.m.: On the Main Stage, Henhouse Prowlers come out with a little barbershop vocalization before cruising through some super fun bluegrass with banjo legend, Tony Trischka. Energy is up all around…except inside a little covered Radio Flyer that crosses our path, where a little kid with his belly hanging out is fast asleep. We're having fun, but just a little jealous of that dude's setup.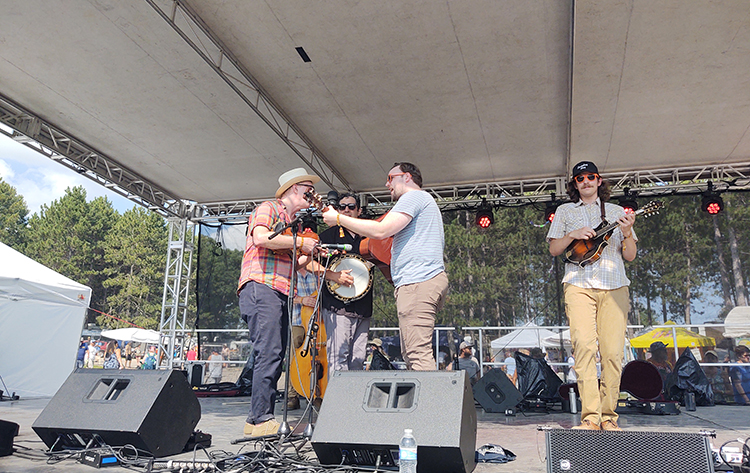 2 p.m.: The High 48s keep that energy going with some action-packed bluegrass and the crowd is really into it! We snag delicious strawberry seltzers from the beer tent and find a shady spot to watch the show.
2:30 p.m.: Buffalo Galaxy has great bluegrass and perfect jean shorts going on the Backwoods Stage. A little Dead never hurt anyone, so we're not a bit mad at their fun cover of "Cumberland Blues."
3:15 p.m.: The Lil Smokies was our favorite act overall at Blue Ox 2018 and we try to catch them whenever possible, but we miss most of their set this time. However, we managed to catch their easy-going and funky cover of Huey Lewis' "Power Of Love" with Kyle Tuttle supplying some banjo heroics. Speaking of heroes, a baby in a Gilligan hat is pushing a volleyball around like a champ.
3:30 p.m.: The High 48s return to the Side Stage and pile on more high-octane bluegrass, starting with "Sawmill Town." Then, over the span of about 45 seconds:
• A woman carrying a beer and a plate of food near the Side Stage trips but doesn't spill anything
• We see Lanue walking by, just checking things out (she also doesn't spill anything)
• A young lady is shooting a bubble gun and a nice older woman tells her how much she likes it
• A nice older man tells the nice older woman that he's had 17 drinks and they both smile
4 p.m.: We spend the next hour seeing a little of Good Morning Bedlam, a little of Molly Tuttle, and looking for the Soul Sanctuary. Super innovative and solid music from female-heavy acts is a welcome change from what can be a guy-heavy scene at times. We are a little disappointed that we're not finding the Soul Sanctuary, though. We're not always great with directions, so a couple more signs would be one of our few notes for Blue Ox to consider in 2022!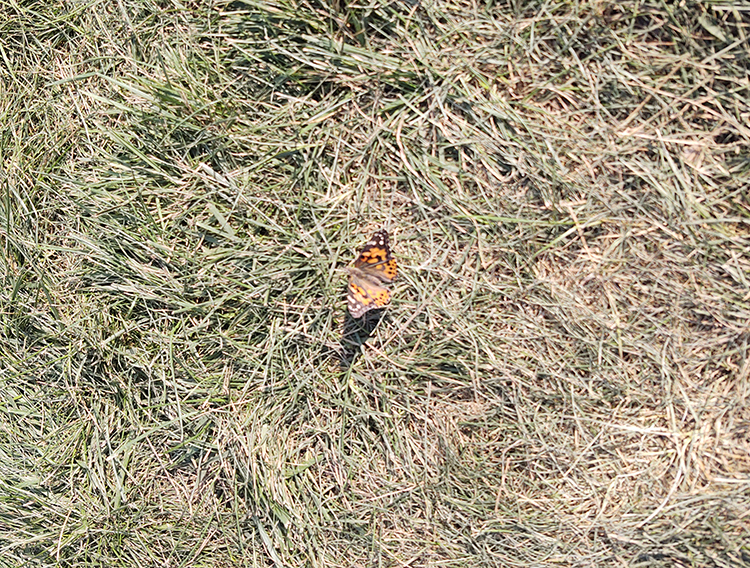 5 p.m.: Before the Barbaro set on the Side Stage, there is a brief memorial ceremony for Jeff Austin and Max Graham. Butterflies are released and Barbaro walks the crowd through a loving rendition of "Max's Mandolin." It's a very sad and cool moment.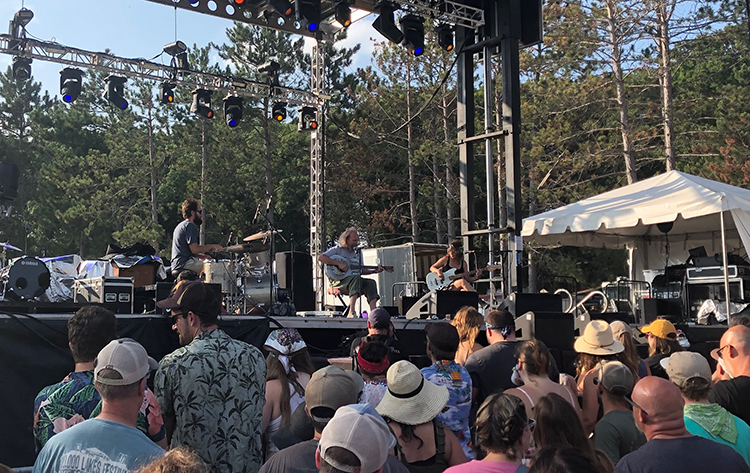 5:30 p.m.: Fresh off the release of his latest album (the excellent Last Of The Better Days Ahead), Charlie Parr is in terrific form and the weather is perfect. At one point, Parr says: "We're gonna do a folk song. This is a folk program. You are the folks." He's right. One of the folks among us is a lady with a dead frog as a purse.
6:30 p.m.: It's been a hot and busy day, so we retire back to the campsite for dinner and some needed time under the oak trees. There's some FOMO for sure, but most of the acts we miss during our break are playing again later in the festival.
9 p.m.: It's Terrific to see Pert Near Sandstone back on the Blue Ox Main Stage! You haven't lived until you've seen a band with a clogger. Our batteries (literal and figurative) are charged and we're ready for action tonight, even though there's now rumors of rain a little later.
10 p.m.: A huge crowd gathers around the Side Stage for Jon Stickley Trio's second set. It's great and all instrumental (from what we saw) but we have a little trouble defining what they do…which is just fine with us! It's kind of bluegrass, but mostly not, and some of it is among the fastest stuff we'll hear all weekend. More on them later.
10:30 p.m.: Holy moly, it's Jason Isbell and the 400 Unit! How fun is this?! He's definitely a different sort of headliner for Blue Ox, but an outstanding headliner nonetheless. Isbell wows the crowd with "24 Frames" and other gems until about 11:13 p.m., when a couple cracks of thunder in the distance forces the set to pause indefinitely.
11:30 p.m.: Our team heads over to the food trucks to get some snacks, figuring we'd have a little time to grab a picnic table and hang out before music resumes. Not so much.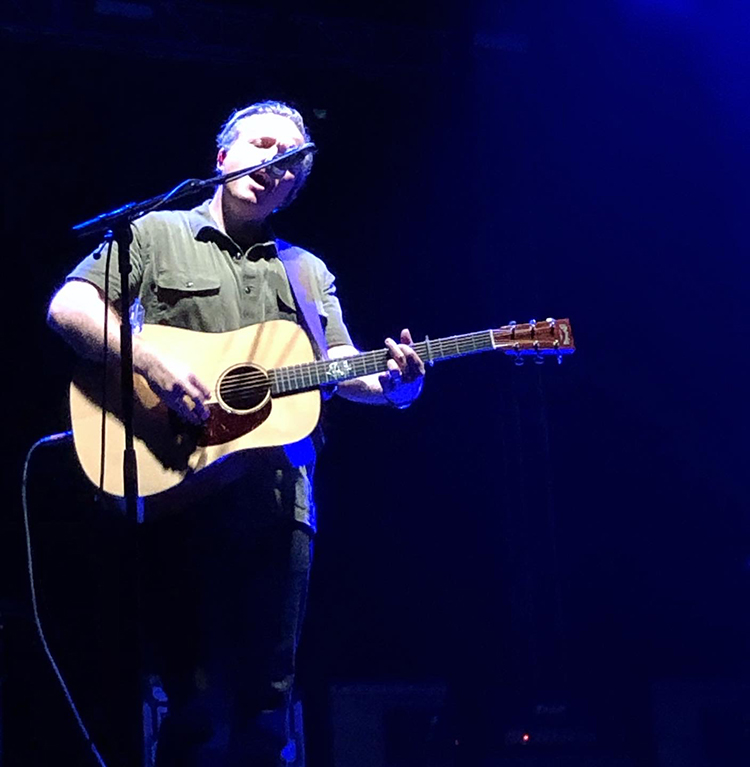 11:45 p.m.: Isbell and company are back in business and we're standing in the front row with cheese curds, mini tacos, and free pot stickers vendors were trying to unload before closing up shop. The crowd never gets back to its original size post-storm, but we're not mad at a "Cover Me Up" singalong with a group of maybe 350 people. Plus, snacks. If you ever have the opportunity to eat free potstickers roughly 50 feet away from Jason Isbell as he performs, do that. As his memorable, lightning-shortened set comes to a close, it starts raining for the first and only time of the festival.
12:30 a.m.: While we've heard there's great nightlife in other camping areas, it's hard to imagine a better scenario than being so close to the Backwoods Stage in Woodchuck. Some stompy goodness from Charlie Parr and the Stickley Trio's late-night cover of "Smells Like Teen Spirit" wrapped Day 2 up beautifully.
Day 3 – Saturday, August 21
8 a.m.: It's a beautiful morning to brush one's teeth while taking a walk around the grounds. "That's hippie hygiene right there," says a friendly dude with no shirt. The weather forecast is absolutely perfect.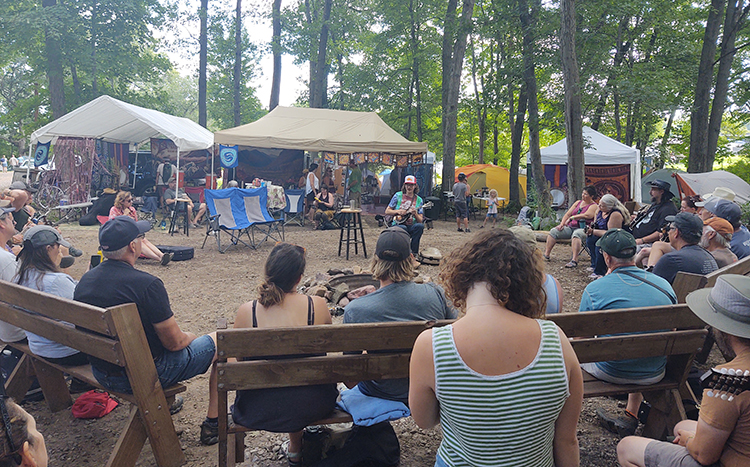 11:30 a.m.: We check out the mandolin class going on at the Potluck Pickin' area and learn all about planting your wrist. While none of us play mandolin, it's still interesting and fun to watch! We'll definitely check out more of these going forward.
12 p.m.: Nora Brown's set on the Main Stage is exactly the kind of low-key set you want after a late night. She's a folk banjo machine with a terrific grasp of traditional music. Like Billy Strings a few years ago, we're shocked that someone this young is this good. Meanwhile, a lady near us gets the key to her Subaru back from the Lost & Found inside the Lodge near the Side Stage. She hugs everyone.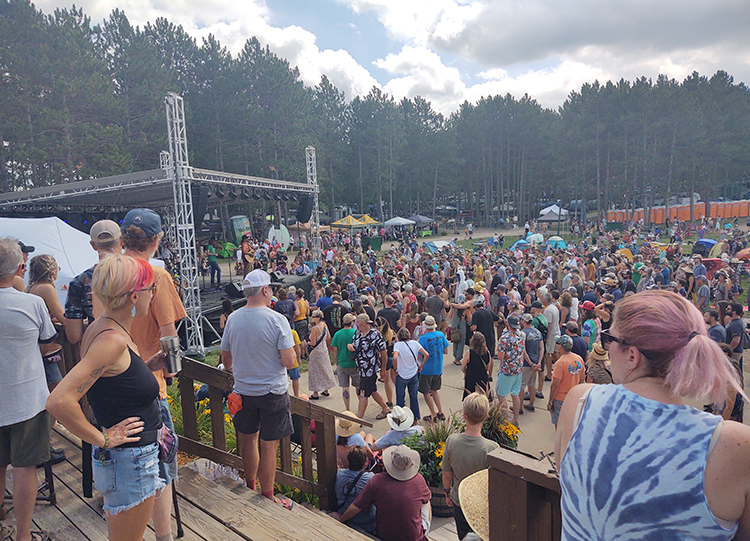 12:30 p.m.: Some nearby kids play with plastic dinosaurs while Appleton's Feed The Dog wakes everyone up at the Side Stage. Yeah! Jamgrass is flowing and getting everyone charged for what already feels like a great day (and the best overall day in terms of weather).
1:15 p.m.: Them Coulee Boys feels like the ultimate crowd-pleaser of the weekend. It helps that they're local, but their set is so well-done and their music is so damn good. They've got fun songs and very sad songs and even a mother-approved f-word in "1st Team All American." So, so good. Go see them. In fact, you can catch them at Summerfest this year.
2 p.m.: We see a guy with a Kool-Aid tattoo on his calf and an older gentleman who looks like the Monopoly guy in a Hawaiian shirt. Plus, One Way Traffic drops some great folky bluegrass on the Side Stage. All's well today!
2:30 p.m.: Central Wisconsin streetgrass purveyors Dig Deep on the Backwoods Stage is the set we'll be talking about internally for quite a while. These guys are like the bluegrass equivalent of the "Dogs Playing Poker" painting. It's casual, but still professional, and friendly, but also very metal. We saw a woman shotgun a can of LaCroix and crush the can with her hands during this set. That happened. Dig Deep played Woody Guthrie's "All You Fascists Bound To Lose" and Motorhead's "Ace Of Spades." Someone screams "Whataburger!" at one point, too, and we're not sure why and we don't care. Dig Deep.
3:30 p.m.: Everyone waiting in line is discussing someone in Woodchuck who claims she's the daughter of the Morton's Salt lady. We're no mathematicians, but that simply isn't possible.
4 p.m.: We stick around the Backwoods Stage to see some of The Thirsty River's set. It's the kind of solid Americana that would sound right on a big stage or in a dive bar. We're really glad we've spent so much time near the Backwoods Stage this weekend!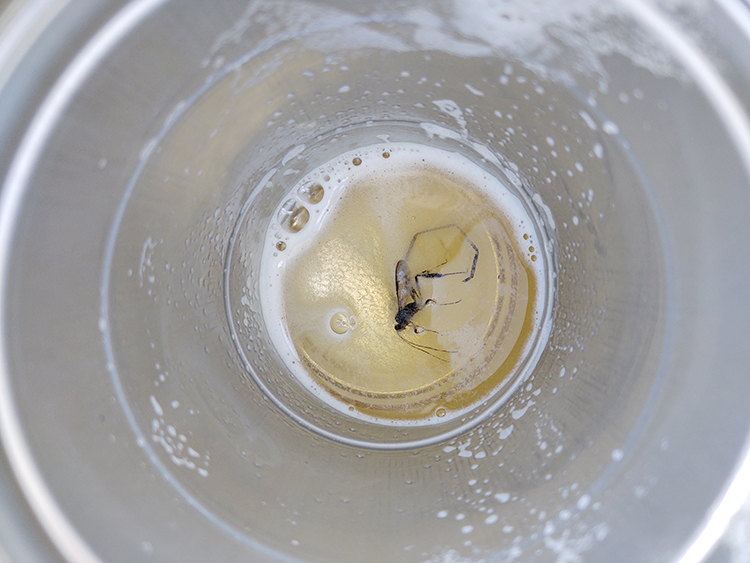 5 p.m.: A really big bug lands in the beer of the team member walking over to see Intuitive Compass and Leftover Salmon. Must've been good luck, because their combined four sets at the Main and Side Stages are a bunch of fun.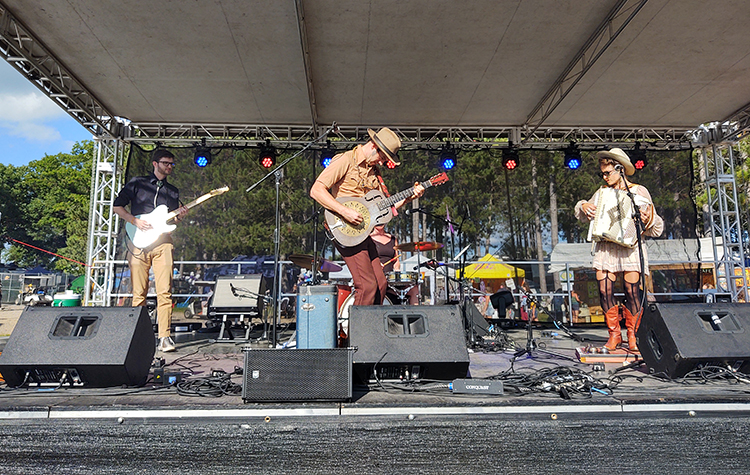 Southern Oregon's Intuitive Compass plays music that feels like HBO's Deadwood. It can be spooky, or fun, or grumpy, but it's always very western-sounding. Very cool. Leftover Salmon got people dancing with "Up On The Hill Where We Do The Boogie" and got people singing with Guns N' Roses "Sweet Child O' Mine."
6 p.m.: We had to run back to the campsite for a second and caught just a bit of The Foxgloves from Minneapolis on the Backwoods Stage. We should've seen more of this set, in retrospect. The six-piece all-female country/folk band is heavy on instrumentation. They even had a harp!
We also found the Soul Sanctuary on the way back, but unfortunately, we missed the last of the sessions that took place. Now that we know where it is, though, we'll definitely be back for one next year.
7 p.m.: Our first time seeing Shakey Graves will not be our last. What a show! His theatrical one-man-band show combines great bluesy folk rock and a ton of fun banter. He borrows from someone like Mississippi John Hurt, but also Frank Sinatra. He's got stories to go with a song like "City In A Bottle", but then the comedic ability to circle back and say that the story is all made up. Come back soon!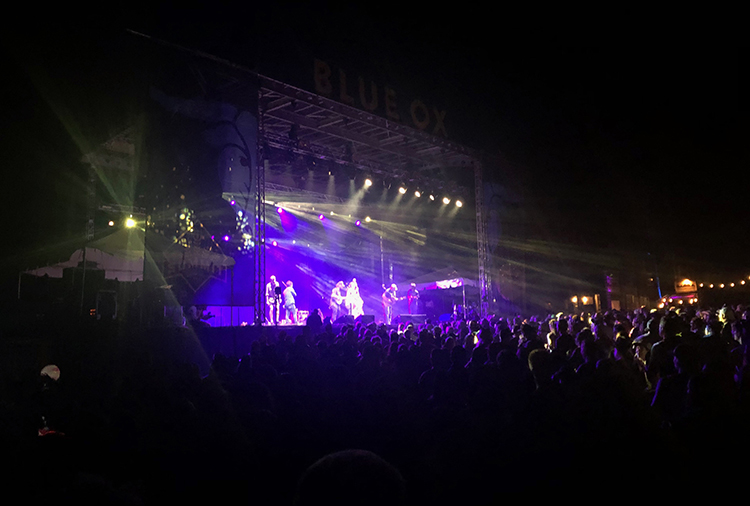 8:45 p.m.: Blue Ox music curators Pert Near Sandstone returns for their second set of the festival. A tribute to Jeff Austin and the day's second bluegrass-tinged helping of Motorhead's "Ace Of Spades" are part of their Saturday night offerings.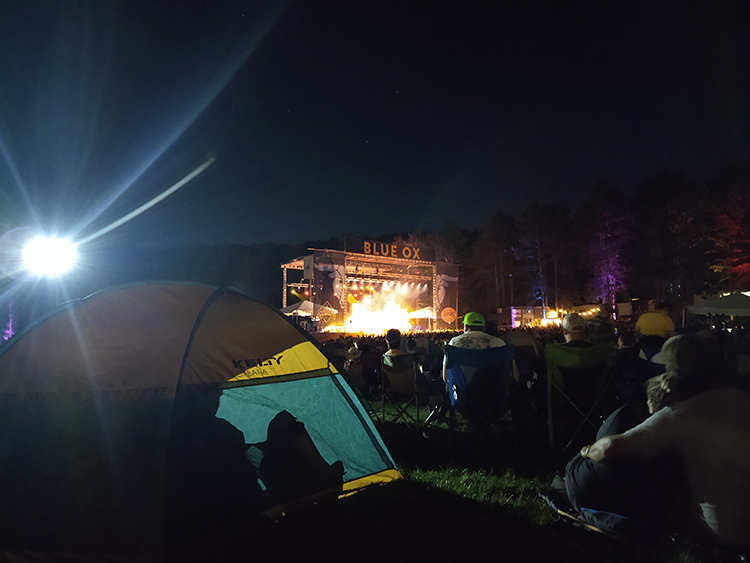 10 p.m.: We find a nice spot in the grass and spend the rest of our time in the Concert Area watching Armchair Boogie (Side Stage) and Sam Bush (Main Stage) from a distance. It's great that we've been able to dance and chat and meet new people again, but it's still nice to sit back and relax once in a while, too.
If you're a first-timer at Blue Ox in 2022, be sure to see and do everything you can, but don't burn yourself out. Blue Ox has so much music and so many activities now that you probably couldn't see and do absolutely everything if you tried. Pace yourself, sit and eat in the shade once in a while, and drink tons of water. Make sure you allow yourself enough energy to make it to at least some of the late-night shows, because sometimes Kitchen Dwellers play those.
12:15 a.m.: Another great set from Good Morning Bedlam provides some ultra-dramatic fiddle music under the beautiful lights of the Backwoods Stage, but they also play John Prine's "Spanish Pipedream." We're getting sad that this Blue Ox is almost over.
1 a.m.: We missed Kitchen Dwellers' afternoon set to see Dig Deep, and we can absolutely live with that decision. Dig Deep and LaCroix shotguns forever. When the first notes of Pink Floyd's "Pigs (Three Different Ones)" start to emerge, though, we're immediately glad we didn't miss this performance. Song covers at Blue Ox are usually pretty lighthearted whereas this is a monster–a faithful tribute with a scorching crescendo. This is high in the running for favorite moment of the whole festival, and also a reminder to keep a little energy on reserve to make sure you make it to these late shows!
Congratulations on a successful return to form, Blue Ox! We look forward to seeing you again in 2022.