Last year, we packed up our Toyota Camry with granola bars and Outkast CDs and made our first ever voyage to Eau Claire, Wisconsin's fourth annual Blue Ox Music Festival. It was great. The fest was incredibly well run (by the Bischel family, Pert Near Sandstone, and an army of dedicated volunteers), with excellent music, fun neighbors, interesting food options, beautiful scenery, and hydration stations all over the place.
This past weekend (June 13-15 and a little of 16), we made our return visit to Blue Ox. Would our second trip be as memorable as the first one? Yes. Would it be memorable for the same reasons? No. Would we be hydrated beyond our wildest dreams? You betcha.
DAY 1 – THURSDAY, JUNE 13
Morning: We hope to get out to the Whispering Pines Campgrounds a little earlier this year than in 2018, and we fail miserably. Our efforts to pack more and better supplies for this year's trip cost us some time. We end up with a spot in the Woodchuck camping area—about 100 yards from the Backwoods Stage and about three yards from a trio of portable restrooms under a streetlamp.
Our setup for this year includes a much bigger tent, some old couch cushions for general comfort, and two big coolers full of sandwiches, beer, oranges, pizza, water, and two kinds of whiskey. We didn't get a pass to park our car next to our tent, so after we unpacked, we parked the car in a space about five minutes away. If you think this is a lot of detail, you're right, but it'll all come into play later.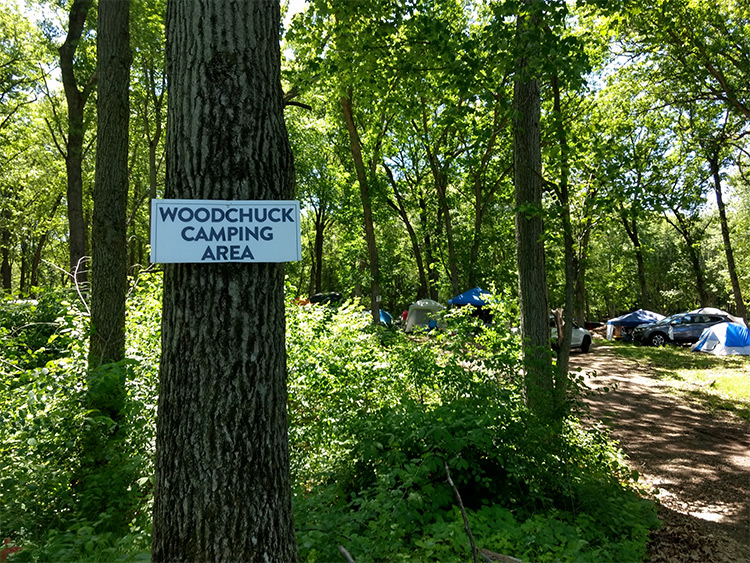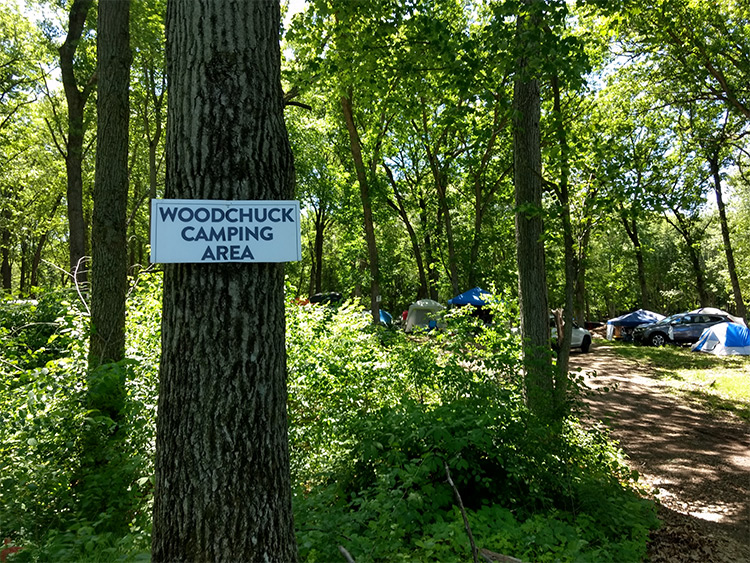 Early afternoon: We meet the neighbors and chat with them about cucumber mint sparkling water. We all agree that it's not very good.
While doing a little exploring with pizza and Blatz in-hands, we come across some folks throwing sticks at other sticks. Puzzled by the odd activity, we ask what they're up to. Kubb is their game, it turns out. We watch a little and leave very confused.
We enter the concert bowl area, where they have both the Main Stage and the Side Stage set up across from each other, just like last year. There's a berm around the perimeter of the grassy area within the bowl, which is great, because we love the word "berm" and would go on to say it hundreds of times throughout the weekend.
A little boy walking with his parents is holding two rocks in one hand and crying because it's hard to hold two rocks with one hand. You've got two hands, my man. Use 'em.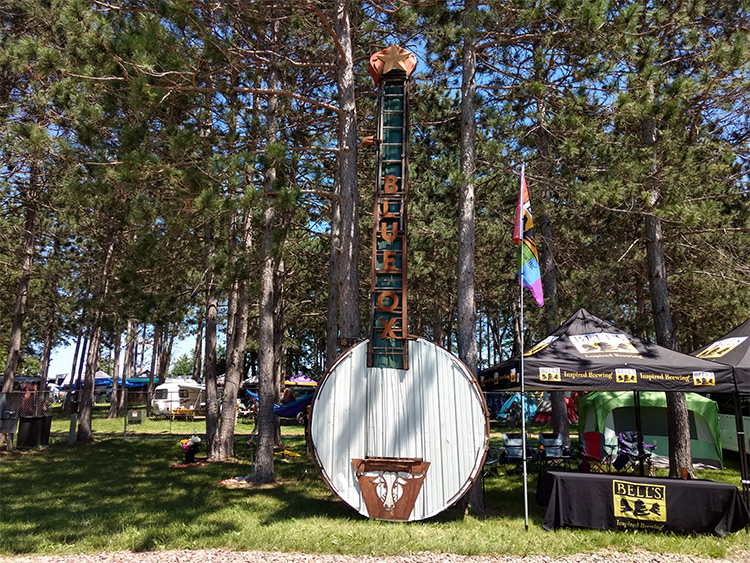 5 p.m.: Kansas City-based Grassfed kicks off Blue Ox 2019 right on time on the Side Stage. Their dobro-tinted bluegrass features some nice long jams, with a mix of fast and slow tunes. We're sitting at one of the nearby picnic tables and notice that everyone else doing so is at least 30 years our senior. When Grassfed fires into a particularly hot number, a fellow picnic table enthusiast who's at least 50 years our senior gets up to dance. We follow suit.
5:30 p.m.: The Lowest Pair fires up at 5:30 sharp and they do not disappoint. The banjo-loving duo plays sweet Americana love songs for a happy early festival crowd. They tell a story about playing a 50-minute version of "Say Darlin' Say" at a medical marijuana event before playing a much shorter version that got us feeling all warm and fuzzy. Speaking of warm and fuzzy, a fellow asks us if we want our picture taken with the nearby gentleman in a chicken costume. We decline for now. Pert Near Sandstone's clogger, Matt Cartier, provides a little clogging accompaniment late in the set.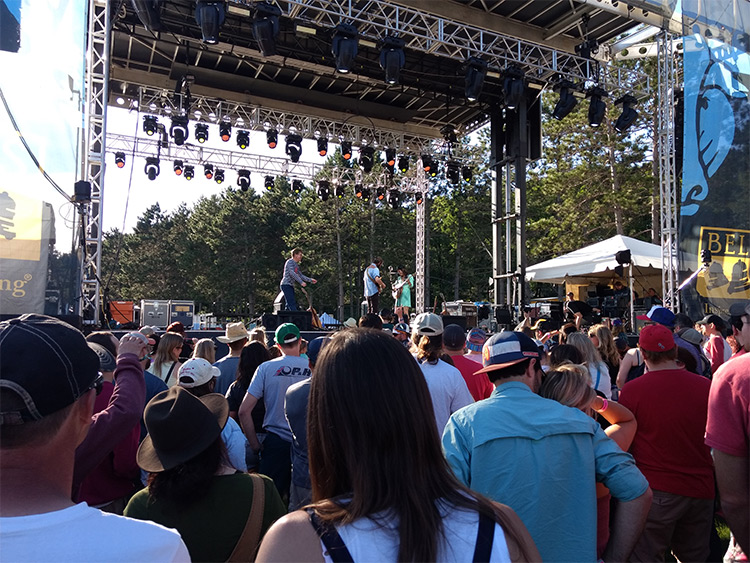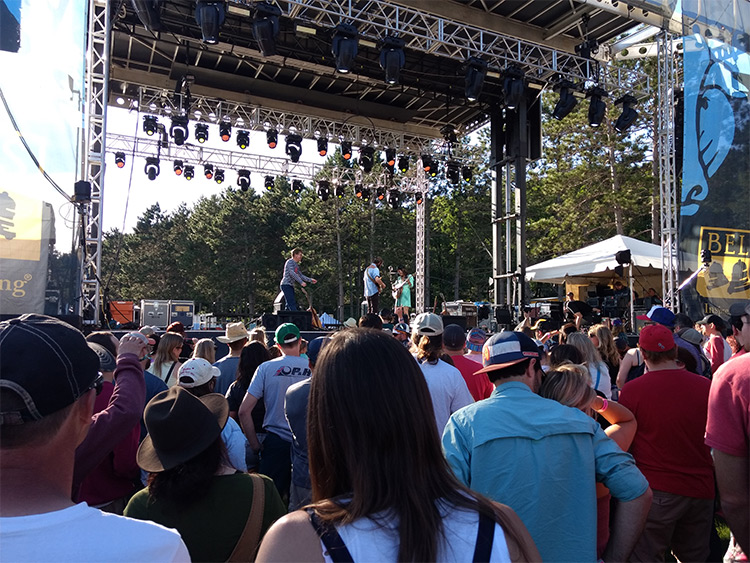 6:28 p.m.: Grassfed starts their second set two minutes AHEAD of schedule. The Blue Ox ability to stay on (or even ahead of) schedule continues to mystify and impress. If you're not already aware, Side Stage acts each play two 30-minute sets and Main Stage acts each play one 60-90-minute set.
We have a nice chat with a guy who talks about living in Madison back in the '60s. He offers us cigars and jokes about banjo players. We decline for now.
7 p.m.: The Lil Smokies played the final two 30-minute sets on the Side Stage in 2018—easily our favorite performances of last year's festival. We're so happy to see them on the Main Stage in 2019! The setting sun behind the band is shining right in the crowd's face and nobody cares in the slightest. The blistering bluegrass set is action-packed and there are more people singing along this year. Some random guy asks one of us to hold a tiny wine bottle for him. We do, and everyone around us starts laughing. We don't get it. The Smokies close with Lionel Richie's "Hello."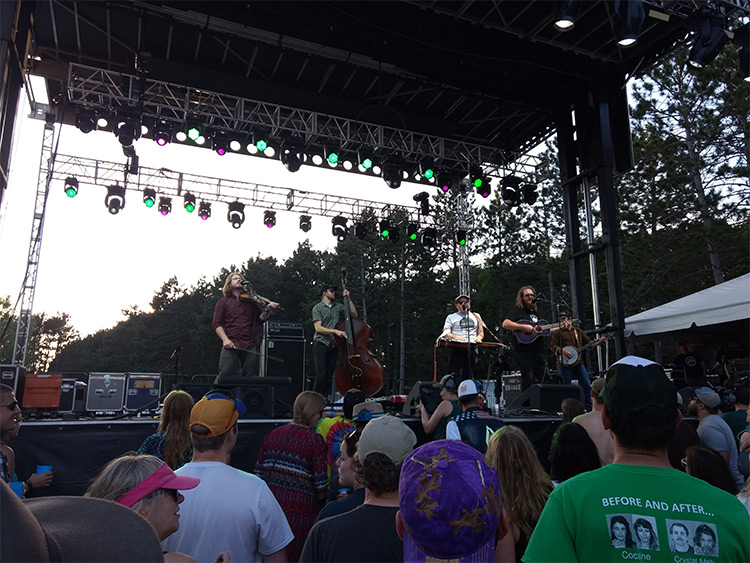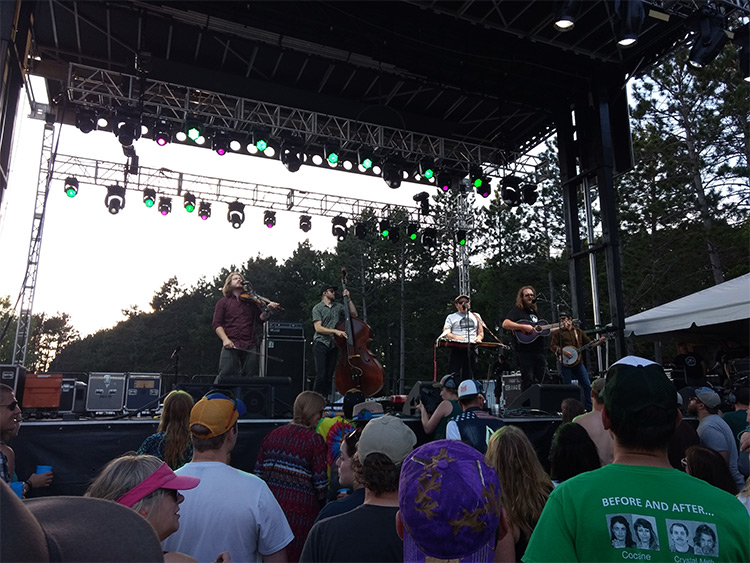 8:15 p.m.: Old Salt Union's first Side Stage set features some loud and fun bluegrass for the growing first-night crowd. Their volume is key as the song of the frogs in the lagoon across the way is plenty loud, too.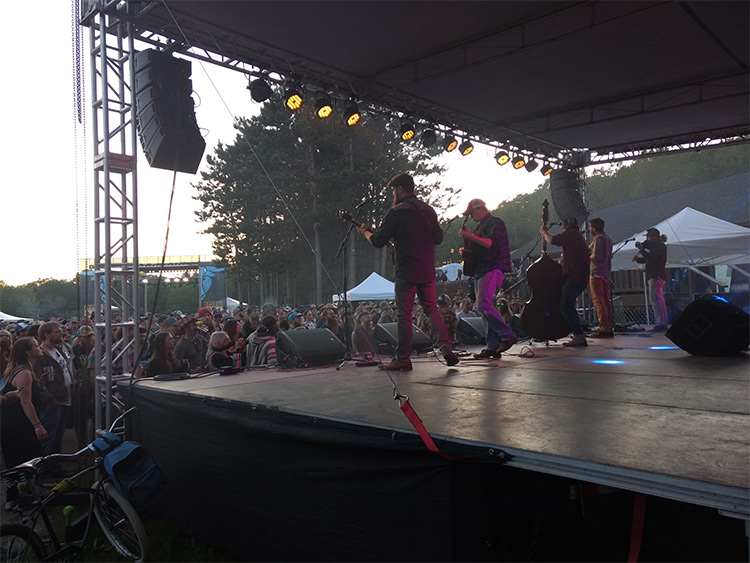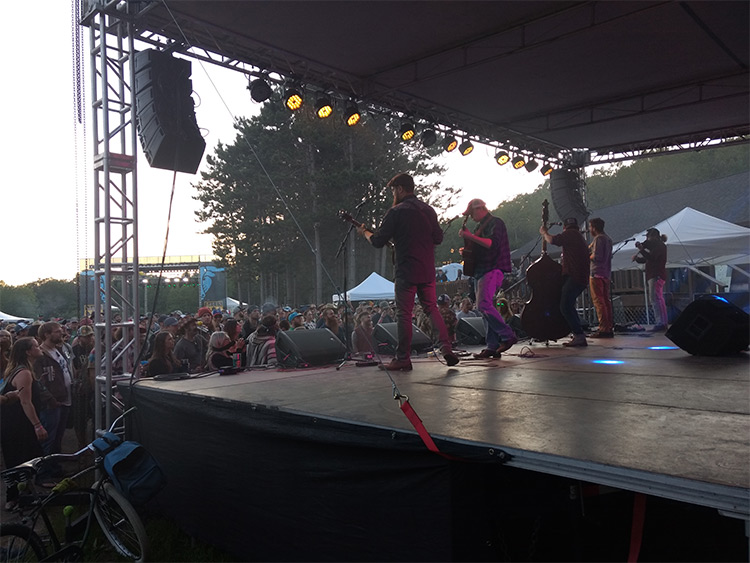 8:45 p.m.: Back to play two sets in 2019 (including this Main Stage set and a Backwoods Stage set on Friday night), the Stevens Point string-masters of Horseshoes & Hand Grenades play to a huge, excited crowd as the stars start to shine above. They run a little long, but we'll let it slide as they brought back their cover of the Talking Heads' "This Must Be The Place."
10:15 p.m. (or so): Belleville, Illinois' Old Salt Union show off some St. Louis Blues gear to celebrate their neighboring team's recent Stanley Cup victory.
10:30 p.m.: The Infamous Stringdusters. Jeez, are they good. Their Main Stage headliner set features a nice blend of originals and covers, including Pink Floyd's "Fearless" (!!!). We finally see some clouds in the sky, but the weather is perfect and the crowd is beyond pleased with the whole scene. A buddy of ours reaches up and snatches one of the flying glow sticks out of the air like some kind of superhero.
We grab some beers, some dumplings, and some sandwiches before heading back into the campgrounds for the late night sets at the Backwoods Stage. We miss almost all of Black River Revue's 12 a.m. set but get serious about catching Chicken Wire Empire at 1 a.m.
1 a.m.: We're at the Backwoods Stage for Milwaukee's own Chicken Wire Empire and it is packed. The band is dressed in all white to accentuate the beautiful light show they have going on. The sound is softer than we remember from 2018, but it's actually kind of perfect—those close to the stage can hear just fine and those who are back at their campsites can easily hold conversations or sleep. "Going Down The Road Feeling Bad" provides a terrific singalong send-off for a nearly flawless first day. As we leave the Backwoods stage, we realize that the blindingly bright light in the distance is the streetlight near our campsite. Finding our way back will be much easier than sleeping.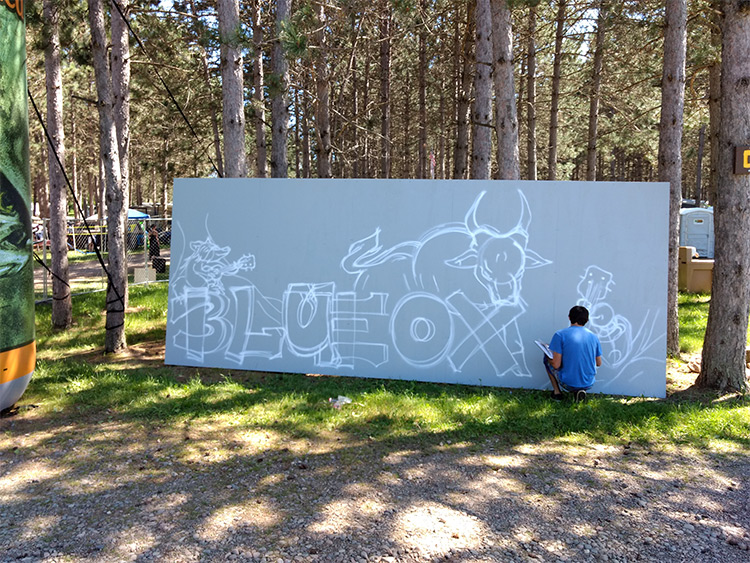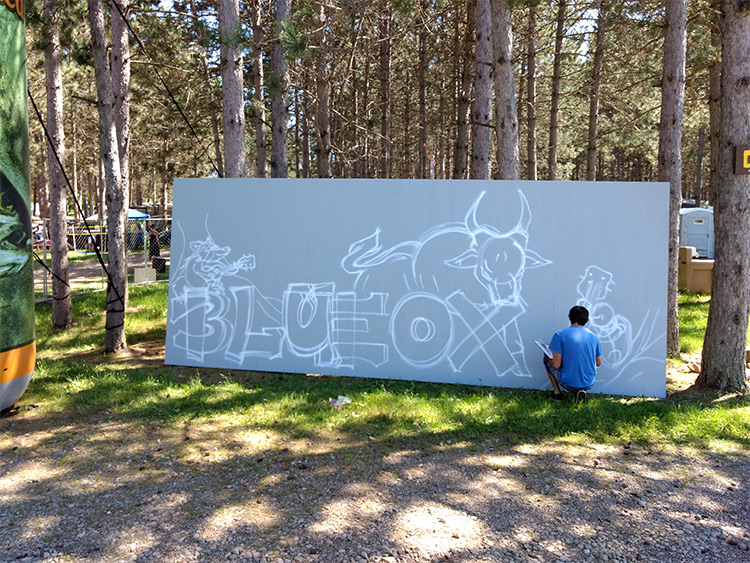 DAY 2 – FRIDAY, JUNE 14
Introduction: Our account of June 14 is a little fuzzy. You'll soon know why.
7 a.m. (at the latest): We're somehow up really early. Breakfast, showers, and more breakfast get us ready to dive into what should be a seriously fun Friday. There's talk that it might rain a little, but we're pretty sure the heavy stuff won't come until Saturday.
11 a.m. – 4:45 p.m.: We watched David Huckfelt, Pokey LaFarge, Sarah Shook & The Disarmers, Barbaro, Jeff Austin Band, and The Del McCoury Band on the Main and Side Stages and took very diligent notes about everything we saw, just as we did on Thursday. We also checked out some hammocks and met a puppy named Hamburgers. Here are some pictures, see?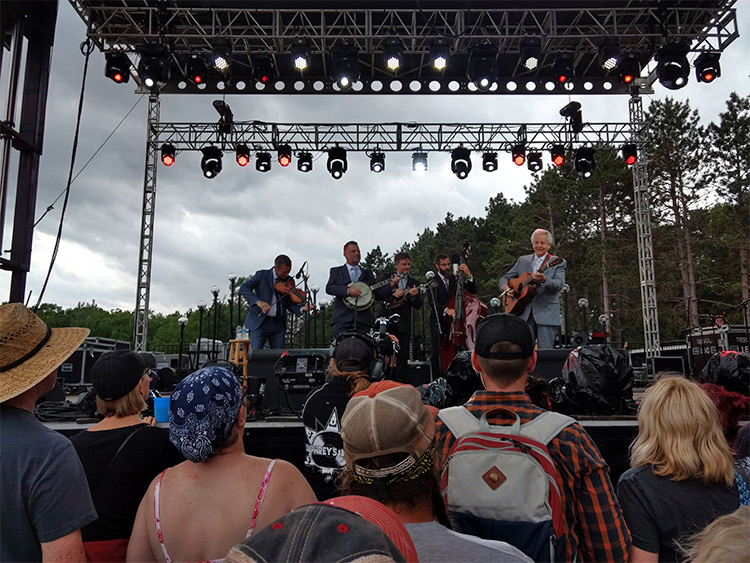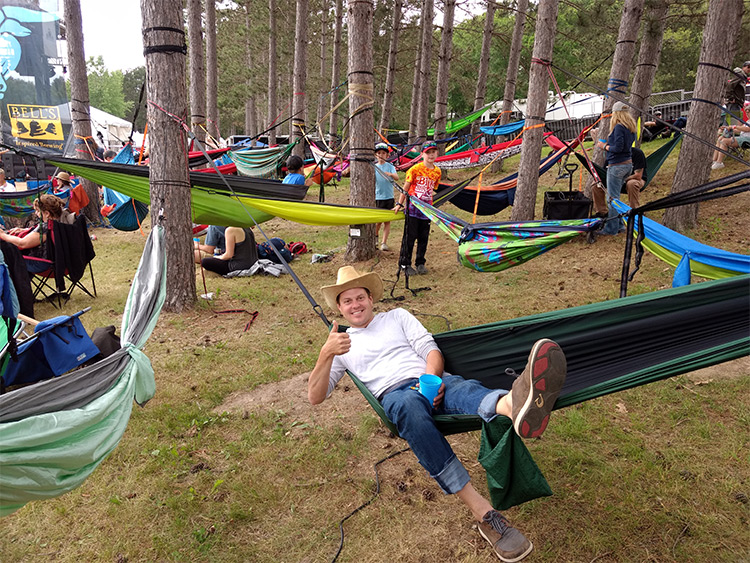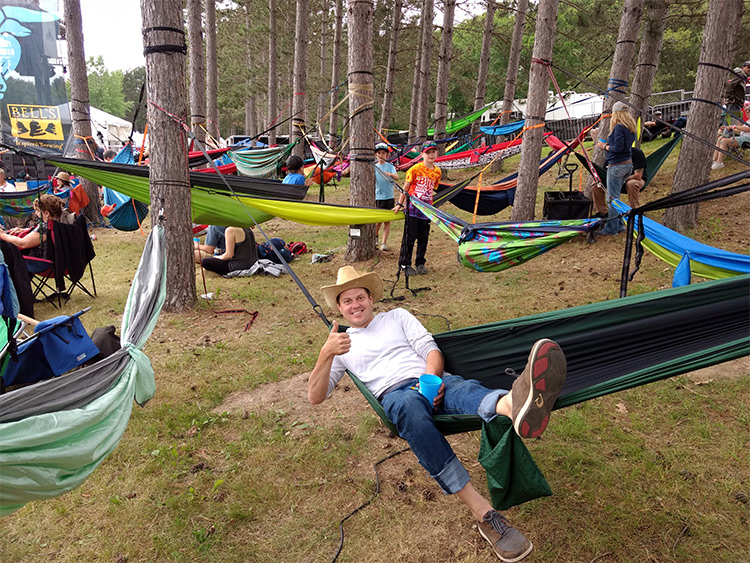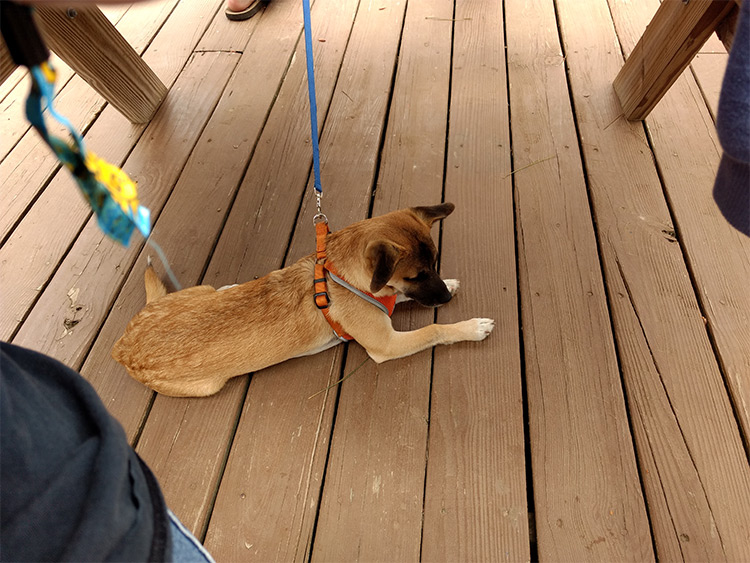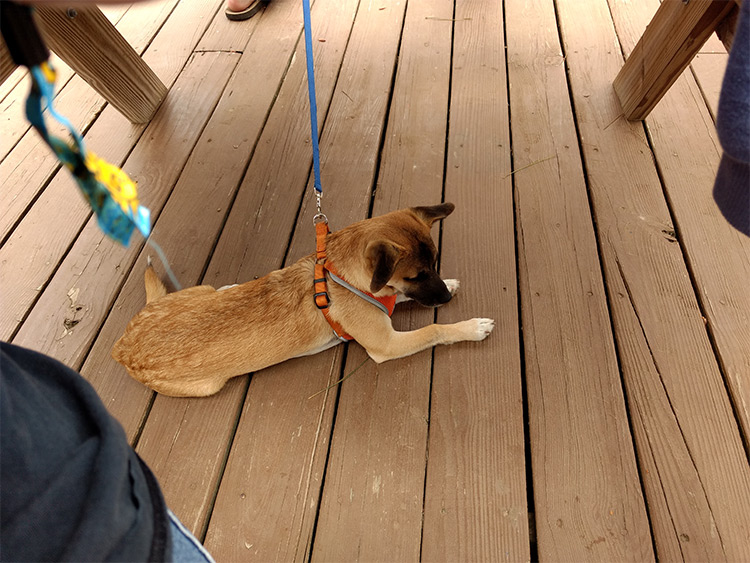 One memory that we don't need notes to retain involved a nice older couple sitting at a picnic table near ours in the early afternoon. While we were all watching one of the early bands play on the Main Stage, the woman from the nice couple suddenly collapsed from her seat, hitting her head on the deck and losing consciousness. The gentleman with her tried to revive her as our team fanned out in search of medical help. We reported the situation to a member of the Blue Ox staff, who promptly contacted the on-site EMTs, who promptly swooped in and tended to the woman as she regained consciousness. Once she was ready to roll, they got her on her feet and walked her back to the medical tent. This is the first incident of this type we've seen at Blue Ox (thank goodness), and we were seriously impressed with how efficiently the situation was handled. Kudos to the Blue Ox staff for helping our fellow music lover get the attention she needed!
4:45 p.m.: Del McCoury (who's a damn delight and hasn't stopped smiling since he stepped on stage) abruptly thanks the crowd for coming out and wraps up his set 15 minutes early. There's apparently lightning in the area, so they're shutting down the music until the storm passes.
Our official festival stenographer puts his notes into his pocket and we wander back to the campsite to hang out with the neighbors and enjoy some delicious salami sandwiches. There's some thunder and some rain, but nothing to write home about. We figure we'll be back watching another band within the hour.
6:26 p.m.: The storm suddenly grows big, nasty teeth.
Everyone scrambles to find some kind of solid shelter as there's no telling what might happen next. With our car located five long minutes away from our campsite, we opt to hide in the nearby portable restrooms and hope we don't find ourselves in Oz when we open the door again.
The heaviest of the wind and rain slows after a few minutes, but the damage has been done. We can already see a few trees that have fallen and the dirt road that runs right in front of these particular restrooms is now a shin-deep river. We check with our neighbors to make sure everyone's okay. They are, but some tents are mangled and everything is wet and/or muddy. The notes in our stenographer's pants pocket are completely soaked and ruined, as are most of our remaining sandwiches, and our couch cushions. The whiskey is just fine, though.
The Blue Ox staff and volunteers once again spring into action, moving tree branches, sandbags, mulch, and lots of mud! The festival provides Facebook updates regarding the status of, well, everything. About three hours after the storm did its thing, music is back on!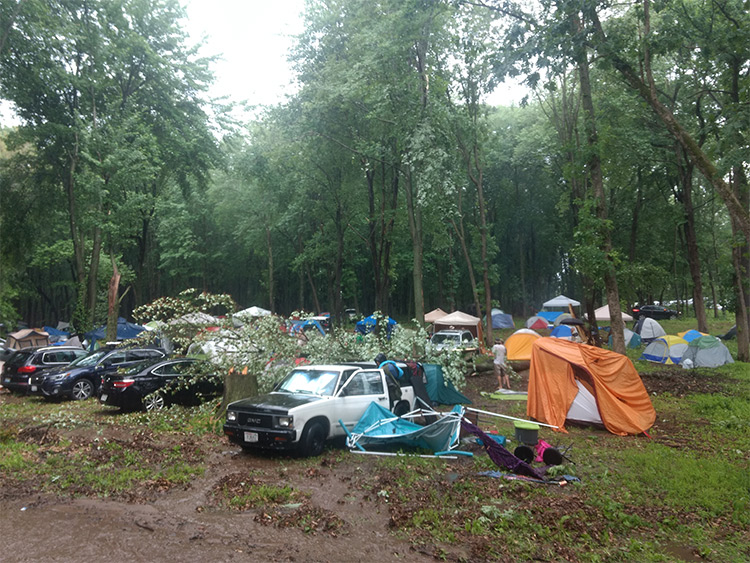 9:30 p.m.-12 a.m.: We catch bits and pieces of The Traveling McCourys, Fruition, The Larry Keel Experience, and Trampled By Turtles. Everyone's tired and the grassy festival bowl is now almost entirely mud, but the fun continues (if not grows). The earlier weather drama created a nice bonding experience for everyone involved, making the rest of the night all the more special.
12 a.m.: After Trampled wraps up, we go and buy about $70 worth of hand-held snacks from various food trucks and head back towards the Backwoods Stage for Horseshoes & Hand Grenades' late night set. It's a load of fun, but we're also completely wiped. Time for a nice beer and some muddy sleep. We can hear Cascade Crescendo's 1 a.m. set from our campsite, so we don't feel too bad about skipping it.
DAY 3 – SATURDAY, JUNE 15
7 a.m. (again): Up and at 'em early once again. Part of our team will be leaving today, so we get them all packed up and on their way. Rain is expected once again, so we stuff ponchos in the pockets of our muddy jeans.
11:30 a.m.: We missed Dusty Heart's 11 a.m. set but don't sweat it too hard as we don't honestly know their stuff and they'll be back on in an hour anyway. As we arrive at the Main Stage, Them Coulee Boys are singing their powerful "I Won't Be Defined" to a teary-eyed and attentive morning crowd. You could hear a pin drop during this song.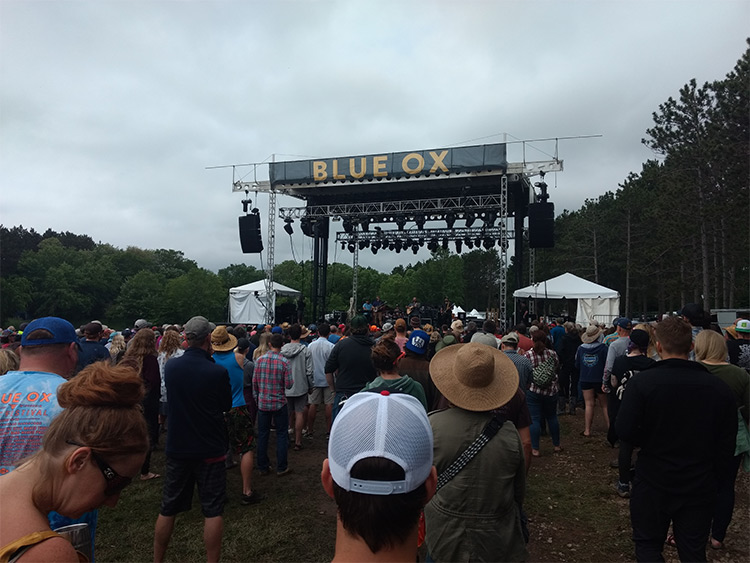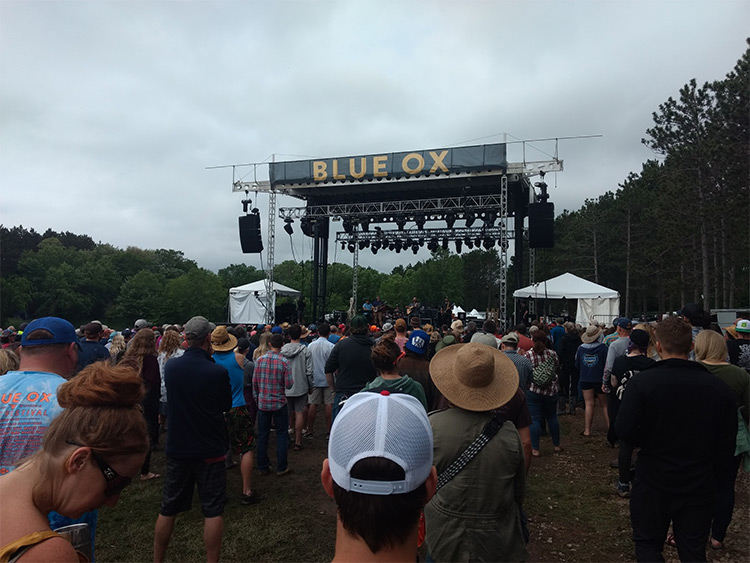 12:30 p.m.: Dusty Heart returns for their second set on the Side Stage and the duo of Barbara Dean and Molly Jean stops everyone in their tracks. Their performance of "Archer" reminds us a little of Buffalo Gospel's performance of "Mule" at last year's festival, in that most didn't know the song when it started, but everyone knows the refrain when it's over. One of our favorites of this year, for sure.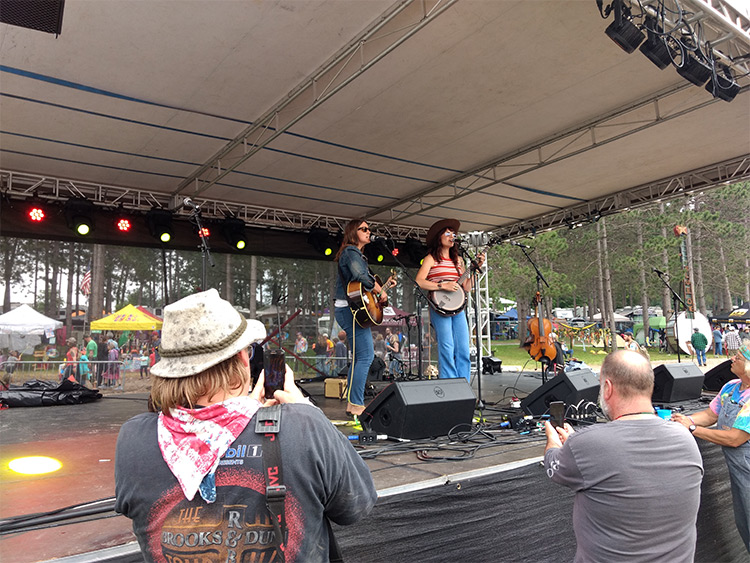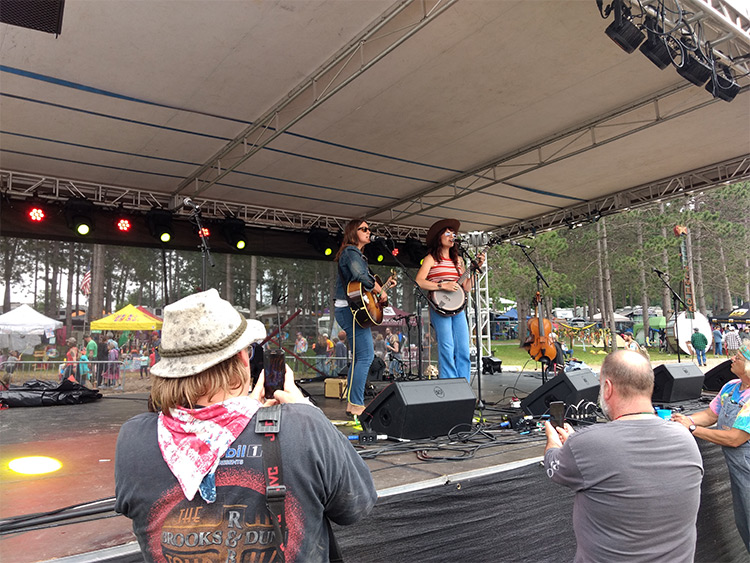 1 p.m.: Peter Rowan's band brings their new album, Carter Stanley's Eyes, to the Main Stage with a lot of energy and fun. They get the crowd engaged with old standbys like "Panama Red" and "Angel Band." Plus, we saw one of those giant bubbles pop on top of a kid's head when he wasn't paying attention. Gold.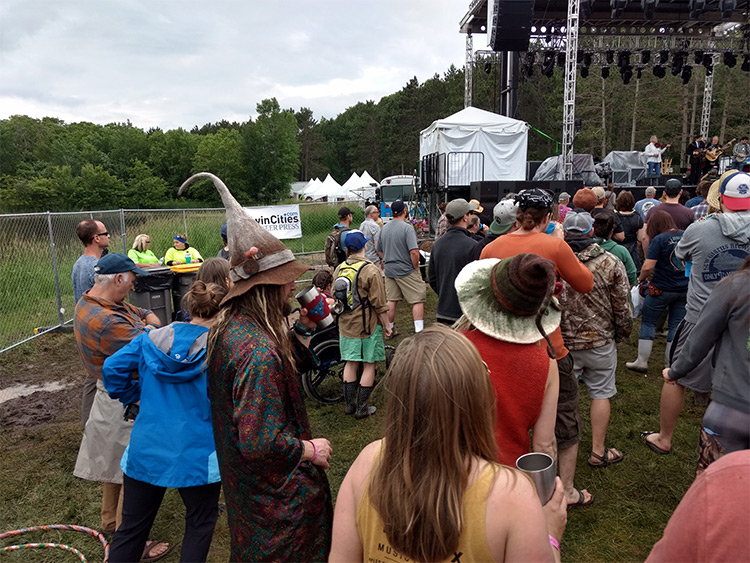 2 p.m.: During Feeding Leroy's first set, we head over to the food trucks and buy a pile of brunch from one of our favorite trucks. We sit down at a picnic table next to a pair of nice couples from Minnesota. They talk about Chicken Wire Empire's Ryan Ogburn for the duration of our meal.
2:30 p.m.: Today is our first time seeing resonator/lap steel/dobro master Jerry Douglas in person and we've been looking forward to it as much as anyone in this year's festival. He and The Earls Of Leicester are decked out in sharp suits and they proceed to melt everyone's faces right off. It's instrumentally incredible, and yet so very danceable. A guy next to us is dancing while also doing yo-yo tricks, which makes us very nervous, but this is still one of the clear highlights of the weekend.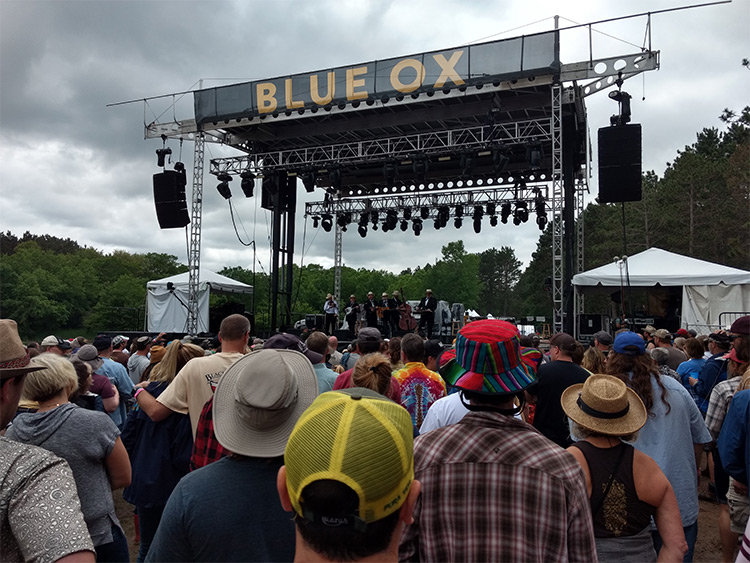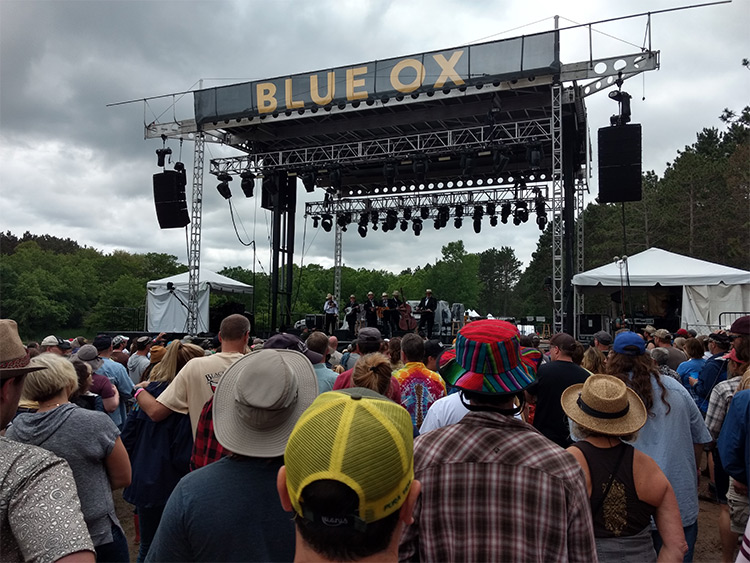 3:30 p.m.: We make it over to the Side Stage for Feeding Leroy's second set and we're glad we did. Nice and easy, twangy country music with pedal steel and everything. It's a really nice chaser after the shot that was The Earls. There's a guy in a Green Bay Packers Chris Banjo jersey dancing next to us. Well played, guy.
4 p.m.: Charlie Parr is playing solo this year and that's just fine with us. We run into a buddy who just moved to Denver and who also happens to be a huge Charlie Parr fan. He's the happiest man alive at this particular moment. The temperature is dropping as the day goes on, but we've seen exactly zero rain today. As Parr belts out "CC Rider" and tells a story about virtual reality, The Torch Sisters—an elaborate dance crew from Minnesota—begins setting up an enormous metal apparatus right in the middle of the grass. Interesting.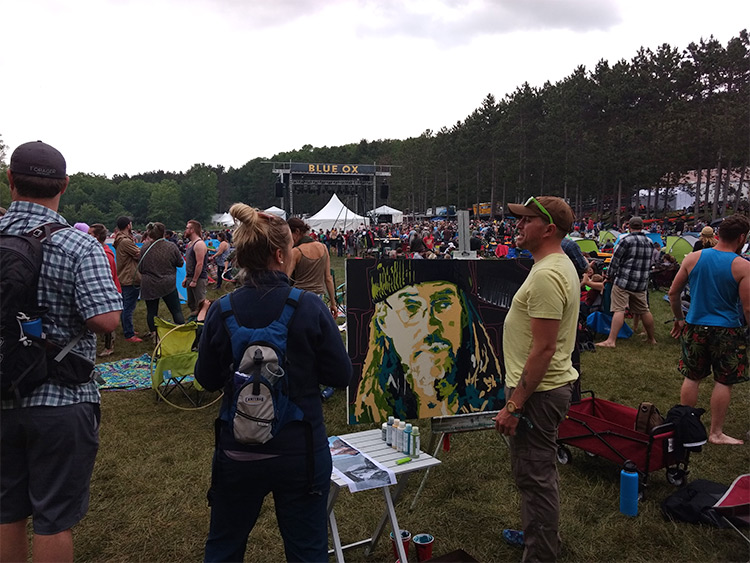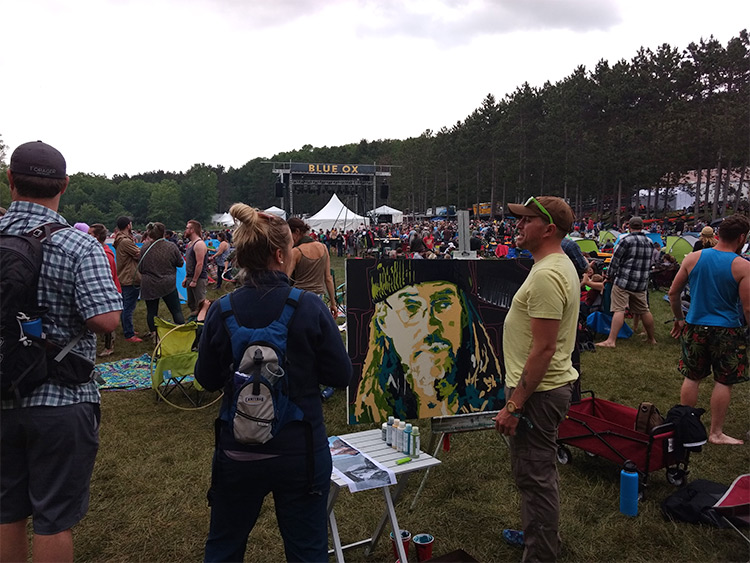 5 p.m.: Various members of The Torch Sisters are performing aerial and ground routines on the grass while The Wooks run things on the Side Stage. They're a great four-piece Kentucky bluegrass band playing great Kentucky bluegrass music. Plus, The Beatles' "Dear Prudence."
5:30 p.m.: What is it about fancy getups that make bands sound better? The Del McCoury Band, The Earls Of Leicester, and now The Dead South all fall into this category. Our neighbor told us that she was really looking forward to seeing these guys again, so we made a point of checking them out, too. She wasn't lying. This Saskatchewan-based folk and bluegrass ensemble delivers great music with a lot of energy and a bit of a smirk. They also feature the first cello we recall seeing at the festival. Solid fun and great musicianship from start to finish.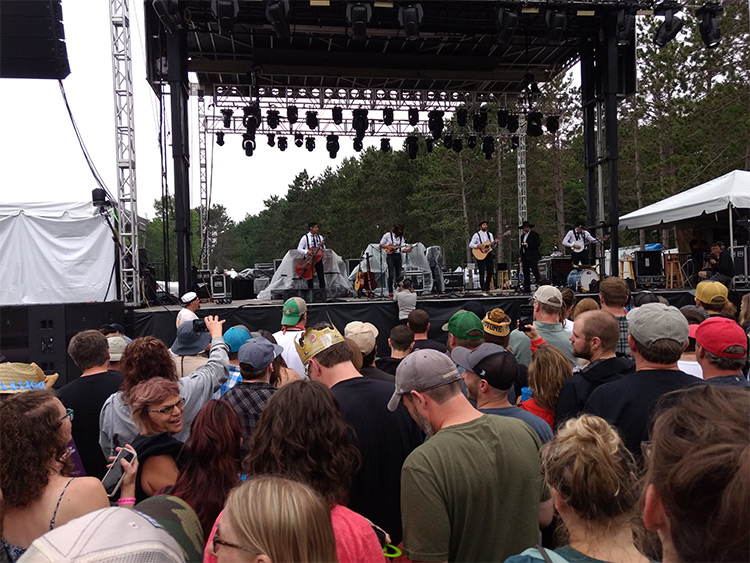 6:30 p.m.: Back at the Side Stage, an older couple dances very aggressively as The Wooks crank out The Band's "The Shape I'm In." This festival is so, so fun.
7 p.m.: If you're not familiar with Billy Strings, you need to get your life together. Everyone in the campground is packed as close as possible to the Main Stage to catch the fire pouring out of Strings' guitar. The band drives 300 miles per hour through their set and wows everyone within range. What a show! Plus, this happened:
Us (to a little kid who's covered in mud and rolling a giant beach ball for 45 minutes): "How's it going?"

Kid (muddy, with beach ball): "Great!"
Great indeed.
8:15 p.m.: We've heard great things about The People Brothers Band for some time now, but never had the chance to see them. As we expected, their sound is an odd fit for Blue Ox as they're more of a funky rock band than anything. However, it takes about 11 seconds for the crowd to embrace them completely.
8:45 p.m.: Pert Near Sandstone, one of the driving forces behind Blue Ox, delivers a wonderful Main Stage performance to an audience that's a little cold, but delighted to have dodged any rain whatsoever today. They invite some of The Torch Sisters up to the stage to provide aerial dancing accompaniment for a bit, and they also send heartfelt thanks to everyone who helped out with anything and everything following the Friday evening storms. They also talk about the berm, which is cool, because berms are cool.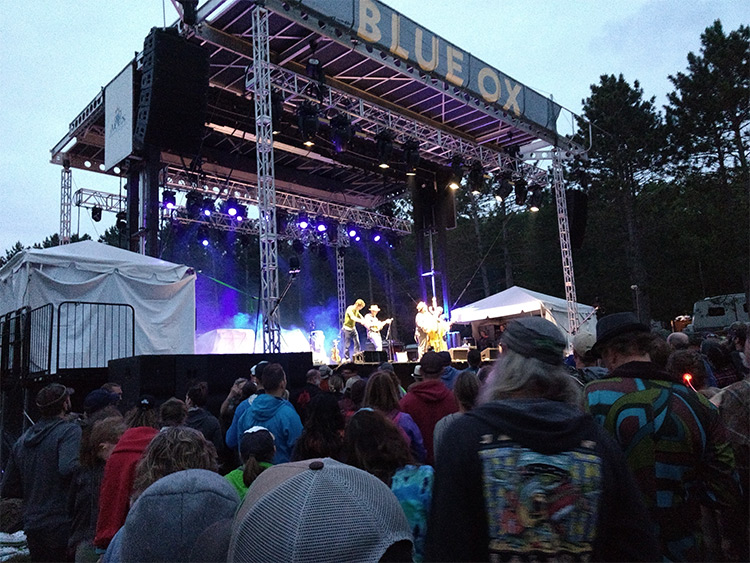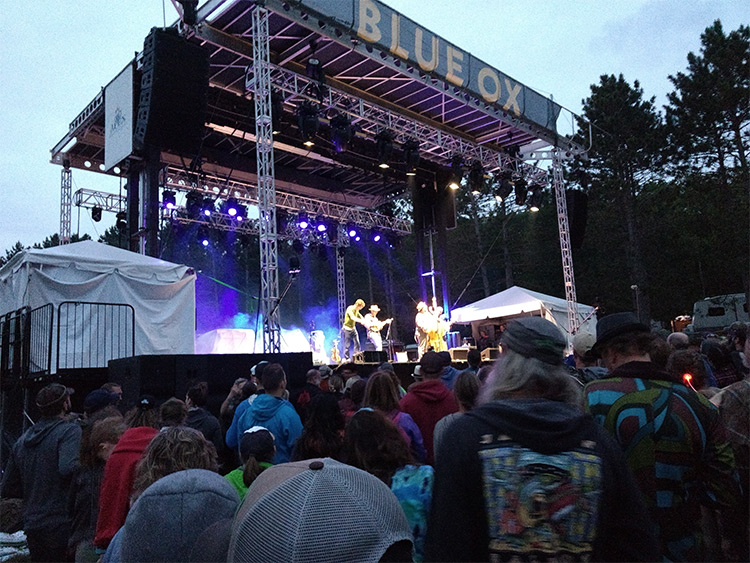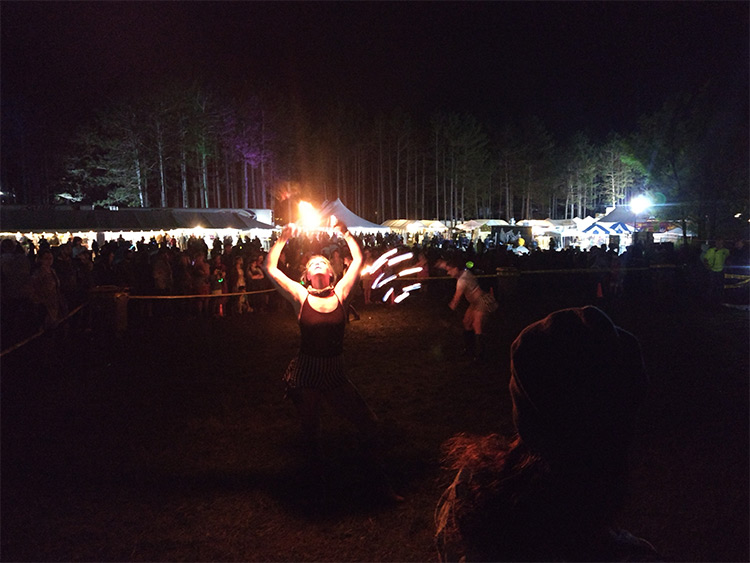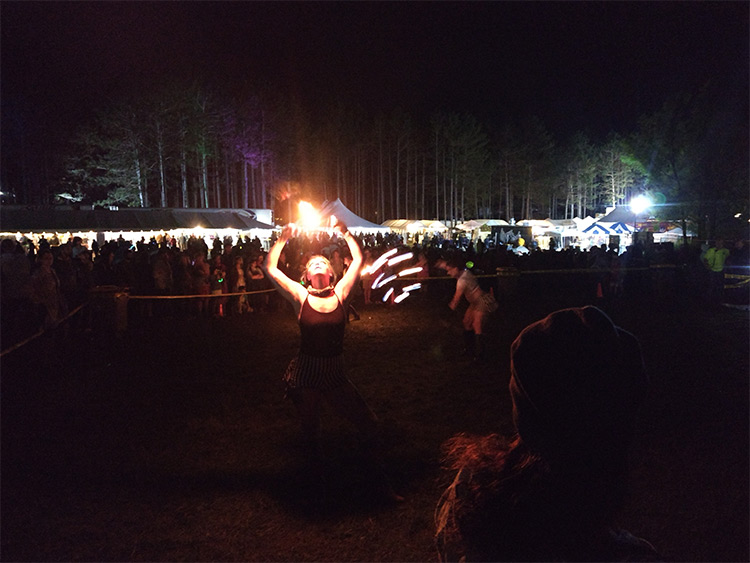 10 p.m.: The People Brothers Band charge out for their second set and the Side Stage is absolutely surrounded. Blue Ox really seems to focus on making the Saturday night Side Stage headliner an act to remember, because last year's Lil Smokies sets were packed like this, as well. The whole set is fantastic, but their rendition of the Grateful Dead's "Shakedown Street" is a top-five moment of the entire festival. Nobody who can hear the band isn't dancing!
10:30 p.m.: It's been a long and fun weekend, and we're starting to lose steam. We walk over to the Main Stage to catch at least a little of Railroad Earth's headliner set on the Main Stage, but we wonder how much we'll actually see. It's a lot of fun, but after the first 10 minutes, we start looking for a way out of the huge crowd. At that moment, a small group of people sneaks up behind us, absorbs us into their group and goads us into dancing through the next 3-4 songs. During a slight break in the music, a young lady in the group turns to us and says, "Dancing is fun!" and then their whole group walks away. Thank you, dance fairies!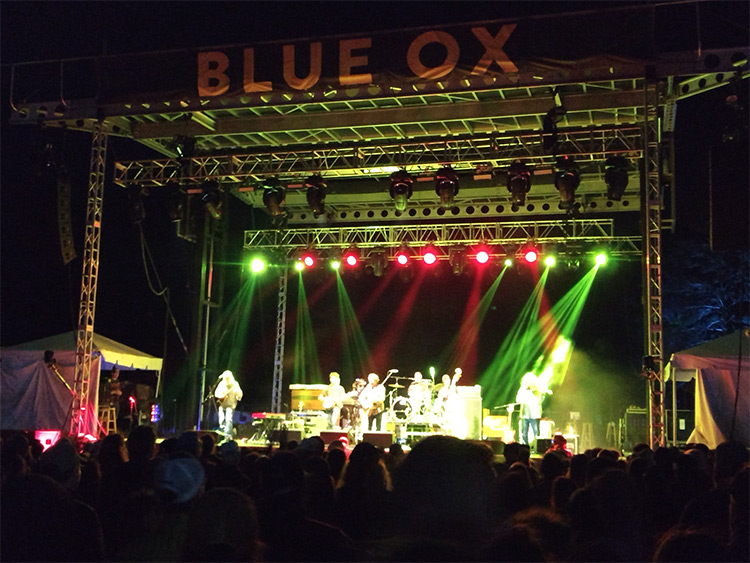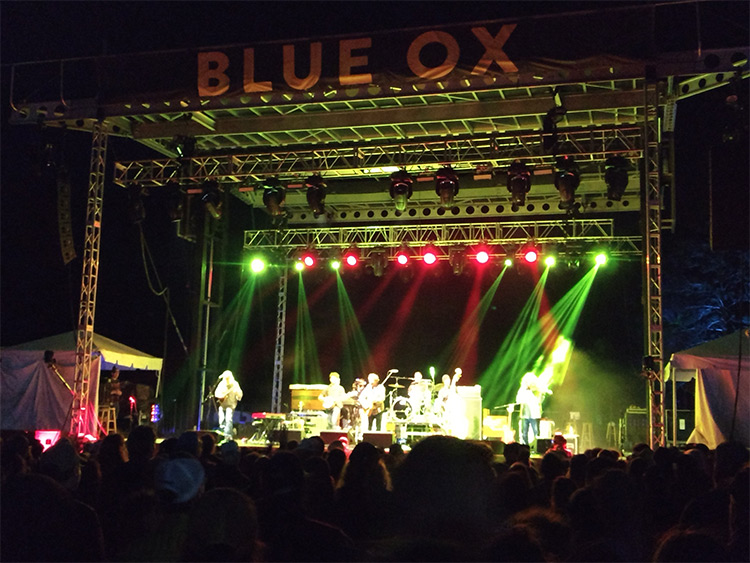 11:15 p.m.: It's about that time. Our camera is dead, so we can't take any more photos anyway. We walk back to our campsite and bump into a few neighbors who all look equally spent. Everyone retires to their respective tents to chill out for a bit with the hope of jumping back up for the late night Backwoods sets. No such luck. Everyone's quick breaks turn into a decent night's sleep. However, we did wake up at one point and heard The Band's "Ophelia" coming from the Blue Ox Superjam at around 2 a.m.. Not bad at all.
The 2019 Blue Ox Music Festival dealt with some pretty major difficulties in pretty impressive fashion. Everyone around us had an amazing time, and those who encountered some problems received the help they needed in a hurry from the Blue Ox team and from their festival neighbors. Great job and thank you once again, Blue Ox!