While Justin Vernon's annual Eaux Claires gets lots of attention, and rightly so, another Eau Claire-based music event went down this past Thursday, Friday, and Saturday. Co-hosted by the Bischel Family, Pert Near Sandstone, and an impressive crew of volunteers, the Blue Ox Music Festival not-so-quietly put on its fourth annual festival this year at Whispering Pines Campground. With a handful of Milwaukee Record favorites on the lineup, we decided to venture north and see what all the fuss was about. Here is our report:
DAY 1
Morning: The drive up is great. The landscape between Madison and Eau Claire is quite lovely, especially on a nice summer morning. We make a couple pit stops, watch a robin fight a squirrel, and drive under a helicopter that's hovering about 100 feet over I-94. Adventures are cool.
Our plan is to camp at the festival's available unreserved facilities the first two nights and then Airbnb it on Saturday with some friends. From what we understand, there is a Main Stage and a Side Stage in the concert area for the primary performances, and then a Backwoods Stage within the campgrounds for nightly midnight and 1 a.m. sets. Seems simple enough, but we're curious how well they'll actually pull it all off.
About noon: We drive into the campground and a zillion volunteers help us weave through the enormous grounds in search of a campsite. Thousands of happy campers are already set up and this is suddenly intimidating. At a volunteer's suggestion, we choose a site directly behind the Backwoods Stage. We'll be awake for the late shows, so why not? We park and set up camp.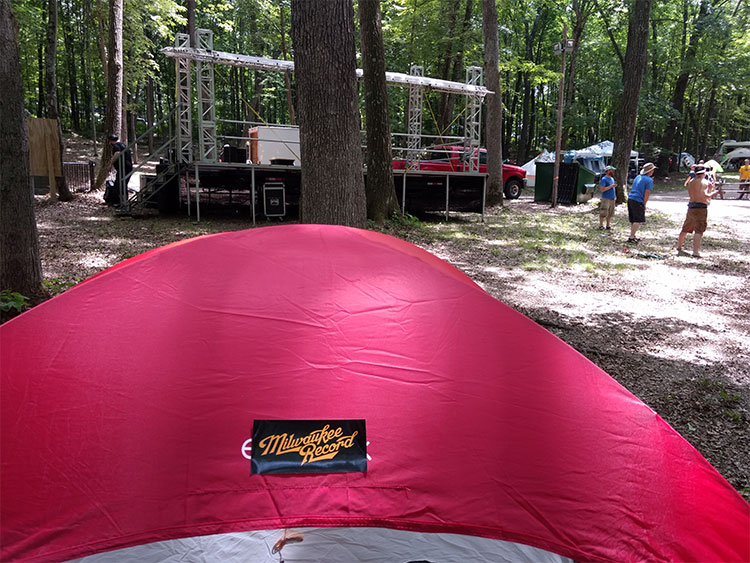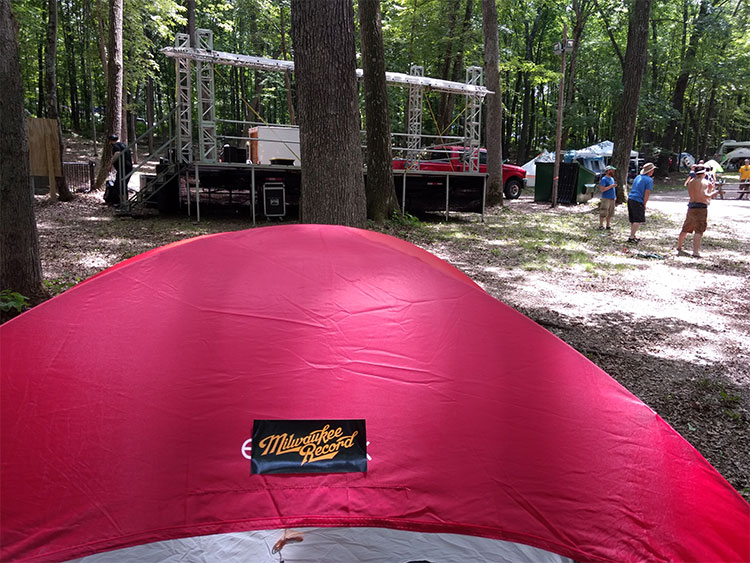 1:30 p.m.: While setting up our adorably lame tent among the seasoned veterans, a trio of new buddies invite us over for a neighborly beer. Their camping setups are nicer than our actual homes, and they have great stories about Nashville, Hamm's, a Chicken Man, and what it's like to look like Gregg Allman. With this new connection made, any nervousness we had has turned to excitement.
3:30 p.m.: Across the drive from us, Milwaukee's Brewtown Brewgrass strum a few tunes next to their information table and camp site.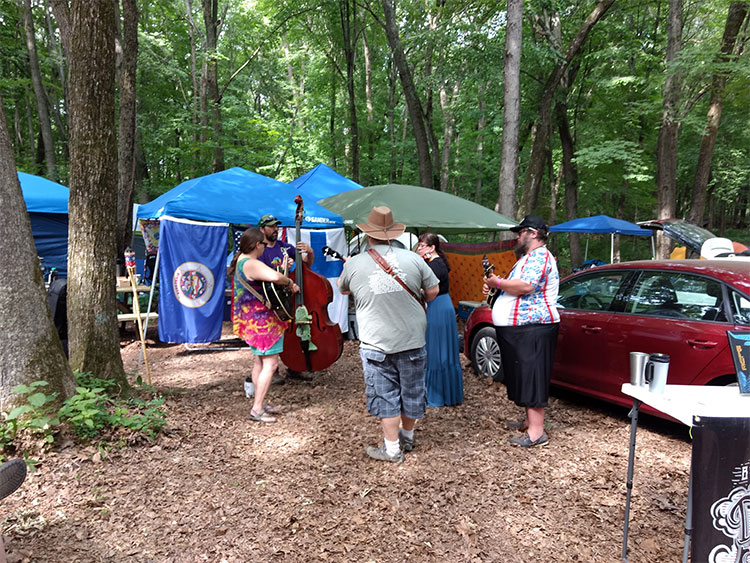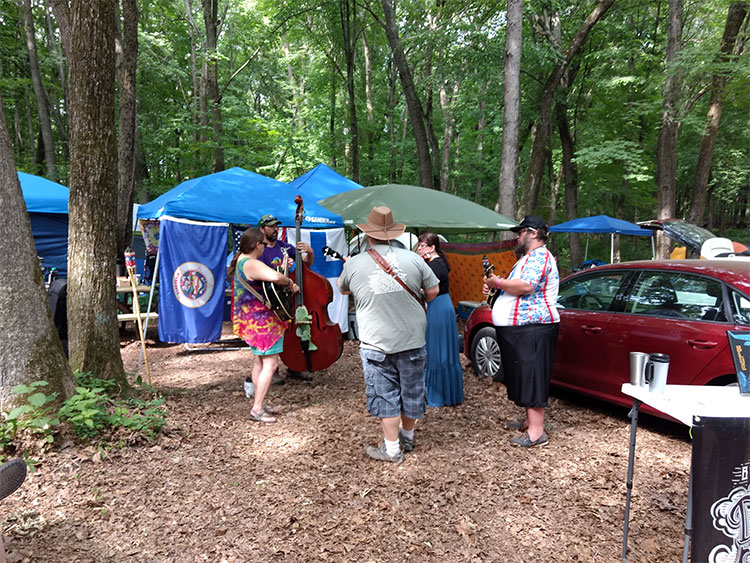 4:45 p.m.: We walk to the concert area with our new pals—five minutes from our tents. The concert space is plenty huge, with the Main Stage on the west side and the Side Stage on the east side. There's a huge beer tent that even has Great Lakes Distillery cocktails (!), free water stations (!!), food vendors, merchandise, and more. Plus, there's a huge banjo sculpture leaned against the stump of an old willow tree that was recently cut down.
5 p.m.: The Last Revel kick off the festival right on time. They welcome the slowly growing crowd with some Americana-meets-rock tunes from the Side Stage. This set will be the group's first of two 30-minute sets on the side stage—the way things work for all bands playing on the Side Stage.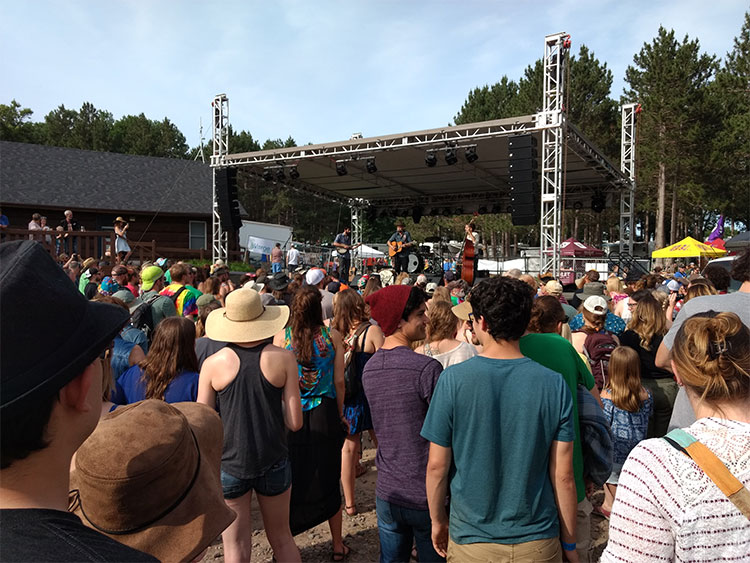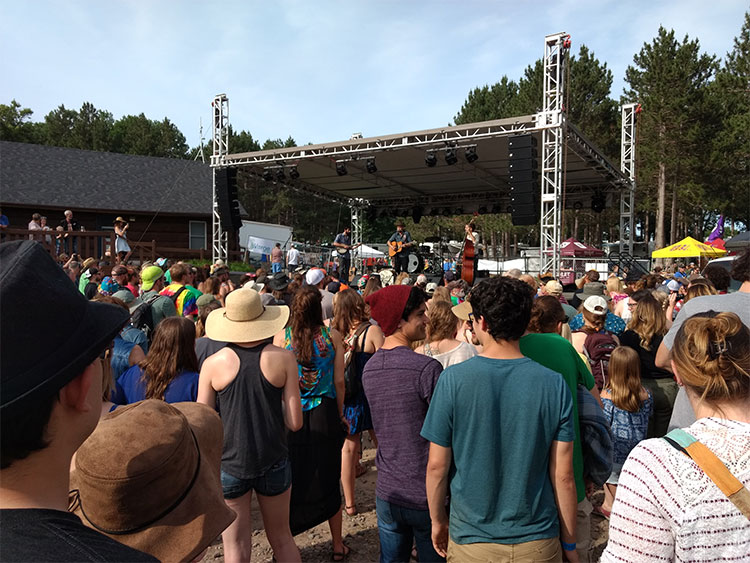 5:30 p.m.: Them Coulee Boys get into some punky Americana on the Main Stage, again right on time. A gal dancing nearby tells us she has lost her glasses (kinda implying that maybe we took them) and then walks away. There are a lot of kids on shoulders and fighter jets flying over for some reason. This is pretty fun.
6:30 p.m.: The Last Revel fires up again over on the Side Stage, about 10 seconds after Them Coulee Boys play their last note. It's early, but damn, they've really got the timing of this whole thing down to a science.
7 p.m.: Billy Strings kicks off his set at exactly 7 p.m. and…wow. He's 25 and looks young but doesn't sound young. His band delivers high-energy, high-quality bluegrass and gets everybody moving. This is really fun.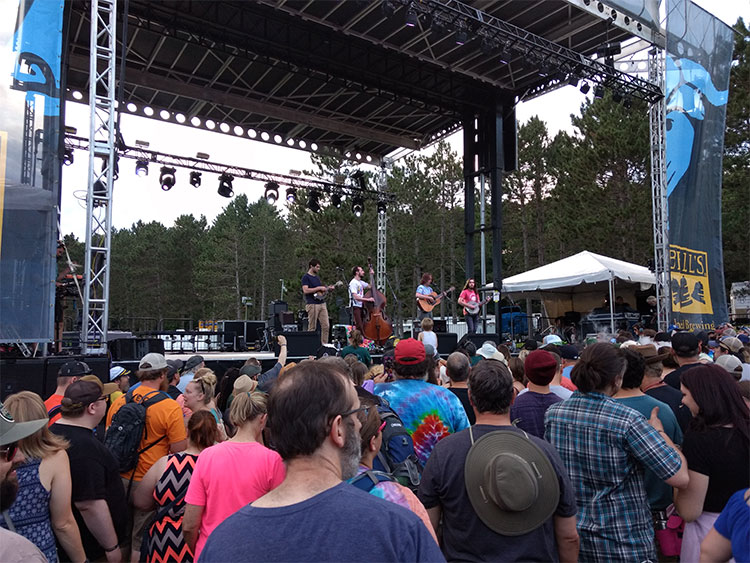 8:15 p.m.: Brothers Comatose step up for their first set on the Side Stage. We stay for a minute, but then head over to grab some food. The veggie bowl from Greek Flame goes great with a Bell's Oberon.
8:55 p.m.: We make our way over to Horseshoes & Hand Grenades on the Main Stage. The crowd is getting pretty big and very energetic. Frontman Adam Greuel talks about how awesome Wisconsin rivers are. The band plays an accordion-heavy rendition of Talking Heads' "This Must Be The Place" and brings Billy Strings back up for a fantastic cover of the Grateful Dead's "Fire On The Mountain." Rivers are seriously neat, though.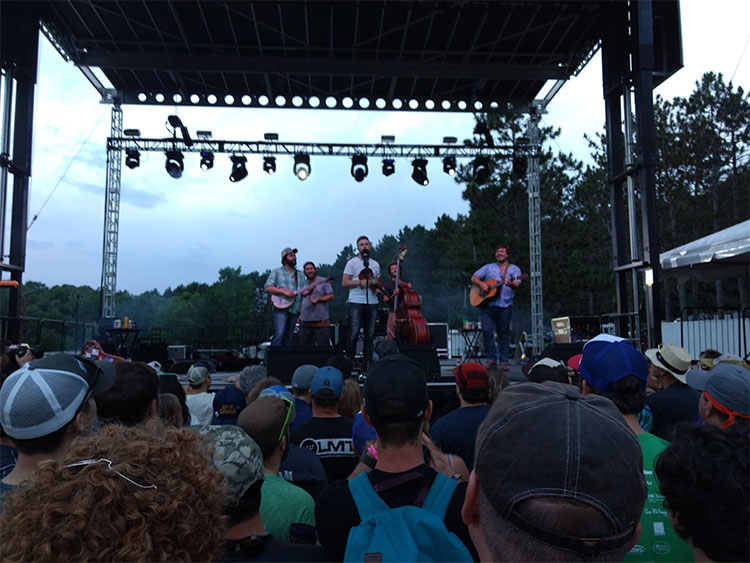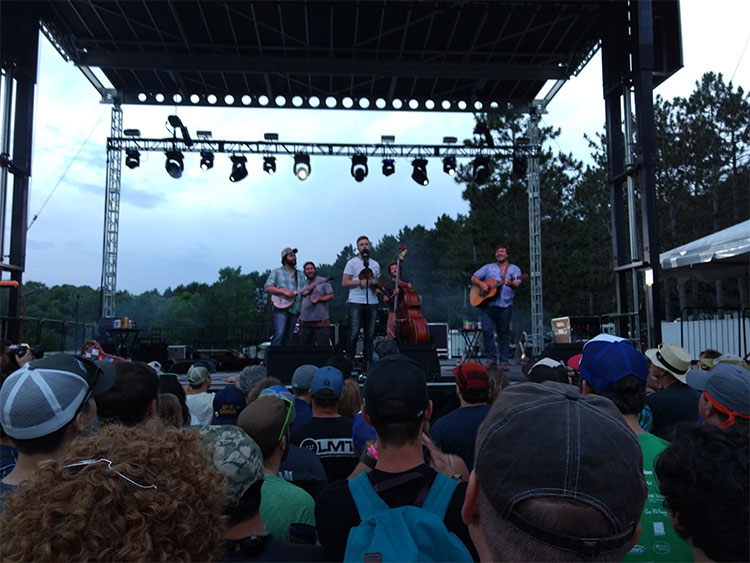 10 pm – 12 am: We attend Brothers Comatose's fun and rowdy second set (featuring Lindsay Lou) on the Side Stage and Sam Bush's big and beautiful headliner set on the Main Stage. We chat with a pair of young ladies that are handcuffed together while Bush and company noodle with the Allman Brothers' "Midnight Rider."
Just after 12 a.m.: We head back to the Backwoods Stage and watch The Last Revel begin the last ever set with their original lineup. The Backwoods Stage shines colored lights straight up at the leaf canopy above, making for a very cool and intimate atmosphere for the smaller late-night crowd. The sound is great at this stage, too. Come to think of it, all of the sound has been great. And the portable toilets are really clean. This is great, but know what would make it better? Billy Strings.
Just before 1 a.m.: A neighbor informs us that Billy Strings is warming up about 15 feet from our tent. He's playing with Circus No. 9 for the 1 a.m. set. We all watch the warm-up and then the 1 a.m. performance from lawn chairs next to our tents. Not bad.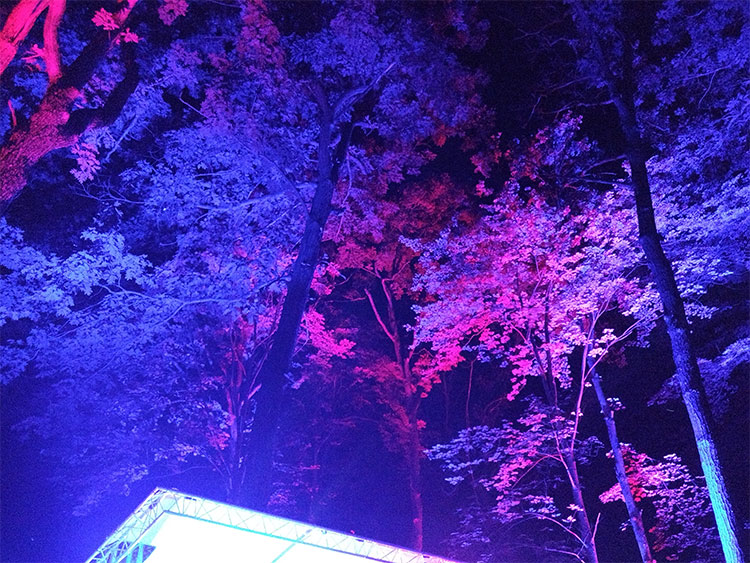 DAY 2
6:48 a.m.: We hear a bee and a garbage truck outside our tent. After confirming that neither is inside the tent, we go back to sleep.
9 a.m.: Up for real now. There are some cups and cans around, but some overnight maintenance clearly took place. Kudos to the campgrounds crew and/or that bee. Most campers are still sleeping, but we stroll around and explore.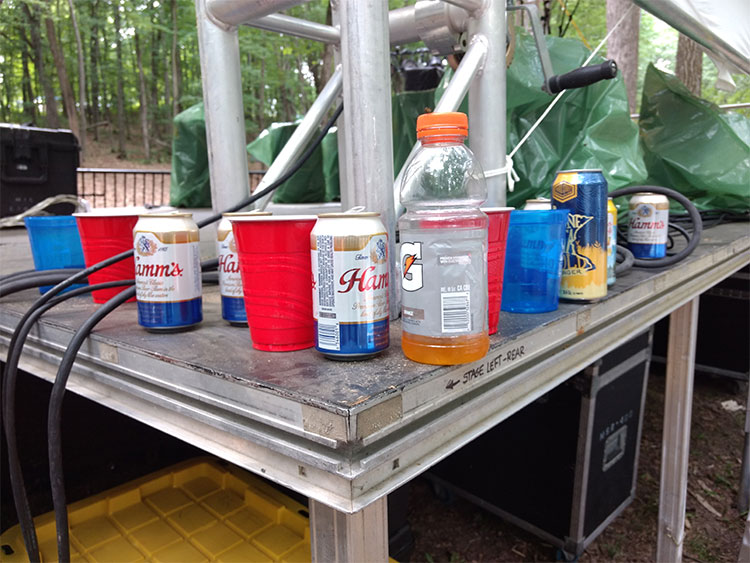 9:47 a.m.: We chat with a neighbor in a Brandon Jennings Bucks jersey (#3) as Brewtown Brewgrass fires off a 10 a.m. cover of the Grateful Dead's "Friend Of the Devil."
10:10 a.m.: Good time for a shower. (No pics.) On the way, a neighbor tells us the fighter jets flying over are due to an air show going on.
11 a.m.: In the concert area, Jack Klatt warms up the Friday crowd with some bluesy country guitar and makes Frosted Flakes jokes about a front-row photographer in a tiger costume.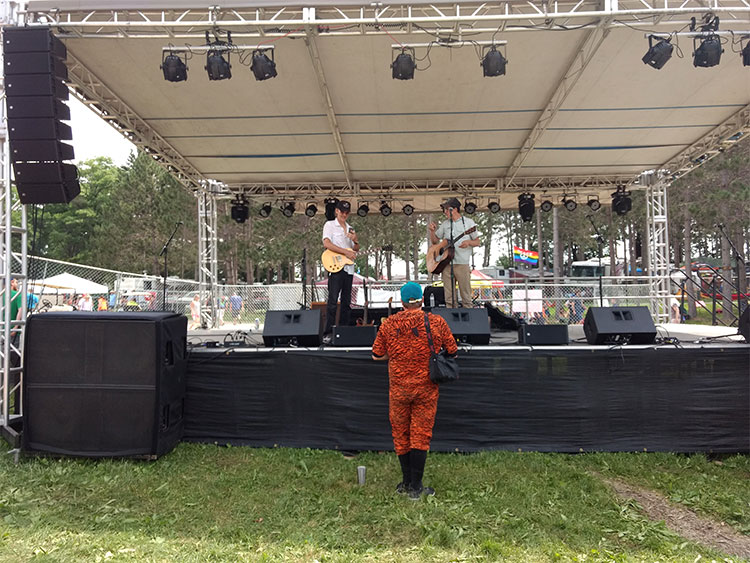 11:17 a.m.: A little girl in a turtle T-shirt sees a very average dog and absolutely loses her mind with joy and excitement. This will be a top-five moment of the whole festival.
11:30 a.m.: After Lindsay Lou sings about three notes, we're hooked. What a beautiful, soulful voice. A gal dressed as the Blind Melon "Bee Girl" shows up with a fella dressed as a beekeeper. Cute, but what's with the costumes? We see another guy dressed as John Hammond from Jurassic Park, but it turns out he's not—he's just got a white beard and suit and a cane.
12:15 p.m.: Lindsay Lou plays David Bowie's "Sound & Vision" and our hearts to explode. Billy Strings walks among the crowd and chats with people.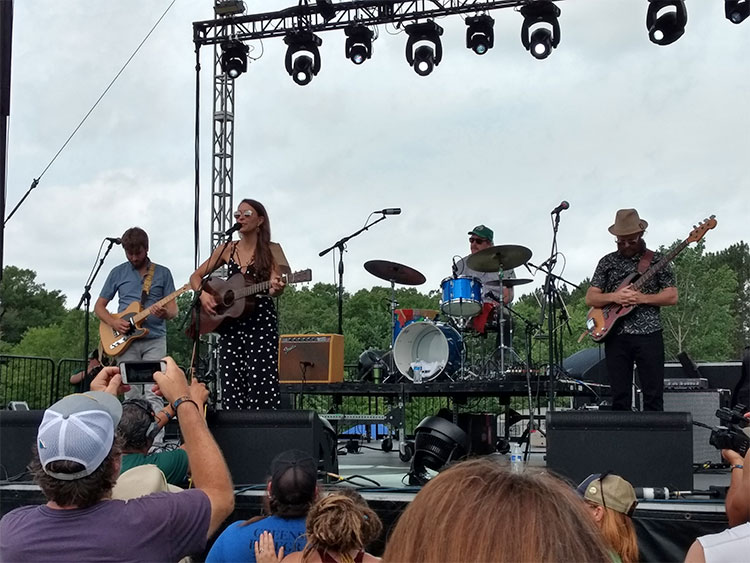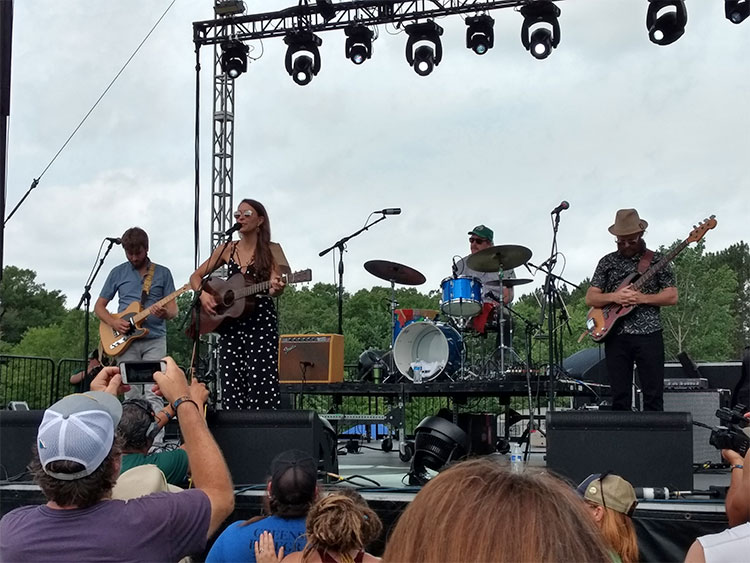 12:30 p.m.: We're back at the side stage for Jack Klatt's second set, along with a bunch of guys in Frank Zappa shirts and some people doing yoga. It's also really hot outside.
1 p.m.: North Carolina's Mipso start their set exactly on time, because obviously. Solid Americana with great vocals. The band discusses the amount of musical talent in the Eau Claire area, attributing it to the clear area water. "It's vodka!," screams a lady in the crowd.
2 p.m.: Kind Country rip right into some seriously blistering bluegrass and a crowd guy shouts, "Slow down!" They don't. Deeper into the set, they do a funky cover of Beethoven's "Fur Elise" and the Grateful Dead's "Loser."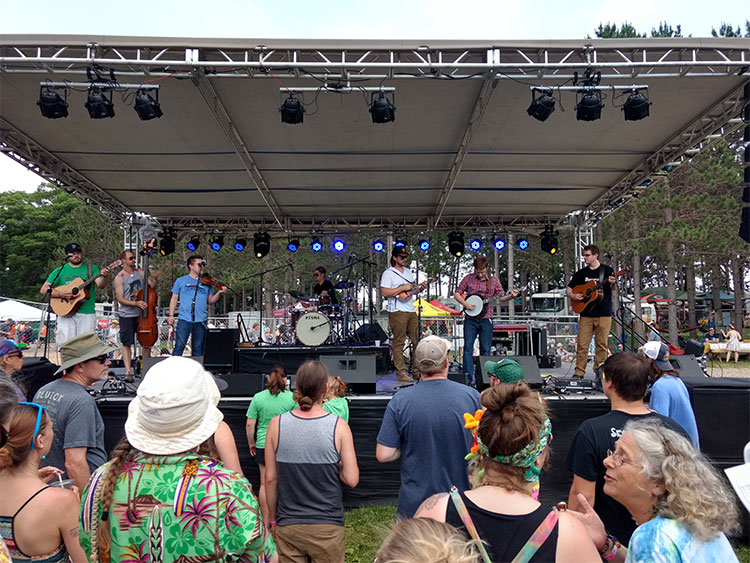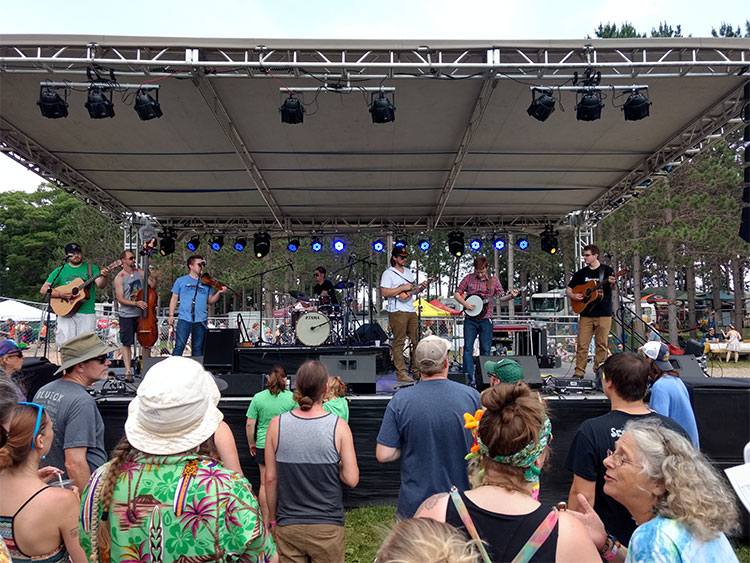 2:30 p.m.: Mandolin Orange slows things down with some pretty and sad country songs like "Hey Stranger" as some very welcome clouds move in. We enjoy this set a lot, and also the clouds.
3 p.m.: A kid playing Frisbee along the edge of the grass gets drilled in the chest with said Frisbee because he was doing that flossing dance instead of paying attention. Lesson learned.
3:20 p.m.: Some guy squirts our shoes with a squirt gun. Speaking of, the free water stations are very busy today. What a great idea.
3:30 p.m.: The Steeldrivers get into some fun country and bluegrass songs about whiskey and "have mercy on my soul"-type stuff. The clouds have grown dark and some big fat raindrops start to fall. After a big thunderclap, the band wraps up a little early and exits the stage.
4:45 p.m.: Weather delay.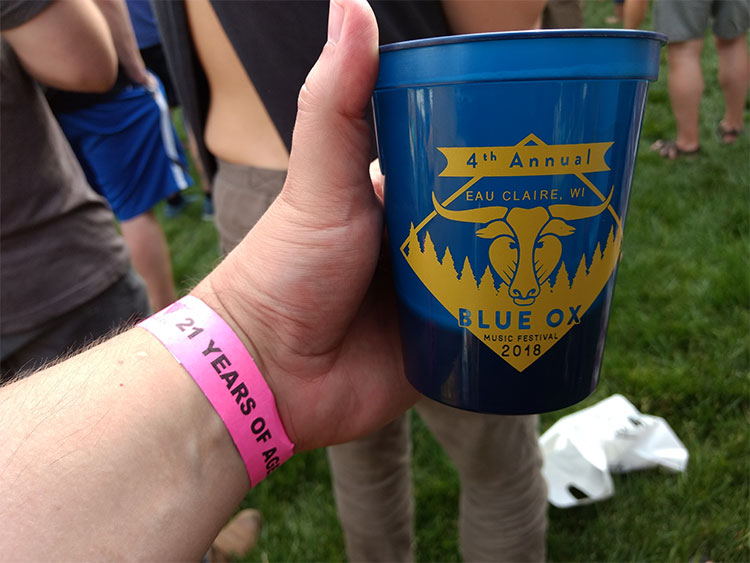 5:15 p.m.: The Tillers' first Side Stage set interrupts the weather delay. This is the first time the fest has been a little behind schedule. There's something oddly comforting about that.
5:40 p.m.: The Del McCoury Band steps onto the Main Stage. They are one well-oiled machine. They play some of the tightest bluegrass we've seen this weekend/ever, but it's still really fun and family-friendly. Late in the set, Del announces, "We're gonna do a song now about trains and girls." Aren't they all?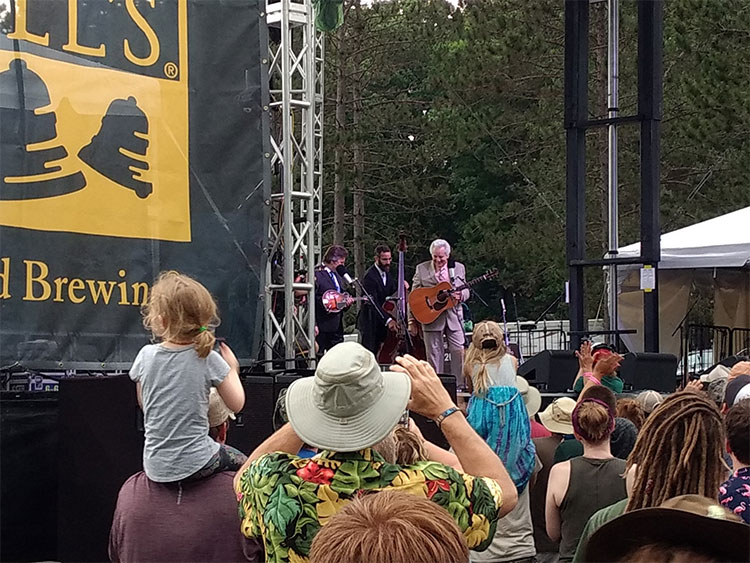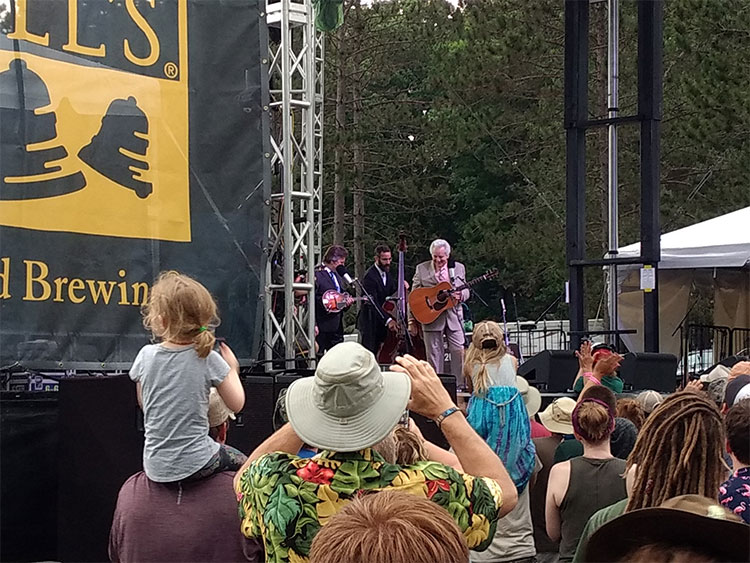 6:30 p.m.: Back on schedule, The Tillers hop back up on the Side Stage and thank Del McCoury for being their opening act. Point, Tillers.
7 p.m.: The Grammy-winning Infamous Stringdusters open their set with "Dancing In The Streets" as a rainbow emerges in the east. We bump into a few members of Milwaukee's own Buffalo Gospel and enjoy a Kinnickinnic Whiskey and Coke.
8:15 p.m.: We move over to the Side Stage for a great Kitchen Dwellers set and the guy from the bubble display stand is putting on a particularly cool display.
8:45 p.m.: Festival co-hosts Pert Near Sandstone play a joyful Friday night set to a huge crowd with lots of kids. Not terribly familiar with Pert Near before today, it takes us a minute to realize the guy dancing up on the stage is actually clogging! Speaking of dancing, a young lady playing Frisbee with some friends takes a disc to the head when she's doing ballet or something instead of paying attention. Parents, please teach your children that when you dance with Frisbees, you dance with danger. #themoreyouknow
9:15 p.m.: As we wander the grounds, a gal walks towards us with a sign that says "Free Shrugs." Without saying a word or even slowing down, we shrug, she shrugs, and we continue walking.
10:30 p.m.: A member of our team insists that the "Greensky" in Greensky Bluegrass is pronounced "GREEN-ski." It's not, but we will pronounce it that way forever. We bump into our friends in handcuffs once again as the band stirs up the crowd with a fun and very danceable cover of Pink Floyd's "Breathe."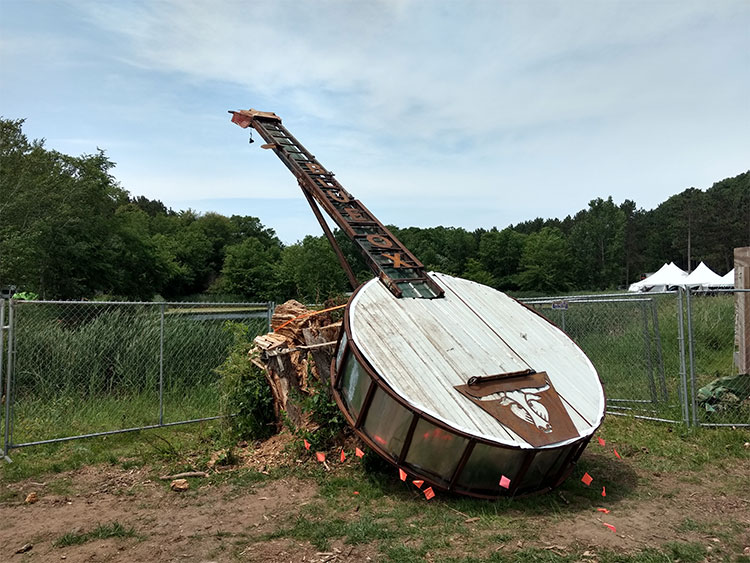 12:25 a.m.: Walking back to the Backwoods Stage/home base, we try to wrap our heads around how GREEN-ski just made "Breathe" into a fun, danceable song. We slowly make our way back to camp, and unfortunately miss most of Barbaro. There's now a huge tent and a truck filling the previously empty space around our humble tent. Whatever.
1:40 a.m.: The late-night Horseshoes & Hand Grenades set has been as good as we'd hoped to this point. Kitchen Dwellers join in to form a figurative bluegrass Voltron with Dwellers' banjoist Torrin Daniels at the vocal head. The ensuing cover of the Grateful Dead's "New Speedway Boogie" will go down as a very favorite moment of the festival. They close with a "And We Bid You Goodnight" sing-along to close the set. Goodnight.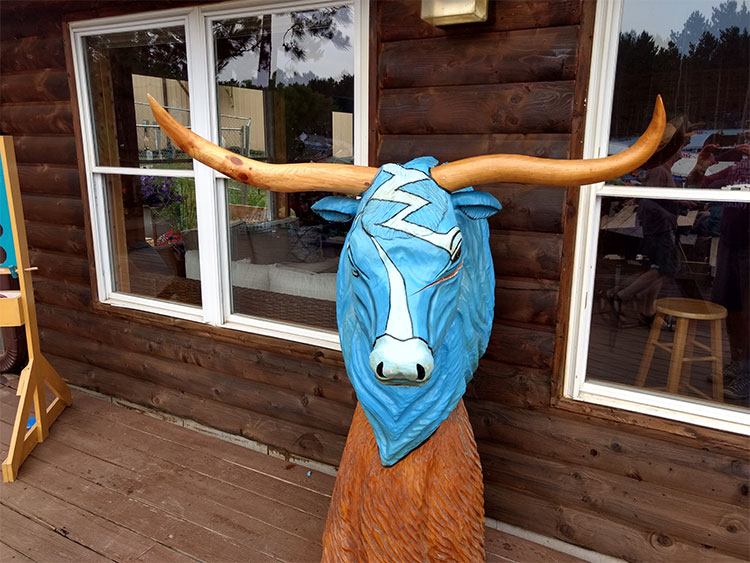 DAY 3
Ridiculously early morning: The new neighbors wake up extra early and complain about nothing for what feels like an hour. New neighbors are the worst. Our O.G. neighbors are the best and we kinda hate to leave them. But, it's rainy and muggy and there's an Airbnb with our names on it, so we get our gear packed up and head off-site for a bit.
12:55 p.m.: Our off-site activities take longer than expected so we miss all of Danny Barnes Trio and most of Chicken Wire Empire. As we approach the Side Stage, Chicken Wire is leading the crowd in a "Going Down The Road Feeling Bad" sing-along to close their second set. The crowd is very into it. Hooray, Milwaukee!
1 p.m.: Charlie Parr's dobro/bass/washboard combo thrills the crowd with a very energetic performance. A cool cover of "Hey Joe" late in the set is one we'll remember for sure.
2 p.m.: The second Milwaukee band of the day's schedule, Buffalo Gospel, takes the Side Stage for a little departure from the norm. The audience hasn't really seen much straight-up country yet. No banjos here, but the Necci/Rowe/Koenig/Lang/Ogburn lineup sure delivers. A crowd slowly gathers as Ryan Necci belts out bangers "Son Of A Gun" and "If I Was The Last Man."
2:30 p.m.: Jeff Austin Band opens with the Rolling Stones' "No Expectations" and we see a middle-aged guy in striped pajamas. We don't know if he's Toby from Labyrinth, but we don't know that he's not.
3:30 p.m.: Back at the Side Stage, Buffalo Gospel has picked up a bigger second-set crowd that's very down to sing along to Dwight Yoakam's "Guitars, Cadillacs" and the band's own "Mule."
4 p.m.: Like yesterday's Lindsay Lou performance, we're hooked on Tyler Childers' set after just a few notes. That great voice joining some nice pedal steel is really terrific. Today is shaping up to be very country and very, very good. "This is a song I wrote a few months ago about the other night," Childers states before playing "I Swear (To God)."
5:30 p.m.: Steep Canyon Rangers play some feel-good country and bluegrass in a light drizzle. Still kinda beat up from all the standing and heat, we listen to the set from a shady picnic table with a $4 shareable pile of fries and a $3 Choco Taco. Seriously, there are some great and affordable food and drink options.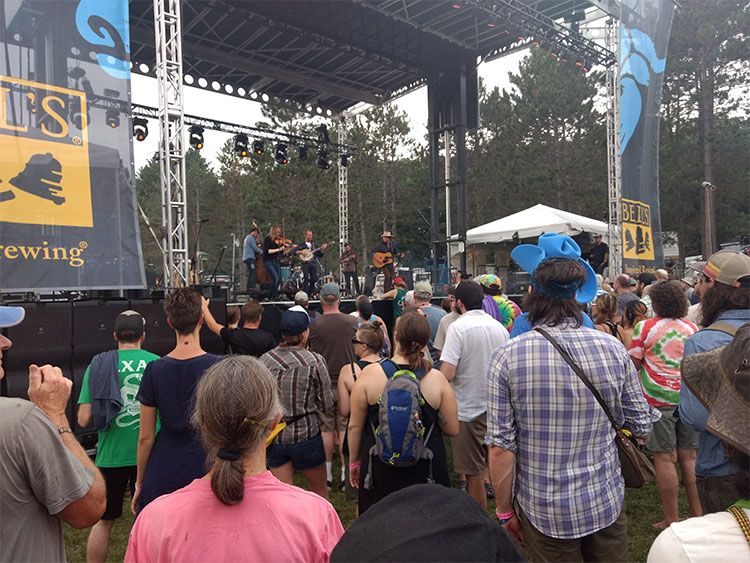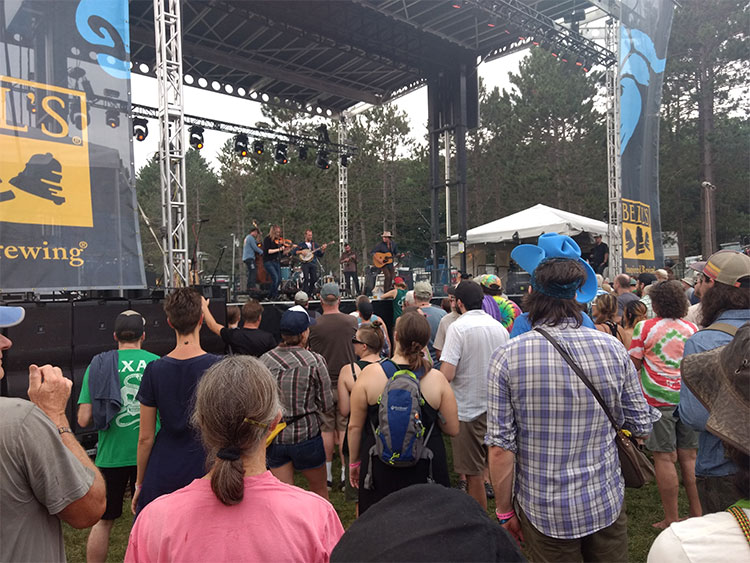 6:45 p.m.: We make some new friends over beers and swap stories about Sasquatch while Tyler Childers approaches with a drink housed within a giant coconut. Rumors circulate that Margo Price is just arriving and that she had to drive herself here from Tennessee because she's sick or something. We catch the tail end of Pistol Whippin Party Penguins and the crowd is having a ball.
7 p.m.: There's a lot of dead air before Margo's set, but the wait is worthwhile and the explanation is solid. She's too sick to fly, so she drove herself up to Eau Claire. Thanks, Margo! The set starts out hot and a little rockabilly with Price's big country voice just soaring. The show is very polished and very good. A member of our team gets temporarily stuck in a portable bathroom for the second time this trip while the band covers "Me & Bobby McGee."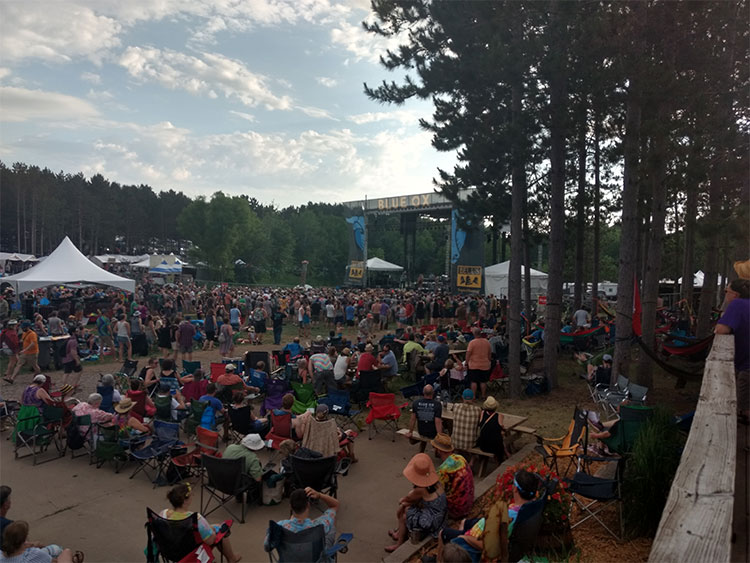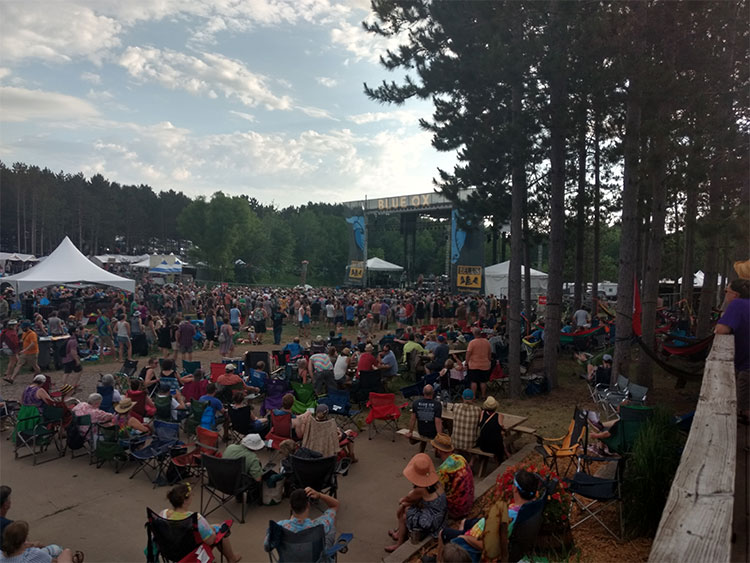 8:15 p.m.: Our ears are ready for some more bluegrass as The Lil Smokies get going on the Side Stage. Wowzers. Jaws are all on the ground as the band tears through a very impressive set. We find a picnic table on the elevated patio next to the Side Stage with a great view of both stages. Why didn't we do this hours ago?! The Lil Smokies wrap their set with Elton John's "Rocket Man" and enjoy a huge ovation.
8:45 p.m.: The weather is as perfect as it's been all weekend. The sun is setting, the stars are shining. and Pert Near Sandstone takes the stage for their second Main Stage set of the festival. What a great way to wind down this event. We have a brief conversation about all the covers we've heard this weekend, but not one Beatles tune. How is that possible?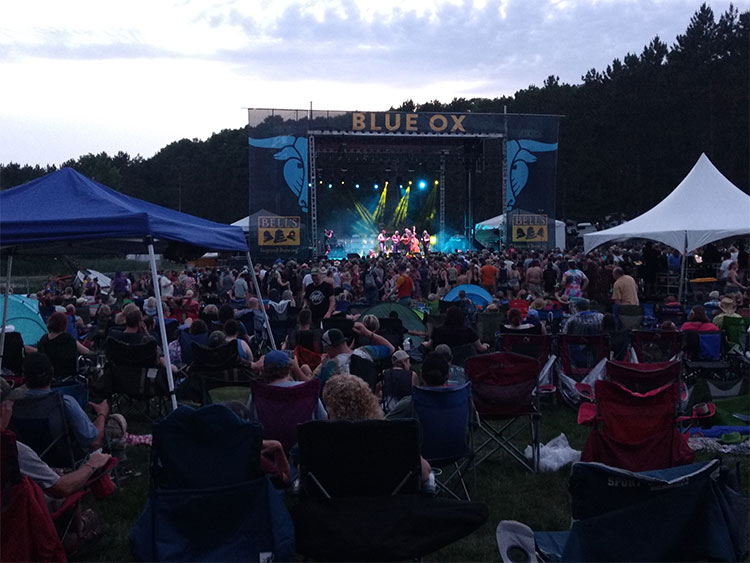 10:02 p.m.: The Lil Smokies return and play very tight, yet warm, bluegrass for the biggest crowd we've seen at the Side Stage. Easily our favorite act of the whole festival. They even play The Beatles' "Paperback Writer."
10:45 p.m.: Our crew is fading fast, but we catch a little of The Devil Makes Three because we know we'll regret it if we don't. The band's energy is infectious. It has the feel of a smaller and more intimate show, even though it's huge. We're not going to make it to Charlie Parr or Pert Near Sandstone at the Backwoods Stage tonight, but this feels like a great way to end our trip. Thank you, Blue Ox and friends, for the hospitality and the memories.