Milwaukee might be known as the "City Of Festivals" and the home of the "World's Largest Music Festival," but there's a wealth of other music fests happening in Wisconsin that help make the state a special place to live (or visit) in summertime. As many of Milwaukee's summer festivals are set to return in 2021, so are some of Wisconsin's other large-scale entertainment undertakings.
After a year away, Mile Of Music is set to bring hundreds of acts to dozens of spaces in downtown Appleton this summer. Hodag Country Festival is also returning to Rhinelander after 2020's event was canceled. Following a lengthy absence spanning decades, Two Rivers Snowfest is finally gearing up to return next month as well. And out in the western part of the state, one rapidly-growing festival is coming back to build on its reputation as one of the country's best annual collections of bluegrass, Americana, and roots music.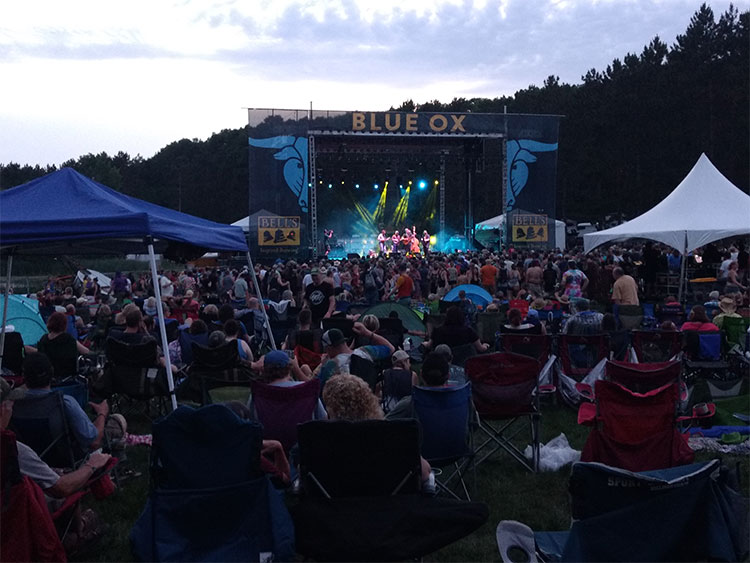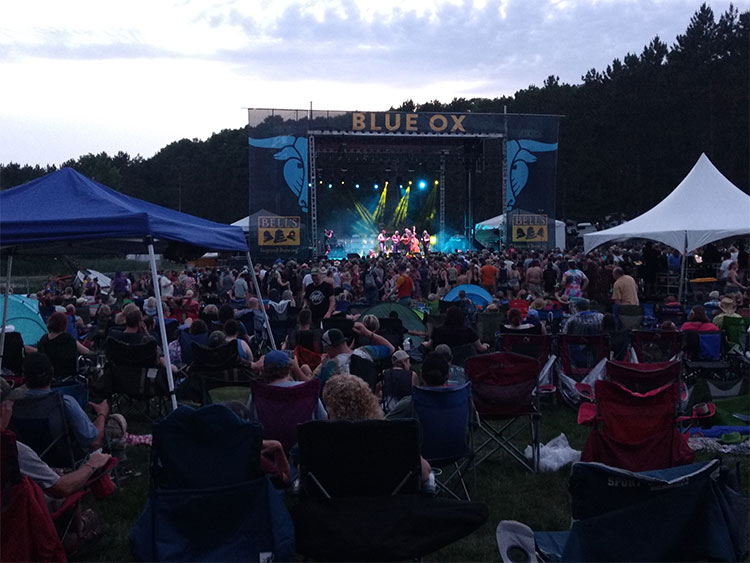 Since its 2015 outset, Blue Ox Music Festival has brought a world-class music lineup to a sprawling parcel of land in Eau Claire, Wisconsin. Now approaching its sixth installment—coming to The Pines Music Park from August 19-21—in a seven-year span, the grassroots festival has far surpassed the original expectations that Minnesota band Pert Near Sandstone and the Bischel family (who own and operate Blue Ox) had when they humbly began the festival seven summers ago.
"As soon as we saw the festival grounds—at the time, the Whispering Pines Campground—it was just a dream come true to see this beautiful grass meadow with the pond next to where they presumed the stage would be, the rolling hills filled with pine trees, campsites already established, and a shower house," says Pert Near Sandstone vocalist/multi-instrumentalist Nate Sipe. "The first year went off so well and we just knew we had something that would develop its own legs and become its own entity."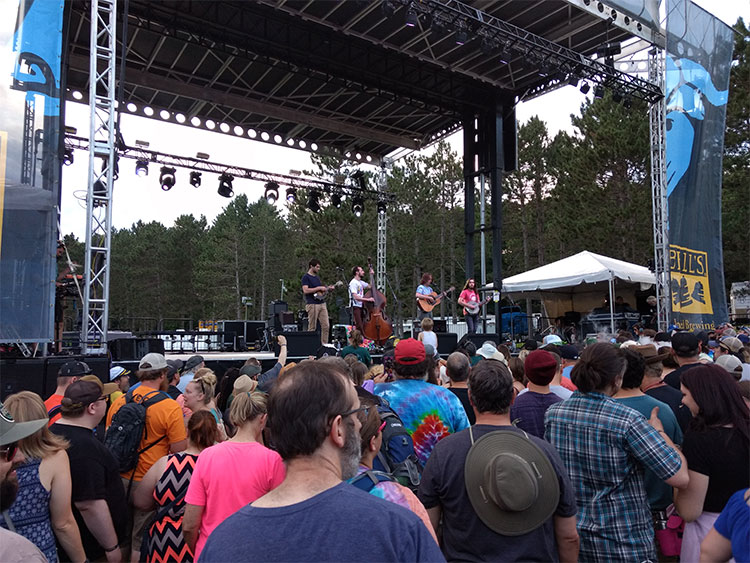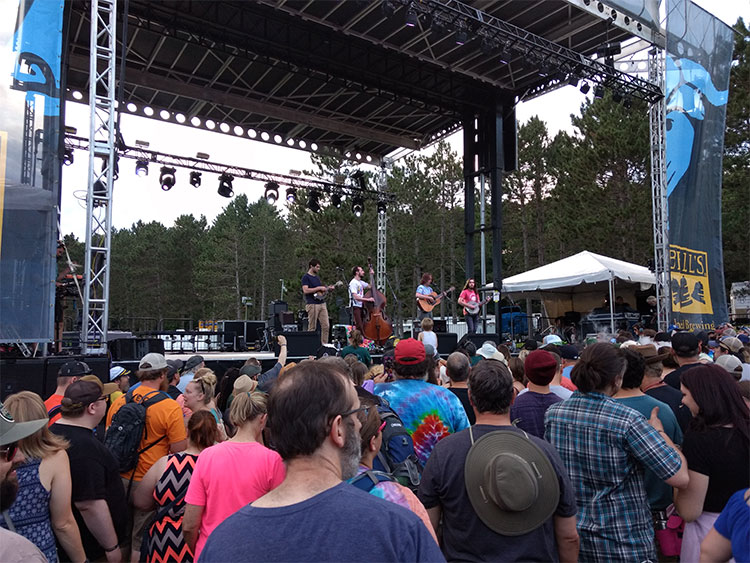 Originally expected to be a one-off experiment, organizers instantly knew the upstart event had promise. With Sipe and his bandmates helping the Bishel family to curate, promote, and perform at the festival, Blue Ox quickly took off. In its first five years, Blue Ox Music Festival has hosted the upper crust of Midwestern string music, as well as a great deal of nationally-known names in bluegrass, Americana, country, and folk music. Some past performers include Bela Fleck And The Flecktones, Tyler Childers, Billy Strings, Margo Price, Greensky Bluegrass, The Sam Bush Band, Drive By Truckers, Trampled By Turtles, and Railroad Earth.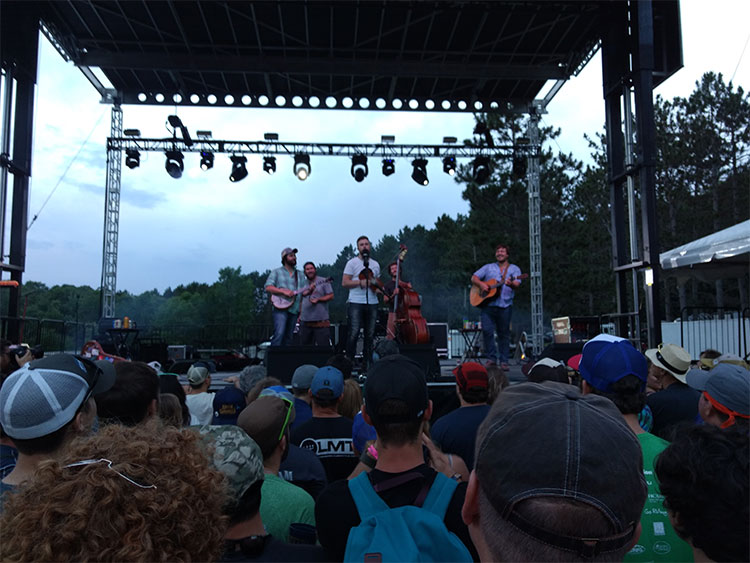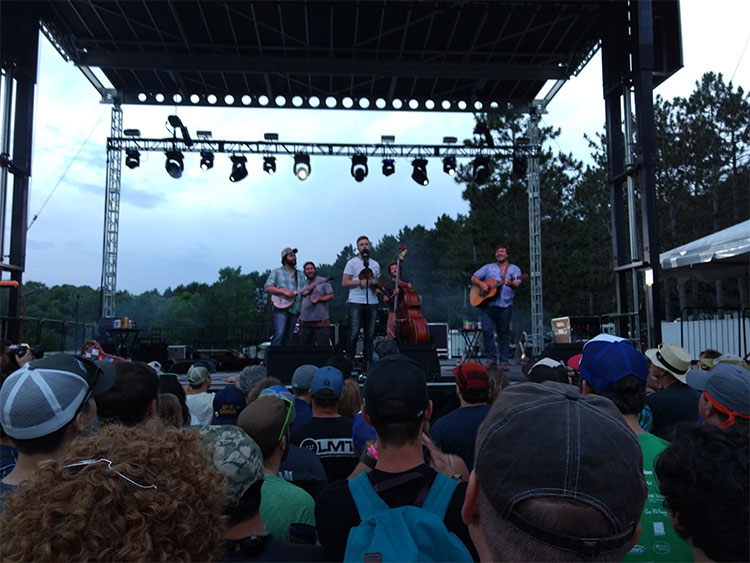 Another Blue Ox fixture is Horseshoes & Hand Grenades, a Stevens Point-based band that's performed at every installment of the festival.
"They all hold some dear memories, from hanging out and picking in the campgrounds to having some birthdays there, to meeting some of my heroes that were also on the bill," says Horseshoes & Hand Grenades member Adam Greuel. "It feels like every year there is always some unique magic. The folks who run the festival are good people and the festival grounds create a pretty epic degree of comfort."
HHG will return to The Pines Music Park to perform on the opening night of this year's Blue Ox Music Festival. Also on this year's lineup is Barbaro, a Minnesota-based band fronted by Cedarburg, Wisconsin native Kyle Shelstad. He says he considers Blue Ox to be "one of those Midwestern staples" of summer music festivals.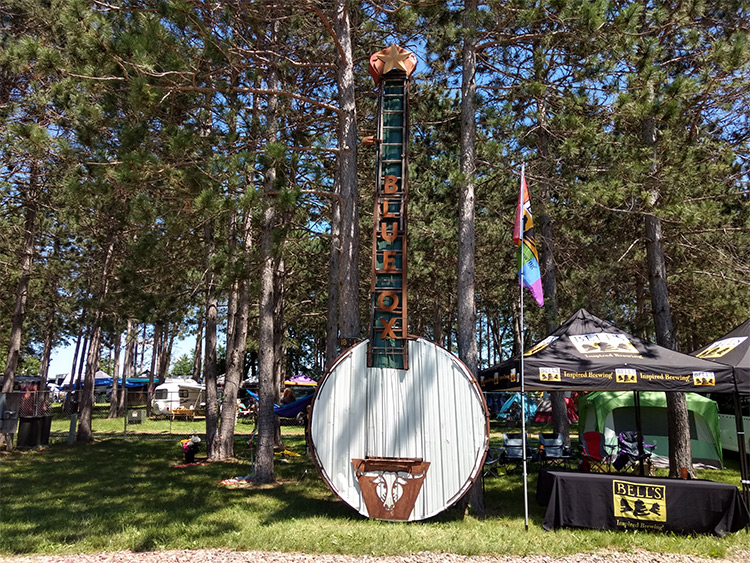 "Blue Ox is a really cool fest that I've been going to since the first year as just a fan," Shelstad says. "And then we've been fortunate enough to play it the past few years. Blue Ox is a cool, cool party. People come all over the country for it."
In addition to Upper Midwest bluegrass mainstays like Pert Near Sandstone, Horseshoes & Hand Grenades, Barbaro and Charlie Parr, this year's installment will also toss heaps of non-regional appeal into the mix in the form of Jason Isbell & The 400 Unit, Shakey Graves, Sam Bush Band, Lillie Mae, Leftover Salmon, Sunny War, and so many more. There will be a steady stream of music on three stages over the course of the festival's three-day run.
Beyond treating those in attendance to hours upon hours of musical entertainment, Blue Ox also offers amenities like a wellness tent that features yoga and meditation, a nine-hole disc golf course, instrument workshops, food trucks, craft beer and cocktails, art installations, and on-site camping. Yes, it's a massive music festival, but organizers have also worked hard to cultivate what they call "an intimate Bluegrass and Americana music experience." And if camping out for three days isn't your idea of fun, single-day passes are available and Blue Ox will run shuttle buses to nearby hotels throughout the festival.
After more than a year away, Blue Ox Music Festival is ready to return to The Pines Music Park for three days of great music, good vibes, and an overriding spirit of togetherness after so many months apart.
"I honestly can't wait to see people dancing, smiling, and hugging," Greuel says. "When the right ingredients come together, it's amazing what magic can be made from live music. Throw some love, some good intention, some flowing music, and some real good people together and you're going to find you've got yourself a humdinger."