After two awesome Dummerfest installments that brought bands like Off With Their Heads, Negative Approach, 88 Fingers Louie, The Copyrights, PEARS, Meat Wave, Masked Intruder, Direct Hit!, and many more to The Metal Grill in Cudahy in 2015 and 2017, organizers put the festival on hiatus in 2018 to focus on transforming the venue into X-Ray Arcade.
Now that the new venture is up and running (and has already hosted the likes of Owen, Okilly Dokilly, Pkew Pkew Pkew, and Eyehategod since opening in February), the new Cudahy arcade bar and all-ages venue is able to bring Dummerfest back to the property.
They'll do just that on Saturday, June 22, when X-Ray Arcade hosts more than a dozen bands on both indoor and outdoor stages over the course of an all-day, all-ages affair that will culminate with a performance by The Lawrence Arms. In the instance you're just learning about this (or if you're planning to attend, but still have some questions), here's everything you need to know about Dummerfest 2019.
Who's playing again?
This year's installment of Dummerfest is by far the biggest one yet, both in terms of the number of performers playing on more stages than ever before and in regard to the caliber of the headliner. Dummerfest 2019 will be capped off with the first Milwaukee-area performance by The Lawrence Arms in more than 15 years. X-Ray Arcade is also the most intimate venue they've played in quite some time. And we might be biased, but The Lawrence Arms is one of the best bands on the planet. And we're not just saying that because Brendan Kelly is, like, our new best friend or whatever.
If Lawrence Arms aren't enough to get you there, Direct Hit! will keep its Dummerfest streak alive, Red Scare's own The Lippies will make an ultra-rare Wisconsin appearance. Kali Masi and La Armada are both awesome, and they'll play after Nato Coles and his Blue Diamond Band bring some great local flare to the event. You'll want to show up early to 1. Get a ticket if you haven't bought one yet (more on that later) and 2. To catch afternoon entertainment like Engines from Chicago, Direct Hit! guitarist Devon Kay's eponymous side project, Toronto punks The Greys, and more. There's a total of 14 bands playing on two stages over the course of 11 hours, so you're bound to like at least a few of 'em.
What are set times?
Though these are just approximations, this should help.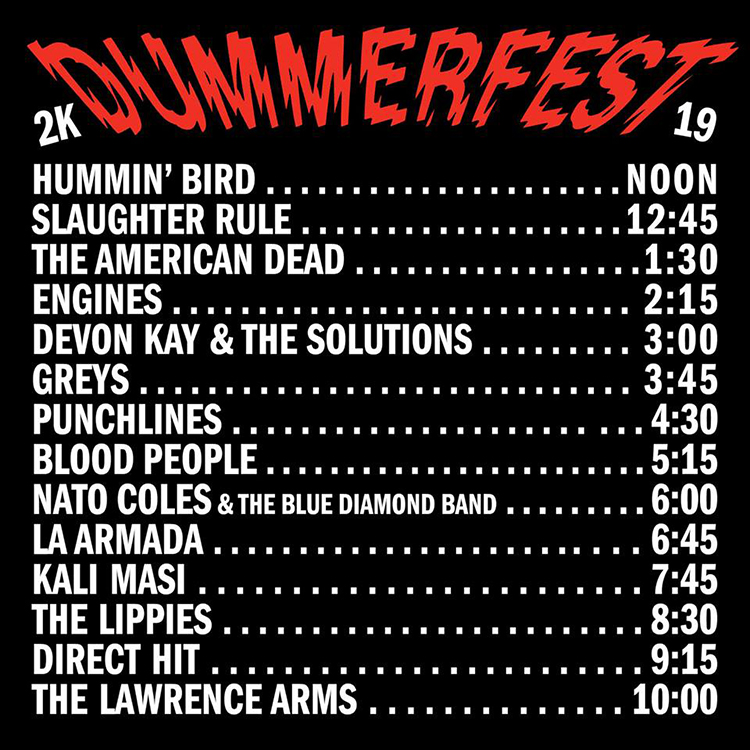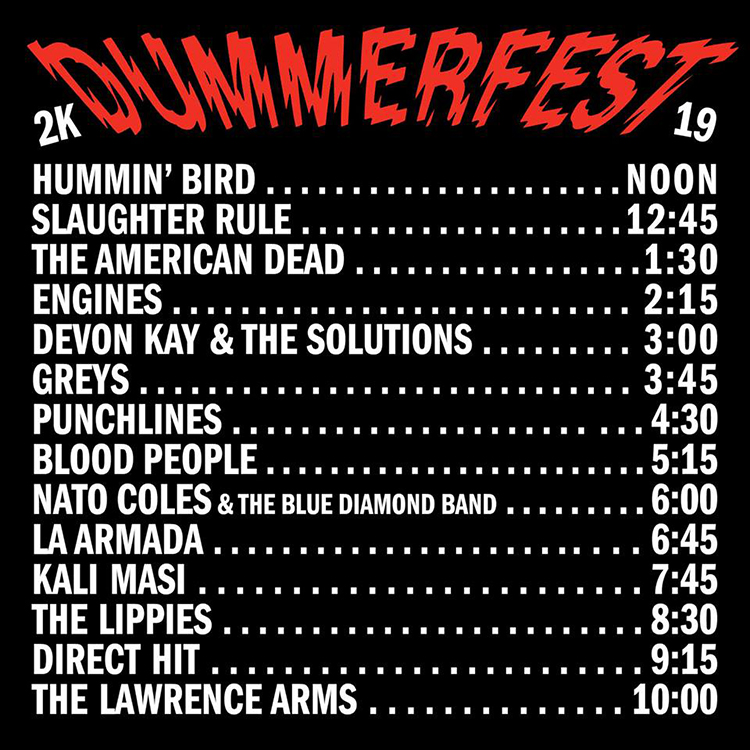 Are tickets still available?
Since scalpers are the scum of the earth, X-Ray Arcade decided to withhold about half the tickets until the day of the show. Advance tickets are long gone, but a limited number of people (approximately 100) will still be able to gain entry for a $50 cover when doors open at 11 a.m. They'll be sold on a first-come, first-serve basis, so we'd recommend getting there early. The first 50 through the doors will also get a free Dummerfest koozie! It's also worth noting that re-entry WILL NOT be permitted.
Is anything else happening there?
Even though the presence of both indoor and outdoor stages will limit changeover time, Dummerfest organizers have thought of a few great ways to help keep show-goers entertained during the occasional 10-15 minute lulls or in the instance you'd like a break from music for a spell.
Yours truly will preside over the small-but-mighty bar-adjacent platform that has been dubbed the Milwaukee Record Stage, which will feature a total of six 10-minute sets from local comedians A.J. Grill, Carter Deems, and David Louis. When the comics aren't performing between bands, Dead Man's Carnival will be on-site doing their thing over the course of the day. Oh, and all of X-Ray Arcade's games will be free to play inside throughout the festival.
Will there be food?
Anyone who's attended prior Dummerfest installments has good reason to be concerned about the food situation. With all due respect to The Metal Grill, their kitchen was simply not equipped to handle the demand an event like Dummerfest brought. Knowing food options were abysmal in previous iterations, X-Ray seems ready to handle a hungry horde of punks this time around.
Outside on the patio, the grill will be cooking up burgers and sausages (both meat and vegetarian options available) for purchase, and there will also be chips and "a respectable array of condiments" on hand. Soothsayer Hot Sauce—the official food sponsor—will also be selling sauces.
What are we drinking?
We're glad you asked! In addition to its regular selection at its full-service bar, X-Ray has crafted "light, Powerade-based cocktails" to keep people hydrated. In an effort to handle the volume of people both inside and outside the club, there will also be a few drink stations stocked with High Life, Pabst, and Tullamore Dew scattered around the premises.
And this is all-ages?
Yes.
Can I afford to miss this?
No.