Love it or hate it, it's safe to say Record Store Day is here to stay. What started as an honest-to-goodness movement to encourage listeners to get out and support independent music retailers who were suffering in the advent of Amazon, streaming services, and the industry's stark shift from physical to digital formats has quickly mutated into a halfhearted "holiday" with its fair share of icky elements.
Amid the ugliness of desperate novelty records and greedy "collectors" re-listing rarities on eBay while they're still waiting in line to pay, some Milwaukee record shops, local bands, and other area businesses are doing their part to make this happening a worthwhile occurrence for all. On Saturday, April 22, the consumer event will take the form of a full-fledged local holiday, complete with new releases from beloved Milwaukee bands, album (and t-shirt) reissues, meet and greets, in-store shows, giveaways, and more.
1. Acme Records & Music Emporium
For this year's festivities, Bay View's Acme Records promises food, beer, fun, live music, and both new and used records. As far as the live music aspect is concerned, the free all-ages show features eight hours of music provided by the likes of Book Of Johns, Milo, Black Lake Ensemble, Red Stuff, The Ornerys, Piles, Fox Face, and Slow Walker.
2. Beer City Records reissues
Venerable Milwaukee label Beer City Records marked last year's RSD with a whopping three releases and a reissued Crusties cassette. This time around, they'll put out two albums. By Saturday, Beer City will have D.R.I.'s Live At The Ritz 1987 LP (which technically came out Friday) and M.D.C.'s Magnus Dominus Corpus LP.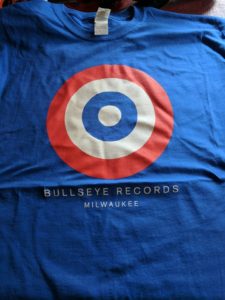 3. Bullseye Records
Bullseye blew it out last year with DJs spinning outside neighboring Comet Cafe and a sidewalk sale. This time around, the East Side shop will have records on sale, and there's also a way you can get a free Bullseye shirt. You can buy a shirt at the store before April 22 for just $5. Wear it there on Record Store Day and you'll get your $5 back.
4. Direct Hit! Domesplitter Fat Wreck Chords reissue and release shows
After Direct Hit! turned some heads and moved some units with last year's Fat Wreck Chords debut, Wasted Mind, the pop-punkers were approached about reissuing a remastered version of the band's 2011 record, Domesplitter. Though the album officially came out on Fat last Friday, Direct Hit! will wait until Saturday to have a release show…or release shows, rather, at Cactus Club. The band will be joined by The Living Statues and Midwives for an early all-ages show, then The Pukes and Avenues will provide support for the 21+ show Saturday night.
5. Exclusive Company
With more than 60 years in business, Exclusive Company is far older than this newfangled holiday, so there's no concern the independent franchise will be ready for Record Store Day. The Milwaukee location is opening at 7 a.m. and will have sales and WMSE DJ's spinning all day. Greenfield is also opening at 7 a.m., with sales planned as well. Up in West Bend, pre-owned albums will be half off, non-musical novelties will be 25 percent off, Lead Bottom will play from 3:30 p.m. to 5 p.m., and free goodie bags will be given out (while supplies last).
6. Local releases galore
While Direct Hit! is the only local outfit with a release show planned on Record Store Day itself, a few Milwaukee projects will release records on Friday, and some will make sure record stores are stocked with their new releases. Low Down Sound will release its self-titled full-length at Company brewing on Friday. Down the street, Nickel&Rose will put out its European-recorded Oh Sweet Love EP at Club Timbuktu, and Milwaukee political hip-hop duo Guerrilla Ghost's debut EP will come out on Triple Eye Industries on Friday, too.
7. Off The Beaten Path
Off The Beaten Path is about to move, so the Farwell Avenue record shop is keeping things simple in its final RSD on the East Side. All records in the store will be 20 percent off. The outside of the shop will have dollar bins, which will drop to just 50 cents at 3 p.m.
8. Rush-Mor Records
Obviously, Milwaukee's longest-running record shop is celebrating Record Store Day. Aside from stocking holiday exclusives from nationally known artists, Rush-Mor will offer the new WMSE seven-inch (more on that below), the new Guerilla Ghost album, and sales. Moreover, there's a Cheetah Chrome meet and greet planned. Best yet, the store's owners happened upon an old shirt design, which they're reviving for Record Store Day. Get it while you can.
9. WMSE to release live Direct Hit! 7-inch
Since 2015, local radio institution and chili competition curator WMSE has helped spread the good will and wonder of Record Store Day with a limited-edition release of a 7-inch from a Milwaukee (or Milwaukee-related) artist with national appeal. The inaugural vinyl release was live performance by Field Report. Last year, the station quickly sold all 250 copies of its Sylvan Esso 7-inch. This time around, WMSE will ring in Record Store Day with a two-song release from Milwaukee pop-punk phenoms and Fat Wreck Chords' own Direct Hit!
Live From WMSE, Direct Hit! will feature two songs, "Paid In Brains" and "Was It The Acid?," that were recorded, mixed, and engineered by station engineer Billy Cicerelli at WMSE studios on June 21, 2016 during the band's Local/Live appearance. Both songs were originally released on Direct Hit!'s 2016 Fat Wreck debut, Wasted Mind.