The livelihood of most NFL players is mired in uncertainty. The league's Players Association claims the average NFL career lasts just 3.3 years, but in reality, every player could be one hit, a torn ligament or an underwhelming training camp from being out of the league forever. Unlike MLB and NBA salaries, only a small portion of NFL contracts are guaranteed, which places players' heads permanently atop the chopping block. For every durable veteran like Brett Favre or Donald Driver who spends more than a decade in the league, there are dozens upon dozens of short-lived talents like Terrance Murphy, Nick Collins or (lol) B.J. Sander who are left jobless and, in many cases, physically broken or emotionally devastated by the multi-billion-dollar business who literally profited from their sweat, blood, and bone. As cruel as the majority of NFL career outcomes are, the temporary payday is well worth the risk to most.
With that in mind, it's hard to fault NFL players and coaches for squeezing as much money and notoriety as they possibly can out of their (in most cases) oh-so-limited period of professional sports employment. In the same way, you can't blame Wisconsin businesses for ham-fistedly shoving on-field talent in front of a camera—despite the fact athletes can't act for shit—to sell cheeseburgers and trucks to a Packers-obsessed populace. Save for most Clay Matthews TV spots and maybe 50 percent of stuff with Aaron Rodgers incorporated, the vast majority of Packers endorsements are insufferably bad. Sadly, once a player moves on to a new team or retires, few ad agencies are exactly rushing to upload these cringe-inducing commercials to the Internet.
Though some of the most abysmal promotions were mercifully put out to pasture (a Found Footage Festival-caliber early 2000s Corey Williams ad immediately comes to mind), some evidence of awful ads remain—not to mention modern Packers' willingness to don an implicitly Green and Gold jersey and lend their likeness to…well, anything. Of the innumerable number of bad Packers player endorsements, here are the 13 worst we could find.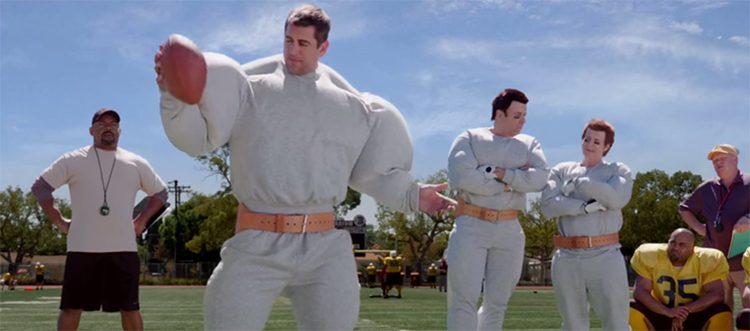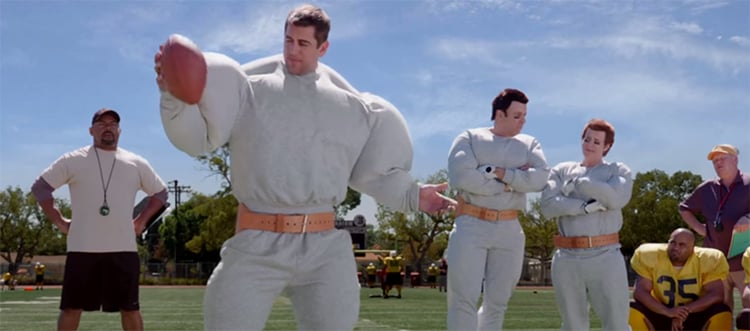 1. Aaron Rodgers — State Farm
As noted above, the future Hall Of Fame quarterback is about 50-50 with the products he routinely hawks on TV. Is he wooden and lifeless on camera? Sure. Compared the Peyton Manning's Papa John's spots, though, most of A-Rodg's State Farm ads are Citizen Kane. That said, they aren't all winners. Case in point: the insurance company's dreadful "Hans and Franz" campaign, which simultaneously made fans wonder why Rodgers agreed to do this, why Dana Carvey quit doing actual comedy, and why Kevin Nealon hasn't quit comedy.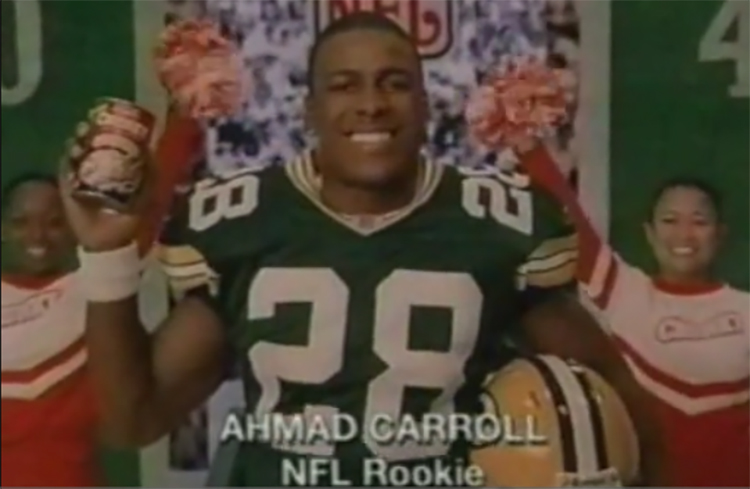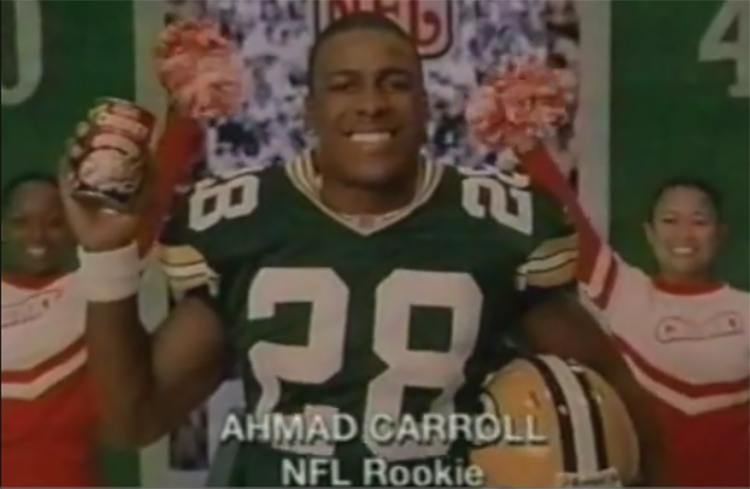 2. Ahmad Carroll — Campbell's Chunky Soup
If they even remember him at all, most fans not-so-fondly recall short-tenured Packers cornerback Ahmad Carroll as the player the team wasted a late first round pick to get in the 2004 NFL Draft. We choose to remember him as part of Chunky Soup's All-Rookie Team. After 2004, the awkward ad was cut. The Packers would also cut Carroll a season and a half later.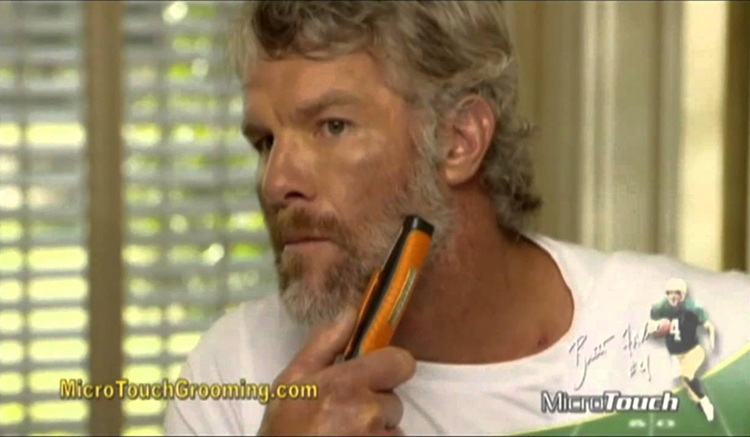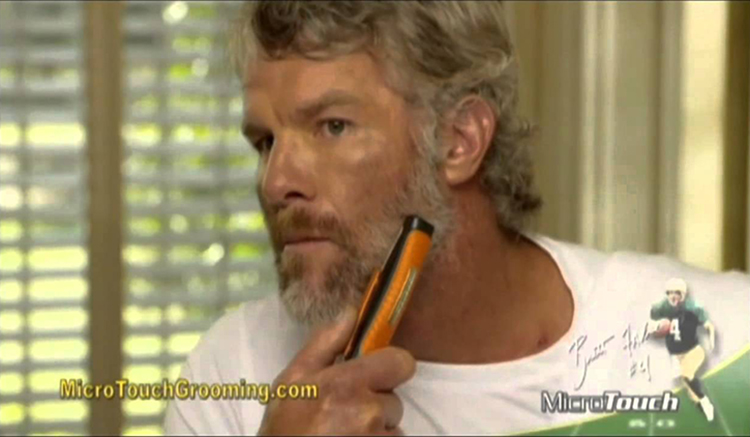 3-4. Brett Favre — Wrangler and MicroTouch
If you saw Brett Favre's brief cameo in There's Something About Mary, you already know he very well could be the worst actor of all time. Though he's surely a funny and charismatic guy, it rarely translated to film. We'll spare you from links to he Gunslinger's garish Wrangler commercials, but holy shit, we can't overlook these new-ish Favre spots for a grooming tool called MicroTouch. With tens of millions of dollars in the bank, why would he agree to do this? This low budget commercial is the most embarrassing Favre-related thing on the Internet. Actually, it's the second most embarrassing Favre-related on the Internet.
5. Eddie Lacy — A&W
In recent seasons, Northeast Wisconsin A&W locations have aligned themselves with a Packers player for burger-themed promotions. The year, Eddie Lacy was anointed the fledgling franchise's beef ambassador. Despite being hampered with criticism about his weight (more often than not from people in much worse shape than him), the running back put on what appears to be an Ashwaubenon High School uniform and posed for ads pushing "Eddie Burgers." When Lacy scores or amasses 127 or more total yards in a game, the menu item is a scant $1.27. Unfortunately for both Lacy and diners, people have only been able to cash in on the deal three times this season.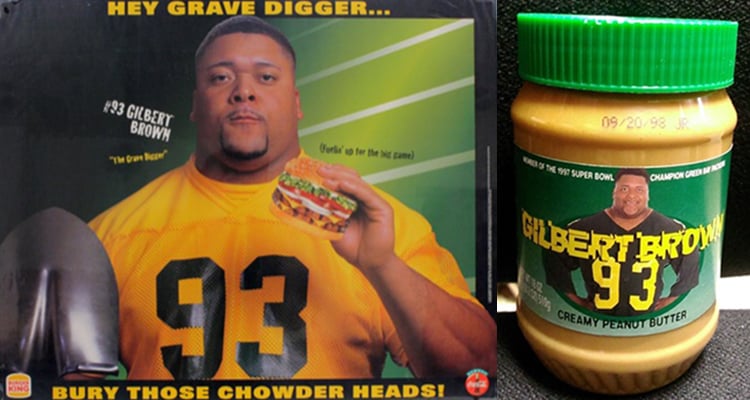 6-7. Gilbert Brown — Burger King and Gilbert Brown Peanut Butter
We'll never forget Gilbert's uncanny ability to draw double- or triple-team blocking schemes during the hefty defensive tackle's respectable career. Still, we're puzzled why a 300-pound man's likeness would be used to sell food. "Eat this and you can look like me, Gilbert Brown!" Burger King and and the makers of Gilbert Brown Peanut Butter—who had Gravedigger wear ill-fitting and off-color number 93 jerseys—apparently didn't make the connection.


8. Jeff Janis — Refuge Cafe
Second-year receiver, JS comment section prince, and purveyor of scrap Jeff Janis is quickly endearing himself to Packerland's fan base with clutch catches and long returns. Beyond carving out a roster spot for himself this season, Janis is also bringing in those sweet, sweet regional smoothie franchise endorsement dollars. We love ourselves a Will Allen from Refuge Cafe from time to time, but a sixth-string wideout who plays more than 100 miles from the nearest location seems like an odd choice for pitchman. Still, the "Green Bay WR" (notice the absence of NFL licensed "Packers" and his logo-less jersey) inspired the "Earn The Dream" smoothie, which features kale, grape, apple, and banana." That sounds much better than the ingredients we'd expect to be in a Janis-inspired drink: sweat, scrap iron, grit, moxie, and heart.

9. Jordy Nelson — Travel Wisconsin
If we're not mistaken, the goal is to get people to visit the state, not be ashamed to live in it.

10. LeRoy Butler — Good Feet Store
Possible explanations for this: 1. Good Feet Store only had permission to film in Lambeau Field for, like, 15 minutes. 2. These are the best takes LeRoy Butler had in him. Both potential reasons are very sad.

11. Mike McCarthy (and Casey Hayward) — Cellcom
When Mike McCarthy was hired to coach the Packers, he inherited Mike Sherman's team AND the vaunted Cellcom endorsement role. Through the years, McCarthy hasn't exactly improved in his TV spots for the microscopic cellular provider. Worse yet, he—in full "COACH"-embroidered apparel—now brings players like Josh Sitton, Bryan Bulaga, Randall Cobb, and (most recently) Casey Hayward into the cheesy commercials. Let's just say that these are a "CHALLENGE!" to get through.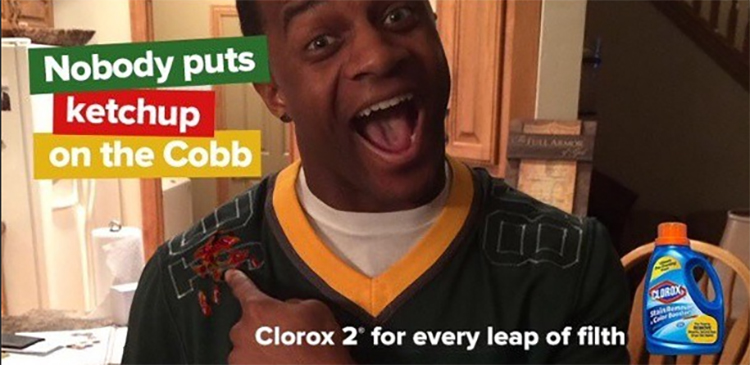 12. Randall Cobb — Clorox
During a Lambeau Leap early in the receiver's career, a fan dropped a sizable splotch of ketchup on Cobb's shoulder. In effort to capitalize on a moment most people would forget happened by the following Sunday, bleach behemoth Clorox hired Randy and his mesmerizing eyes to grin and point at a stain on his jersey. Why is the jersey inside-out? Did the stain seep through? Oh yeah, Clorox probably just didn't want to pay for the rights to show the NFL logo. Lame.

13. Reggie White — Reggie White Bar
Though everyone can agree that Reggie White was an incredible player, not everyone feels the same about the defensive end's standing as a person. Some credit his immense faith as a positive. Others regard his biblical rationale to be a vessel for spewing racist and homophobic hatred to a loyal large-scale audience. Where were we going with this again? Oh yeah, Reggie White used to have a candy bar. During his mid-'90s heyday, the Reggie White Bar was sold throughout Wisconsin to help raise funds for things like class trips, community causes, and fan-funded mega churches that would never be built.