Some places come and go, while some places become icons. Mandatory Milwaukee is all about the latter. Join us as we revisit beloved and well-worn local staples with fresh eyes, and explore how they might figure in the city's future.
In August 2017, the owners of beloved German-themed bar Von Trier (2235 N. Farwell Ave., 414-272-1775) announced the East Side staple would be rebranding as an "upscale midcentury cocktail lounge." Milwaukee was not amused. Within hours (minutes?) of the unexpected news, a flood of outraged posts appeared on social media. A "Keep North Ave Authentic – Don't Change Von Trier!" petition appeared on Change.org. Milwaukeeans gnashed their teeth and cried to the heavens—often while admitting they hadn't patronized Von Trier in many years.
But then the unexpected happened: the outrage amounted to something. In October 2017, owners John and Cindy Sidoff announced they were backtracking on the whole rebranding thing, and would instead be "retaining the iconic Von Trier name and concept" and giving the bar some much-needed renovations and updates. Von Trier closed in January 2018 for those renovations, and reopened in February.
So what's the new, old Von Trier like? First, some background: The history of the building located at the corner of N. Farwell and E. North stretches back to 1949, when owner Frank Rieder razed the previous two-story structure and constructed the single-story Rieder's. In 1978, German-born Karl Lotharius purchased Rieder's—described as a "high-end, East Side institution which made North Avenue a Milwaukee drinking destination"—and, in honor of his hometown of Trier, transformed it into the German-tastic Von Trier. According to Michael Horne at Urban Milwaukee:
Lotharius operated Von Trier and Oliver's, another tavern-nightclub downtown. He loaded it up with antiques and other finds, which were readily available in Milwaukee at a time when many of the old mansions of the German families and other buildings were being bulldozed or looted by scavengers. Some of the items, like two iron plaques outside, date to the late 18th century and are German in origin.
Lotharius' run as the proprietor of Von Trier came to an infamous end on December 20, 1981, when, again according to Horne, "the 47-year old closeted tavern owner was found dying, fatally wounded by a 30-inch, double-barbed, razor-tipped wooden arrow, outside his nearby home on N. Murray Ave." Per a must-read Milwaukee Magazine feature, Lotharius' murder remains unsolved.
Von Trier was then owned and operated by a former Lotharius employee, Mark Eckhart, who held on to the business until 2009. John and Cindy Sidoff took over that year, brightening and cleaning up the joint.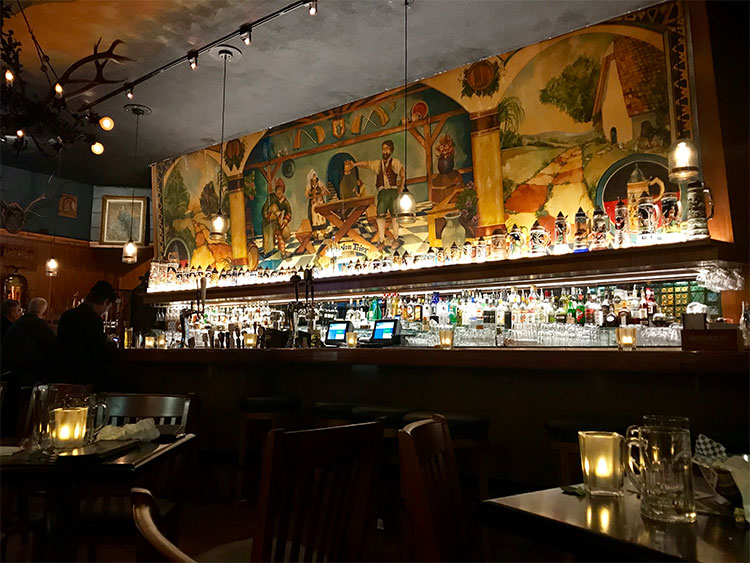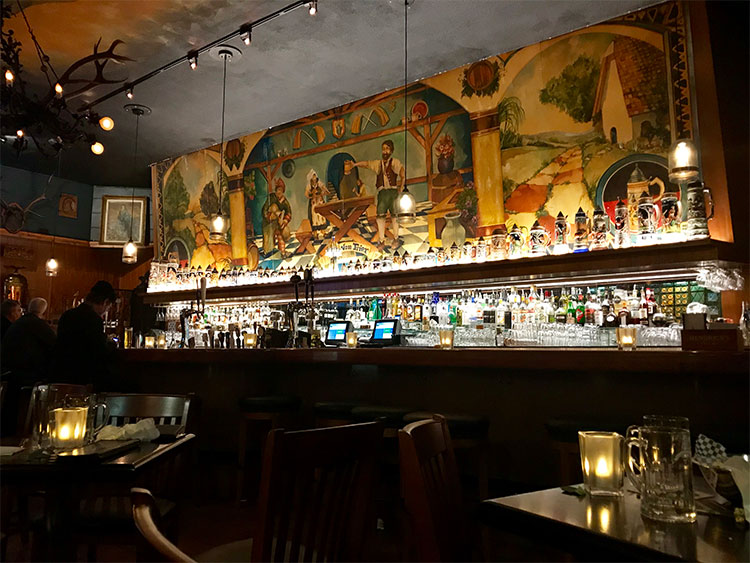 Speaking of brightening and cleaning up the joint, the Sidoff's recent renovation has done that yet again. Step into Von Trier v.2018 and you'll notice the former dark wood-paneled walls sporting a much lighter, blonder variety. It's a big change but a welcome one; the bar remains pleasingly dim and date-friendly, but it's now fresher, cleaner, and more modern. New chairs and tables, a new mahogany bartop, and new lighting to accentuate existing wood carvings round out the subtle but welcome changes.
But the biggest change is the addition of a surprisingly robust food menu. The Sidoff's have flirted with food in the past, and their latest attempt goes all in on the German theme: shareables, meat and cheese boards ($13), salads and soups ($7-$10), and specialties like spaetzle and meatballs ($13) fill one side of the menu. On the other, locally sourced German sausages ($9-$11) and German-inspired burgers ($11-$13) make for enticing dinner-time choices. (Von Trier serves food Monday through Thursday from 4-10 p.m., Fridays and Saturdays from 3-11 p.m., and Sundays from 3-9 p.m.) A recent test run with the Ney's Big Sky VT Beer Brat—doused in sauerkraut and caramelized onions, and served with a side of cabbage, more sauerkraut, German potato salad, or kettle chips—proved to be a rousing success. Oh, and the free popcorn machine remains.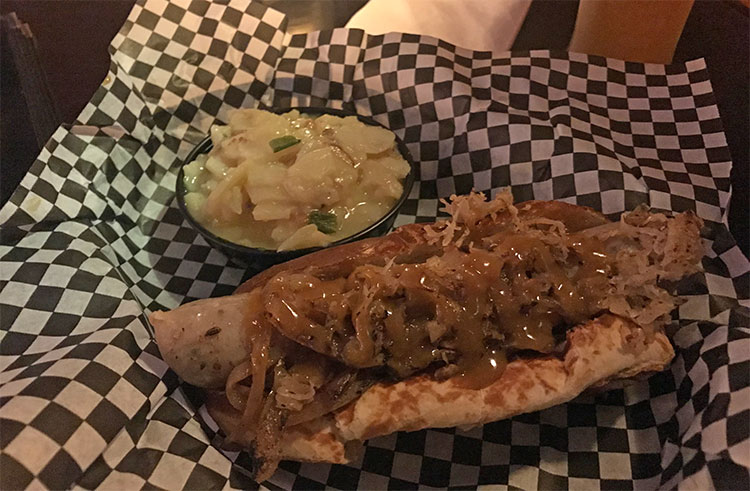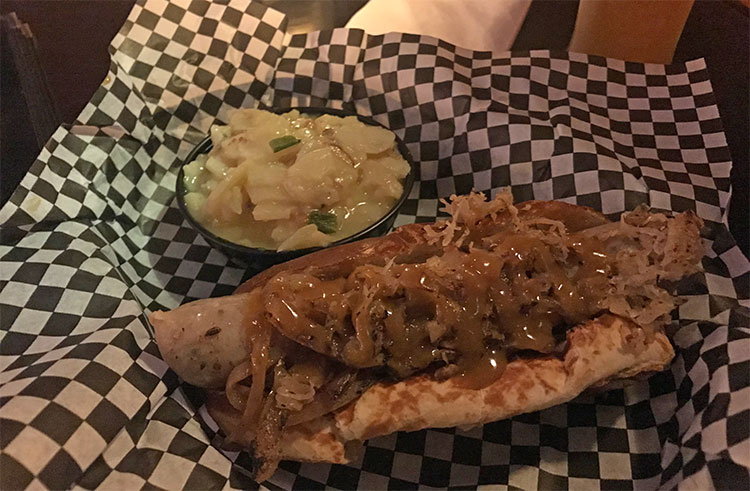 Other things that remain: the extensive beer list, the gorgeous stained glass windows, the wonderful back room, the even more wonderful back patio/beer garden, and the German mural behind the bar. (The black-lit, roller-rink-esque mid-century mural uncovered late last year will return every holiday season.)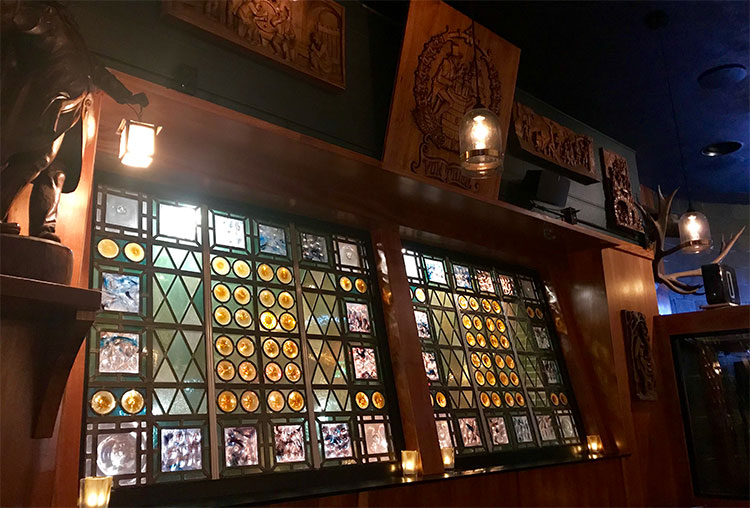 Things that are unfortunately on their way out (due to a recent online auction to help finance the renovations): antique light fixtures; collectible plates; collectible steins; and, most alarmingly, the wrought-iron and antler-bedazzled Cyril Colnik chandelier that has hung in both the back and main rooms. The chandelier previously adorned the Pabst Mansion, and has a history all its own. According to the Milwaukee Journal Sentinel:
The mansion at 2000 W. Wisconsin Ave., built in 1890-'92, was the lavish home of the Pabst Brewing family. The building became the offices of the Roman Catholic Archdiocese of Milwaukee after Capt. Frederick Pabst's death, and after a remodeling in 1960, the Colnik chandelier was stored in a garage, according to Pabst Mansion Executive Director John Eastberg.

The chandelier was sold in the 1970s and ended up at Von Trier, which opened in 1978. The Pabst Mansion was sold in 1975 and became a museum in 1978 after escaping demolition.
While the impending loss of the Colnik chandelier is unfortunate, the fact that Von Trier has decided to stick around in the face of an ever-changing North Avenue remains cause for celebration. John Sidoff said it best in a press release:
"We love Von Trier. We love North Avenue. We're looking forward to making some changes and showing how Von Trier can be A PART of the renaissance…not resistant to it."